October, 21, 2014
Oct 21
10:00
AM ET
COLLEGE PARK, Md. -- Maryland recruiting coordinator John Dunn has a long list of things he can sell to prospects considering the Terrapins.
He can sell recruits on the school's tremendous academics, a campus just miles from the nation's capital and long list of distinguished alumni like Watergate reporter Carl Bernstein, Seinfeld creator Larry David and legendary puppeteer Jim Henson.
But the one thing that's at the top of Dunn's list is Maryland's recent move to the Big Ten.
[+] Enlarge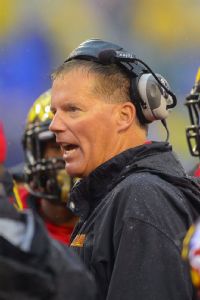 Doug Kapustin/MCT/Getty ImagesRandy Edsall has a lot of factors to sell to area recruits.
"I think one of the things that is a draw, is the conference itself in terms of being a national conference," said Dunn, who is in his fourth season with the Terps after previous stops at LSU and North Carolina. "You look at all the TV avenues. Academically, it's one of the best conferences in America. One of the things the Big Ten talks about is being globally respected. It's worldwide."
Dunn said the Terps also uses the conferences' postseason affiliations with bowl games like the Rose Bowl, Citrus One, Outback, Holiday and other games to sell prospects. And then there's just the overall tradition. Combine all of that together and Dunn says it's a strong pitch to a high school junior or senior.
"It's about as attractive as it gets," he said.
Now the key for Dunn and the rest of the Terps coaches is to get the players in their backyard to buy in.
Maryland's recruiting footprint is the Washington D.C.-Baltimore metro area, called the DMV. The area is better known for producing tremendous basketball players -- ever hear of Elgin Baylor or Kevin Durant -- but everybody in the high school community agrees there's been an uptick in football talent in the last 10 years.
And to win at the highest levels in the Big Ten, the Terps know they're going to have to keep some of that talent at home. It's something they've not done just yet in the 2015 class. Maryland's class doesn't rank in the top 40 of the ESPN class rankings, 15 of its 16 commitments are three-star prospects and no player among Maryland's top 15 has decided to spend his future in College Park. The 2014 class was similar as it ranked as the 50th best and included only two ESPN 300 prospects.
But high school coaches in the area believe it's the right move to sell the Big Ten to recruits and it will eventually pay off.
"We have many kids that are playing in the Big Ten, and the pull of the Big Ten is really attractive to kids in this area," said Elijah Brooks, who coaches at Hyattsville (Maryland) DeMatha Catholic, a school that's a must-stop spot for recruiters. "We think of the Big Ten as big-time football. We have kids at Wisconsin and Penn State, so when you go to those games and see 100,000 people that really impresses.
"You see that Maryland had 55,000 for the first Big Ten home game that's something that wows, too. Kids around here can relate to that and can see that Maryland is becoming a part of something special."
Gaithersburg (Maryland) Quince Orchard coach John Kelley agrees.
"I just think recruiting wise when you can sell you're playing Ohio State, playing Michigan, playing Nebraska, playing Penn State; that will sell to the kids in this area," Kelley said. "No offense to Wake Forest and schools like that in the ACC, but on the national scene that just doesn't match up against Ohio State, Michigan and Michigan State. I think that plays better to 16, 17 and 18-year-old."
And while it hasn't gone exactly as the Terps have planned so far with the 2015 class, Brooks and Kelly both strongly believe Dunn and the Maryland coaches must continue to sell the lure of the Big Ten on the recruiting trial.
"I think with Maryland, it's more of a wait and see how they perform in the Big Ten before they really jump on board," Brooks said. "They have our starting running back (
Lorenzo Harrison
) committed, and that's going to start to lead to others in our program. To me, I think it was definitely a good move to join the Big Ten and they're doing a great job of selling it to the kids. It's the No. 1 thing they sell and they're doing a good job of it."