Football Recruiting - Midwest Region:

Qadree Ollison
September, 12, 2013
Sep 12
2:00
PM ET
From official visits past and future to a commitment, the Big Ten was buzzing with headlines this week.
Here's a look at a few programs that highlight a busy week in this week's Big Ten storylines.
Boiler Up
To continue reading this article you must be an Insider
September, 11, 2013
Sep 11
2:00
PM ET
Week three of the regular season and there still isn't much movement with Big Ten recruiting.
The class rankings
didn't shift too much because there wasn't a lot of news outside of Ohio State's new addition to the 2014 class.
Big Ten recruiting reporters give you a look at some of the trends and things to watch within the conference recruiting landscape:
To continue reading this article you must be an Insider
September, 10, 2013
Sep 10
5:30
AM ET
The Early Offer is RecruitingNation's latest feature, giving you a daily dose of recruiting in the mornings. Today's offerings: Despite a cryptic tweet that worried TCU fans, four-star linebacker
Jimmie Swain IV
has good news for Horned Frog faithful; Pittsburgh scores a nice recruiting victory over Penn State; and Oregon State and Washington State commits and an ESPN Junior 300 prospect will be on display Friday on ESPNU.



To continue reading this article you must be an Insider
September, 6, 2013
Sep 6
11:00
AM ET
@bwessfootball: How do you see Penn State's class rounding out? Would you say PSU is now the favorite for Montae Nicholson and Qadree Ollison?
Brad Bournival: The first part of that question is tricky as the Nittany Lions are still in on Dravon Henry (Aliquippa, Pa./Aliquippa), Ricky Walker (Hampton, Va./Bethel), Alex Bookser (Pittsburgh/Mount Lebanon), Thomas Holley (Brooklyn, N.Y./Lincoln) and Mike Gesicki (Manahawkin, N.J./Southern Regional) but may not be the favorite for any of them. As far as Ollison goes, I fully expect him to be part of the 2014 Penn State class by Monday afternoon. The fact he's visiting the Nittany Lions just before his announcement bodes well for Penn State. As far as Nicholson goes, the jury is still out on that one. He's visiting Michigan State this weekend, but Pittsburgh is in his backyard and don't count out Oregon or Florida State. The safety wants to set official visit dates soon so that could be telling.
---
[+] Enlarge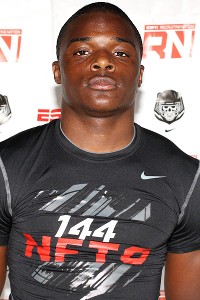 Tom Hauck for ESPN.comCould Michigan State land standout cornerback Darius West?
@Collin_Stauder:
Any chance Michigan State grabs Nicholson or Darius West down the stretch?
Tom VanHaaren: That's a pretty relevant question right now as Nicholson (Monroeville, Pa./Gateway) is visiting Michigan State this weekend and West (Lima, Ohio/Central) just recently took a visit to East Lansing.
I think you could probably even throw defensive back Parrker Westphal (Bolingbrook, Ill./Bolingbrook) in this question because he recently told me that he would like to get out to Michigan State for a game.
It was believed that Northwestern and Vanderbilt had the best shot with Westphal, but if he makes it out to East Lansing that might be an interesting situation. He was originally going to make a decision before his season, but it looks like he could take a few visits.
As for West, he is still committed to Kentucky and publicly is saying the visit to Michigan State wasn't a big deal. I don't think a prospect takes a visit this late in the game if it's not a big deal. If Kentucky continues to struggle that could be something to watch.
Nicholson has had an interesting recruitment recently with Michigan telling him they aren't recruiting him anymore. I believe he is open at this point, so this visit could help Michigan State. It's too early to tell with him, though.
---
@DukeLukeofJuke: Do you see any dark horse recruits that few are connecting to Ohio State at the moment that could end up in Columbus by national signing day?
Bournival: The names are pretty standard at this point in recruits like Noah Brown (Sparta, N.J./Pope John XXIII), Chad Mavety (Garden City, N.Y./Nassau Community College), Damian Prince (Forestville, Md./Bishop McNamara), Raekwon McMillan (Hinesville, Ga./Liberty County), Erick Smith (Cleveland/Glenville) and Marshon Lattimore (Cleveland/Glenville). If you're asking me to go out on a limb, maybe someone like Gesicki or Alex Bookser (Pittsburgh/Mount Lebanon) winds up with the Buckeyes. While it's not much of a stretch, those two aren't getting a lot of play lately in recent Ohio State news.
---
@ssullie71: Has Malik McDowell given a timeline when he will make his decision on colleges?
VanHaaren: He is saying going into this weekend that he plans on waiting to make a decision. This has been a hot topic, because I do believe there is a chance he makes a decision sooner than later.
McDowell (Southfield, Mich./Southfield) has been somewhat quiet about all this and doesn't share much, so he could do anything. It wouldn't surprise me to see him wait things out, but it wouldn't surprise me to see him make a decision soon.
He initially had been saying he was going to wait until the Army All-American game, but I don't think that will happen anymore.
---
jbacevice@gmail.com: Damon Webb is the face of the 2014 class for Ohio State. Eric Glover-Williams has that honor in 2015. Put your prognosticator glasses on, who takes that role in 2016?
Bournival: Early signs point to someone with a familiar last name. While there aren't a ton of offers out there just yet to 2016 stars, I don't think it will much matter as defensive end Nick Bosa (Fort Lauderdale, Fla./St. Thomas Aquinas) has all the tools to carry the flag if he picks the Buckeyes down the line.
We all know is brother Joey is already making a name for himself as a freshman at Ohio State, but Nick could be even bigger. St. Thomas Aquinas coach Rocco Casullo has already said he thinks everyone will know all there is about the sophomore by the time he finishes with the Raiders. Buckeyes assistant Mike Vrabel is high on Nick already, but not just because of his play. The 6-foot-2, 215-pound defensive end's character and maturation at such a young age is what many are talking about.
September, 5, 2013
Sep 5
2:00
PM ET
By
Brad Bournival & Tom VanHaaren
| ESPN.com
This is a huge weekend in the Big Ten recruiting world with some very high-profile visitors invading college campuses around the conference.
Here's a look at a few programs that will highlight a busy week in this week's Big Ten storylines.
To continue reading this article you must be an Insider
August, 22, 2013
Aug 22
2:00
PM ET
By
Brad Bournival & Tom VanHaaren
| ESPN.com
Big Ten fodder is never hard to find, especially in recruiting. Here's a look at a few programs that highlighted a busy recruiting week:
Cotton getting close
To continue reading this article you must be an Insider
June, 24, 2013
Jun 24
4:50
PM ET
With 15 offers,
Qadree Ollison
(Buffalo, N.Y./Canisius) felt it was time to trim his list some. He did that Monday when he named a top five.
To continue reading this article you must be an Insider
April, 26, 2013
Apr 26
4:09
PM ET
One of the fastest-rising prospects in the East is Buffalo (N.Y.) Canisius running back
Qadree Ollison
, who has seen several Big Ten teams come for him the last few weeks.
The latest is Penn State, and while the Nittany Lions have not offered, Ollison says the PSU coaching staff is very interested following a visit for the spring game.
To continue reading this article you must be an Insider