On The Trail: Midwest Region:

Penn State
January, 15, 2013
1/15/13
2:03
PM ET
Penn State sent out another scholarship offer Tuesday, this time to a 2014 linebacker out of Ohio.
To continue reading this article you must be an Insider
January, 8, 2013
1/08/13
4:40
PM ET
Over the past week, the Nittany Lions watched some of their top remaining targets fly off their big board. First came
Trey Johnson
's commitment to Ohio State, then
David Williams
' verbal to South Carolina, followed up by
Tyler Boyd
's pledge to Pitt.
And Tuesday, Penn State heard from yet another highly touted prospect that he was no longer considering the school.
Wisconsin commit
Garret Dooley
(Rochester, Ill./Rochester) said Tuesday afternoon that he finally spoke with his family and concluded that the Badgers remained the right fit. He thought about taking an official visit to Happy Valley but informed Penn State's staff a few days ago that wouldn't be necessary.
To continue reading this article you must be an Insider
January, 8, 2013
1/08/13
1:05
PM ET
Reserve linebacker
Brennan Franklin
has left the Nittany Lions football team due to personal reasons, according to a Penn State spokesman.
[+] Enlarge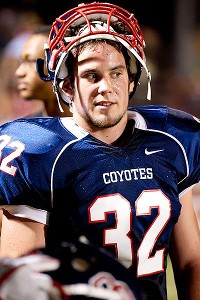 Courtesy of Brandon FranklinLB Brennan Franklin, who was the first to commit to PSU after the sanctions, has enrolled at a community college.
Arizona Central's Richard Obert first reported Franklin's departure and said he enrolled at Glendale Community College in Arizona. The freshman is from Peoria, Ariz.
Franklin is the second player to leave since the end of the 2012 season and joins tailback
Curtis Dukes
, who's not yet certain whether he'll transfer or declare for the NFL draft.
The linebacker signed with Penn State on July 26 and made headlines for becoming the first player to join the Nittany Lions after the sanctions. One fan sent him a Facebook message shortly after his commitment, swearing he'd name his first son after him.
Franklin's departure is a surprise -- but not one that really impacts the team. He was one of three linebackers in the Class of 2012, and he appeared to be behind both
Nyeem Wartman
and
Gary Wooten
in terms of playing time.
The rising redshirt freshman wasn't expected to see the field next season beyond special teams, and he would have had even more competition for future snaps after PSU garnered commitments from a trio of 2013 linebackers.
December, 10, 2012
12/10/12
10:40
PM ET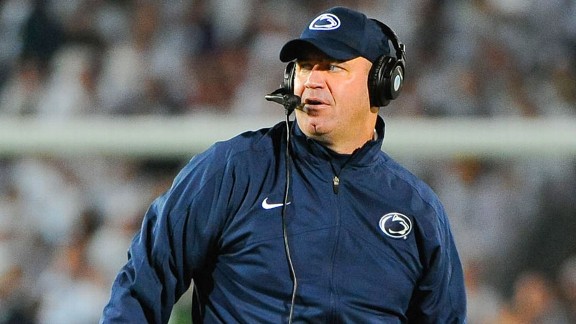 Rich Barnes-USA TODAY SportsBill O'Brien made his in-home visit with talented juco quarterback Jake Waters on Monday evening.
Jake Waters
' parents ushered Bill O'Brien inside their home on a frigid Monday, escorting him to the dining-room table where a spread of crackers, brownies and water awaited.
The juco quarterback's starstruck younger brother asked the coach for an autograph, and Waters' parents were eager to pepper the Penn Stater with questions: Could the Iowa Western quarterback start there? What were the academics like? Would he fit in OK since PSU doesn't usually take junior college players?
Waters said he's known "for a few weeks" now whom he's leaning toward. He declined to disclose that favorite -- he said he'll announce his decision Thursday -- but he said this in-home visit and Wednesday's upcoming visit with Kansas State's coaches were more for his parents' benefit.
To continue reading this article you must be an Insider
December, 6, 2012
12/06/12
10:00
AM ET
Avonte Maddox
smiled as he sat down to a cafeteria lunch of chicken, cookies and a carton of kiwi-strawberry juice on Tuesday. The 2014 athlete never had a chance to finish it.
His baseball coach strolled up to his lunch table to tell him Penn State assistant Ron Vanderlinden was sitting inside his office there at Detroit (Mich.) Martin Luther King. Maddox shot the coach a confused look, slowly rising because he wasn't sure whether it was a joke.
It wasn't.
To continue reading this article you must be an Insider
November, 21, 2012
11/21/12
12:03
PM ET
Linebacker
Zach Bradshaw
woke up every morning for two weeks and weighed Penn State's sanctions.
The 2013 recruit out of Damascus, Md., spoke with his father, reflected on his commitment and wondered just how competitive his Nittany Lions would remain -- before finishing breakfast on a Tuesday morning and calling Bill O'Brien to decommit. On Aug. 7, Bradshaw hopped into a car with his mother, drove to Charlottesville, Va., and pledged to the Cavaliers.
[+] Enlarge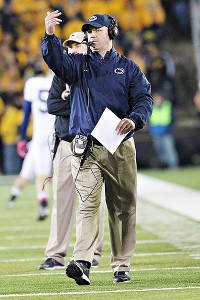 Reese Strickland/US PresswirePenn State coach Bill O'Brien has steadied a severly rocking ship through the 2012 season, and that has made a rather significant impact on recruiting.
"The deciding factor was the magnitude of the sanctions," Bradshaw's father, Mike, said at the time.
Bradshaw certainly wasn't alone. Some sportswriters opined about how 80 fewer scholarships and four years without a postseason were worse than the death penalty. Five pledges defected after the sanctions, and Penn State seemed destined to become one of the Big Ten's punching bags, a team forced to settle for MAC-quality prospects. Who would want to play on a losing team mired in controversy?
But O'Brien stood firm, telling recruits that each contest inside Beaver Stadium -- which seats more than 100,000 -- was its own bowl game. He stressed academics and an experienced staff. He invited NFL scouts to Wednesday practices.
But, perhaps more valuable than anything, he won. And, more than any other team in the country, a winning record so far has helped ease high-schoolers' concerns. PSU's 7-4 record and cries for O'Brien as coach of the year have continued to attract quality prospects.
More than 100 recruits lined up to see the Penn State-Ohio State game, and one three-star prospect decommitted from Maryland shortly after attending. Those scenes would be difficult to envision were PSU to carry a losing record.
"The sanctions don't matter to me," former Terrapins commit
Richy Anderson
(Frederick, Md./Gov. Thomas Johnson) said. "Being in that environment, it just proves it. No you can't play in a bowl game. And no, they lost a lot of scholarships -- but the tradition and everything is still there."
Winning this season has breathed new life into PSU's recruiting. The nation's top high school quarterback,
Christian Hackenberg
, and tight end,
Adam Breneman
, have remained steady in their commitments. Two Maryland commits, Anderson and
Tanner Hartman
, switched loyalty to the Blue and White.
To continue reading this article you must be an Insider
November, 20, 2012
11/20/12
4:00
PM ET
Aaron Wimberly
drags himself out of bed every morning and glances at the note hanging above his black laptop. That paper combines his motivation, obsession and dreams into a space no larger than his computer screen.
That loose-leaf page is one of the first things he sees and one of the last before he flips off his lights and decides to dream. Three goals, written in black ink, run the length of the note:
1. Become the first running back at Council Bluffs (Iowa) Iowa Western to rush for 1,000 yards. 2. Become a First-Team All-Conference selection again.
To continue reading this article you must be an Insider
November, 18, 2012
11/18/12
2:51
PM ET
Montae Nicholson
's coach told the junior, two days before game time, that he should think about attending the Indiana-Penn State game.
Nicholson (Monroeville, Pa./Gateway) shrugged and decided to follow that advice. And, he said Sunday, he wasn't disappointed.
"I was like, 'Why not?'" Nicholson said. "The atmosphere, they were probably one of the largest crowds I've been to other than Michigan. We realized it was Thanksgiving break, so we thought most of the students wouldn't be there, but it was live the whole game. It was one of the loudest atmospheres I've been in."
To continue reading this article you must be an Insider
October, 31, 2012
10/31/12
11:00
AM ET
Jarrett LaRubbio
(Liberty Township, Ohio/Lakota East) arrived late to Beaver Stadium thanks to the snarling traffic, so he wasn't able to stroll the sideline or shake the coaches' hands before the game.
Still, the 2014 offensive guard said his first step inside Beaver Stadium made the long trip worthwhile.
"All I saw was people dressed in white," he said, his tone growing more excited. "You can look around and around, and it almost makes you feel light-headed how many people are there. That'll stick with me.
To continue reading this article you must be an Insider
October, 18, 2012
10/18/12
9:00
AM ET
When 2014 tailback
Parris Campbell Jr.
(Akron, Ohio/Saint Vincent-St. Mary's) arrived at Beaver Stadium for a summer football camp, he didn't expect to leave with such a longing to return.
But after touring the campus and chatting with the coaches, the longtime Ohio State fan said he could see himself donning the blue and white one day.
"I didn't expect to get as much out of it as I did," said the speedy Campbell, who currently holds no offers. "Just the way the coaches were going through drills and stuff, they seem like good motivators and good coaches -- that's what I got out of it.
To continue reading this article you must be an Insider
October, 14, 2012
10/14/12
8:50
PM ET
Junior college tailback
Aaron Wimberly
(Council Bluffs, Iowa/Iowa Western C.C.) will have to do a lot of thinking over the next few weeks.
The Iowa State commit received an offer Sunday from Penn State assistant Charlie Fisher. Wimberly emphasized he remains committed to the Cyclones, but he now wants to take an official visit to Happy Valley.
"Penn State's a great program, a great place to get your degree from," he said. "It has a great environment with football, too. I'm taking an official visit to Iowa State on Nov. 2, but I'm sure I'll take a visit to Penn State."
To continue reading this article you must be an Insider