Football Recruiting - Midwest Region:

Michigan football
January, 4, 2013
Jan 4
7:23
PM ET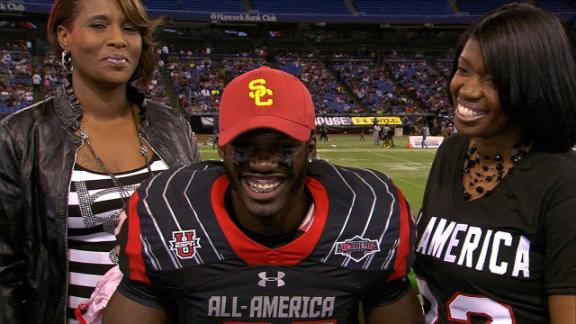 ST. PETERSBURG, Fla. -- After four prospects decommitted from the USC Trojans since the beginning of November, the Trojans have finally got some good news as ESPN 150 safety
Leon McQuay III
(Seffner, Fla./Armwood) verbally committed to USC tonight during the Under Armour All-America Game.
The 6-foot-2, 183-pound four-star athlete selected the Trojans over Florida State, Oregon, Vanderbilt and Michigan.
As a senior, McQuay totaled 54 tackles and five interceptions on defense. He also added five receptions for 137 yards and a touchdown on offense.
McQuay, the nation's No. 3 safety and a starter in Friday's UA Game, is expected to enroll early at USC and be eligible to play spring football.
With McQuay's decision, the Trojans have 15 verbal commitments, including 10 who are members of the ESPN 150. Each of the 15 commitments is ranked as a four-star or higher.
December, 31, 2012
12/31/12
5:13
PM ET
LAKE BUENA VISTA, Fla. -- Offensive tackle
Cameron Hunt
(Corona, Calif./Centennial), committed to Cal since July, is about to get busy again with recruiting.
Hunt plans to visit Michigan on Jan. 11 after he returns home from the Under Armour All-America Game, Oregon on Jan. 18 and Cal on Jan. 25.
He's also considering Ohio State, though he has yet to set a visit. It has been a long road for Hunt, who drew little recruiting interest before a breakout camp circuit last spring.
To continue reading this article you must be an Insider
December, 31, 2012
12/31/12
12:12
PM ET
LAKE BUENA VISTA, Fla. -- Practices began Monday morning for the Under Armour All-America Game at Disney's ESPN Wide World of Sports without outside linebacker
Mike McCray II
(Trotwood, Ohio/Trotwood-Madison), who underwent surgery this month to repair a torn labrum in his left shoulder.
McCray, a Michigan commit, walked through registration Sunday with his arm in a sling. He said he was disappointed to miss the chance to practice and play this week with five other U-M pledges on the White Team.
To continue reading this article you must be an Insider
December, 30, 2012
12/30/12
5:33
PM ET
LAKE BUENA VISTA, Fla. -- ESPN 150 safety
Leon McQuay III
(Seffner, Fla./Armwood) will be making his college decision at the Under Armour All-America Game on Friday.
The four-star athlete has a top five of USC, Michigan, Oregon, Vanderbilt and FSU, but McQuay said he won't have all five hats for his selection on Friday.
"Yeah ... I don't know [if Michigan still in consideration]. I don't know how many hats I'll have up there," he said. "My dad said he wasn't paying for five hats. I'll probably only have three hats up there.
To continue reading this article you must be an Insider
September, 13, 2012
9/13/12
5:20
PM ET
Most high school seniors who have committed to Division I programs look forward to their freshman seasons in hopes of seeing what college life is all about.
Patrick Kugler
(Wexford, Pa./North Allegheny) is already thinking past that.
The 6-foot-4, 275-pound offensive tackle for the Tigers will move over to guard or center for Michigan and is already thinking about playing in front of 2013 quarterback
Shane Morris
(Warren, Mich./De La Salle) down the line.
To continue reading this article you must be an Insider
August, 29, 2012
8/29/12
6:38
PM ET
MASSILLON -- A Big Ten team has yet to offer 2014 guard
Nathaniel Devers
(Massillon, Ohio/Washington), but that does not mean the offers aren't coming.
In fact, two Big Ten teams are already at the top of Devers' list.
"Michigan is my No. 1 and Northwestern is second," Devers said, "but that could change."
To continue reading this article you must be an Insider
July, 27, 2012
7/27/12
7:04
PM ET
LAKE BUENA VISTA, Fla. -- Under Armour All-American quarterback
Shane Morris
(Warren Mich./De La Salle) has been committed to Michigan for more than a year. And while Morris is disappointed in seeing prospects back out of early commitments during the 2013 recruiting cycle, the ESPN 150 prospect has enjoyed getting his recruitment out of the way before his junior season.
"I do not think it is good to see a lot of decommitments," Morris said. "If you commit to a school, then that should be where you want to be so you should not break your promise. For me, committing early made everything easy as I can focus on my high school and helping recruit for Michigan. We have a great class in terms of quality and quantity, so that is really exciting."
Morris is taking advantage of this weekend's
Champion Gridiron Kings
event to do some additional recruiting for the Wolverines.
To continue reading this article you must be an Insider
July, 20, 2012
7/20/12
5:08
PM ET
ESPN 150 cornerback
Vernon Hargreaves III
(Tampa, Fla./Wharton) disclosed his list of top five schools Friday via Twitter.
"Top 5 ) 1.Florida 2.Clemson 3.Vanderbilt 4.Miami 5.Notre Dame , USF is not in my top 5 but still considering !" Hargreaves wrote.
Hargreaves also holds offers from Florida State, Georgia, Michigan, Ohio State, USC and numerous others.
The 5-foot-11, 185-pound cornerback is the No. 4 player in the nation and No. 1 at his position.
See
video of Hargreaves
at ESPN RecruitingNation.
July, 14, 2012
7/14/12
12:18
AM ET
Orlando Brown Jr
. (Duluth, Ga./Peachtree Ridge) saw Friday how big Ohio State is and the 6-foot-8, 370-pound offensive tackle loved it. Brown was in Columbus to visit the campus and the Buckeyes made an impression.
"It was pretty interesting," Brown said. "I got to meet some of the coaches. I got to check out the campus, which is huge. I got to learn a little bit more -- definitely got to learn a little bit more -- about what they have to offer."
What Ohio State has to offer might just fit into Brown's future as the 2014 recruit will no doubt feel the pressure as schools pick up the intensity for his services.
To continue reading this article you must be an Insider
June, 30, 2012
6/30/12
7:34
PM ET
BRADENTON, Fla. --
Shane Morris
is in the middle of an incredibly busy summer. As soon as he leaves this weekend's IMG Madden Football 7-on-7 national championship tournament, the 6-foot-3, 190-pound junior will head to Beaverton, Ore., for The Opening. Then it's off to Redondo Beach, Calif., for the Elite 11 national showcase -- and finally back to Florida to the Gridiron Kings at the Wide World of Sports Complex in Kissimmee, Fla.
"It doesn't leave a lot of time off, but to be honest I wouldn't have it any other way," Morris said. "I look at it like it's an honor that everyone wants me to participate in their events."
However, not all of Morris' generosity is appreciated. And in college football the rivalries run much deeper than the field of play. Former Michigan State wide receiver Keith Nichol is a friend of Morris and yesterday the quarterback tried to encourage his 13,000-plus followers on Twitter to vote for Nichol's
play
in the ESPY Awards in a nice gesture.
To continue reading this article you must be an Insider
June, 27, 2012
6/27/12
6:51
PM ET
Michigan State is getting the ball rolling on its 2014 class -- in football and basketball.
Rising junior athlete
Drake Harris
(Grand Rapids, Mich./Grand Rapids Christian) committed to the Spartans in a ceremony at his school Wednesday.
"I went up to Michigan State and they offered me for both football and basketball," he told WolverineNation's Tom VanHaaren. "That's what I want and I feel like it's the best place for me."
To continue reading this article you must be an Insider
June, 21, 2012
6/21/12
12:48
PM ET
After camping at Michigan for three days and receiving an offer on Wednesday, 2013 cornerback
Channing Stribling
(Mathews, N.C./Butler) decided to commit to Michigan.
The 6-foot-2 corner performed very well throughout camp and impressed everyone on hand. He has a great combination of size and speed and even reminded some of fellow Michigan commit
Gareon Conley
(Massilon, Ohio/Washington).
Stribling did have an offer from Ball State as well, but when the Michigan coaches decided to offer he knew it was special.
To continue reading this article you must be an Insider
June, 20, 2012
6/20/12
8:18
PM ET
One name on Michigan's radar throughout the spring has been defensive end
Mike Barwick
(Cincinnati/Summit Country Day), and the talented 2014 lineman made it up to Michigan's camp on Tuesday.
"The camp was great," he said. "I got great coaching and I got to face some good competition."
Barwick visited the Wolverines earlier this spring for a practice and talked this week about his experience on that trip, too.
To continue reading this article you must be an Insider
June, 4, 2012
6/04/12
8:19
AM ET
The Wolverines continued their hot streak on the recruiting trail by landing four-star defensive tackle
Henry Poggi
(Baltimore/Gilman) on Monday. The 6-foot-3, 255-pound lineman is commitment No. 20 for Michigan and the 16th commitment ranked as a four-star.
"I am grateful to say that I am choosing Michigan. I feel comfortable there and I hope I will fit in," Poggi said. "I know that they have great players at my position on their roster and in the incoming recruiting classes. I will do my best to compete and hopefully I will make the team and be additive in helping the team reach their goals. I know that I start at the bottom of the depth chart."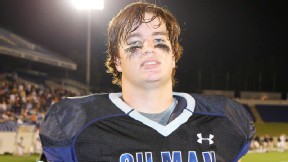 Courtesy of Maggie ThomasHenry Poggi could play inside or outside on the defensive line.
This is another big win for Michigan as Poggi chose the Wolverines over Alabama, Ohio State, Auburn, Florida and Stanford, among others. He's ranked as the No. 23 defensive tackle in the country, but he could be used in various ways.
Poggi's versatility along the line will give the Michigan coaching staff plenty of options as he could line up at the three-technique defensive tackle spot or move outside to the five-technique defensive end position.
Michigan seemed to move into the driver's seat after Poggi and his parents took a visit to Ann Arbor in March. After that trip, his father said that the visit was over the top and showed Henry that he fit in socially with the rest of the team. What might have been more important on that trip, though, was that Poggi's mom came away impressed and comfortable with what Michigan would offer her son.
"(Henry's mother) sat with Brady [Hoke], she spent about 40 minutes with him, and he explained to her why he coaches," said Biff Poggi, Henry's father. "He's passionate about impacting the lives of kids, and she believed him and felt like that was deep in his heart. The academic piece, she also thought in her mind is every bit as impressive and maybe more than Stanford."
This commitment now gives Michigan three very good prospects on the defensive line as Poggi joins defensive tackle
Maurice Hurst Jr.
(Westwood, Mass./Xaverian Brothers) and defensive end
Taco Charlton
(Pickerington, Ohio/Pickerington Central).
Poggi is also the fifth commitment for Michigan along the defensive line ranked as a four-star between the 2012 and 2013 classes. Depth and competition are being built in the trenches, something Hoke said would be a priority going forward.