On The Trail: Midlands Region:

Tim Kish
June, 9, 2013
6/09/13
7:16
PM ET
HOUSTON -- For four-star safety
John Bonney
(Houston/Lamar), camp season has been less about working out and more about building relationships.
The 6-foot, 182-pound prospect, who is ranked 19th at his position nationally, has been making his way around Houston to the different college satellite camps, visiting with coaching staffs of schools that have offered him a scholarship to get a better feel for everyone.
To continue reading this article you must be an Insider
February, 7, 2013
2/07/13
9:00
AM ET
NORMAN, Okla. -- Entering the fall, some Oklahoma fans were wondering what in the world first-year linebackers coach Tim Kish was doing.
Kish had made a big reputation as a solid recruiter during his time at Arizona. Several months into the job at OU, and he hadn't help land any of the top Arizona recruits, had taken too long with many top Texas prospects and had some fans calling for a change.
[+] Enlarge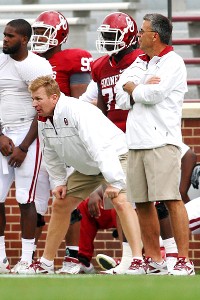 J.P. Wilson/Icon SMI Linebackers coach Tim Kish used his connections in California to discover receiver K.J. Young.
Supporters of Kish said give it time, give him an opportunity to build the relationships with recruits and judge him from there.
To continue reading this article you must be an Insider
December, 19, 2012
12/19/12
9:38
PM ET
Oklahoma assistant coach James Patton told three-star offensive tackle
Christian Daimler
(Houston/Stratford) to be patient.
Daimler made an unofficial visit to OU during the summer, and Patton told Daimler and his father that it might be a while until the Sooners got around to making their evaluation.
It did take a while, but it all worked out. OU offered Daimler on Tuesday night, and he flipped his commitment from Arizona State to OU on Wednesday night.
"I trusted Coach Patton and took him at his word," Daimler said. "I couldn't be happier that I did that."
Daimler committed to the Sun Devils in the summer but said he fell in love with Norman, Okla., during his unofficial visit. He said the area exceeded his expectations.
December, 17, 2012
12/17/12
4:00
PM ET
For months, Watch List linebacker
Cameron Hampton
(Dallas/Carter) has said OU is his favorite school and Sooners linebackers coach Tim Kish is his favorite coach.
And then he took an unofficial visit to Texas A&M last weekend. Now it's the Aggies out in front and Kevin Sumlin who is his favorite coach. The recruiting momentum for A&M is simply not coming to a stop anytime soon.
"He came down a week before, and it was a great visit," Hampton said. "He gives it to you straight up where he sees you fit and how much he wants you. He thinks I can play a major role in his defense. He's now my No. 1 coach on my list. The visit there was great, because I knew so many of the players already."
To continue reading this article you must be an Insider
December, 16, 2012
12/16/12
8:00
AM ET
HOUSTON -- ESPN Watch List tight end
Koda Martin
won't be attending the AT&T Cotton Bowl, but he'll be watching it closely. So closely that the Manvel (Texas) High School tight end joked with coaches from the Oklahoma and Texas A&M's staffs that the winner of the game would also be the winner of his services.
"It'll be a great game," Martin said. "I told both sets of recruiting coaches that whoever won, I'd commit to, just as a joke, kind of like flipping a coin. It'll be a good game and it'll be fun to watch."
While Martin meant the comment in jest, he is serious about those two schools. The Sooners and the Aggies are his top two at the moment and it appears he'll choose between the two when making the decision on his college destination.
"They're both just really great schools," Martin said while attending the Houston Touchdown Club's High School Awards Dinner on Thursday at the J.W. Marriott. "I feel like whoever I pick wouldn't be a bad decision. They're both great schools with great traditions. I like both of their coaching staffs and I like winning programs. OU has had a history of winning and A&M's doing great in the SEC right now, which is a great accomplishment. And both schools are just really good schools. Those are my top two right now."
Martin, a 6-foot-6, 245-pound prospect, plays tight end and defensive end for the Mavericks but plans for him at the next level could be at another position.
"A&M wants me at offensive tackle so I would definitely have to get bigger," Martin said. "But I have to get bigger for whatever position I play. OU wants me as a tight end, or if I grow into a tackle, then I can do that. Or maybe defensive end based on what they've seen on film this year. [The schools] are a little bit different position-wise but both schools are great programs with great schools and great college towns and great traditions. A&M's a little bit closer but both schools are good decisions."
Linebackers coach Tim Kish has been recruiting Martin for the Sooners.
"He's a great coach," Martin said. "I have a pretty good relationship with him and he's a really good recruiting coach and I feel like he's a pretty nice guy and I'm forming a good relationship with him."
Recruiting coordinator and running backs coach Clarence McKinney and offensive line coach B.J. Anderson are recruiting him for the Aggies.
"I'm still getting to know them a little bit," Martin said. "They're both great coaches too and are part of a great program. They recently offered me so I'm getting to know them more."
To continue reading this article you must be an Insider
November, 13, 2012
11/13/12
8:00
AM ET
In his head, three-star athlete
Dominique Alexander
(Tulsa, Okla./Booker T. Washington) was already an Oklahoma commit when he visited OU two weeks ago for the game against Notre Dame.
Alexander, who was committed to Arkansas at the time, had an incredible first experience at OU and eventually switched his commitment last week to the Sooners.
[+] Enlarge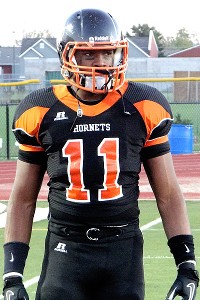 Bob Przybylo/ESPN.comAthlete Dominique Alexander took in his first game as an Oklahoma commit on Saturday.
Even though he felt like he was an OU kid two weeks ago, there was no feeling about it Saturday against Baylor. Alexander is OU all the way and couldn't be happier about it.
"It's just a great feeling all the way around," Alexander said. "It's a totally different feeling from Arkansas. I don't know if that's because I'm from Oklahoma, but I can't go a day without people talking to me about it."
It has been a whirlwind month for Alexander, who initially committed to the Razorbacks in June. The realization that college is almost here dawned on him this weekend.
Alexander's high school career ended Friday night in a first-round playoff loss to Jenks, Okla., which features fellow OU commit
Jordan Smallwood
. Alexander didn't want to say it was a moral victory for Tulsa Booker T. Washington to make the playoffs, but it sort of was after the program was going through its third coach in Alexander's four seasons.
He said he was feeling down about his career being over. And then Saturday came.
"It was just the total opposite feeling of what I was feeling like Friday night," Alexander said. "The Notre Dame game you knew was going to be packed. But the Baylor game was almost just as packed. That gave me a lot of hope like this is the place to be.
"This is me. This is my future and what I'm going to be doing. I'm incredibly lucky to have this opportunity."
Alexander finished the season with 130 tackles with 16 tackles for loss, four sacks, five forced fumbles, four fumble recoveries, an interception returned for a touchdown and 14 pass breakups.
Those numbers show his versatility and show why OU linebackers coach Tim Kish and defensive backs coach Mike Stoops are so eager to get Alexander to campus.
Alexander didn't get to spend much time with Stoops on Saturday but said he felt at home talking with his future coach.
To continue reading this article you must be an Insider
October, 10, 2012
10/10/12
1:15
PM ET
For Houston Lamar safety John Bonney, this year has been a little bit of an adjustment.
The 2014 prospect, who traditionally plays safety, has spent a lot of time at cornerback this year. The transition hasn't been much trouble for the 6-foot, 175-pound prospect -- he has three interceptions in the Redskins' first five games.
To continue reading this article you must be an Insider
October, 10, 2012
10/10/12
12:00
PM ET
The Longhorns have already targeted their top inside linebacker prospects for 2014 in ESPN Watch List members
Raekwon McMillan
,
Hoza Scott
and
Zac Whitley
.
But there are a few others worth keeping an eye on, which includes tackling machine
James David
(Rockdale, Texas/Rockdale). David (6-foot-2, 217) had a breakout sophomore season with 118 tackles and has continued his strong play in the early part of this season. Last week against Hillsboro, David claims to have had at least 20 tackles, three forced fumbles and a pass deflection.
[+] Enlarge
Tom Hauck for ESPN.comClass of 2014 linebacker James David has offers from Baylor, Oklahoma and Washington.
Those types of numbers have gotten the attention of a few of the Longhorns' conference foes, in particular Baylor and Oklahoma, which have both offered. Washington has as well, but those three certainly won't be the last.
To continue reading this article you must be an Insider
March, 7, 2012
3/07/12
6:05
PM ET
It wasn't as if linebacker
T.J. Ponds
(Wagoner, Okla./Wagoner) was going to turn down the invitation, but he thought it was a little strange that he was invited to Oklahoma's junior day last weekend.
Ponds has always shown a strong interest in Oklahoma, but the Wagoner-OU connection had been former defensive coordinator Brent Venables and former defensive backs coach Willie Martinez.
Going into the event, Ponds said he had not yet spoken with new linebackers coach Tim Kish. One of Ponds' goals was to get to know Kish and he feels he was able to do just that.
To continue reading this article you must be an Insider
March, 5, 2012
3/05/12
6:00
PM ET
Linebacker
Raaquan Davis
(Heath, Texas/Rockwall-Heath) has been adamant about not having a list of favorites. He wants to let the recruiting process play itself out before starting to dwindle down his list of schools.
Following a positive experience at Oklahoma's junior day Saturday, however, Davis admitted the Sooners will definitely be on that short list.
One of the biggest things Davis wondered about was where he would fit in on the Sooners defense. He's not worried about that anymore.
To continue reading this article you must be an Insider