On The Trail: Midlands Region:

Jackie Shipp
March, 3, 2013
3/03/13
11:00
AM ET
YUKON, Okla. -- The priorities are simple for the Clark brothers at Oklahoma City Douglass. The player-coach relationship means more than anything else.
It's the reason Oklahoma State was able to nab ESPN 100 point guard
Stevie Clark
for its 2013 class, as OSU coach Travis Ford and the Clark family have developed that tight bond.
To continue reading this article you must be an Insider
February, 14, 2013
2/14/13
8:00
AM ET
Just over a week ago, Jackie Shipp was making a strong impression on
Zaycoven Henderson
(Longview, Texas/Longview) during Oklahoma's junior day on Feb. 2. The Sooners' former defensive tackles coach had laid a foundation of trust with Henderson, one of three defensive tackles with OU offers in the Class of 2014.
Now, all that groundwork is gone after OU announced Shipp won't return as defensive tackles coach in 2013.
To continue reading this article you must be an Insider
January, 12, 2013
1/12/13
9:26
PM ET
During December, there was no bigger position of need for Oklahoma than defensive tackle. In the span of 31 days, OU has gone from having zero commits with panic engulfing Sooner fans to having three and looking pretty.
The latest came Saturday night, as three-star tackle
Charles Walker
(Garland, Texas/South Garland) confirmed he has committed to the Sooners.
Walker, who is 6-foot-4 and 280 pounds, is ranked No. 40 in the nation at defensive tackle. Injuries hampered him during his sophomore and junior seasons, but he was healthy and effective this season.
And OU defensive tackles coach Jackie Shipp noticed that. North Texas and Houston were other schools looking at Walker, but Shipp saw something in Walker that no other big-time BCS-school universities saw.
Walker was offered by OU last month and admitted he wanted to commit right there on the spot. But he held off, saying he wanted to see the campus.
That was taken care of this weekend as Walker was one of eight official visitors for the Sooners. Baylor started talking to Walker earlier this week, but OU had already put in the work to secure his commitment.
Walker tore his labrum in the summer but played his senior season anyway. He underwent successful surgery last month and said he should be good to go by March.
He saw OU practice at the Cotton Bowl two weeks ago and all it did was fire him up more about his trip to Norman. Safe to say the trip lived up to his expectations.
Walker is ranked No. 40, one spot below fellow OU commit
Kerrick Huggins
(Dallas/Skyline). Huggins, who flipped from Texas A&M to OU on Dec. 14, is ranked No. 39 and was OU's first commit at the position.
The Sooners will also get some immediate help at tackle as three-star ESPN JC 100 prospect
Quincy Russell
(Athens, Texas/Trinity Valley) signed with OU on Dec. 19.
December, 19, 2012
12/19/12
11:42
AM ET
(Update: Russell has now signed his letter of intent to play at Oklahoma.)
Last week Oklahoma was in dire need of defensive tackles. Today, the Sooners got stronger up front.
Three-star junior college prospect
Quincy Russell
(Athens, Texas/Trinity Valley) signed with Oklahoma on Wednesday, choosing the Sooners over Nebraska.
For the last month or so, it looked like the Cornhuskers were the leader for Russell, who is 6-foot-4 and 308 pounds. But OU coaches Bob Stoops and Jackie Shipp went to work on the defensive tackle, visiting him at Trinity Valley and taking in-home visits with Russell's parents in San Antonio.
Russell, who is ranked No. 51 in the
ESPN Junior College 100
, made an official visit to OU for Bedlam and is now going to be on the other side of the Red River Rivalry. Russell was initially a four-star prospect signed for Texas' 2011 class, but he failed to academically qualify.
Now Russell hopes to be a part of a couple of OU teams that take care of the Longhorns in October in Dallas.
Russell is the second defensive tackle pickup for OU in the last week. The Sooners flipped the commitment of three-star tackle
Kerrick Huggins
(Dallas/Skyline) from Texas A&M last Friday.
OU is gunning for three defensive tackle commits for the class. And that sense of desperation some fans had seven days ago is long gone at the position.
October, 16, 2012
10/16/12
2:25
PM ET
Three-star athlete
Dominique Alexander
(Tulsa, Okla./Booker T. Washington) thought it was pure lip service by Oklahoma assistant coach Jackie Shipp.
Alexander camped at OU in June, the week after Shipp told Alexander the OU coaches would keep tabs on him during the season.
To continue reading this article you must be an Insider
July, 26, 2012
7/26/12
3:00
PM ET
Junior college defensive tackle
Toby Johnson
(Hutchinson, Kan./Hutchinson CC) had no intentions of verbally committing to Oklahoma on Wednesday during his unofficial visit. But the Sooners gave him something to think about.
"Oh, they just made it even more interesting," Johnson said. "They were already in the race, but now they're really in there. I had a great time."
At this point, there is no way of knowing who exactly is joining OU in the race. Johnson said he doesn't have a list of favorites. He did, however, have a good visit to Nebraska last weekend and has also seen Arkansas and Tennessee this summer.
Johnson, who is 6-foot-4 and 290 pounds, has more than 25 offers at this point and is taking a break from the recruiting game. He said the OU visit is his last unofficial visit, and he will focus on the season.
To continue reading this article you must be an Insider
July, 24, 2012
7/24/12
2:30
PM ET
The college football season is fast approaching, but junior college defensive tackle
Toby Johnson
(Hutchinson, Kan./Hutchinson CC) has one more visit he wants to make before focusing on his season.
Johnson is going to make that visit Wednesday when he sees the Oklahoma campus for the first time.
As important as seeing the campus and meeting the coaches is for Johnson, there is something else he is concerned about during the visit.
"I want a chance to meet the academic advisers and see if they have my major and how they can help me there," Johnson said. "I want to get into sports broadcasting after my career is over."
To continue reading this article you must be an Insider
May, 1, 2012
5/01/12
11:00
AM ET
The last couple of months have seen interest pick up dramatically for four-star athlete
Stanvon Taylor
(Tulsa, Okla./East Central). But in the last week, things have hit an all-time high.
It began Monday with a scholarship offer from the Oklahoma Sooners. And it ended with a better than expected experience in Manhattan, Kan., for the Kansas State spring game.
"This last week has definitely been a lot different than some of the other weeks," Taylor said. "It has been real exciting, and I'm having a lot of fun."
[+] Enlarge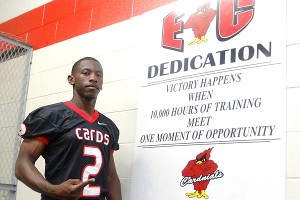 Bob Przybylo/ESPN.comIn-state cornerback Stanvon Taylor said receiving an Oklahoma offer was 'special.'
The Wildcats were one of the first teams to offer Taylor. And though some expected him to verbally commit to OU once he got the offer, he wanted to see what KSU had to offer as he had never seen the campus before. As it turns out, the Wildcats did everything they could to make Taylor feel at home. Taylor said they stressed being a part of a family.
Though none of his former teammates are on the roster, KSU has eight Oklahoma high school products on the team and five from the Tulsa area, including former Tulsa (Okla.) Booker T. Washington stars defensive back Dante Barnett and wide receiver/kick returner
Tyler Lockett
.
"I had a real good time with those guys," Taylor said. "I've been playing with them for years, and they didn't have anything bad to say about the program."
K-State made Taylor one of its top priorities, while the Sooners elected to wait to offer. Though OU never doubted Taylor's ability on the field, there were health concerns. Taylor broke his ankle in the first game of last season and never played another snap. Taylor was on Oklahoma's radar, but the OU staff needed more time to evaluate him.
That ended last Monday when he was offered. Taylor said he was close to committing last week, but he needed to make sure his mother was on board. She spoke to OU coaches Bob Stoops and Jackie Shipp last week and the result was good news for Sooners fans.
To continue reading this article you must be an Insider
April, 25, 2012
4/25/12
11:00
AM ET
Cornerback
Stanvon Taylor
(Tulsa, Okla./East Central) didn't take it personally when the Oklahoma coaches elected not to offer him at their junior day in February.
A four-star athlete, Taylor has been picking up offers on a weekly basis since then from schools such as Houston, Arizona State and Kansas State, among others, but, until recently, there had been minimal contact from the Sooners.
On Monday afternoon, however, Taylor couldn't hide his elation after Oklahoma finally extended him the offer he had coveted.
To continue reading this article you must be an Insider
March, 14, 2012
3/14/12
12:06
PM ET
Every now and then one high school seems to hit the jackpot. For the 2013 class in Oklahoma, that school is Tulsa East Central.
The Cardinals already have three quality recruits in defensive backs
Stanvon Taylor
and
Devanta Johnson
and linebacker
Kimmie Carson
being looked at by major schools and could have more following spring practices in May.
To continue reading this article you must be an Insider
March, 5, 2012
3/05/12
2:15
PM ET
Oklahoma has offered a handful of defensive tackles for the 2013 class, but one key name had been missing until Saturday.
It was assumed by many people that the OU coaches were going to offer
Justin Manning
(Dallas/Kimball) early in the recruiting process, but as January turned into February and February into March, the offer still hadn't come.
The Sooners wanted to offer Manning in person and did just that at Saturday's junior day.
To continue reading this article you must be an Insider
February, 23, 2012
2/23/12
8:20
PM ET
One of the biggest things defensive tackle
Hardreck Walker
(Houston/Westfield) said he is looking for in a college is the relationship the players have with the coaches.
After attending Oklahoma's junior day earlier this month, that is one spot where the Sooners are in great position.
When talking about the visit, Walker said one of the things that stood out the most was the genuine appreciation the players had for the defensive coaching staff.
Walker, 6-foot-2 and 281 pounds, didn't get an offer but said he is confident that one might come shortly.
To continue reading this article you must be an Insider