Football Recruiting - Midlands Region:

Texas Christian Horned Frogs
November, 21, 2013
Nov 21
2:00
PM ET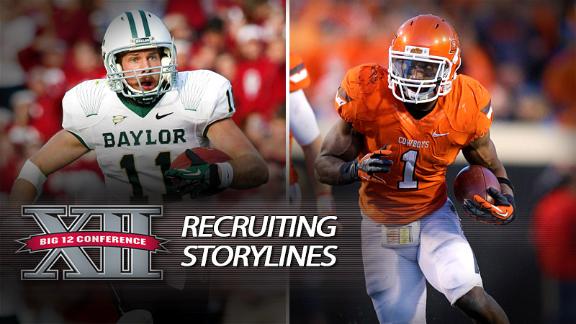 The beginning of the month didn't start out so hot for Oklahoma, who was routed in a highly-anticipated game at Baylor on Nov. 7. But the Sooners have rebounded well on the recruiting trail with a handful of commitments since the calendar turned.
We'll take a look at who exactly those recruits are as well as talk about the big weekend ahead in Stillwater in this week's edition of Big 12 recruiting storylines.
OU on a roll
To continue reading this article you must be an Insider
October, 30, 2013
Oct 30
5:30
AM ET
RecruitingNation's The Early Offer gives you a daily dose of recruiting in the mornings. Today's offerings: By offering the top signal-caller in the 2015 class, Texas proves it is serious about fixing its issues at the quarterback spot; Arkansas hopes to make a big impression with four key official visitors slated to visit this weekend; and a NJCAA region VI playoff game will feature some of the best junior college players in the country.
To continue reading this article you must be an Insider
October, 24, 2013
Oct 24
2:00
PM ET
In the past week, the top players in Texas for 2014 and 2015 announced their commitment to the same school. One of the top playmakers in the Lone Star State switched his commitment to a Big 12 school. West Virginia got a visit from an athlete committed elsewhere.
We'll take a look at those topics and a few others in this week's edition of Big 12 recruiting storylines.
To continue reading this article you must be an Insider
October, 16, 2013
Oct 16
2:00
PM ET
By
RecruitingNation
| ESPN.com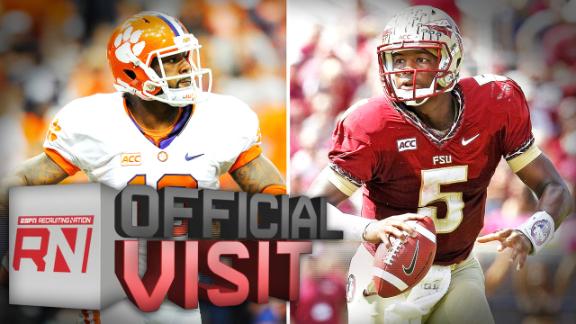 Each Wednesday, ESPN RecruitingNation updates its national class rankings and its conference rankings.
Texas coach Mack Brown may be under some fire, but the Longhorns are coming off a big win in the Red River Rivalry and still lead the Big 12 class rankings. Baylor has impressed recruits with its potent offense, resulting in the Big 12's second-ranked class. The Bears are recruiting more offensive firepower with commits like WR
K.D. Cannon
. West Virginia recently slipped out of the national rankings but still sit at No. 6 in the conference.

1. Texas, 24 commits:
The Longhorns check in at No. 7 in the RecruitingNation class rankings with the headliners being No. 79 overall
Derick Roberson
(San Antonio, Texas/Williams J. Brennan High), No. 119
Armanti Foreman
(Texas City, Texas/Texas City High) and No. 138
Jerrod Heard
(Denton, Texas/John H. Guyer High). Texas, which currently has seven ESPN300 commits, has its sights set on No. 31 overall
Solomon Thomas
(Coppell, Texas/Coppell High), No. 13
Tony Brown
(Beaumont, Texas/Ozen High) and No. 25
Jamal Adams
(Lewiville, Texas/Hebron High).
To continue reading this article you must be an Insider
September, 9, 2013
Sep 9
8:00
AM ET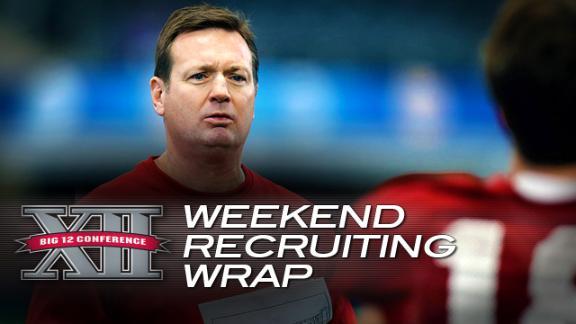 The talk of the Big 12 circled around the meltdown of the Texas defense, which ultimately led to the dismissal of defensive coordinator Manny Diaz. While that went on, Baylor put up 70 points and a school-record 781 total yards against Buffalo, and Oklahoma topped West Virginia in the only interconference battle of the week.
While Big 12 teams had their storylines, a few conference recruiting targets also managed to make headlines. Here are some of the highlights from the weekend.
To continue reading this article you must be an Insider
September, 5, 2013
Sep 5
2:00
PM ET
College football is in full effect, but high school football opened with a bang as well. From SportsCenter-worthy catches to conflicting reports about a Big 12 commit -- or decommit, depending on which side you believe -- the weekend is expected to provide a lot of enthusiasm and excitement.
Here's a look at some of the Big 12 storylines:
To continue reading this article you must be an Insider
September, 3, 2013
Sep 3
8:00
AM ET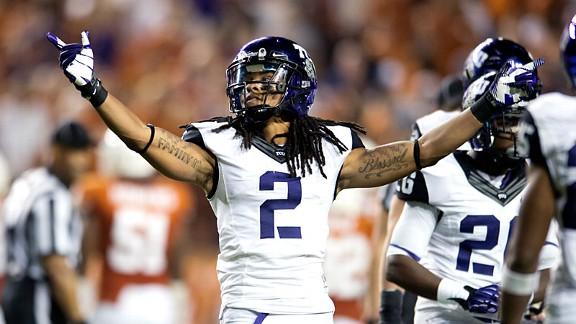 What's the most critical position in the Big 12? It depends on who you talk to. In a conference that rides its offensive reputation, some coaches are hoping to land players that will help them score points, while others are looking for the prospects to prevent points.
As official visits become finalized and uncommitted players get closer to announcing their commitments, here is a look at some of the most critical positions in recruiting for the Big 12 teams.
To continue reading this article you must be an Insider
August, 30, 2013
Aug 30
11:00
AM ET
This week's Big 12 recruiting mailbag takes a look at one of the nation's top defensive ends, the thoughts of a possible Sooner State connection with Texas' largest city and more. We encourage all to send questions each week, either via Twitter to @DamonSayles or @ESPNWilkerson or via email at dsaylesespn@gmail.com or wilkerson.espn@gmail.com.
From @taylormidkiff
: How realistic is it that TCU lands
Myles Garrett
?

While TCU is high on Garrett's list, I don't know if the Horned Frogs are high enough on the totem pole. The nation's No. 7 player is planning on visiting Alabama, Texas A&M, Florida State and Ohio State before making a final decision. If TCU can lure Garrett away from those four powerhouses, it'll be one of the program's biggest moves in recruiting in years. At 6-foot-5 and 247 pounds, Garrett is the real deal and could be a valuable member of the defensive line. The one advantage the Horned Frogs have is that they're very close to Garrett's home in Arlington, Texas.
From @Roberrttthom
: What will the addition of
Chris Hardeman
,
Keenen Brown
and
Josh Mabin
do for the Cowboys recruiting in the Houston area?
First off, Oklahoma State scored three power players in Hardeman, Brown and Mabin, and all three can see playing time early in their college careers. The commitments can do nothing but help Oklahoma State's popularity in the Houston area. The Cowboys have done fairly well in the Dallas and San Antonio areas in previous years, but Houston has belonged to other programs. Assistant coaches like Van Malone, Tim Duffie and Glenn Spencer can help to change that.
From @MichaelW_OKST
: Does it appear that OSU is surpassing OU as the football school on Oklahoma?
Our own Tom Luginbill likes to talk about programs having a "cool factor." Right now, Oklahoma State has the cool factor over Oklahoma. Offensive players want to play in a fast-paced, high-scoring offense, and defensive players want to make their names in a Big 12 conference loaded with high-octane opponents. I think Oklahoma is still the place where many players -- particularly within the state -- lean to first. The conference championships and learning under coach Bob Stoops is reason enough. However, keep an eye out on the Cowboys for the next couple of years. Mike Gundy has this team on a mission.
From Jeff Martin
: What is
Solomon Thomas
going to do? Does Texas have a shot?
Texas has a very good shot at the nation's No. 5 defensive end. That's the good news for Longhorns fans; the bad news, however, is that Stanford, Alabama and several other schools have a good shot, as well. Right now, Thomas is focused on doing his part to win football games for his team. Look for Thomas to finalize some official visits soon, and don't be surprised if Texas is in his final two or three schools. Whether or not the Longhorns will land the 6-3, 256-pound bookend still remains something of a mystery.
August, 28, 2013
Aug 28
2:00
PM ET
Spikes by Arizona and North Carolina didn't do much damage to Big 12 teams in the latest
ESPN class rankings
, but two teams did drop one spot.

Arizona skyrocketed from No. 32 to No. 23, and No. 20 North Carolina rose three spots to crack the top 20. While Texas and Baylor stayed put at the No. 7 and No. 17 spots, respectively, Oklahoma (No. 22) and Texas Tech (No. 31) each fell one spot. Oklahoma State remained at No. 29.
To continue reading this article you must be an Insider
August, 22, 2013
Aug 22
2:00
PM ET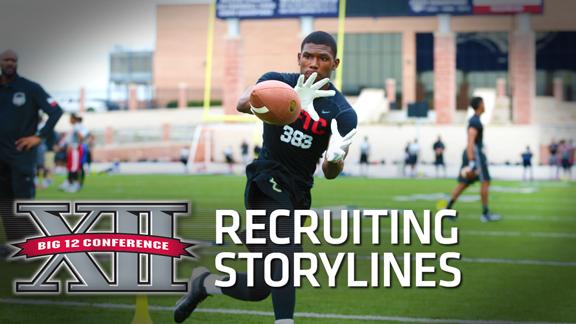 A slow week of recruiting took a turn for the better for Oklahoma State on Wednesday. The Cowboys landed a 2014 commitment and also found out a 2013 three-star player was transferring from the East coast.
Oklahoma State highlights this week's Big 12 storylines, but there's also news about West Virginia and top 2014 and 2015 players who could be big-time Big 12 assets.
To continue reading this article you must be an Insider
August, 20, 2013
Aug 20
8:00
AM ET
As we inch closer to the start of the college football season, wins and losses are going to be important -- not only for bowl-game consideration but also to keep current commitments interested.
Several 2014 athletes have pledged to Big 12 programs, and it's up to the conference's schools to keep those athletes committed. Here are must-keep recruits for each team, athletes who can impact their respective classes.
To continue reading this article you must be an Insider
August, 16, 2013
Aug 16
11:00
AM ET
It's time to open the mailbag and answer some questions about Big 12 recruiting. We encourage all to send questions each week, either via Twitter to @DamonSayles or @ESPNWilkerson or via email at dsaylesespn@gmail.com or wilkerson.espn@gmail.com.
@hammerheel
: Which Big 12 team can improve their recruiting ranking the most with a big season on the field? Which team has biggest upside?
Damon Sayles
: I think Texas Tech can really improve its ranking down the road if it can score a few clutch victories. This is Kliff Kingsbury's first year as head coach, and if he can lead the Red Raiders to a great season, it will result in getting some top-notch commitments for the future -- the same way Texas A&M picked up stud commits after a strong 2012 season.
@LeeRagland
: Never asked before, but did
Ty Barrett
to TCU surprise you? Enjoy your work.
DS
: Thanks, Lee, and honestly, Barrett's decision did not surprise me. I've always known Barrett to be a shock-the-world type of player. Several of the players from Dallas Skyline think similarly (remember,
Victor Evans
surprisingly chose Ole Miss over Texas). Barrett should be a major asset to the Horned Frogs' offensive line -- and trouble for opposing Big 12 defenders.
@CLadyjags31s
: As a parent, I want to know the reason for committing so early. Things change day to day. Why is it such a rush to commit?
DS
: Unfortunately, it's one that doesn't have a conventional answer. Some commit early because they've been set on going to one school for quite some time; perhaps, it's their favorite school. Others commit early because they jump on the first school to offer. That's frowned upon by many, because you want a player to have time to weigh all options, but it happens. Then you have some players who commit early for the glamor and glitz of the event. They make a deal out of it either by way of a school ceremony or per an announcement on Twitter. One thing's for sure: If a player commits, almost every college coach would agree that you should honor that commitment.

garrettjelley@yahoo.com
: Other than
Steven Parker
, what ESPN 300 prospects do you see Oklahoma State ending up with? Also, does Oklahoma State have a shot at
Malachi Dupre
,
Trey Quinn
or
Cameron Sims
?
DS
: I'm sure that Oklahoma fans would beg to differ on Parker going to Stillwater and not Norman. Those are the two favorites, but whether or not he ends up a Cowboy is still to be determined. As for Dupre, Quinn and Sims, I think Oklahoma State is in the running for all three. However, it'll be tough to steer Dupre and Quinn from LSU and Sims from Alabama. The process isn't over until it's over, right?
@ElmoSledd
: Where do you think
Dakota Allen
will land?
DS
: Allen is supposed to make a decision Friday night, and he is down to Texas Tech and TCU. While he'd look good in TCU purple, I think the relationship he's built with the Red Raiders coaching staff will be the ultimate decider. Plus, Texas Tech is in dire need of a linebacker for its 2014 class. Allen is one of the best-available inside linebackers around, and whichever school ends up with him gets a steal.
@RL1_Era
: Which Big 12 team needs a big recruiting class the most?
DS
: A team like Kansas really could use a big class strictly for the confidence boost. The Jayhawks only have seven commitments entering the weekend. Fortunately for Jayhawks fans, three of the seven are four-star players, and two -- OLB
Kyron Watson
and OL
Jacob Bragg
-- are ESPN 300 players. A strong 2014 class will help change the image of Kansas football. Charlie Weis and Co. understand that with recruiting in Lawrence, it's all about taking small steps.
tuxjackson@ymail.com
: When does
Jamardre Cobb
plan to make his decision, and if you were to guess today, who would you say has the upper hand out of his top 3?
DS
: Right now, Cobb is focused on winning a state championship for Los Angeles Salesian. Recruiting isn't necessarily taking a back seat, but it's far from the forefront. The ESPN 300 linebacker has an official visit scheduled for Oklahoma in early October, and the Sooners have had success landing players from the west coast. Arizona and Arizona State also are teams to watch in the Cobb sweepstakes.
August, 15, 2013
Aug 15
4:30
AM ET
The Early Offer is RecruitingNation's latest feature, giving you a daily dose of recruiting in the mornings. In today's offerings, once again Mack Brown is shaking up the way recruiting is done in the Lone Star State, a Texas school district building a dome for football is a good thing for colleges that recruit Dallas, and Texas Tech is in much better shape on the recruiting trail with Kliff Kingsbury in charge.
Texas' 2016 commit shakes process up
To continue reading this article you must be an Insider