On The Trail: East Region:

Football
January, 15, 2014
Jan 15
2:00
PM ET
The final installment of the
ESPN 300
brought significant changes to the top 40 of the
ESPN class rankings
. More than half of the schools in the rankings moved up or down at least one spot and two schools in the top 30 a little more than a week ago have now fallen completely out of the rankings.
To continue reading this article you must be an Insider
August, 13, 2013
8/13/13
8:00
AM ET
There are still several months for before national signing day, but this week, we take a look at who we feel is the top remaining prospect on each SEC team's recruiting board. The list is in alphabetical order.
Alabama
LT Cameron Robinson (West Monroe, La./West Monroe)
6-foot-5, 330 pounds
ESPN 300 rank: 3
Alabama already has a solid offensive line class but the addition of Robinson could make their OL class the tops in the country. Robinson was dominant out at The Opening last month and there is no question he is the top tackle prospect in the country this year. The Under Armour All-American will chose between LSU and Alabama. RB
Leonard Fournette
, could also be listed here for Bama, but the Tide have a stable of running backs, and left tackle is the second most important position on the field. Robinson has the look of a future top-10 draft pick.
To continue reading this article you must be an Insider
August, 9, 2013
8/09/13
11:30
AM ET
Want to ask ESPN RecruitingNation senior analyst Tom Luginbill a question about your team? Tweet it to @TomLuginbill using the hashtag #AskLoogs.
#AskLoogs have you seen much of Jordan Scarlett and j.patrick from 15'...? Thoughts comparisons ?

— Chris M (@cmrdu) August 7, 2013
Yes, both No. 26
Jordan Scarlett
and No. 231
Jacques Patrick
are in the first release of our
ESPN Junior 300
. Though both are elite prospects and are currently uncommitted, they're very different backs. Let's start with Patrick, who is a bit of an enigma and difficult to project as a pure RB because of his measurables -- he's built like Beanie Wells, but taller. He could easily be a linebacker candidate at the next level although he is being recruited as a RB. He is a very unique and gifted athlete, but is not at the same level as
Derrick Henry
who we have had questions about as a pure runner as well. Patrick is a pure bruiser -- an upright, tall galloper who is an ideal fit for a downhill power run scheme. He is not overly dynamic or creative in our mind at this stage, but it's early. We would like to see more suddenness and explosiveness from him. His top end speed is competitive, but nowhere near Henry's.
Scarlett is more in the mold of Ray Rice: a stout, strong, compact and physical back, but possibly not a home-run threat. He is very good in-line when pressing the hole and making decisive cuts. We are not convinced he has great cutback or zone vision on a consistent basis. When you consider the past two classes of running backs that the state of Florida has produced, it's clear that this year's crop has a lot to live up to. Henry,
Greg Bryant
,
Sony Michel
,
Joseph Yearby
,
Ryan Green
,
Kelvin Taylor
,
Dalvin Cook
are just a few of the premier players at that position the last two years and we aren't yet convinced that Patrick and Scarlett are in their class.
June, 30, 2013
6/30/13
9:31
PM ET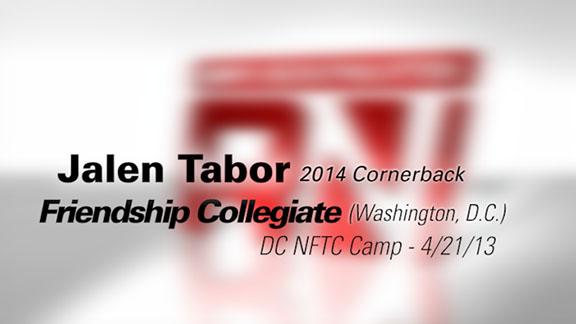 LAKE OSWEGO, Ore. -- ESPN 300 defensive back
Jalen Tabor
(Washington, D.C./Friendship Collegiate Academy) has a top five consisting of Alabama, Maryland, Florida State, Florida and Vanderbilt, but two might be inching ahead of the others.
Tabor, who is No. 16 in the ESPN 300 and the nation's No. 4 conerback, talked about his favorites during registration for The Opening football camp:
To continue reading this article you must be an Insider
June, 12, 2013
6/12/13
5:00
PM ET
By
Brendan Hall
| ESPN.com
Natick High Class of 2014 quarterback Troy Flutie gave a verbal commitment to Boston College this afternoon, his father Darren confirmed to ESPNBoston.com.
Flutie's commitment was first reported by Rivals.com.
The 6-foot, 178-pound Flutie is one of the state's most dynamic dual-threat quarterbacks, earning a spot on ESPN Boston's annual All-State Team last fall after a record-setting campaign in leading the Redhawks to the Division 2A Super Bowl title game. He completed 68 percent of his passes for 3,153 yards and 35 touchdowns to just eight interceptions, and on the ground he carried 167 times for 1,075 yards and 14 more scores.
He is also the nephew of 1984 Heisman Trophy winner Doug Flutie, also a Natick alum, and his father Darren played receiver around the same time as well. His cousin, Billy Flutie, played wide receiver for the Eagles from 2006 to 2010.
On his own merit, Flutie impressed the coaching staff during a one-day camp on the Chestnut Hill campus last Sunday, running a 4.57-second 40-yard dash and demonstrating good athleticism. This afternoon, following the end of school, Troy visited BC's campus and received a scholarship offer from head coach Steve Addazio. He committed on the spot.
"It is BC, and now we have generations going here, but I can tell you it's a whole different feel," Darren said. "Coach Addazio is a whole different element. He made it very clear to Troy, 'I'm so glad you father, your uncle and your cousin came here; [but] I wouldn't offer a scholarship to a kid unless I thought he could help us at BC, what I saw Sunday and what I saw on your film, you're a football player and you're gonna help us win games'.
"I thought it was neat that he clarified that. The legacy is cool, but Troy is Troy, and he's gotta earn it on his own. I'm just so proud of him."
Flutie becomes the sixth in-state pledge for Addazio's 2014 recruiting class, joining Millis offensive lineman
Jon Baker
, Doherty wide receiver/defensive back
Isaac Yiadom
, St. Sebastian's linebacker
Connor Strachan
, Dexter offensive lineman
James Hendren
and Roxbury Latin tight end/linebacker
Kevin Cohee
. Flutie will also be reunited with former teammate
Liam Porter
, an offensive lineman, upon his arrival to BC.
The plan is for Flutie to enter BC as an athlete position, which includes the possibility of seeing time at wide receiver. He had no other Division 1 offers at the time of his commitment today, though there had been varying amounts of interest from the local FBS and FCS programs.
June, 3, 2013
6/03/13
10:00
AM ET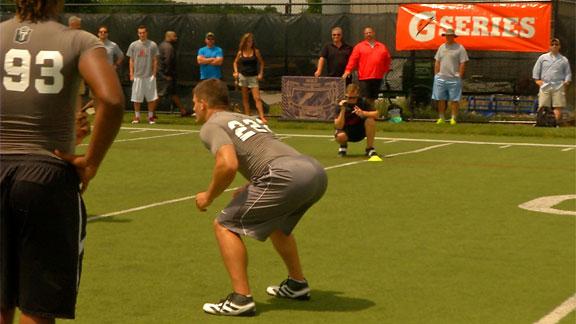 Editor's note: Finding the Future is a RecruitingNation feature that will appear throughout camps and combine season, ranking prospects strictly on their on-field performance at the particular event. It does not reflect where each will land when the class is ranked by ESPN.
COLUMBUS, Ohio -- The Nike Football Training Camp was loaded with top upperclassmen on Sunday, but a handful of 2015 prospects showed they could compete with some of the top competition from the Midwest.
1. OT Sterling Jenkins
6-foot-8, 295 pounds | OT | Pittsburgh Baldwin
Considering:
Offers from Arizona, Michigan, Ohio State, Penn State, Toledo, Virginia, Vanderbilt, Virginia Tech and West Virginia
What we learned:
With some of the top committed and uncommitted defensive linemen in the Midwest flocking to the NFTC, Jenkins certainly didn't back down as he more than held his own against top-ranked talent.
"What I like about Sterling is he has the reach, the length of an elite tackle," said former Florida State and NFL offensive guard Montrae Holland. "He's young right now and has to get a better understanding of angles, but the overall tools are there. He has the raw material to be very good."
To continue reading this article you must be an Insider
April, 4, 2013
4/04/13
3:57
PM ET
Three-star linebacker
Zayd Issah
will not football at Penn State this fall, but "eventually he could end up at Penn State down the road," Bill O'Brien told The Associated Press on Wednesday evening.
Issah, a standout athlete at Harrisburg (Pa.) Central Dauphin, was charged March 10 with trying to pass off counterfeit $20 bills at a local McDonald's. According to the criminal complaint, Issah and two teenage friends tried to pass off the fake bills while paying at the drive-thru window. They fled, but employees identified the vehicle, and police later found them.
Issah faces felony charges for conspiracy and forgery and also misdemeanors for theft by deception. The Harrisburg-Patriot News first reported the story last week.
"We want what's best for Zayd. We don't think Zayd is a bad kid at all. We think he's a young guy that's made a couple questionable decisions," O'Brien told the AP. "His next move will be determined by him ... He will not be here next year to play football at Penn State, but eventually he could end up at Penn State down the road."
According to the AP, O'Brien met with Issah and his parents over the weekend. A decision has still not been reached on his next step.
Issah decommitted after the sanctions and contemplated choosing Oregon, Arizona State or another school. Eventually, more than three months later on Dec. 9, he re-committed to the Nittany Lions.
"It's Linebacker U," Issah told ESPN before signing day. "That did it for me."
The linebacker's departure -- short-term or otherwise -- is a blow to the Nittany Lions this season. O'Brien lamented the linebacker depth this spring, and there will now just be a half-dozen scholarship players at the position over the summer.
One of those players,
Ben Kline
, is still recovering from offseason shoulder surgery. And another,
Brandon Bell
, is an incoming freshman.
February, 27, 2013
2/27/13
10:27
AM ET
A helicopter hovered over Beach Channel High in Rockaway Park, N.Y. Inside the aircraft was New York Mayor Michael Bloomberg, who, along with the pilot, was surveying an entrance point to the Rockaway Peninsula. Few areas among the 24 states Hurricane Sandy affected were hit as hard as this one.
As the helicopter got within a few dozen feet of Beach Channel's artificial turf football field, the pilot suddenly ascended again. The turf, already torn at the seams from years of wear, lifted from the foundation and began wildly whipping around in the air, nearly catching in the helicopter's rotor.
"If you look at our football field, from the 40 to 40 is nonexistent," Beach Channel coach Victor Nazario said. "It's only the black rocks and stones underneath the field."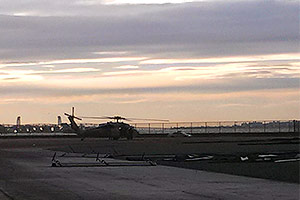 Courtesy of Victor NazarioNew York City Mayor Michael Bloomberg used Beach Channel High's football field as a helicopter landing area while surveying Hurricane Sandy's damage to Rockaway Peninsula.
An area lightly recruited to begin with, New York City's few prospects face even more challenges and hurdles in landing the elusive Division I scholarship.
Beach Channel DT
Folorunso Fatukasi
has yet to go back to his house since the Oct. 29 superstorm forced his family to evacuate. But he's trying to make the best of the situation.
For several months, Fatukasi was working out at a gym close to the motel where his family was staying. His family is now living with a friend, but his perseverance helped him sign with Connecticut earlier this month and he recently received his workout schedule from the UConn staff.
Now that Beach Channel is open again, Fatukasi is working out on the field as much as the conditions allow.
"We can do some workouts, small sprints," Fatukasi said, "but when me and my teammates want to do full sprints, it's not working out. … But it can be done. We got half of a field to work with. If we need to do 100-yard sprints, I guess we'll go right there and turn right back around."
While Fatukasi is signed and ready to leave for UConn in the summer, underclassmen are just beginning their pursuit of a scholarship. The spring evaluation period, during which college coaches can visit high schools and watch potential recruits train, begins April 15 and lasts through the end of May.
The problem is several high schools don't have a field or facilities.
Nazario faced a similar situation 13 years ago as the city updated several of New York's fields. Nazario, who spent six years in the Army Reserves, held workouts at an old military fort no longer in operation. He hopes to use that again if the field is not ready in time, but he was told the base could be used to help deal with Sandy relief in another capacity. Layers of sand from the nearby beach buried another Rockaway youth football field, leaving one fewer option.
"I'm brainstorming as we speak," Nazario said.
Abraham Lincoln (Brooklyn, N.Y.) coach Shawn O'Connor talked with assistant coaches last week about what the school will do for the spring evaluation period.
Lincoln junior defensive tackle
Thomas Holley
has added several high-level BCS offers in recent weeks, but he has only eight career games under his belt. O'Connor has a few other underclassmen who also could use the help of a strong spring performance in front of coaches to earn a scholarship.
"We got not only Thomas but some other good guys that can get some [attention] because [colleges] are coming to look at Thomas," O'Connor said. "Right now we'd go in tennis courts or the gym or go to a park a couple blocks away if they don't get the field up and running."
Sandy could hurt the development of New York City's prospects when it comes to the 2013 season as well. Nazario and O'Connor both lost their football field houses to flooding. The recently furnished weight room at Lincoln was destroyed, as well as game tape and some equipment. Beach Channel's field house had three TV sets and DVD players to watch film. All are now unusable.
"I had to sit with my AD to give a list of everything lost -- which was pretty much everything -- and what needs to be replaced," Nazario said, "but the Department of Education has priorities and understandably so."
With estimates pushing Sandy's damage toll past $70 billion, O'Connor is asking where the money to help rebuild football facilities and buy equipment will come from.
"Who's going to pay for it?" he said.
Nazario just hopes he can field a team in 2013. The numbers are dropping, and some parents are hesitant to send their children back to the city schools hit hardest.
He tries not to dwell on it too much, though. He said that isn't in his nature.
"I'm not going to pout," he said. "I'm going to seek to solve it."
January, 28, 2013
1/28/13
8:00
AM ET
A.J. Sullivan reflected on his upcoming visits to FCS schools and figured he'd stick with his prep school, Worcester (Mass.) Academy, for another semester.
But all that all changed two weeks ago when Temple came calling.
To continue reading this article you must be an Insider
January, 20, 2013
1/20/13
5:21
PM ET
Neiko Robinson
stared outside his window on the plane ride to Happy Valley, trying his best to envision what Beaver Stadium might look like up close.
When the three-star safety's plane glided over town, his eyes immediately targeted that giant erector set of a structure. He felt a sense of excitement, a surge of adrenaline, and his eyes followed until it went out of view.
"When the stadium was coming up, you couldn't help but see it," the PSU commit said with a laugh. "I just got chill bumps. When I saw it, I was like, 'Oh gosh.' I was just at a loss for words."
The defensive back out of Bratt (Fla.) Northview visited the stadium at 3 p.m. the next day. He had previously only seen photos, most from Penn State's website, and never before saw the stadium in-person. He had never stepped foot in Pennsylvania before.
Robinson called his time inside the stadium as the most memorable part of his three-day, 1,700-mile round trip.
"It's just a beautiful stadium," he said. "From the outside, it looks huge. And you get inside and it's like, 'Dang!' Man, it's so big. I can just imagine how filled up it's going to be."
To continue reading this article you must be an Insider
January, 6, 2013
1/06/13
3:34
PM ET
ST. PETERSBURG, Fla. -- Class of 2014 running back prospect
Johnathan Thomas
(Danvers, Mass./St. Johns Prep) posted one of the top 40-yard-dash times at the Under Armour National Combine on Friday. The 5-foot-10, 196-pound athlete turned in a blazing 4.47 40 time.
Thomas is expected to be one of the top prospects in Massachussetts and he's already hearing from some of the top schools in the northeast.
"I have offers from Boston College, UMass, Virginia and UConn. Penn State is showing a lot of interest," Thomas said. "So is Virginia Tech."
To continue reading this article you must be an Insider
November, 18, 2012
11/18/12
12:59
PM ET
GAINESVILLE, Fla. -- ESPN 150 defensive end
Ebenezer Ogundeko
(Brooklyn, N.Y./Jefferson) has named the Gators his leader after an official visit to Gainesville for the Jacksonville State game.
Ogundeko, an Under Armour All-American, said he enjoyed his trip to Florida because of what he saw out of freshmen defensive ends Dante Fowler Jr. and Jonathan Bullard.
"It went great," Ogundeko said. "Just the people in general were great -- like the players that are going to be at my position like Dante Fowler and Jon Bullard. The coaches were great too. It was a good visit."
To continue reading this article you must be an Insider