Texas learns from slow start, big stats
September, 2, 2013
9/02/13
10:00
AM ET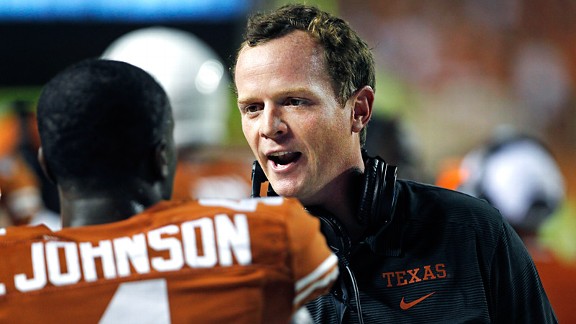 AP Photo/Michael ThomasAfter a slow start, Major Applewhite's offense kicked into high gear in the second half.
AUSTIN, Texas – The truth about Texas' offense is buried somewhere in the middle.
They're not the offense that showed up for the first half. They can't be the second-half edition every single week.
It's not a Jekyll-and-Hyde conundrum as much as a testament to the challenges offensive coordinator Major Applewhite faces as he calls the shots from the sideline. He found out Saturday just how good Texas' offense can be when the uptempo offense has worn down an opposing defense. He also knows how shaky this unit can look when it starts slow.
Applewhite spent Saturday night and Sunday reviewing it all with his staff, but the postgame summation he offered was apt.
"The first half was miserable," Applewhite said. "The second half got better, a little bit more fun."
Texas went from scoreless to unstoppable in a matter of minutes, from 0 points to 56 before New Mexico State could muster an answer. The offense that had 136 yards in the final minutes of the second quarter finished with a school-record 715.
As a coach, Mack Brown likes those kinds of results. They're perfect motivators, tangible proof for any team meeting or film session.
"You need for them to play well enough to feel they can be good, but understand they didn't do well enough to be good," Brown said. "We've got some things we've got to fix. But I thought it was a great opener for us. We won. We blew them out."
He's glad that blowout required a humbling dose of adversity, too. As was the case in the Alamo Bowl last December, Texas' own worst enemy is too often itself.
The first of Texas' three first-half turnovers came after on a fumble after
Mike Davis
picked up 21 yards on third down. The second could have been an easy touchdown if thrown just a bit differently by
David Ash
. And Applewhite said the third would've been a
Daje Johnson
touchdown had Ash's pass not been tipped at the line.
On all three occasions, a big play was wiped off the board by some detail, some miscue. That's living and learning when you're operating an offense loaded with weapons and big-play potential.