December, 22, 2014
Dec 22
2:00
PM ET
AUBURN, Ala. -- It's been a little over a week since Will Muschamp took over as Auburn's new defensive coordinator, and he's wasted no time settling in to his new job. Just hours after his introductory news conference, the former Florida coach was already on the phone with recruits, persuading them to join him on the Plains.
[+] Enlarge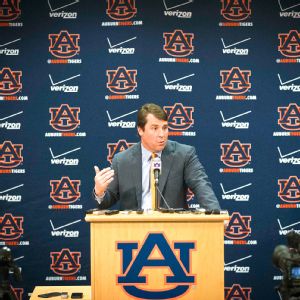 AP Photo/Brynn AndersonFormer Florida coach Will Muschamp has hit the ground running as Auburn's defensive coordinator.
Bowl practice began last week for the Tigers, and though Muschamp isn't running the defense just yet -- that's Charlie Harbison's job for now -- he was still out there taking it all in.
"It's been really good," Auburn coach Gus Malzahn said of Muschamp's presence. "He's just trying to get to know our players, evaluate our current guys and our players have responded extremely well."
The defensive players knew Muschamp's name well before he was hired, and when rumors started to spread he was coming to Auburn, they did their research. They watched videos of their new coach and saw the passion and intensity that has defined him over the years.
Now that Muschamp has arrived on campus, the first impression has been no different.
"Really high intensity guy," linebacker
Kris Frost
said. "It's been mostly sitting back and observing us right now. But seeing the videos and also just meeting him and talking to him, you can just tell he loves what he does. He's a perfectionist at it. It's about us doing all we can to please him, and we know that next year, it's going to be a really fun year for us."
The first week of practice was "nerve-wrecking" for Frost and a lot of the players who are basically auditioning for next season. They know Muschamp is watching, and the energy has been cranked up as a result. Players are flying to the ball, and the
55-44 loss
to Alabama in the Iron Bowl seems like a distant memory.
The focus has turned to Wisconsin and more importantly, impressing their new coach.
"I've been through a coaching change before," cornerback
Jonathan Jones
said. "It's the same thing. You're starting fresh, so it's a good thing for everybody. Whereas some coaches might already have a certain opinion about you, you're able to change their perception. It's a great thing being able to start fresh."
Jones, who leads Auburn with six interceptions this season, is penciled in as the team's No. 1 cornerback heading into next season, but even he knows how important it is to make a good first impression on the new defensive coordinator.
Muschamp has declined interviews through the bowl game, so it's likely we won't know his thoughts on the defense until the spring. But based on the numbers and the second-half collapse, he'll have his hands full retooling this Auburn defense.
One thing he can look forward to is the return of defensive end
Carl Lawson
, who missed the entire season after tearing his ACL in spring practice.
Lawson returned to practice last week for the first time since the injury.
"It's great to see him out there in pads and a helmet," Malzahn said. "I know he's got a big smile on his face. He's doing what he can do, but it's really good to have his presence out there and his leadership.
"Anytime you come off a knee injury, it takes a little bit to get used to it and how it feels. One day it may be a little sore. I think it's very valuable he's able to do that now. Once he gets to spring, we'll turn him loose and we expect him to be back to normal."
The return of Lawson coupled with the presence of Muschamp has the players believing this defense can be one of the better defenses in the SEC next season. But first, they have to figure out a way to stop Heisman Trophy finalist
Melvin Gordon
in the Outback Bowl.
The new defensive coordinator will be watching.