January, 18, 2015
Jan 18
11:41
PM ET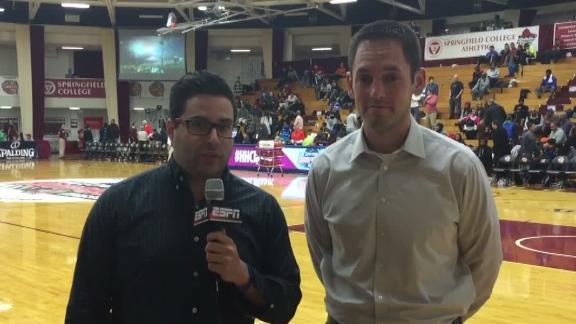 SPRINGFIELD, Mass. -- The big news of the day didn't necessarily happen on the court, but was instead a confirmation of Jeff Borzello's
report
from last week as both
Thon Maker
and his guardian Ed Smith acknowledged a move to the class of 2015 was possible, and could potentially become official in the coming weeks.
Kentucky and Kansas are perceived to be the frontrunners for Maker's services and John Calipari was front and center for Orangville's (Canada) game. While Duke, UCLA, Missouri, and Indiana could all reportedly be in the mix as well, the potential still exists that Maker could bypass college altogether, moving back to 2015 only as a precursor to a post-graduate year before making an immediate jump to the 2016 NBA Draft.
As for his performance on the floor, Maker racked up 23 points and 11 rebounds but was largely not involved in the offense until the final minutes of the game. While his lack of touches never impacted his motor -- he ran the floor beautifully and rebounded out of his area all game -- he did force some things off the dribble at times, turning it over eight times as a result. Regardless of any inconsistencies in his performance, Maker's sheer talent is downright staggering and almost immediately apparent even to an untrained eye.