NCB On The Trail:

Terance Mann
January, 7, 2015
Jan 7
9:30
AM ET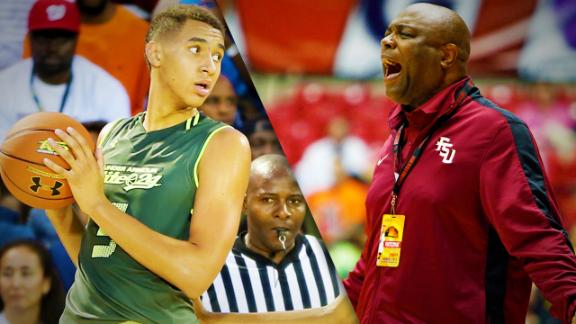 With the early signing period in the rear-view mirror and the high school season in full swing, it's time to look ahead to who's coming into the college game.
Now that conference play is underway, we are going to look at some of the best prospects and classes coming into each of the power conferences next year.
The ACC has a wealth of help on the way with 15
ESPN 100
prospects and six
top 40
classes coming in.
Here are my five choices on some of the very best recruits heading to the ACC.
Most impactful class:
Florida State
There is no doubt that coach Leonard Hamilton was surprised and disappointed about junior
Aaron Thomas
being ruled academically ineligible last month as there is never a way to prepare for those situations. But Hamilton should feel very optimistic about the help that's on the way. Top 50 prospects
Malik Beasley
(No. 31) and
Dwayne Bacon
(No. 39) will provide elite-level scoring in the conversion game as well as the half-court setting. When the defense is tight, they can create their own offense.
Terance Mann
(No. 82) will blend in with his versatility, basketball IQ and athletic ability to serve the team. All three make up the No. 7 class and should make a difference offensively. Hamilton is a master at teaching his players to defend both on and off the ball. Expect major contributions from this group.
August, 20, 2014
8/20/14
10:15
PM ET
ESPN 100 swingman
Terance Mann
committed to the
Florida State Seminoles
on Wednesday night, announcing his decision
via Twitter
. The 76th ranked prospect in the 2015 class had previously cut his list to six schools following the July evaluation period – Arizona State, Boston College, Florida State, Indiana, Marquette, and Rhode Island.
To continue reading this article you must be an Insider
July, 13, 2014
7/13/14
10:10
AM ET
LAS VEGAS -- The LeBron James Skills Academy concluded on Saturday with an impressive North Carolina squad methodically putting away a talented Syracuse team 65-52 in the championship. North Carolina was a well-rounded team that received a number of stellar performances from the likes of
Ivan Rabb
,
Aaron Falzon
,
Malik Monk
,
Jake Lindsey
,
Cassius Winston
and
Aaron Holiday
.
Here were some of the standout performances and interesting storylines from the LeBron camp:
Intriguing matchup
To continue reading this article you must be an Insider
June, 3, 2014
6/03/14
11:35
AM ET
The ESPN 60 has officially grown into the
ESPN 100
for the Class of 2015, and there are plenty of intriguing storylines among the top rising seniors in the country:
[+] Enlarge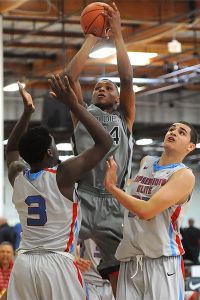 Chris Williams/Icon SMIIvan Rabb maintained his tenuous hold on the No. 1 spot in the 2015 class.
1. Top spot still up for grabs.
Ivan Rabb
has retained his spot as the top-ranked prospect in the Class of 2015, but make no mistake about it: This remains a very tight race that will continue to play out for the next 12 months. Rabb's versatility and efficiency during the Elite Youth Basketball League regular season, in addition to his vast physical upside, were enough for him to retain his title. But he has plenty of competition.
Ben Simmons
has been coming on as strong in recent months as any prospect in the class, as he is now turning potential into production on a much more consistent basis. In a class full of scoring guards,
Malik Newman
stands out as the most talented of them all, and very likely the best pure scorer in the ESPN 100.
Diamond Stone
has had an equally dominant spring in the Under Armour Association, playing his way into the top four and asserting his claim as a contender in the race for the No. 1 spot.
2. Oh, Henry.
No player has made a more dramatic jump up the rankings than
Henry Ellenson
, who went all the way from No. 47 to No. 5 in the ESPN 100. Ellenson averaged 18 points and 9 rebounds per game for Playground Elite during the EYBL season, showing a versatile and unique game for a 6-foot-9 power forward, all while continuing to raise his level of his production with each passing week. He can shoot the ball from the 3-point line but is also a threat to put the ball on the floor. He is perhaps most effective when he's able to get out and run in transition.
3. Other risers.
Ellenson is just the tip of the iceberg when it comes to players whose stock is rising.
Jaylen Brown
had a terrific spring on the adidas Gauntlet circuit and played his way into the top 10.
Chase Jeter
jumped more than 20 spots to land at No. 13, while Michigan State-bound big man
Deyonta Davis
moved up 30 spots to No. 18. Other spring stock risers include
Justin Simon
, who went from 45 to 23;
Jalen Adams
, 46 to 33; and
Jalen Coleman
, who hopped 24 spots to land at No. 34 in the ESPN 100.
4. Announcing his arrival.
Previously a member of the 2016 class,
Caleb Swanigan
is making his debut in the 2015 rankings at No. 17 after announcing his reclassification last month. The wide-bodied 6-9 big man has nimble feet for a player of his size and an even bigger presence on the backboards. He led the entire EYBL in rebounding this season and was equally dominant cleaning the glass on both ends. His recruitment has also heated up, with Arizona and Kansas joining a long list of scholarship offers that already included Michigan State, Indiana, Purdue and many others.
5. More notable newcomers.
While Swanigan might be the most notable of the new prospects in the ESPN 100, he's far from the only one. In a class in desperate need of point guards,
Corey Sanders
has helped to fill a major void. He was unranked in the last ESPN 60 but now makes his ESPN 100 debut ranked No. 31 in the class. Former UConn commit
Prince Ali
is another prospect who was on the outside looking in the last time we updated rankings, but he has more than proved himself in recent months.
Tres Tinkle
,
Admon Gilder
and
De'Jounte Murray
make their debuts in the top half of the ESPN 100.
[+] Enlarge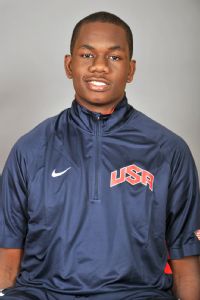 Bart Young/USA BasketballGeorgetown commit Jessie Govan is trending back up the ESPN 100.
6. Down but not out.
As some prospects go up the rankings, others must go down, but sometimes that's just the spark of motivation they need to reassert themselves in the coming months.
Jessie Govan
and
Terance Mann
are examples of prospects who slipped out of the rankings at one point in time but are now trending back in the right direction. At No. 23,
Tyler Dorsey
is a prospect who could make another climb up the ESPN 100 before all is said and done, while the same can be said for
P.J. Dozier
,
Charles Matthews
,
Doral Moore
and
K.J. Lawson
.
7. Big and getting bigger.
The 2015 class was already well known for the amount of size and frontcourt depth, but that has become an even bigger (no pun intended) trend in these most recent rankings. In fact, 11 of the top 15 ranked players in the class come at either the center or power forward positions, making this far and away the most frontcourt-dominated class we've seen in recent memory.
8. Plenty of positional size.
Size is a characteristic of this class, not just among the frontcourt positions, but across each of the five positions on the floor. Even the perimeter players atop the class have terrific size relative to their spot on the floor. Jaylen Brown is no slouch of a wing at 6-5, while
Brandon Ingram
's 6-8 frame is ideal.
Malachi Richardson
has equally imposing size at the shooting guard position at 6-6. Conversely, we don't see a player 6 feet or under until
Kendall Small
(ditto on the no pun intended) checks in at No. 60.
9. Scoring guards.
While the big men dominate the top of the rankings, many of the best guards in the class all seem to come from a similar prototype. They handle the ball more than natural 2-guards and yet are more focused on their individual offense than pure point guards. Instead, guys such as Newman,
Antonio Blakeney
,
Allonzo Trier
and
Isaiah Briscoe
can be best described as scoring guards -- guards who act as the primary playmakers for their respective teams but look for their own offense first and foremost before passing as a result of forcing the defense to collapse or rotate.
10. On the cusp.
The final spots in the ESPN 100 are always some of the most debatable, essentially because there are so many prospects who can make a legitimate claim on the top 100 status. That was particularly true this year, when proven players such as
Bryant Crawford
and
Rex Pflueger
were left just on the outside looking in, along with other deserving prospects such as
Joseph Toye
,
Matt Ryan
,
Chimezie Metu
,
Marcus Derrickson
and several others.
May, 19, 2014
5/19/14
10:30
AM ET
HAMPTON, Va. -- The third installment of the 2014 Nike EYBL came to the Boo Williams Sports Complex this weekend. Here's a look at some of the major storylines:
To continue reading this article you must be an Insider
April, 28, 2014
4/28/14
4:00
PM ET
SACRAMENTO, Calif. -- The first session of the Nike EYBL unveiled a plethora of talent that will be showing up on college campuses in the near future.
Ivan Rabb
is ranked as the No. 1 player in the 2015 class, but if this weekend showed us anything, that ranking is anything but solidified going forward. LSU commit
Ben Simmons
exhibited his vast skill set throughout the weekend and is coming on strong, and this is just the Nike side of the story.
Best Prospect
Ben Simmons
2015, PF, 6-foot-9, 220 pounds
Status: Committed to LSU
Simmons has that prototypical Division I frame with length and upside. His skill set is perimeter-oriented and quite polished. He can face up and dissect the defense with his passing or drain the 3-point shot. His motor fluctuates and it would be ideal to see him impact the game in the paint more at both ends going forward.
To continue reading this article you must be an Insider
April, 14, 2014
4/14/14
2:45
PM ET
HANOVER, Mass. -- The seventh annual Northeast Hoops Festival featured many of the top programs from New England, New York and beyond, allowing us the opportunity to both check in on high-profile prospects and get a glimpse at others primed to make a name for themselves during the upcoming April evaluation period.
Top Prospect Watch, 2015
To continue reading this article you must be an Insider
February, 4, 2014
2/04/14
12:00
PM ET
By
RecruitingNation
| ESPN Insider
Last week we rolled out our updated
ESPN 100
,
ESPN 60
and
ESPN 25
player rankings, and while rankings are often the culmination of weeks and months of work and evaluations, it's a never-ending process. The reality is that there are still a number of prospects our ESPN RecruitingNation staff is anxious to follow in the coming weeks and months. Here's a look at some of the individual prospects our staff is especially interested in monitoring in the near future.
To continue reading this article you must be an Insider
August, 9, 2013
8/09/13
8:19
AM ET
This week wasn't quite as busy as last week in the Northeast region, but there was still plenty of action. Here's a look at a few commitments that have gone down in the last seven days:
• Robert Morris landed a commitment from Jamesville-Dewitt (N.Y.) guard
Jafar Kinsey
, a quick, attacking style guard. A combo guard with a college ready driving game, Kinsey gets wherever he wants on the floor and also has the potential to become a very good defender at the next level.
• Albany added a commitment from Christian Brothers Academy (N.Y.) big man Greg Stire. The local product is tough and rugged, defends the post and has a solid motor. He'll be solid but unspectacular offensively and able to contribute some both around the rim and facing the basket.
• Fairleigh Dickinson landed a late commitment in the Class of 2013 from Canisius (N.Y.) guard/forward
Matt MacDonald
. The 6-foot-3 swingman is a master role player who will bring toughness and leadership to the FDU locker room. He's also a gym rat who has worked his way into a consistent shooter over the years.
And here's a look at some of the notable offers and visits to come across the wire this week:
To continue reading this article you must be an Insider
August, 2, 2013
8/02/13
3:53
PM ET
When the July evaluation period ended five days ago, the recruiting news was just getting started.
The biggest news of the week in the Northeast region centered around the
commitment
of
Phil Booth
to Villanova,
planned visits
for
Isaiah Whitehead
, and
trimmed lists
from both
Kaleb Joseph
and
Ja'Quan Newton
. But the news on those ESPN 100 guards was really just the tip of the iceberg because there have been plenty of other commitments, offers and scheduled visits coming across the wires.
Here's a look at a plethora of basketball recruiting news and notes from the Northeast:
To continue reading this article you must be an Insider
July, 31, 2013
7/31/13
12:05
PM ET
ORLANDO, Fla. -- For five days in Orlando last week at the AAU Nationals and Super Showcase, a wide array of elite prospects, sleeper recruits and surprise players had an opportunity to shine. The play was excellent and the lessons learned were plentiful.
With so much talent at various levels on display, here are five things we learned from the 2013 AAU Nationals and Super Showcase.
To continue reading this article you must be an Insider
July, 29, 2013
7/29/13
9:50
AM ET
By
Paul Biancardi, Reggie Rankin, John Stovall
| ESPN Insider
ORLANDO, Fla. -- We witnessed an abundance of talent throughout this past week at the ESPN Wide World of Sports complex between the
AAU Nationals and Super Showcase
.
The action culminated on Sunday as ESPN 100 recruits
Tyus Jones
and
Reid Travis
led Howard Pulley to a 79-72 win over a loaded Each 1 Teach 1 squad in the championship game of the Gold Super Showcase.
Here's a closer look at some of the
top performers
from Sunday's action at the Super Showcase and Nationals, including Jones, Travis, and ESPN 60 prospects
Malachi Richardson
and
Terance Mann
.
To continue reading this article you must be an Insider
July, 24, 2013
7/24/13
9:51
AM ET
ORLANDO, Fla. -- The 2013 AAU Super Showcase presented by Champion, which will feature a pair of games on ESPNU, is highlighted by 11 ESPN 100 prospects and a pair of ranked players from both the rising junior and sophomore classes.
The event tips off on Wednesday night (7 p.m. ET on ESPNU and
WatchESPN
) with No. 1 point guard
Tyus Jones
and his Howard Pulley AAU team facing a tough and gritty BABC squad led by ESPN 60 wing
Terance Mann
.
Thursday's contest (7 p.m. ET on ESPNU and
WatchESPN
) will pit a pair of UNC commits against each other when
Justin Jackson
leads Houston Hoops, which has two other top-20 prospects, against
Joel Berry
and Nike Peach Jam champ Each 1 Teach 1, which also features recruits committed to Duke and Ohio State.
With so much talent on display over the two nights, here's a look at the 10 most intriguing players (listed in alphabetical order) expected to suit up at the loaded event.
To continue reading this article you must be an Insider
July, 12, 2013
7/12/13
12:02
PM ET
By
Dave Telep
| ESPN Insider
Editor's note: This is the latest entry in Dave Telep's July Road Trip blog. Throughout the month, Dave will check in each day he's on the road while covering some of the biggest basketball recruiting events in the country. He'll let you know where he's at, offer some highlights of the day and give a quick look at what's next.
NORTH AUGUSTA, S.C. -- Thirty minutes before the start of the second session at the
Nike Peach Jam
on Thursday, the rains came. And it rained. And rained harder. And kept raining and then rained some more. A torrential downpour gave the event a new perspective.
Watching assistant coaches sprint to the gym so they wouldn't be late to a game was kind of fun. Without any scholarships to give out, the best seat in the house for me was in the car until there was a letup in the downpour.
Sandwiched around the rain, however, there was some great action on the court and a who's who of big-time college coaches on hand to watch. Here are some nuggets from the first official day of the Nike EYBL finals at the Peach Jam.
[+] Enlarge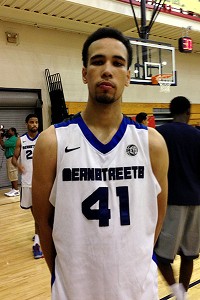 Dave Telep/ESPN ESPN 100 PF Paul White put on a show in front of coaches from Florida, Memphis, Wisconsin, UConn, Michigan State and Illinois.
White turns in one of his best days of the summer
To continue reading this article you must be an Insider