NCB On The Trail:

Tadric Jackson
March, 19, 2014
3/19/14
12:30
PM ET
Want to ask ESPN RecruitingNation national recruiting director Paul Biancardi a question about basketball recruiting? Tweet it to @PaulBiancardi using the hashtag #AskCoachB.
Given their size, can r. trimble, j. blackmon jr, r. johnson & t. jackson run the pg spot on the college level? plz compare #askcoachb

— Keenan Thomas (@reallyitskeenan) March 18, 2014
I really like this question!
Romelo Trimble
is headed to Maryland, and the staff there is grooming him to be a point guard. Right now, Trimble is a combo guard, which means he can run a team and get baskets at any time. He plays for a great high school coach at Bishop O'Connell in Joe Wootten, who has taught him the balance of putting up big scoring numbers and distributing to his teammates. Trimble must pay attention to making good decisions if he truly wants to be a point guard.
James Blackmon Jr.
has been a shooting guard his whole life and he is one of the best in the country. I think he should stay as a shooting guard who can handle the ball on screens and push the ball on fast breaks. He is a good passer, but he is a great shooter. He should be the best 3-point shooter on Indiana's roster next season.
Robert Johnson
is currently a combo guard because he plays equally well both on and off the ball. Johnson can process the game and still look for his offense. He's a good passer with a dribble-drive game, and I like the way he defends opposing point guards. Johnson could gradually play some possessions at the point for Indiana because he is a solid decision-maker.
Tadric Jackson
is headed to play for Brian Gregory at Georgia Tech. Jackson has super speed and wants the ball in his hands. At times he is a one-man fast break. His DNA is to score, but he also possesses great vision. He gets into the lane at will to create for himself or find his teammates. Jackson is a dangerous scoring point guard.
There are no pure point guards in that group, but those are definitely some extremely gifted guards.
September, 27, 2013
9/27/13
1:03
PM ET
When we analyzed the
2014 ESPN 100
, we found upside in the front court as eight of the top 10 players in this class played the center or power forward position.
When we look at the top of those respective positions it's easy to be impressed.
Jahlil Okafor
(Chicago/Whitney Young) continues to hold the top spot because he is the best and most polished low post player in this class. Okafor has transformed his body; he is lighter on his feet and now possesses more stamina than ever before. In the lower half of the paint, he has perfected a jump hook over his left shoulder and he is improving his up-and-under move as counter. He demands double teams inside and reads where the help is coming from and has the vision to find the open man.
Other standouts in the class include
Cliff Alexander
(Chicago/Curie), the No. 3 overall player and No. 1 power forward, who won us over with his high motor and tenacity on the glass and paint scoring. When it comes to putting points on the board, the shooting guard and small forward positions are deep and talented. North Carolina commit
Justin Jackson
scores the ball at a high level and is lethal from mid-range. Seton Hall commit
Isaiah Whitehead
(Brooklyn, N.Y./Lincoln) has improved his approach to the game and had a breakout performance at the Elite 24.
At this point, the class lacks a true superstar, but it has plenty of talent and potential. Here's a look at players who made the biggest moves in our rankings:
Five who moved up
Five who moved in
No. 44 Robert Johnson (Richmond, Va./Benedictine) is a true combination guard who competes and displays poise. The Indiana commit can run the point is good enough from deep to keep you honest.
No. 68 a href="http://espn.go.com/college-sports/basketball/recruiting/player/_/id/124498/tadric-jackson">Tadric Jackson (Tifton, Ga./Tift) will bring speed and scoring on the perimeter to Brian Gregory and Georgia Tech. An off-the-charts athlete, he is constantly in attack mode and is talented enough to play the point. Jackson is a perfect fit, as Georgia Tech wants to push the ball and he can lead or finish the fast break.
No. 70 Jonah Bolden is a long, athletic forward brings size and skill to the floor. The Australian is more of a finesse player than physically imposing, beating opponents with his long and mid-range shooting and impressive passing ability.
No. 72 Lourawls Nairn (Bel Aire, Kan./Sunrise Christian) has the ability to create and push the tempo, which may be unmatched in his class. Nairn loves to go fast -- in fact, the faster the pace the more he thrives.
No. 86 Isaac Haas (Piedmont, Ala./Hokes) has a massive body that is made to bang inside, set screens, rebound and be a physical presence in the painted area. The Wake Forest commit runs well for his size.
August, 16, 2013
8/16/13
11:39
AM ET
By
RecruitingNation
| ESPN.com
SEC
Arkansas
Nick Babb
SG Arlington, Texas/James Martin
HT: 6-4 WT: 180
Class of 2014
Positional Rank: 26
Stars: 4
ACC
Georgia Tech
Tadric Jackson
SG Tifton, Ga./Tift County
HT: 6-2 WT: 200
Class of 2014
Positional Rank: 24
Stars: 4
Big Ten
Ohio State
A.J. Harris
PG Dayton, Ohio/Dunbar
HT: 5-9 WT: 150
Class of 2015
Positional Rank: 15
Stars: 4
Big 12
Oklahoma State
Joe Thomasson
SG Dayton, Ohio/State Fair C.C. (juco)
HT: 6-3 WT: 180
Class of 2014
American Athletic
Central Florida
B.J. Taylor
PG Orlando, Fla./Boone
HT: 6-2 WT: 177
Class of 2014
Positional Rank: N/A
Stars: 2
Atlantic 10
UMass
Rashaan Armstead-Holloway
C Elmer, N.J./Arthur P. Schalick
HT: 6-10 WT: 280
Class of 2014
Positional Rank: 38
Stars: 3
Horizon
Wright State
Justin Mitchell
SG Fort Wayne, Ind./Wayne
HT: 6-4 WT: 175
Class of 2014
Positional Rank: NA
Stars: 2
Mountain West
San Diego State
Kevin Zabo
PG Gatineau, Que./Brewster Academy
HT: 6-2 WT: 175
Class of 2014
Postional Rank: 32
Stars: 3
Mid-American
Miami (Ohio)
Roderick Mills
SF Cincinnati/St. Xavier
HT: 6-6 WT: 185
Class of 2014
Positional Rank: NA
Stars: Evaluation Pending
Northeast
Wagner
Joe Cooper
PG Wilmington, Del./The Tatnall School
HT: 6-1 WT: 185
Class of 2014
Positional Rank: NA
Stars: 1
Patriot
Boston University
Cheddi Mosely
PG Oceanport, N.J./St. Anthony
HT: 6-0 WT: 160
Class of 2014
Positional Rank: NA
Stars: 1
Loyola (MD)
Cam Gregory
SF Waldorf, Md./St. Stephen's & St. Agnes School
HT: 6-8 WT: 195
Class of 2014
Positional Rank: NA
Stars: Evaluation Pending
Missouri Valley
Drake
Ore Arogundade
SG Arlington Heights, Ill./St. Viator
HT: 6-2 WT: 170
Class of 2014
Positional Rank: NA
Stars: 2
Mid-Eastern Athletic
Norfolk State
Lou Myers
SG Philadelphia/Math, Civics and Sciences Charter
HT: 6-2 WT: 180
Class of 2014
Positional Rank: NA
Stars: Evaluation Pending
MAAC
Rider
Kenny Grant
C East Orange, N.J./Hyde School
HT: 6-8 WT: 250
Class of 2014
Positional Rank: NA
Stars: 2
Iona
Bashir Ahmed
SF Bronx, N.Y./John F. Kennedy
HT: 6-5 WT: 175
Class of 2014
Positional Rank: NA
Stars: Evaluation Pending
Southland
Oral Roberts
Albert Owens
C Cedar Hill, Texas/Trinity Christian
HT: 6-8 WT: 220
Positional Rank: NA
Stars: Evaluation Pending
August, 14, 2013
8/14/13
3:43
PM ET
Four-star combo guard
Tadric Jackson
(Tifton, Ga./Tift County) committed to Georgia Tech on Wednesday over finalists Georgia, Mississippi and Alabama.
This is huge for both Jackson and Georgia Tech head coach Brian Gregory. Georgia Tech keeps the state's No. 6-ranked prospect within the Georgia borders, while Jackson will have an opportunity to play right away in his home state where his family and friends can continue to watch him play and he can get a first-class education as well.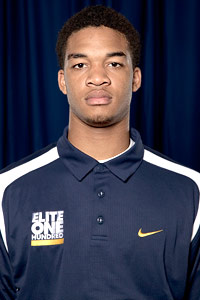 Courtesy of NikeFour-star guard Tadric Jackson is a great start for Georgia Tech in the 2014 class.
Why did he pick Georgia Tech and what will he bring to the Yellow Jackets? Let's break it down.
June, 15, 2013
6/15/13
8:31
PM ET
CHARLOTTESVILLE, Va. -- There have been a number of terrific performances at the
NBPA Top 100 Camp
, but here are quick-hitting scouting impressions on more than 30 players who have caught my eye on a consistent basis outside of
P.J. Dozier
,
Elbert Robinson
and
Jordan McLaughlin
, whom I already did individual blogs on.
2014 PF/C Payton Dastrup:
Attacks the rim with great energy and urgency, finishing and competing at a high level. He simply didn't take plays off.
2015 PG Jalen Brunson:
He runs the team, distributes the ball, has feel and court vision, and when you back away he can drain the jumper. He might not make the play to win the game, but he won't make the play to lose it either. He's rock solid and learning on the job.
To continue reading this article you must be an Insider
June, 15, 2013
6/15/13
7:13
PM ET
CHARLOTTESVILLE, Va. -- The
NBPA Top 100 Camp
features many of the nation's top high school basketball players. Our staff has already weighed in on what we learned from
Day 1
and
Day 2
at the camp, here's a sampling of what some of the best players had to say about their peers and who impressed them.
Joel Berry (Apopka, Fla./Lake Highland)
On
Isaiah Whitehead
(Brooklyn, N.Y./Lincoln): "He can really score the ball. He did something I've never seen before. He was driving to the hole and lost his balance, his body was almost touching the floor and he still put it in the basket. Also, his quickness helps him as a defender. He is a terrific two-way player."
On
Robert Johnson
(Richmond, Va./Benedictine Prep): "He is not flashy but gets the job done. He scores at will by making 3s and defends his man."
On
Parker Jackson-Cartwright
(Los Angeles/Loyola): "His quickness challenges my defense. Over the years it's been hard to keep him out if the lane."
Jordan McLaughlin (Rancho Cucamonga, Calif./Etiwanda)
On
Abdul-Malik Abu
(Boston/Kimball Union): "He is strong inside and has a quick bounce off of rebounds. He is strong on the glass."
On
Chance Comanche
(Los Angeles/View Park): "Only in the Class of 2015, he is way ahead of his class. He is very athletic, blocks shots and rebounds."
On
Josh Perkins
(Denver/Huntington Prep): "Playing against Josh Perkins is difficult. He is a very good passer and has great vision. He makes everyone around him better."
Trevon Bluiett (Indianapolis/Park Tudor)
On
Kevon Looney
(Milwaukee/Hamilton): "He scores at will on the post, he boards and makes outside shots. He is pretty much unstoppable."
On
Tadric Jackson
(Tifton, Ga./Tift County): "He has bounce and makes jumpers. He hardly ever misses."