NCB On The Trail:

Skal Labissiere
July, 11, 2014
Jul 11
9:00
AM ET
PHILADELPHIA -- The Reebok Classic Breakout took a backseat to no other event over the past 48 hours as the staff did a tremendous job of putting together a deep and talented roster, which in turn attracted over 200 Division I college coaches including dozens of high-profile head coaches. Here's a look at which players were most impressive throughout the first two days of action:
Best pure point guard:
Derryck Thornton
July, 10, 2014
Jul 10
7:49
AM ET
PHILADELPHIA, Pa. -- There was a major buzz inside the gym of Philadelphia University as the clock struck 5 p.m. and the likes of John Calipari, Rick Pitino, Kevin Ollie, Larry Brown, John Beilein, Bo Ryan, and dozens of other high profile head coaches kicked off the July evaluation period at the Reebok Breakout Camp.
Marquee matchup
To continue reading this article you must be an Insider
April, 21, 2014
Apr 21
10:12
AM ET
By
John Stovall
| ESPN.com
Little Rock, Ark. -- The Real Deal in the Rock is in its 10th year as one of the top spring events in the country, bringing some of the nation's top teams to the Deep South. Here are some of the players who stood out:
Best Surprise
Admon Gilder
6-3, 180, 2015, SG
Gilder is a supreme scorer. He consistently found ways to put the ball in the basket all weekend, culminating with a 28-point performance in the championship game. Gilder is a good shooter who can create off the bounce. He should be a high priority for Big 12 and SEC schools.
To continue reading this article you must be an Insider
March, 25, 2014
Mar 25
12:30
PM ET
Want to ask ESPN RecruitingNation national recruiting director Paul Biancardi a question about basketball recruiting? Tweet it to @PaulBiancardi using the hashtag #AskCoachB.
@PaulBiancardi other than Chase Jeter who else is on Duke radar for 2015 #askcoachB

— Jason Norman (@cameronmagic) March 24, 2014
Now that the Blue Devils
have secured a commitment
from ESPN 60 shooting guard
Luke Kennard
, their focus in the 2015 class will be on landing some size to blend in with their strong perimeter talent.
Jahlil Okafor
could certainly be on his way to the NBA draft after next season, and that would just leave
Amile Jefferson
and
Marshall Plumlee
in the post for Duke.
Besides
Chase Jeter
, other top 2015 frontcourt targets include ESPN 60 No. 1 recruit
Ivan Rabb
,
Diamond Stone
and
Skal Labissiere
.
That group of players possesses the size, rebounding, shot blocking and scoring Duke needs inside.
The Blue Devils are also still in the running for ESPN 100 center
Myles Turner
, the No. 2 prospect in the 2014 class. Turner will make his college decision sometime in the late signing period this spring.
And as we look down the road at the Class of 2016, Duke's priorities are in-state prospect
Harry Giles
and
Jayson Tatum
from Missouri.
Coach Mike Krzyzewski and his staff are landing some of the nation's premier talent in hopes of keeping Duke in contention in the powerful ACC.
January, 9, 2014
Jan 9
12:30
PM ET
Want to ask ESPN RecruitingNation national recruiting director Paul Biancardi a question about basketball recruiting? Tweet it to @PaulBiancardi using the hashtag #AskCoachB.
@PaulBiancardi Where does Duke stands with Diamond Stone and what other big man targets in class of 2015 who can play the 5 position? #askcoachb

— silentK160292 (@silentK160292) January 6, 2013
First of all, that's a great question because the Blue Devils will -- in all likelihood -- lose
Jahlil Okafor
after one season. I would not get caught up as to who can play the 5-spot. You can win in college basketball with elite power forwards if they do their job by defending and showing the ability to defend bigger players and rebound. It's important they display the skill to score both inside and away from the basket. Duke will need size in 2015.
In addition to ESPN No. 5
Diamond Stone
(Milwaukee, Wis./ Dominican) who the Blue Devils have made deep inroads with, Duke is involved with the big man from Texas -- ESPN No. 6
Elijah Thomas
(Lancaster, Texas/Lancaster) and super shot blocker and ESPN No. 8
Skal Labissiere
(Memphis, Tenn. Evangelical Christian).
Speaking of elite power forwards, the Blue Devils are in the mix for ESPN No. 10
Carlton Bragg
(Cleveland, Ohio/ St. Joseph) and ESPN No. 37
Chase Jeter
(Las Vegas, Nev./Bishop Gorman), who is an above average post up player and rebounder.
We are a long way from 2015, but for college coaches who are recruiting, the early period is when you begin your evaluations and show attention to the ones you want to get.
December, 3, 2013
12/03/13
9:00
AM ET
By
ESPN.com staff
| ESPN.com
With 95 percent of the current ESPN 100 officially off the board following the early signing period, the focus of the recruiting world will likely begin to shift to the 2015 class sooner rather than later. We already know plenty about the class that currently populates our ESPN 60, but with the second half of their high school careers just beginning, the recruits are bound to make plenty of movement in the rankings over the next 18 months.
With an eye on recent late bloomers like
Joel Embiid
in the 2012 class and
Myles Turner
in 2013, we asked our team of RecruitingNation experts which ESPN 60 prospect will everyone be talking about a year from now.
To continue reading this article you must be an Insider
September, 25, 2013
9/25/13
11:00
AM ET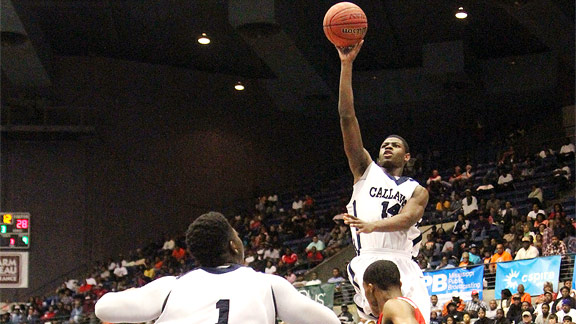 AP Photo/Charles SmithCallaway, Miss., shooting guard Malik Newman might be No. 1 in the 2015 ESPN 60, but a deep class of big men will challenge him for that spot over the next 18 months.
We've processed a full summer worth of action and now our
updated ESPN 60
includes the top national prospects in the 2015 recruiting class. Here's 10 things every college basketball fan should know as this class heads into its junior season:
1. A battle for the top spot
There's a new No. 1 in town, and while Paul Biancardi
breaks down
why
Malik Newman
(Jackson, Miss./Callway) is the new top dog, I'm here to tell you this race is far from over. The previous No. 1
Ivan Rabb
(Oakland, Calif./Bishop O'Dowd) is going to want his title back, and no one is making a more aggressive charge to the top of the rankings than
Stephen Zimmerman
(Las Vegas/Bishop Gorman) who has been coming on strong all spring and summer.
Ben Simmons
(Melbourne, Australia/Montverde Academy),
Diamond Stone
(Milwaukee/Dominican), and
Elijah Thomas
(Lancaster, Texas/Lancaster) are three other guys who will challenge in the coming 18 months as the top spot is still very much up for grabs moving forward in the 2015 class.
To continue reading this article you must be an Insider
July, 30, 2013
7/30/13
10:53
AM ET
ORLANDO, Fla. -- College coaches swarmed the courts of ESPN's Wide World of Sports complex and surrounding areas last week for the
AAU Nationals and Super Showcase
. Over the course of five days, more than 1,000 coaches got to evaluate prospects of all levels as some of the nation's best AAU teams descended on Central Florida after qualifying by winning their respective districts.
Here's a look at a multitude of players who impressed in Orlando, including ESPN 100 difference-makers, prospects with the most untapped potential and recruits with the brightest futures.
ESPN 100 Program Difference-makers
Tyus Jones (Apple Valley, Minn./Apple Valley)
2014, PG, 6-1, 170
AAU: Howard Pulley
Offers:
Baylor, Duke, Kansas, Kentucky, Michigan State, Minnesota and Ohio State
Jones' court vision, passing and decision-making are just a few reasons he's special. The way he makes plays off the screen and roll is beyond his years. He also knocks down open shots and makes free throws when the game is on the line.
To continue reading this article you must be an Insider
July, 27, 2013
7/27/13
8:53
AM ET
By
Paul Biancardi, Reggie Rankin, John Stovall
| ESPN.com
ORLANDO, Fla. -- The action has been fast and furious at the ESPN Wide World of Sports complex, as the AAU Super Showcase is heading into the Sweet 16 and elite rounds while the AAU Nationals are just warming up.
On Friday at the
Super Showcase and Nationals
, a good mixture of elite prospects, rising stars and sleepers continued to stand out, including ESPN 100 prospects
Kelly Oubre
,
Jae'Sean Tate
and
Devin Robinson
, ESPN 60 recruit
Skal Labissiere
and ESPN 25 phenom
Malik Monk
.
Here were some of the top performers from Friday in Orlando.
To continue reading this article you must be an Insider
July, 11, 2013
7/11/13
11:10
AM ET
Editor's note: This is the latest entry in Dave Telep's July Road Trip blog. Throughout the month, Dave will check in each day he's on the road while covering some of the biggest basketball recruiting events in the country. He'll let you know where he's at, offer some highlights of the day and give a quick look at what's next.
NORTH AUGUSTA, S.C. & AIKEN, S.C. -- As a scout, you kind of live for days like Wednesday. Going into the action with few expectations and coming out of the day with the name of a 7-footer you've never seen before? I'll take that every time.
My day was split between the Peach Jam 16s in North Augusta and a series of showcase games at the Peach State over in Aiken. Rising junior center
Doral Moore
(Locust Grove, Ga./Luella) was the highlight, but along the way a few cool viewings happened that made for a fun-filled Wednesday.
By the way, it's now much more difficult to get a seat in the gym. Wednesday was the start of the July evaluation period and the first day college coaches could be out on the road watching prospects.
Here are some nuggets from the first day in South Carolina.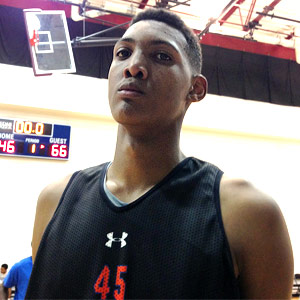 Dave Telep/ESPNDoral Moore, a 7-foot rising junior center, is likely to see his recruitment pick up in a hurry.
Give me Moore
To continue reading this article you must be an Insider
July, 1, 2013
7/01/13
11:53
AM ET
In college basketball, legacies are made in March and championships are won in April, but the foundations for both are built in July.
July is the
most important month of the year
in basketball recruiting. Sure, there's an early signing period in the fall and a late signing period in the spring when pen is put to paper and commitments become official. But the groundwork for most of those signings is laid in July, when a trio of live evaluation periods (July 10-14, July 17-21 and July 24-28 for 2013) and dozens of elite events have prospects and college coaches criss-crossing the country in a crazy month of hoops.
With that in mind, here are the top 10 things you need know this July on the basketball recruiting trail.
1. July is here -- and why you should care
July is a weird month. For those involved in the fraternity that is college basketball recruiting, the players, coaches and media kiss their families goodbye and set forth to all corners of the country to either demonstrate their talents or search for the next wave of college prospects. Think of July like you would the first three days of a golf major. It's the time when teams and players alike position themselves for a stretch run in the fall that culminates with official visits and official signings.
Simply put, July sets the table for seasons to come in college hoops. Recruiters will lock in on the priority targets for their teams, the players who will become future favorites of their fan bases. In some cases, the head coach will watch every single game of a handful of the most important prospects on his wish list. Simultaneously, those same players will scan the gym, intently looking to see which coaches are watching them. It's a delicate dance orchestrated with a basketball game in the backdrop.
It sounds fun, but the reality is that the futures of programs and individual players are tied to the rigors of July. Prospects don't arrive on campuses without hard work by coaching staffs, and coaching staffs don't get the best players unless they can set their final priorities.
To continue reading this article you must be an Insider
June, 17, 2013
6/17/13
1:46
PM ET
CHARLOTTESVILLE, Va. – This year's NBPA Top 100 Camp was littered with skilled prospects from top to bottom and was overall a very strong and deep collection of talent. Former NBA coach John Lucas served as the director of scouting at the camp, which annually attracts high-level prep prospects from all over the country.
The contests were extremely competitive as the players really took pride in their performances. Making the most noise at the camp were the event's big men, who stood out due to their length in blocking and altering shots, overall efforts in rebounding and ability to run the floor and finish. Several, like center Stephen Zimmerman and Thon Maker, also displayed advanced passing and ballhandling skills.
Let's take a look at the final impressions from the NBPA 100 Camp.
Best performers

To continue reading this article you must be an Insider
June, 15, 2013
6/15/13
8:31
PM ET
CHARLOTTESVILLE, Va. -- There have been a number of terrific performances at the
NBPA Top 100 Camp
, but here are quick-hitting scouting impressions on more than 30 players who have caught my eye on a consistent basis outside of
P.J. Dozier
,
Elbert Robinson
and
Jordan McLaughlin
, whom I already did individual blogs on.
2014 PF/C Payton Dastrup:
Attacks the rim with great energy and urgency, finishing and competing at a high level. He simply didn't take plays off.
2015 PG Jalen Brunson:
He runs the team, distributes the ball, has feel and court vision, and when you back away he can drain the jumper. He might not make the play to win the game, but he won't make the play to lose it either. He's rock solid and learning on the job.
To continue reading this article you must be an Insider
June, 13, 2013
6/13/13
8:58
AM ET
The new player rankings are out and the 2015 class of rising juniors has expanded from the ESPN 25 to the
ESPN 60
. With these prospects halfway through their high school careers, here are 10 things you need to know about the Class of 2015.
1. There's a big man invasion
To continue reading this article you must be an Insider