NCB On The Trail:

Raasean Davis
October, 18, 2013
10/18/13
9:53
AM ET
By
RecruitingNation
| ESPN.com
SEC
LSU
Jalyn Patterson PG Alpharetta, Ga./Montverde Academy
HT: 6-1 WT: 170
Class of 2014
Positional Rank: 40
Stars: 3
Ben Simmons PF Melbourne, Australia/Montverde Academy
HT: 6-9 WT: 230
Class of 2015
Positional Rank: 2
Stars: 5
ESPN 60: 4
Big East
Marquette
Ahmed Hill SG Augusta, Ga./Aquinas
HT: 6-5 WT: 190
Class of 2014
Positional Rank: 12
Stars: 4
ESPN 100: 52
Marial Shayok SF Ottawa, Ontario/Blair Academy
HT: 6-6 WT: 205
Class of 2014
Positional Rank: 27
Stars: 4
Big Ten
Iowa
Dominique Uhl PF Point Pleasant Beach, N.J./Point Pleasant Beach
HT: 6-7 WT: 185
Class of 2014
Positional Rank: NA
Stars: 3
Big 12
Oklahoma State
Mitch Solomon C Bixby, Okla./Bixby
HT: 6-9 WT: 225
Class of 2014
Positional Rank: 20
Stars: 3
Texas Tech
Keenan Evans PG Richardson, Texas/Berkner
HT: 6-3 WT: 170
Class of 2014
Positional Rank: NA
Stars: 2
ACC
Syracuse
Tyler Lydon PF Pine Plains, N.Y./New Hampton
HT: 6-8 WT: 181
Class of 2015
Positional Rank: 14
Stars: 4
Atlantic 10
St. Bonaventure
Iakeem Alston PG Baltimore/Sheridan College (Juco)
HT: 6-0 WT: 165
Class of 2014
George Mason
Trey Porter C Dumfries, Va./Potomac
HT: 6-10 WT: 190
Class of 2014
Positional Rank: NA
Stars: Evaluation Pending
Therence Mayimba SF Hagerstown, Md./St. James School
HT: 6-6 WT: 190
Class of 2014
Positional Rank: 44
Stars: 3
Conference USA
Southern Miss
Javonte Douglas SF Charlotte, N.C./Central Florida C.C. (Juco)
HT: 6-8
Class of 2014
Texas-San Antonio
Austin Karrer SG New Braunfels, Texas/Canyon
HT: 6-3 WT: 175
Class of 2014
Positional Rank: NA
Stars: Evaluatio Pending
MAAC
Quinnipiac
Samuel Dingba PF Salisbury, Conn./Salisbury School
HT: 6-6 WT: 205
Class of 2014
Positional Rank: NA
Stars: 2
Big South
Radford
Cam Jones SG Roanoke, Va./Brunswick Community College (Juco)
HT: 6-4 WT: 180
Class of 2014
Horizon League
Valparaiso
Tevonn Walker PG Montreal. Que./Vanier College
Class of 2014
Positional Rank: NA
Stars: Evaluation Pending
Youngstown State
Ja'Christian Biles SG Oak Park, Mich./Oak Park
HT: 6-3
Class of 2104
Positional Rank: NA
Stars: Evaluation Pending
NEC
Sacred Heart
Vince Fritz SG Overland Park, Kan./Blue Valley Northwest
HT: 6-2 WT: 180
Class of 2014
Positional Rank: NA
Stars: Evaluation Pending
Wagner
Aaren Edmead PG Deer Park, N.Y./Deer Park
HT: 5-10 WT: 160
Class of 2014
Positional Rank: NA
Stars: Evaluation Pending
Summit League
Nebraska-Omaha
Jalen Jones SF Clinton, Iowa/Clinton
HT: 6-5 WT: 180
Class of 2014
Positional Rank: NA
Stars: 2
IUPUI
Cortez Macklin SG Louisville, Ky./Rend Lake C.C. (Juco)
HT: 6-3 WT: 175
Class of 2014
Southern Conference
Tennessee-Chattanooga
Jacolby Mobley PG Scooba, Miss./East Mississippi C.C. (Juco)
HT: 6-0 WT: 155
Class of 2014
Wofford
Derrick Brooks PG Bartow, Fla./Bartow
HT: 6-2 WT: 170
Class of 2014
Positional Rank: NA
Stars: Evaluation Pending
Cameron Jackson PF Winchester, Va./Handley
HT: 6-7
Class of 2014
Positional Rank: NA
Stars: Evaluation Pending
Ohio Valley
Jacksonville State
LaBarrius Hill SF Parrish, Ala./Parrish
HT: 6-7 WT: 215
Class of 2014
Positional Rank: NA
Stars: Evaluation Pending
Sun Belt
Western Kentucky
Justin Johnson PF Hazard, Ky./Perry County Central
HT: 6-7 WT: 235
Class of 2014
Positional Rank: NA
Stars: Evaluation Pending
Troy
Chris Jones PG Memphis, Tenn./Southwest Mississippi C.C. (Juco)
HT: 6-1 WT: 161
Class of 2014
Arkansas State
Adam Ward SF Atascocita, Texas/Lee College (Juco)
HT: 6-5 WT: 200
Class of 2014
MAC
Buffalo
Raheem Johnson PF Romulus, Mich./Barton County C.C. (Juco)
HT: 6-9 WT: 250
Class of 2014
Kent State
Raasean Davis PF Dallas, Ga./Paulding County
HT: 6-7 WT: 220
Class of 2014
Positional Rank: NA
Stars: Evaluation Pending
Missouri Valley
Wichita State
Corey Henderson Jr. SG Dallas/Episcopal
HT: 6-3 WT: 165
Class of 2014
Positional Rank: NA
Stars: Evaluation Pending
Big Sky
North Dakota
Bryce Cashman C Weston, Mo./West Platte
HT: 6-10 WT: 225
Class of 2014
Positional Rank: NA
Stars: Evaluation Pending
Idaho State
Jason McClellan PF Fort Collins, Colo./Eastern Wyoming College (Juco)
HT: 6-9 WT: 240
Class of 2014
Patriot League
Navy
Mo Lewis SF Milton, Ga./Milton
HT: 6-5 WT: 210
Class of 2014
Positional Rank: NA
Stars: 2
CAA
James Madison
Hari Hall SF Jacksonville, Fla./Ribault
HT: 6-7 WT: 210
Class of 2014
Positional Rank: NA
Stars: Evaluation Pending
July, 24, 2013
7/24/13
10:42
AM ET
By
Dave Telep
| ESPN Insider
Last week, the second of July's three open evaluation periods took me to three events in Georgia, where it was time to do work on players from the Southeast. The Best of the South, Elite 32 and All-American Juco Showcase had my full attention. The juco thing was fun, but I found that high school and grassroots hoops is more my speed.
Of course, that's not the only thing I learned from my time in the Peach State. Here are my top 10 takeaways from July's second evaluation period.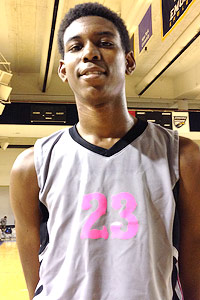 Dave Telep/ESPNESPN 25 center Juwan Durham is one of the nation's top recruits in the Class of 2016.
1. Durham is not taking this summer lightly
During July, the challenge is seeing as many of the rising seniors enough times so you can feel good about the evaluation and create reasonable expectations for them. However, your head is always on a swivel, pivoting just enough to see the next wave of underclassmen backing up the current crop.
ESPN 25 center
Juwan Durham
(Tampa, Fla./Tampa Prep) is one of the nation's top prospects in the 2016 class and is thus two summers away from taking center stage. But that doesn't mean we shouldn't take him seriously.
July, 21, 2013
7/21/13
1:01
PM ET
By
Dave Telep
| ESPN Insider
Editor's note: This is the latest entry in Dave Telep's July Road Trip blog. Throughout the month, Dave will check in each day he's on the road while covering some of the biggest basketball recruiting events in the country. He'll let you know where he is, offer some highlights of the day and give a quick look at what's next.
ATLANTA -- The only goal I had on Saturday was to end my pursuit of 2015 point guard
Jawun Evans
(Simpsonville, S.C./Legacy Charter). We live in bordering states, yet for whatever reason our paths hadn't crossed yet. Saturday afternoon, they finally did as I skipped over to the Elite 32 in Atlanta after a couple days at the
Best of the South
in Suwanee, Ga.
Elsewhere on Saturday, we often talk about players getting out of their comfort zone. Well, I stepped out of mine for a few hours and dipped my toes into the junior college pool at an event back in Suwanee. It was kind of like jumping into a lake in the middle of winter in Wisconsin.
Here are some nuggets from Saturday's action across Georgia.
Evans will rocket up the charts
[+] Enlarge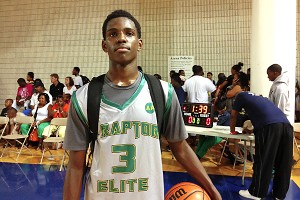 Dave Telep/ESPN Jawun Evans is on his way to establishing himself as one of the best point guards in the 2015 class.
Evans is on a short list of top point guards in the 2015 class. He's that good, and he'll be in contention for highest honors as this position plays out over the next two years.
To continue reading this article you must be an Insider