September, 20, 2013
Sep 20
9:27
AM ET
By
RecruitingNation
| ESPN.com
SEC
Kentucky
Tyler Ulis
PG Matteson, Ill./Marian Catholic
HT: 5-9 WT: 150
Class of 2014
Positional Rank: 8
Stars: 4
ESPN 100: 38
Vanderbilt
Matthew Fisher-Davis
SG Charlotte, N.C./Charlotte Christian
HT: 6-5 WT: 175
Class of 2014
Positional Rank: 28
Stars: 4
Texas A&M
Alex Robinson
PG Arlington, Texas/Timberview
HT: 6-1 WT: 170
Class of 2014
Positional Rank: 20
Stars: 4
ESPN 100: 89
Big Ten
Purdue
Vincent Edwards
SF Middletown, Ohio/Middletown
HT: 6-7 WT: 200
Class of 2014
Positional Rank: 22
Stars: 4
ESPN 100: 80
Big East
Georgetown
Paul White
PF Chicago/Whitney Young
HT: 6-8 WT: 185
Class of 2014
Positional Rank: 14
Stars: 4
ESPN 100: 57
Seton Hall
Isaiah Whitehead
SG Brooklyn, N.Y./Lincoln
HT: 6-4 WT: 195
Class of 2014
Positional Rank: 10
Stars: 4
ESPN 100: 35
ACC
Florida State
Josh Gray
PG Houston/Odessa College (Juco)
HT: 6-1 WT: 175
Class of 2014
Virginia Tech
T.J. Lang
SF Mobile, Ala./McGill-Toolen Catholic
HT: 6-7 WT: 195
Class of 2014
Positional Rank: NA
Stars: Evaluation Pending
Virginia
Jack Salt
C Auckland, New Zealand/Westlake
HT: 6-10
Class of 2014
Positional Rank: NA
Stars: Evaluation Pending
Wake Forest
Rondale Watson
SG Lewisburg, W.Va./Greenbrier East
HT: 6-3
Class of 2014
Positional Rank: NA
Stars: Evaluation Pending
American Athletic
Cincinnati
Quadri Moore
C Linden, N.J./Linden
HT: 6-8 WT: 225
Class of 2014
Positional Rank: 8
Stars: 4
ESPN 100: 83
Gary Clark
PF Clayton, N.C./Clayton
HT: 6-7 WT: 215
Class of 2014
Positional Rank: 26
Stars: 4
Central Florida
Alex Owens
PF Orlando, Fla./Oak Ridge
HT: 6-8 WT: 230
Class of 2015
Positional Rank: 9
Stars: 4
ESPN 60: 44
Corey Sanders
PG Lakeland, Fla./IMG Academy
HT: 6-1 WT: 185
Class of 2015
Positional Rank: NA
Stars: 3
Atlantic 10
Virginia Commonwealth
Terry Larrier
SF Bronx, N.Y./The Phelps School
HT: 6-7 WT: 200
Class of 2014
Positional Rank: 15
Stars: 4
ESPN 100: 59
Richmond
Paul Friendshuh
PF New Prague, Minn./New Prague
HT: 6-9 WT: 205
Class of 2014
Positional Rank: NA
Stars: Evaluation Pending
Conference USA
Tulsa
Mitch Wilbekin
PG Gainesville, Fla./The Rock School
HT: 6-1 WT: 160
Class of 2014
Positional Rank: NA
Stars: 2
UTEP
Trey Touchet
SG Lafayette, La./St. Thomas More
HT: 6-2 WT: 175
Class of 2014
Positional Rank: NA
Stars: Evaluation Pending
Middle Tennessee State
DeVante Jones
SG Chicago/Southwest Tennessee C.C. (Juco)
HT: 5-11
Class of 2014
Mountain West
Boise State
David Wacker
C Converse, Texas/Judson
HT: 6-9 WT: 235
Class of 2014
Positional Rank: NA
Stars: Evaluation Pending
Air Force
Jacob Van
PG Mansfield, Texas/Lake Ridge
HT: 6-2
Class of 2014
Positional Rank: NA
Stars: Evaluation Pending
Southern Conference
Davidson
Rusty Reigel
SG Charlotte, N.C./Charlotte Latin
HT: 6-2 WT: 190
Class of 2014
Positional Rank: NA
Stars: 2
Western Carolina
Alex Hicks
PF Phenix City, Ala./Glenwood School
HT: 6-8 WT: 195
Class of 2014
Positional Rank: NA
Stars: Evaluation Pending
NEC
Mount St. Mary's
Troy Henderson
SF Charlotte, N.C./Gaston Day School
HT: 6-6 WT: 175
Class of 2014
Positional Rank: NA
Stars: Evaluation Pending
St. Francis (Pa.)
Basil Thompson
SF Philadelphia/Imhotep Institute
HT: 6-6 WT: 175
Class of 2014
Positional Rank: NA
Stars: 2
Sacred Heart
Cane Broome
PG East Hartford, Conn./St. Thomas More
HT: 6-0 WT: 160
Class of 2014
Positional Rank: NA
Stars: 2
MAC
Western Michigan
Drake Lamont
C Plantation, Fla./American Heritage
HT: 6-9 WT: 200
Class of 2014
Positional Rank: 39
Stars: 3
Ball State
Sean Sellers
SF Greensburg, Ind./Greensburg
HT: 6-6 WT: 175
Class of 2014
Positional Rank: NA
Stars: 2
Big South
Liberty
A.C. Reid
SF Spring Branch, Texas/Smithson Valley
HT: 6-5 WT: 190
Class of 2014
Positional Rank: NA
Stars: Evaluation Pending
UNC-Asheville
Kevin Vannatta
SG Columbus, Ohio/Upper Arlington
HT: 6-2
Class of 2014
Positional Rank: NA
Stars: Evaluation Pending
Big Sky
Montana State
Ghassan Nehme
SG Colorado Springs, Colo./Cheyenne Mountain
HT: 6-3 WT: 174
Class of 2014
Positional Rank: NA
Stars: Evaluation Pending
Weber State
Hayden Hunter
PG North Richland Hills, Texas/Richland
HT: 5-11
Class of 2014
Positional Rank: NA
Stars: Evaluation Pending
Idaho State
Geno Luzcando
PG Mount Pleasant, Utah/Wasatch Academy
HT: 6-3
Class of 2014
Positional Rank: NA
Stars: Evaluation Pending
America East
UMass-Lowell
Josh Gantz
PF Grove City, Ohio/Bishop Ready
HT: 6-6 WT 185
Class of 2014
Positional Rank: NA
Stars: Evaluation Pending
Dontavious Smith
PF Springhill, La./North Webster
HT: 6-8
Class of 2014
Positional Rank: NA
Stars: Evaluation Pending
Binghamton
John Schurman
SG Manlius, N.Y./Fayetteville-Manlius
HT: 6-5
Class of 2014
Positional Rank: NA
Stars: Evaluation Pending
Missouri Valley
Bradley
Donte Thomas
SF South Holland, Ill./Thornwood
HT: 6-6
Class of 2014
Positional Rank: NA
Stars: Evaluation Pending
Northern Iowa
Luke McDonnell
PF Dubuque, Iowa/Dubuque Senior
HT: 6-8 WT: 200
Class of 2015
Positional Rank: NA
Stars: Evaluation Pending
OVC
Murray State
JayQuan McCloud
PG North Chicago, Ill./North Chicago Community
HT: 6-4 WT: 180
Class of 2014
Positional Rank: NA
Stars: Evaluation Pending
Tennessee-Martin
Chris Clark
SG Columbia, Mo./Hickman
HT: 6-3 WT: 175
Class of 2014
Positional Rank: NA
Stars: Evaluation Pending
SIU-Edwardsville
C.J. Carr
PG Rock Island, Ill./Rock Island
HT: 5-6 WT: 145
Class of 2014
Positional Rank: NA
Stars: Evaluation Pending
Horizon League
Oakland
Alek Frascone
PG Washington Township, Mich./Eisenhower
HT: 6-0 WT: 150
Class of 2014
Positional Rank: NA
Stars: Evaluation Pending
Summit League
South Dakota State
Mike Daum
PF Kimball, Neb./Kimball
HT: 6-9
Class of 2014
Positional Rank: NA
Stars: Evaluation Pending
Atlantic Sun
Florida Gulf Coast
Eric Moeller
C St. Louis/Central Florida C.C. (Juco)
HT: 6-11 WT: 200
Class of 2014
Mercer
Demetre Rivers
PF Goose Creek, S.C./Stratford
HT: 6-6
Class of 2014
Positional Rank: NA
Stars: Evaluation Pending
Ivy League
Princeton
Alec Brennan
PF Weston, Mass./Milton Academy
HT: 6-10 WT: 225
Class of 2014
Positional Rank: 35
Stars: 3
Brown
Patrick Triplett
PG St. Louis/Bayless Senior
HT: 6-4 WT: 200
Class of 2014
Positional Rank: NA
Stars: Evaluation Pending
WCC
Pepperdine
Nate Gehring
C Waukee, Iowa/Waukee
HT: 6-10 WT: 220
Class of 2014
Positional Rank: 44
Stars: 3
MAAC
Quinnipiac
Ayron Hutton
SG Virginia Beach, Va./Cape Henry
HT: 6-3
Class of 2014
Positional Rank: NA
Stars: Evaluation Pending
September, 17, 2013
Sep 17
12:00
PM ET
This week's Starting 5 delves into Kentucky's newest point guard, the reasoning behind banning college coaches from non-scholastic workouts and wraps up the weekend that was.
UK, Ulis make long-term decisions
There's a process that happens each year: Kentucky looks for a new point guard. For John Calipari, the revolving door at the point began at Memphis and transitioned to Lexington. Calipari has targeted super-human No. 1 draft picks (
Derrick Rose
and
John Wall
) and plenty who proved to be human and went merely in the first round. Either way, the coach has been recruiting one-and-doners for more than a half decade.
To continue reading this article you must be an Insider
September, 15, 2013
Sep 15
2:11
PM ET
ESPN 100 power forward
Paul White
(Chicago/Whitney Young) ended his recruitment on Sunday, committing to Georgetown while on an official visit. He picked the Hoyas over finalist Miami (Fla.), where he visited last weekend, along with Arizona, Connecticut, Minnesota and hometown DePaul.
The four-star White is a great get for Georgetown coach John Thompson III. A talented and skilled forward ranked No. 57 overall, he fits the Hoyas' style on both ends of the floor.
Why did he pick Georgetown and what will he bring to the Hoyas? Let's break it down.
To continue reading this article you must be an Insider
September, 6, 2013
Sep 6
11:00
AM ET
This time of the year, there's always something brewing. From campus visits to the value of Stanford's newest pledge, we've dumped out the notebook into a nice, tidy column to catch you up.
Cartwright's value could be two-fold
To continue reading this article you must be an Insider
August, 20, 2013
Aug 20
11:18
AM ET
Editor's note: Every week in "Starting 5," we'll roll out five stories, themes and nuggets from the basketball recruiting world to set the table with the stories that need to be told and give you a leg up on the watercooler conversations around the office.
This week we look at three point guards using different lenses, what plans KU has for Late Night in the Phog, the recruiting revivals at UConn and Minnesota plus reduced lists from bigs
Paul White
and
Makinde London
.
To continue reading this article you must be an Insider
August, 20, 2013
Aug 20
9:00
AM ET
It was an incredibly busy weekend of action on the recruiting front, not just because of the series of high-major commitments, but also because of trimmed lists, scheduled visits, and scholarship offers, all of which have the potential to create multiple ripples on the pending domino effect.
Commitment Catch-Up
• ESPN 100 PF
Craig Victor
(New Orleans, La./Findlay Prep) commits to Arizona: The 31st-ranked prospect and 5th best PF in the country
announced on Saturday he was heading to Arizona
, giving coach Sean Miller his third high level combination forward in as many years.
To continue reading this article you must be an Insider
July, 31, 2013
Jul 31
9:57
AM ET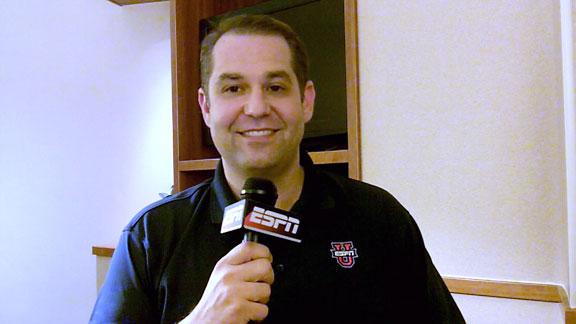 To understand what just happened in college basketball recruiting, let me use a golf analogy. In golf majors, Saturdays set the players up for the final round and determine the pairings for the homestretch.
In college basketball, the month of July is like that Saturday of a golf major. Coaches fly coast to coast, some to evaluate and others simply to babysit prospects. It's a grueling 15 days on the road -- separated into three different five-day open evaluation periods -- and even the seasoned veterans will tell you that. Technology has made it easier to keep track of the recruits, but travel is travel, and so much time in different cities is rough on the bodies of the players and coaches.
Still, July remains the single most important month on the recruiting calendar. It sets the tone for in-home and official visits. It helps set up the final round and determines the pairings for the homestretch.
For the better part of July 6-28,
I was on the road
. Every day was something new and an opportunity to gather intelligence on players and pay attention to the world of college basketball recruiting. If you didn't learn something daily, you weren't doing your job.
Here are 10 key things I learned this month on the recruiting trail, from package deals to the loaded 2016 class and everything in between.
To continue reading this article you must be an Insider
July, 18, 2013
Jul 18
10:18
AM ET
The first July evaluation period has come and gone, but not before a number of elite prospects made their mark on the court at events like the Nike Peach Jam, adidas Invitational and the LeBron James Skills Academy.
We brought back national recruiting director Paul Biancardi's #AskCoachB mailbag to answer any questions you may have on the busy month and which recruits and classes are making waves. As a reminder, you can always get Paul's take on any prospect or find about new recruiting activity anytime on Twitter using the hashtag.
In this week's mailbag, Paul examines UNC's possibilities for landing an elite shooting guard in its 2014 class, what Ohio State should add to its second-ranked recruiting class, Ed Cooley turning Providence into a serious player in recruiting and whether
Justise Winslow
and Florida recruit
Brandone Francis
are in line for a bump in ranking in the next ESPN 100.
So let's get rolling with your questions.
---
@PaulBiancardi With the great play by Justise Winslow in the U19 & Peach Jam, does he crack top 10 & will he join Tyus/Okafor? #AskCoachB

— Michael Torres (@michaeltorres03) July 16, 2013
He comes home with a gold medal from Prague, and I heard he was a very valuable member of that U-19 team. His ability to pass, defend, handle the ball, combined with his basketball acumen impact without needing to score makes him special. At times, he can even bring the ball up the floor with a point guard's mentality. He's part of a small group of guys outside the top 10 who have a strong chance at cracking the top 10 in our next rankings.
On his status in the proposed package deal of
Tyus Jones
and
Jahlil Okafor
, I think Winslow would like for it to happen. But after going overseas and playing this summer, he'll see his decision and future should be more about a school that fits his needs rather than trying to fit his needs with someone else's. I'm sure all three are trying to make it happen, but the longer it goes the less of a possibility it will happen.
---
@PaulBiancardi @RecruitingESPN does the commitment of Jalen Lindsey cement the fact that PC and Ed Cooley are serious players in recruiting?

— Craig Leighton (@Craigl78) July 17, 2013
Providence has been a legit team in recruiting from the moment Ed Cooley got hired. That's how he won at Fairfield and he did a tremendous job evaluating talent as an assistant at Boston College. Now as the leader at Providence, he's not only doing a great job evaluating talent, he's bringing those top guys in. When you look at Ricky Ledo (No. 21 in 2012),
Kris Dunn
(No. 23 in 2012) and
Brandon Austin
(No. 56 in 2013), that's three big players he signed, and then add a commit from current ESPN 100 SF
Jalen Lindsey
, and you can see how big of an impact he's had in a short time. Providence recruiting was instantly upgraded with his hire and the Friars are in great hands going forward.
---
@PaulBiancardi Who is most likely to commit to Ohio State next? Could the package deal swing toward OSU of Jahlil and Tyus? #AskCoachB

— Jesus Urbina (@DiggzBuckEye559) July 17, 2013
I will say I love the Buckeyes class right now as it boasts skill, versatility and two guys who can flat out score in
Keita Bates-Diop
and
D'Angelo Russell
. With that said, it's obvious they still need to add some size to the frontcourt despite earning a pledge from three-star center
David Bell
.
I can't say who they will land but some of their biggest targets on their board are top-10 recruits
Jahlil Okafor
and
Myles Turner
. Now the Buckeyes are in the running to win the Okafor and Jones sweepstakes, but if they miss out, Turner would be a great consolation prize. Other potential targets are forwards
Leron Black
and
Paul White
and center
Elbert Robinson
, all of whom would be great gets for the No. 2-ranked team in the ESPN Class Rankings.
---
@PaulBiancardi I read the updates about the 5 schools who lead for Jones/Okafor. Any word on when they might decide? #AskCoachB

— Patrick Clark (@PatrickClark82) July 15, 2013
I see them finishing out the July and August event season and then taking some official visits together in the fall. I would say the earliest we can expect a decision is the early signing period (mid-November). They still need to take some official visits and sort things out before making a pledge.
---
@PaulBiancardi #AskCoachB which 2014 SG will get the next offer from Roy and UNC?

— Ryan Hunt (@RyanHuntMuzik) July 15, 2013
The Tar Heels are looking for someone who can score and shoot with range. Someone like No. 11 senior prospect
Rashad Vaughn
would fit that bill. He's the most dynamic scoring guard in the class and he does it from all three levels: Behind the line, inside the arc and driving to the basket. This guy has a knack for putting the ball in the basket, he just needs to cut down on his attempts and become more efficient. If Vaughn is out the mix, the Heels may go after Georgia scorer
Ahmed Hill
, the No. 33 overall player and eighth-rated 2-guard.
---
@PaulBiancardi @RecruitingESPN will Brandone Francis be moving up in the 2014 rankings?

— Damian Jerome (@Jeromestackin14) July 17, 2013
He's an intriguing prospect who has had a good summer. I saw him play well at adidas and at the LeBron camp and he had a strong showing at NBA camp. He has a strong body and the ability to score on the perimeter and in the paint or post up to get buckets down low. I like his skill level and IQ and his body. When you factor all those things, he has a chance to move up depending on how strong he finishes the summer. Right now he's at 34, but he has the ability to crack the top 25.
---
@PaulBiancardi - On a scale from 1-10, do you focus more on offensive or defensive tendencies when scouting!? Thx

— Coach Corbin (@coachcorbin150) July 1, 2013
When most coaches recruit, they think about finding the right fit and need in a prospect. When you talk about fit and need, it usually revolves around a player's offense, skill level, size at the position and basketball IQ. Some coaches will look at defensive attributes depending on their scheme, but in large part coaches recruit more for offense, IQ and athleticism because they can teach defense later in the process. It's harder to teach a guy to be more skilled or athletic than it is to teach defense.
I look at scouting through a similar lense when evaluating players for the ESPN 100 rankings. You look for attributes and qualities that will make a good offensive player a strong defender, whether it's his ability to rebound, stay in front of guys or take charges. For big guys, I have put an emphasis on how they defend ball screens, cover the low post and hedge out as well as skills and IQ.
July, 17, 2013
Jul 17
12:02
PM ET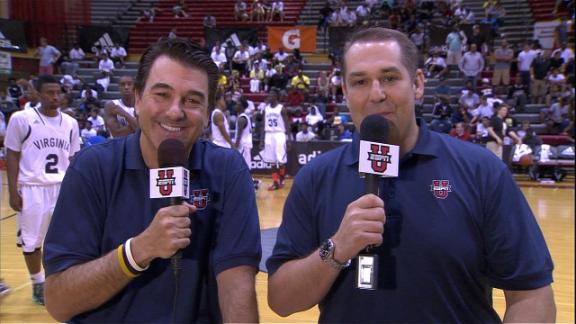 The first half of a July on the recruiting trail was more of a sprint than anything else. July 6-14 was a convergence of talent and time zones. From Las Vegas to North Augusta, S.C., to Indianapolis, I felt like I was in a new city daily with waves of players being tossed at me.
After having a chance to get my bearings, here are 10 things that stood out from the
cross-country travel assignment
. This entails info not only from the
Nike Peach Jam
and
adidas Invitational
during the first open evaluation period (July 10-14) but also from the
LeBron James Skills Academy
(July 6-8) before the live period began. The second half of July includes two more open eval periods July 17-21 and 24-28.
1. White was on the verge of elevating his game
To continue reading this article you must be an Insider
July, 12, 2013
Jul 12
12:02
PM ET
Editor's note: This is the latest entry in Dave Telep's July Road Trip blog. Throughout the month, Dave will check in each day he's on the road while covering some of the biggest basketball recruiting events in the country. He'll let you know where he's at, offer some highlights of the day and give a quick look at what's next.
NORTH AUGUSTA, S.C. -- Thirty minutes before the start of the second session at the
Nike Peach Jam
on Thursday, the rains came. And it rained. And rained harder. And kept raining and then rained some more. A torrential downpour gave the event a new perspective.
Watching assistant coaches sprint to the gym so they wouldn't be late to a game was kind of fun. Without any scholarships to give out, the best seat in the house for me was in the car until there was a letup in the downpour.
Sandwiched around the rain, however, there was some great action on the court and a who's who of big-time college coaches on hand to watch. Here are some nuggets from the first official day of the Nike EYBL finals at the Peach Jam.
[+] Enlarge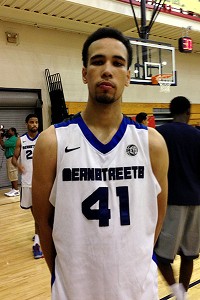 Dave Telep/ESPN ESPN 100 PF Paul White put on a show in front of coaches from Florida, Memphis, Wisconsin, UConn, Michigan State and Illinois.
White turns in one of his best days of the summer
To continue reading this article you must be an Insider