NCB On The Trail:

Miles Bridges
January, 21, 2015
Jan 21
2:30
PM ET
By
John Stovall
| ESPN Insider
DAYTON, Ohio -- The
Hoophall Classic
wasn't the only event with top high school basketball prospects in attendance this past weekend. Here are five observations from the Good Samaritan Flyin' to the Hoop Invitational.
1. Jackson is one of 2016's best:
Josh Jackson
(No. 3 in the ESPN 60) is a probable future pro. His size, length, skill and athletic ability are at a unique level. I'm not sure I have seen a combination like this since
LeBron James
in high school. I'm not saying he's LeBron, but as an athlete, it is close. Jackson is improving skill-wise and is a much better ball-handler, facilitator and jump shooter versus a year ago. He had 31 points and 14 rebounds in a matchup against Huntington Prep.
January, 18, 2015
Jan 18
11:41
PM ET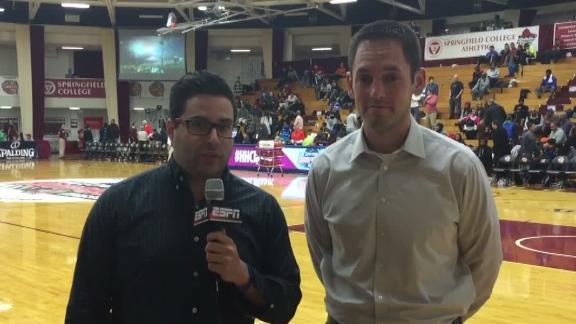 SPRINGFIELD, Mass. -- The big news of the day didn't necessarily happen on the court, but was instead a confirmation of Jeff Borzello's
report
from last week as both
Thon Maker
and his guardian Ed Smith acknowledged a move to the class of 2015 was possible, and could potentially become official in the coming weeks.
Kentucky and Kansas are perceived to be the frontrunners for Maker's services and John Calipari was front and center for Orangville's (Canada) game. While Duke, UCLA, Missouri, and Indiana could all reportedly be in the mix as well, the potential still exists that Maker could bypass college altogether, moving back to 2015 only as a precursor to a post-graduate year before making an immediate jump to the 2016 NBA Draft.
As for his performance on the floor, Maker racked up 23 points and 11 rebounds but was largely not involved in the offense until the final minutes of the game. While his lack of touches never impacted his motor -- he ran the floor beautifully and rebounded out of his area all game -- he did force some things off the dribble at times, turning it over eight times as a result. Regardless of any inconsistencies in his performance, Maker's sheer talent is downright staggering and almost immediately apparent even to an untrained eye.
To continue reading this article you must be an Insider
January, 5, 2015
Jan 5
10:30
AM ET
By
John Stovall
| ESPN Insider
WHEELING, W. Va. -- Here's what we saw at the Cancer Research Classic, a tournament featuring some of the nation's best Catholic high schools.
1.
Ben Simmons
(No. 1 in ESPN 100) did his best to put to rest any debate of who is the best player in the 2015 class. This past Friday Mr. Simmons put together the "perfect" game, scoring 26 points and not missing a single shot or free throw. He went 11-for-11 from the field, 2-of-2 from 3 and 2-of-2 from the free throw line. He added five rebounds and six assists for good measure. Simmons is pretty much a man among boys at this point. If he can consistently knock down the perimeter jump shot, he completes the puzzle at the high school level.
To continue reading this article you must be an Insider
July, 25, 2014
7/25/14
9:33
AM ET
LAS VEGAS -- It was our first look at the national talent on the Adidas side of things and we did not go home disappointed. Hosting the Adidas Super 64 at the Cashman Center allows coaches and scouts to stay at one venue and take in the talents of fast-rising senior
Jaylen Brown
as well as the multi-faceted game of super junior
Miles Bridges
. However, there were a couple of highly ranked seniors that didn't match the Vegas heat as their performance would fall under the "too cool" category.
Best Senior
[+] Enlarge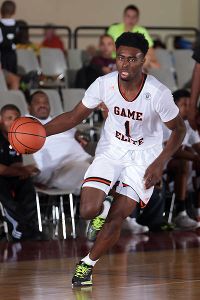 Kelly Kline/AdidasSeveral big-name college coaches were in attendance to watch small forward Jaylen Brown take to the court in Las Vegas.
Jaylen Brown
To continue reading this article you must be an Insider
July, 10, 2014
7/10/14
2:15
PM ET
With all the speculation over LeBron James' next destination, he still found time to exhibit his elaborate skill set with all the campers as he leapfrogged from one court to another. However, he wasn't the only star of the day as local product
Stephen Zimmerman
dazzled onlookers with his vast skill set. Zimmerman wasn't the only camper that stood out as Syracuse-bound
Malachi Richardson
, multiskilled
Miles Bridges
, and 2017 stud
DeAndre Ayton
all had their moments.
Best Player
Ben Simmons
To continue reading this article you must be an Insider
June, 17, 2014
6/17/14
10:00
AM ET
If you've noticed a sudden rush of recruiting information for 2016 prospects in the last few days, it's no coincidence.
Sunday was the first day that college coaches were permitted to contact prospects in the rising junior class, and for some prospects that literally meant the phone rang when the clock struck midnight.
Often times, those conversations are followed by some sort of offer. Here's a look at some of the latest news for the
Class of 2016
:
To continue reading this article you must be an Insider
June, 16, 2014
6/16/14
9:00
AM ET
ST. LOUIS -- The annual Nike Elite One Hundred provides a rare look at many of the nation's best underclassmen as top prospects from the classes of 2016 and 2017 were on display this weekend.
Best Player
To continue reading this article you must be an Insider
June, 4, 2014
6/04/14
12:53
PM ET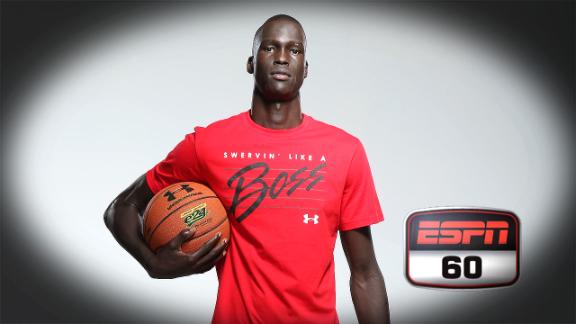 With the field expanding from 25 to 60 as the sophomores become juniors, here are 10 things to know about the prospects in the new
ESPN 60
for the Class of 2016:
1.
Jayson Tatum
continues to make his move upward. The talented and skilled 6-foot-7 small forward has great feel and is a high-level playmaker with size and basketball intelligence. The St. Louis Chaminade College Prep standout made another slight jump within the top five, going from No. 4 to No. 3.
2. The rim-protecting dominance of center
Udoka Azubuike
has continued. A strong and physical low-post presence, the Jacksonville (Fla.) Potter's House Christian standout rebounds, finishes and blocks shots with power and has been rewarded by moving inside the top 10 at No. 6.
[+] Enlarge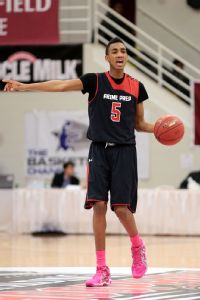 Kelly KlineTerrance Ferguson of Prime Prep Academy is a standout shooter in the ESPN 60.
3. There are some big-time wing scorers in the Class of 2016. These bucket-getters attack defenders and are difficult to deal with when they have the ball in their hands. Shooting guards
Malik Monk
and
Josh Langford
, small forwards
Mario Kegler
and
V.J. King
and SG
Tyus Battle
lead the top 20 players.
4. Shooting guard
Terrance Ferguson
has the sweetest shooting stroke in the top 10. Ferguson has a high release and excellent follow-through. He loves the corner jumper from behind the arc and shoots over smaller defenders as if they are invisible.
5. Combination forward
Miles Bridges
and point guard
Dennis Smith
are fresh faces in the top 10 because of their consistent production. A few dominant performances this spring on the travel circuit clearly separated them from their peers.
6. Point guard
Jaylen Fisher
has special court vision. The Arlington (Tenn.) Bolton standout puts the ball on time and on target and attacks the defense with his ability to penetrate. Fisher not only finds the open man but also delivers the ball in position to score on the catch.
7.
Harry Giles
made his debut this spring after suffering a knee injury that required surgery. The 6-9 Giles, from Winston-Salem (N.C.) Wesleyan Christian, is still rounding into form, but we did see flashes of his game before the injury from this talented power forward. He has all the tools to be a special player with terrific upside.
8. There's a lot of variety and versatility in the 2016 class. Many players can play and excel at two positions, both in the post and on the perimeter. A few examples are Bridges,
Omari Spellman
,
Amir Coffey
,
Vance Jackson
and
Kobi Jordan-Simmons
.
9. With only 10 true point guards in the ESPN 60, it is definitely a situation of quality over quantity. These point guards may be small in numbers, but all are very good players who will lead and make winning plays for their team. Newcomer Smith leads the way.
Lonzo Ball
,
De'Aaron Fox
,
Trent Forrest
,
Derryck Thornton
,
Devearl Ramsey
,
Payton Pritchard
,
Xavier Simpson
,
Cassius Winston
and
Howard Washington
all have had standout springs.
10. In comparison, the 2016 ESPN 60 will be better than the 2015 ESPN 60.
May, 12, 2014
5/12/14
9:01
AM ET
FRISCO, Texas -- The second Nike EYBL session is in the books.
Let's take a look at the event's best players:
Best inside player
To continue reading this article you must be an Insider