NCB On The Trail:

Lance Tejada
September, 6, 2013
9/06/13
9:44
AM ET
By
RecruitingNation
| ESPN.com
American Athletic Conference
Louisville
Jaylen Johnson
| PF | Ypsilanti, Mich./Ypsilanti
HT: 6-9 WT: 210
Class of 2014
Positional Rank: 15
Stars: 4
ESPN 100: 62
Big Ten Conference
Illinois
Leron Black
| PF | Memphis, Tenn./White Station
HT: 6-7 WT: 215
Class of 2014
Positional Rank: 6
Stars: 4
ESPN 100: 36
Big 12
Baylor
Mark Vital
| SF | Lake Charles, La./Washington-Marion
HT: 6-4 WT 215
Class of 2016
Positional Rank: NA
West Virginia
Jevon Carter
| SG | Maywood, Ill./Proviso East
HT: 6-2 WT: 180
Class of 2014
Positional Rank: NA
Stars: 3
Big East
Marquette
Phillip Flory
| SG | Wisconsin Rapids, Wis./Wisconsin Rapids
HT: 6-3
Class of 2017
Positional Rank: NA
Stars: Evaluation Pending
Conference USA
East Carolina
Lance Tejada
| PG | Hollywood, Fla./Blanche Ely
HT: 6-1 WT: 175
Class of 2014
Positional Rank: 22
Stars: 4
ESPN 100: 96
Glenn Bryant
| SF | Marietta, Ga./Kell
HT: 6-6 WT: 180
Class of 2014
Positional Rank: NA
Stars: Evaluation Pending
Southern Miss
Willie Carmichael
| PF | Apopka, Fla./Wekiva
HT: 6-7 WT: 195
Class of 2014
Positional Rank: NA
Stars: 2
ACC
Virginia
Isaiah Wilkins
| SF | Norcross, Ga./Greater Atlanta Christian
HT: 6-7 WT: 185
Class of 2014
Positional Rank: NA
Stars: 2
Wake Forest
Isaac Haas
| C | Piedmont, Ala./Hokes Bluff
HT: 7-1 WT: 275
Class of 2014
Positional Rank: 18
Stars: 4
Pac-12
UCLA
Trevon Bluiett
| SF | Indianapolis/Park Tudor
HT: 6-5 WT: 205
Class of 2014
Positional Rank: 10
Stars: 4
ESPN 100: 41
Utah
Kyle Kuzma
| SF | Burton, Mich./Rise Academy
HT: 6-8 WT: 200
Class of 2014
Positional Rank: 27
Stars: 4
Isaiah Wright
| PG | Boise, Idaho/Borah
HT: 6-2 WT: 175
Class of 2014
Positional Rank: NA
Stars: 2
Stanford
Robert Cartwright
| PG | Pasadena, Calif./Flintridge Prep
HT: 6-2 WT: 165
Class of 2014
Positional Rank: 34
Stars: 3
SEC
Auburn
Sam Logwood
| SF | Indianapolis/La Lumiere
HT: 6-7 WT: 205
Class of 2014
Positional Rank: 20
Stars: 4
ESPN 100: 78
Jack Purchase
| PF | Melbourne, Australia/Carey Baptist Grammar
HT: 6-10 WT: 200
Class of 2014
Positional Rank: NA
Stars: Evaluation Pending
Vanderbilt
Wade Baldwin
| PG | Hillsborough, N.J./St. Joseph
HT: 6-2 WT: 180
Class of 2014
Positional Rank: 29
Stars: 4
South Carolina
TeMarcus Blanton
| SG | Locust Grove, Ga./Luella
HT: 6-4 WT: 185
Class of 2014
Positional Rank: 37
Stars: 3
Atlantic 10
Virginia Commonwealth
Justin Tillman
| PF | Redford, Mich./Pershing
HT: 6-8 WT: 175
Class of 2014
Positional Rank: 29
Stars: 4
George Washington
Paul Jorgensen
| PG | Ramsey, N.J./Don Bosco
HT: 6-3 WT: 185
Class of 2014
Positional Rank: 45
Stars: 3
Horizon League
Illinois-Chicago
Tai Odiase
| C | Chicago/Homewood-Flossmoor
HT: 6-9 WT: 195
Class of 2014
Positional Rank: NA
Stars: 2
Ivy League
Pennsylvania
Mike Auger
| PF | Hopkinton, Mass./New Hampton
HT: 6-6 WT: 205
Class of 2014
Positional Rank: NA
Stars: 2
Cornell
Jordan Abdur-Ra'oof
| SF | Rockville, Md./Gonzaga College
HT: 6-7 WT: 200
Class of 2014
Positional Rank: NA
Stars: 2
Yale
Eric Anderson
| PF | West Chester, Pa./The Haverford School
HT: 6-6 WT: 200
Class of 2014
Positional Rank: NA
Stars: 2
Sun Belt
Georgia State
Jeff Thomas
| SG | Norwalk, Ohio/Norwalk
HT: 6-5 WT: 185
Class of 2014
Positional Rank: NA
Stars: Evaluation Pending
Jordan Session
| SF | McDonough, Ga./Eagles Landing
HT: 6-9 WT: 190
Class of 2014
Positional Rank: NA
Stars: Evaluation Pending
Colonial Athletic Association
College of Charleston
Evan Bailey
| SG | Massillon, Ohio/Jackson
HT: 6-6 WT: 185
Class of 2014
Positional Rank: NA
Stars: 3
Atlantic Sun
Mercer
Jestin Lewis
| SG | Richmond, Va./Wallace State C.C.
HT: 6-2 WT: 170
Class of 2014
JUCO
Jacksonville
Tim Bond
| SG | Baltimore/City College H.S.
HT: 6-4
Class of 2014
Positional Rank: NA
Stars: Evaluation Pending
MAC
Buffalo
Mory Diane
| SG | Detroit/Country Day
HT: 6-3 WT: 170
Class of 2014
Positional Rank: NA
Stars: 2
WAC
Cal State Bakersfield
Sadiq Inuwa
| PF | Houston/La Lumiere
HT: 6-7 WT: 200
Class of 2014
Positional Rank: NA
Stars: Evaluation Pending
September, 3, 2013
9/03/13
1:51
PM ET
By
Dave Telep
| ESPN Insider
Each week, Starting 5 takes you on a tour of the recruiting landscape. It delves into topics, recruiting trends and stories. This edition focuses on the Utah Utes' recent run of commitments, emotional toughness in recruits and tells you what happened on last weekend's commitment spree.
Utah could have one in Kuzma
[+] Enlarge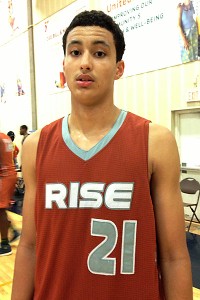 Dave Telep/ESPN Kyle Kuzma grew six inches and became a bigger prospect. Utah noticed early.
The Utah Utes last weekend added a player that isn't nationally known – yet – but is significant to the future of the program. Small forward
Kyle Kuzma
(Burton, Mich./Rise Academy) is one of those neat stories that manage to fly under the radar until that first breakout week on the scene in college. Consider yourself warned.
August, 31, 2013
8/31/13
10:52
PM ET
ESPN 100 PG
Lance Tejada
(Hollywood, Fla./Blanche Ely) committed to East Carolina over offers from Lehigh, Alabama, Murray State and Tennessee Tech, among others, while on his official visit.
The four-star Tejada has the talent and potential to be an immediate contributor for Pirates head coach Jeff Lebo.
Why did he pick East Carolina and what will he bring to the Pirates? Let's break it down.
To continue reading this article you must be an Insider
August, 13, 2013
8/13/13
9:00
AM ET
Reading through the typical recruiting jargon can be a difficult task, especially for the untrained eye, but suffice it to say that things aren't always what they seem.
Some of the most misleading statements often include sayings like, "He has offers from," or "He chose school X over," or "He decommitted from," primarily because they consider only one side of the process.
The fact of the matter is that schools choose prospects as much as prospects choose schools, and the former is no less fluid than the latter.
What does that mean? It means that sometimes when a tweet or recruiting article says Player X committed to School Y over offers from Schools A, B, C and D, what it can really mean is that Schools A, B, C and D offered Player X at some point in the past, but are no longer recruiting him, so he decided to commit to School Y.
Now, why would a school suddenly stop recruiting a prospect? Because they suddenly realized he wasn't good enough? Possibly, but more likely it's because they have since received a commitment from, or feel like they are on the verge of a commitment from, someone else at the same position whom they hold in a little higher esteem.
So, with that in mind, we're going to rewind through a
particularly busy few weeks
in the national point guard market and make an attempt to translate the real story. Whether it was a prospect who made a commitment or cut his list, we'll tell you which schools are in, which are out, the real story behind whose decision it was, and the bottom line for each prospect. Then we'll circle back and tell you which two ESPN 100 point guards are still uncommitted and open to new suitors.
[+] Enlarge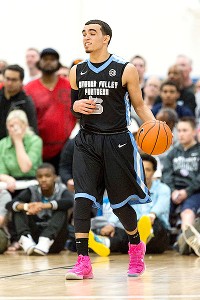 AP Photo/Damen Jackson No. 1 PG Tyus Jones recently reaffirmed his desire to play college hoops with No. 1 overall recruit Jahlil Okafor.
News:
Tyus Jones
(Apple Valley, Minn./Apple Valley) reaffirms his intent to go to school with
Jahlil Okafor
(Chicago, Ill./Whitney Young)
In:
Baylor, Duke, Kansas, Kentucky, Michigan State, Ohio State
Out:
Minnesota
Real story:
Minnesota is still on Jones' list of seven, but the Gophers aren't on Okafor's list. That, in addition to the fact Richard Pitino and his staff could be seen prioritizing other targets this summer, is indication enough that Jones isn't likely to be staying home next season. The latest twist in the story is Okafor's AAU coach, Mike Irvin, going on record saying there is a great chance Duke lands Jones, while Okafor's camp has denied the Blue Devils are the leader for the package deal.
Bottom line:
Jones and Okafor do want to go to school together, but they don't yet agree on where. Jones appears pretty set on Duke, but Okafor not quite as much at this point. ESPN 100 SF
Justise Winslow
(Houston/Saint John's) is also part of the conversation, making this potentially one of the biggest package deals in recent history.
To continue reading this article you must be an Insider