NCB On The Trail:

Khadeem Lattin
February, 27, 2014
2/27/14
10:00
AM ET
When it comes to basketball bloodlines it doesn't get much better than the ones Oklahoma-bound big man
Khadeem Lattin
(Houston, Texas/Redemption Christian Homeschool Academy) has.
His mother, Monica Lamb-Powell, played next to Cheryl Miller at USC before a long professional career that began abroad before ending in Houston, where she helped the Comets win three consecutive WNBA titles from 1998 to 2000.
Lamb-Powell met Khadeem's father, Clifton Lattin, when growing up in Houston. Clifton went on to play NAIA ball and then professionally in Italy.
Clifton's father and Khadeem's paternal grandfather, David Lattin, was the starting center for the Texas Western team that famously defeated Kentucky for the 1966 national championship. Lattin went on to a professional career of his own in both the NBA and ABA.
That 1966 national championship game is considered by many to be the most important college basketball game ever. Played at the height of the civil rights movement, Don Haskins' Texas Western team was the first to start five black players, while Adolph Rupp's Kentucky team was 100 percent white, as were the game officials, coaches and the vast majority of the spectators.
In 2006, Disney's "Glory Road" told Texas Western's story to a new generation of Americans, while Lattin authored his own account in "Slam Dunk to Glory," a book which was published in 2007, the same year that the entire 1965-66 Miners team was elected into the Naismith Memorial Basketball Hall of Fame.
Prior to arriving at Texas Western, David Lattin made a name for himself coming up the ranks in Houston, the same area in which his grandson is now paving his own path.
[+] Enlarge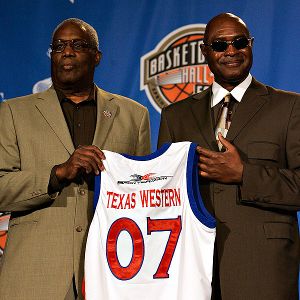 AP Photo/Gerry BroomeHall of Famer David Lattin (right), the star player on Texas Western's historic 1966 national championship team, is the grandfather of Oklahoma forward commit Khadeem Lattin.
"The city was quite different. The whole city was segregated. The white players didn't play with the black players," David Lattin said. "We didn't even know we were being segregated, though. We were just out there having fun playing basketball. Now everything is integrated, but it is important for everybody to understand that it was different because the time was different."
While Lattin recalls only one game at the local Jewish Community Center when the city's best young players, both black and white, played together, he says there were typically only three or four places in the entire city where he and his peers could play.
"Houston is such a huge city that the competition is more spread out now. It's tough to get all the city's great players in the same gym, so it's different for him," he said of his grandson. "Khadeem would never even think about the black kids and the white kids not playing together and not going to school together."
While Khadeem Lattin says he knows his grandfather's story "front and back for the most part," the total depth of the journey is likely too much for any youngster to understand unless they are able to process it over a long period of time.
"Not really," David answered when asked if he ever sat his grandson down and detailed all of the challenges he saw in his day. "It would be very difficult to give it all to him at once. He saw the movie and read the book ["Slam Dunk to Glory"] and we talk about it a little bit as we go."
One thing that they do frequently talk about is Khadeem's game and the steps he continues to take in his own development. They've watched tape together since Khadeem was in middle school, breaking down his game, with Khadeem trying to learn from his grandfather's wisdom. David has also taken a strong interest in his grandson's physical development.
"He helps keep me healthy," Khadeem said. "He's my dietitian. He was one of my early weight trainers. He keeps himself in perfect shape and has a lot of knowledge to share."
While Khadeem is at least three inches taller than his grandfather, his game is much more perimeter-oriented. He spent a year at the Canarias Basketball Academy in Spain, where he played both forward positions and further developed his face-up game. Khadeem is well known for his size, length, athleticism and defensive ability. Now, his emphasis is on adding that same level of power and assertiveness inside the paint that his grandfather was known for.
"We talk a lot about concentration," David said. "We're trying to get him to rebound more right now. Even though he's 195 pounds, that has nothing to do with rebounding. You can still rebound at 195 pounds. He had 18 [rebounds] the other night, so I was proud."
Rebounding, and basketball as a whole, was more about mindset and personality for David, and that's something that Khadeem is working to emulate.
"He helps give me a killer mentality, because he was just a complete bully," Khadeem said. "That's the biggest thing is that he just helped to change my mentality so I can be more of a bully like him, more of a 'get after it' type of player, no excuses and hard-nosed."
[+] Enlarge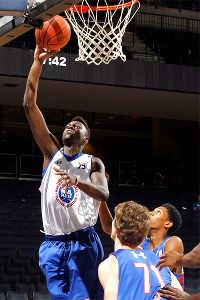 Courtesy of Andrew ShurtleffWhile it'll be tough, Khadeem Lattin wants to eventually be the most decorated member of his family.
Khadeem isn't just pushed by his grandfather; his mother is also an active participant. In fact, he jokes that his mother frequently reminds him that she averaged 32 points per game as a senior while his grandfather reminds him that he pulled down 20 rebounds per game (David actually averaged 29 points, 19 rebounds and 13 blocks per game as a senior).
"What I've tried to explain to him is that if you're going to have those numbers you have to be busy," David said. "There's no time to rest during the game. You have to be in condition, you have to be able to run and get there, you have to always be thinking in terms of how you can best help your team win, whether it's more rebounds, more blocks, or more points -- whatever it takes to win."
While David continues to push his grandson at every opportunity, he's also clearly conscious of letting him be his own man. He didn't interject a strong opinion in Khadeem's recruiting process and said "I'm happy wherever he is happy" with regard to his decision to play at Oklahoma.
What Khadeem and David both ultimately seem to know is that Khadeem's future will be one of his own making. While most youngsters in his position might consider the expectations surrounding his bloodlines to be a burden, Khadeem makes no secret of the fact his goal is to surpass them all.
"Honestly, my grandfather being who he is and my mom being who she is, I want to out-do both of them. I just want to do better and they want me to do better," he said. "They're both competitors, and that's what I appreciate most about both of them."
"I'm excited. I talk about him all the time," David said. "My criticisms are always because I just want to make him better, but he's got to want to do it. I keep telling him that. He's going to have to decide how good he wants to be. He's got the talent -- the sky is the limit for him -- and he's improving, so I'm excited."
January, 30, 2014
1/30/14
10:00
AM ET
Here are 12 players who our scouting staff discussed in great detail as we assembled our updated ESPN 100 rankings. These players have played well and have had some outstanding performances but just missed the cut.
Kobe Eubanks
SG, 6-foot-5, 185 pounds
Centereach, N.Y./Our Savior
Recruiting Interest:
George Mason, Missouri State, Pittsburgh, South Florida, Central Florida
Eubanks has very good size for a wing. He is a terrific athlete, an excellent all-around scorer that also makes his presence known as a perimeter rebounder. He has played well this fall and winter, which earned him Top 100 consideration.
October, 24, 2013
10/24/13
12:14
PM ET
ESPN 100 center
Khadeem Lattin
(Houston/Redemption Christian Homeschool Academy) committed to Oklahoma on Thursday over finalists Texas and UCLA.
It's huge for coach Lon Kruger and his staff to land the No. 96 player in the country from the talent-rich state of Texas and Houston, a place the Sooners have made a priority in recruiting.
To continue reading this article you must be an Insider
September, 9, 2013
9/09/13
3:13
PM ET
Today it's hard to find player who wants to be a true center or accept that his is a center, as the game has made hybrid positions from the forward and guard positions. A center remains someone who is known as the tallest or strongest player on the floor, who likes physical contact and stays close to the basket.
A center's primary role is to protect the basket defensively by not allowing his man or other opposing players to get good looks at the basket from inside the painted area. In most cases with young big men, their defense is ahead of their offensive development for a number of reasons. One is they don't get to touch the ball that much and are still developing their foot- and hand-eye coordination. On the offensive side of the floor a center must be able to score inside by finishing drop-off passes or making a post move with his back to the basket. In addition, a center should be able to rebound, screen and make free throws.
A true center who demonstrates the positional qualities and understands and accepts who he is can impact the game at any level. Let's take a look at five keys to being an elite center, why they're important and which prospects in the Class of 2014 do them best.
1. Back-to-the-basket scorer
To continue reading this article you must be an Insider
July, 26, 2013
7/26/13
7:12
PM ET
By
Dave Telep
| ESPN Insider
Editor's note: This is the latest entry in Dave Telep's July Road Trip blog. Throughout the month, Dave will check in each day he's on the road while covering some of the biggest basketball recruiting events in the country. He'll let you know where he is, offer some highlights of the day and give a quick look at what's next.
LAKE BUENA VISTA, Fla. -- It was a quick stay in Disney for me this week. Basically, I was in town to help broadcast a pair of
AAU Super Showcase
games on ESPNU and then pick off a few guys during pool play of the
AAU Nationals
whom I needed to see.
Mission accomplished.
So here are my final thoughts from the Super Showcase.
To continue reading this article you must be an Insider