NCB On The Trail:

Josh Perkins
December, 5, 2013
Dec 5
9:00
AM ET
Conference realignment has had lasting implications on every major conference in college basketball, but the group that might have been affected more than anyone else were the mid-major schools.
Annual powerhouses like Xavier, Memphis, Butler, Temple and several others have now been elevated to "high-major" conferences, leaving a void for other mid-major programs to establish their recruiting superiority at their own level.
So after grading the ACC, American, Big 12, Big East, Big Ten, Pac 12, and SEC last week, it's now time to examine the best of the rest. Grading mid-major classes can be subjective, meaning there's a little bit of a curve in order to account for the fact that recruiting at this level is tougher than ever before given the unprecedented number of competing programs who can now leverage their high-major conference affiliation.
To continue reading this article you must be an Insider
September, 12, 2013
Sep 12
10:00
AM ET
Six months ago, John Calipari seemed virtually invincible on the recruiting trail. He was riding a wave of momentum fueled by his 2012 national championship, incredible recent success in the NBA draft, and being on the verge of delivering one of the top recruiting classes in the history of college basketball.
But then, unexpectedly, a few breaks went against Kentucky. Top-ranked
Andrew Wiggins
capped the 2013 class by picking Kansas, and then Calipari lost out to his former mentor, Larry Brown, as his top point guard target of 2014,
Emmanuel Mudiay
(Dallas/Prime Prep Academy), picked SMU last month.
So have Calipari and Kentucky lost a step?
To continue reading this article you must be an Insider
August, 30, 2013
Aug 30
8:29
AM ET
By
ESPN.com staff
| ESPN.com
SEC
Missouri

Ronnie Suggs
SG (Washington, Mo./Washington)
HT: 6-4 WT: 17
Class of 2015
Positional Rank: NA
Stars: Evaluation Pending
Big 12
Baylor
Damiyne Durham
SG (Oakwood, Texas/Oakwood)
HT: 6-4 WT: 175
Class of 2014
Positional Rank: NA
Stars: Evaluation Pending
American Athletic Conference
SMU
Emmanuel Mudiay
PG (Dallas/Prime Prep)
HT: 6-5 WT: 190
Class of 2014
Positional Rank: 2
Stars: 5
ESPN 100: 5
Houston
JaQuel Richmond
PG (Greensboro, N.C./Wesleyan Christian)
HT: 6-1 WT: 170
Class of 2014
Positional Rank: 26
Stars: 4
Big East
Providence
Paschal Chukwu
C (Westport, Conn./Fairfield College Prep)
HT: 7-1 WT: 220
Class of 2014
Positional Rank: 5
Stars: 4
ESPN 100: 58
West Coast Conference
Gonzaga
Josh Perkins
PG (Denver/Huntington Prep)
HT: 6-3 WT: 185
Class of 2014
Positional Rank: 6
Stars: 5
ESPN 100: 24
Big West Conference
UC Santa Barbara
Gabriel Vincent
SG (Stockton, Calif./St. Mary's)
HT: 6-2 WT: 180
Class of 2014
Positional Rank: NA
Stars: 2
Ivy League
Princeton
Aaron Young
PG (Lynchburg, Va./Virginia Episcopal)
HT: 6-1 WT: 170
Class of 2014
Positional Rank: NA
Stars: Evaluation Pending
Brown
Jason Massey
SG (Plantation, Fla./American Heritage)
HT: 6-5 WT: 180
Class of 2014
Positional Rank: NA
Stars: 2
MAAC
Fairfield
Tyler Nelson
SG (Lawrence, Mass./Central Catholic)
HT: 6-0 WT: 165
Class of 2014
Positional Rank: NA
Stars: 1
Missouri Valley Conference
Missouri State
Chris Kendrix
SG (Willard, Mo./Willard)
HT: 6-5 WT: 180
Class of 2014
Positional Rank: NA
Stars: Evaluation Pending
Big South
Longwood
Ryan Badowski
SG (Brunswick, Ohio/Brunswick)
HT: 6-3 WT: 165
Class of 2014
Positional Rank: NA
Stars: Evaluation Pending
Atlantic 10
St. Bonaventure
Idris Taqqee
SF (Ashburnham, Mass./Cushing Academy)
HT: 6-3 WT: 180
Class of 2014
Positional Rank: NA
Stars: Evaluation Pending
August, 29, 2013
Aug 29
9:00
AM ET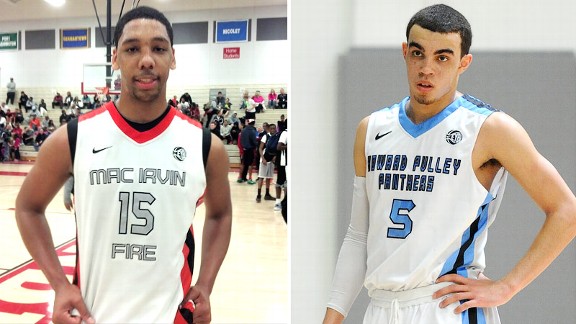 ESPN, Icon SMIJahlil Okafor and Tyus Jones have discussed going to school together and the ESPN 100 prospects have scheduled several official visits as a tandem.
One of the lasting themes of the Class of 2014 has been the perpetual rumors of package deals, and yet as we get closer to and closer to November's early signing period we're still waiting for the first to come to fruition.
With that in mind, we examined the most rumored potential package deals in the country and set the odds in order to determine which have the best chance of actually happening.
First though, it's necessary to define what a "package deal" is. In it's purest form, it would be a situation where two or more prospects are recruited in unison and make one collaborative decision. But there really aren't many situations currently like that in the 2014 class, with one notable exception.
Instead, most of the recent talk around "package deals" really reflects prospects that could potentially end up at the same school, even if they don't go through the recruiting process together. As such, that is the definition which we'll operate under for the purposes of this article and projecting the likelihood of such deals actually happening.
To continue reading this article you must be an Insider
August, 20, 2013
Aug 20
11:18
AM ET
Editor's note: Every week in "Starting 5," we'll roll out five stories, themes and nuggets from the basketball recruiting world to set the table with the stories that need to be told and give you a leg up on the watercooler conversations around the office.
This week we look at three point guards using different lenses, what plans KU has for Late Night in the Phog, the recruiting revivals at UConn and Minnesota plus reduced lists from bigs
Paul White
and
Makinde London
.
To continue reading this article you must be an Insider
August, 20, 2013
Aug 20
9:00
AM ET
It was an incredibly busy weekend of action on the recruiting front, not just because of the series of high-major commitments, but also because of trimmed lists, scheduled visits, and scholarship offers, all of which have the potential to create multiple ripples on the pending domino effect.
Commitment Catch-Up
• ESPN 100 PF
Craig Victor
(New Orleans, La./Findlay Prep) commits to Arizona: The 31st-ranked prospect and 5th best PF in the country
announced on Saturday he was heading to Arizona
, giving coach Sean Miller his third high level combination forward in as many years.
To continue reading this article you must be an Insider
August, 13, 2013
Aug 13
9:00
AM ET
Reading through the typical recruiting jargon can be a difficult task, especially for the untrained eye, but suffice it to say that things aren't always what they seem.
Some of the most misleading statements often include sayings like, "He has offers from," or "He chose school X over," or "He decommitted from," primarily because they consider only one side of the process.
The fact of the matter is that schools choose prospects as much as prospects choose schools, and the former is no less fluid than the latter.
What does that mean? It means that sometimes when a tweet or recruiting article says Player X committed to School Y over offers from Schools A, B, C and D, what it can really mean is that Schools A, B, C and D offered Player X at some point in the past, but are no longer recruiting him, so he decided to commit to School Y.
Now, why would a school suddenly stop recruiting a prospect? Because they suddenly realized he wasn't good enough? Possibly, but more likely it's because they have since received a commitment from, or feel like they are on the verge of a commitment from, someone else at the same position whom they hold in a little higher esteem.
So, with that in mind, we're going to rewind through a
particularly busy few weeks
in the national point guard market and make an attempt to translate the real story. Whether it was a prospect who made a commitment or cut his list, we'll tell you which schools are in, which are out, the real story behind whose decision it was, and the bottom line for each prospect. Then we'll circle back and tell you which two ESPN 100 point guards are still uncommitted and open to new suitors.
[+] Enlarge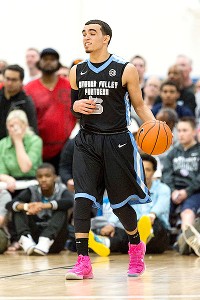 AP Photo/Damen Jackson No. 1 PG Tyus Jones recently reaffirmed his desire to play college hoops with No. 1 overall recruit Jahlil Okafor.
News:
Tyus Jones
(Apple Valley, Minn./Apple Valley) reaffirms his intent to go to school with
Jahlil Okafor
(Chicago, Ill./Whitney Young)
In:
Baylor, Duke, Kansas, Kentucky, Michigan State, Ohio State
Out:
Minnesota
Real story:
Minnesota is still on Jones' list of seven, but the Gophers aren't on Okafor's list. That, in addition to the fact Richard Pitino and his staff could be seen prioritizing other targets this summer, is indication enough that Jones isn't likely to be staying home next season. The latest twist in the story is Okafor's AAU coach, Mike Irvin, going on record saying there is a great chance Duke lands Jones, while Okafor's camp has denied the Blue Devils are the leader for the package deal.
Bottom line:
Jones and Okafor do want to go to school together, but they don't yet agree on where. Jones appears pretty set on Duke, but Okafor not quite as much at this point. ESPN 100 SF
Justise Winslow
(Houston/Saint John's) is also part of the conversation, making this potentially one of the biggest package deals in recent history.
To continue reading this article you must be an Insider
July, 11, 2013
Jul 11
11:46
AM ET
PHILADELPHIA -- The Philadelphia University gym was alive Wednesday evening as the Reebok Breakout Classic opened to a wave of big-name college coaches, including John Calipari, John Thompson III, Larry Brown, Mike Brey, Jay Wright, Scott Drew, Kevin Ollie and Steve Alford.
Once the clock struck 5 p.m. and the doors opened to release a jammed lobby full of coaches, a full set of games highlighted Reebok's most recent successful national camp. Among the players who put on their best effort in front of the litany of elite coaches was Class of 2014 top-25 recruits
Emmanuel Mudiay
,
Rashad Vaughn
and
Josh Perkins
along with surging three-star PF
Malik Price-Martin
.
Here's a look at Day 1 of the event.
To continue reading this article you must be an Insider
June, 17, 2013
Jun 17
4:27
PM ET
June, 17, 2013
Jun 17
1:46
PM ET
CHARLOTTESVILLE, Va. – This year's NBPA Top 100 Camp was littered with skilled prospects from top to bottom and was overall a very strong and deep collection of talent. Former NBA coach John Lucas served as the director of scouting at the camp, which annually attracts high-level prep prospects from all over the country.
The contests were extremely competitive as the players really took pride in their performances. Making the most noise at the camp were the event's big men, who stood out due to their length in blocking and altering shots, overall efforts in rebounding and ability to run the floor and finish. Several, like center Stephen Zimmerman and Thon Maker, also displayed advanced passing and ballhandling skills.
Let's take a look at the final impressions from the NBPA 100 Camp.
Best performers

To continue reading this article you must be an Insider
June, 15, 2013
Jun 15
8:31
PM ET
CHARLOTTESVILLE, Va. -- There have been a number of terrific performances at the
NBPA Top 100 Camp
, but here are quick-hitting scouting impressions on more than 30 players who have caught my eye on a consistent basis outside of
P.J. Dozier
,
Elbert Robinson
and
Jordan McLaughlin
, whom I already did individual blogs on.
2014 PF/C Payton Dastrup:
Attacks the rim with great energy and urgency, finishing and competing at a high level. He simply didn't take plays off.
2015 PG Jalen Brunson:
He runs the team, distributes the ball, has feel and court vision, and when you back away he can drain the jumper. He might not make the play to win the game, but he won't make the play to lose it either. He's rock solid and learning on the job.
To continue reading this article you must be an Insider
June, 15, 2013
Jun 15
7:13
PM ET
CHARLOTTESVILLE, Va. -- The
NBPA Top 100 Camp
features many of the nation's top high school basketball players. Our staff has already weighed in on what we learned from
Day 1
and
Day 2
at the camp, here's a sampling of what some of the best players had to say about their peers and who impressed them.
Joel Berry (Apopka, Fla./Lake Highland)
On
Isaiah Whitehead
(Brooklyn, N.Y./Lincoln): "He can really score the ball. He did something I've never seen before. He was driving to the hole and lost his balance, his body was almost touching the floor and he still put it in the basket. Also, his quickness helps him as a defender. He is a terrific two-way player."
On
Robert Johnson
(Richmond, Va./Benedictine Prep): "He is not flashy but gets the job done. He scores at will by making 3s and defends his man."
On
Parker Jackson-Cartwright
(Los Angeles/Loyola): "His quickness challenges my defense. Over the years it's been hard to keep him out if the lane."
Jordan McLaughlin (Rancho Cucamonga, Calif./Etiwanda)
On
Abdul-Malik Abu
(Boston/Kimball Union): "He is strong inside and has a quick bounce off of rebounds. He is strong on the glass."
On
Chance Comanche
(Los Angeles/View Park): "Only in the Class of 2015, he is way ahead of his class. He is very athletic, blocks shots and rebounds."
On
Josh Perkins
(Denver/Huntington Prep): "Playing against Josh Perkins is difficult. He is a very good passer and has great vision. He makes everyone around him better."
Trevon Bluiett (Indianapolis/Park Tudor)
On
Kevon Looney
(Milwaukee/Hamilton): "He scores at will on the post, he boards and makes outside shots. He is pretty much unstoppable."
On
Tadric Jackson
(Tifton, Ga./Tift County): "He has bounce and makes jumpers. He hardly ever misses."
June, 15, 2013
Jun 15
12:11
PM ET
By
RecruitingNation
| ESPN.com
CHARLOTTESVILLE, Va. -- The second day of the
2013 NBPA Top 100 Camp
on Friday at the University of Virginia continued to feature some of the nation's top basketball prospects. Our staff of RecruitingNation experts was out in full force on Friday and here's what we learned from Day 2, including the strong point guard class in 2014, a future perfect fit at Georgetown and the ESPN 100 talent in Utah.
To continue reading this article you must be an Insider