NCB On The Trail:

Joel Embiid
June, 21, 2014
6/21/14
1:21
PM ET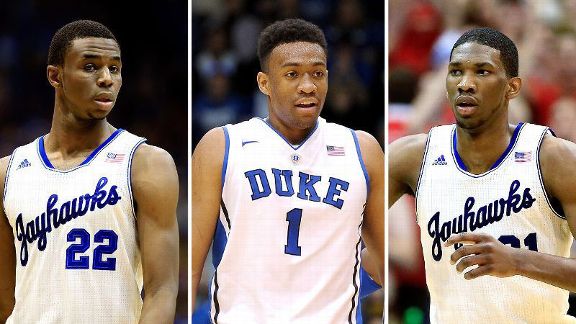 Getty ImagesJabari Parker (center) is more NBA ready in the eyes of prospects than former Kansas teammates Andrew Wiggins (left) and Joel Embiid.
CHARLOTTESVILLE, Va. -- The NBA draft is Thursday night. With the top pick the Cleveland Cavaliers are expected to choose from among
Andrew Wiggins
,
Jabari Parker
and
Joel Embiid
.
The draft was a hot topic this week among the most talented high school prospects in the country at the NBPA Top100 camp.
Who would they take with the No. 1 overall selection? The results might surprise you.
Parker in landslide
Thon Maker
ESPN 60 No. 1
"Whew, I don't know if I could make that call. I would say Jabari Parker. His body is ready right now and his mentality is catching up to it. When he played at Duke, I think that helped him a lot. He had to make quicker moves, and in the league when he gets the ball, he has three seconds to make his move or he will be corralled with double teams. I also think his passing is nice, too, and he can shoot the ball. So in my eyes, I think he is ready now. His body is ready, his game is there and I would take him."
Ben Simmons
ESPN 100 No. 2
Commitment:
LSU
"Depends on what team. With Cleveland, I would probably go with Jabari because he is a more polished player already and they wouldn't have to wait a year. If they are going with someone in the future, I would probably have to go with JoJo [Embiid]. He's just nice. He has moves, he's coordinated, and he can have an impact in the future."
[+] Enlarge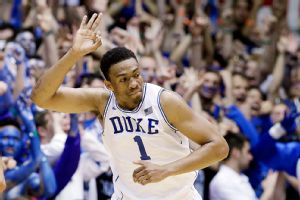 AP Photo/Gerry BroomeJabari Parker averaged 19.1 points and 8.7 rebounds during his freshman season at Duke.
Chase Jeter
ESPN 100 No. 13
"Jabari Parker because he is the most skilled now. They talk about potential when it comes to Wiggins, but Jabari Parker is skilled now and I feel like with him you know what you are going to get – high-character, high-quality guy."
Dennis Smith Jr.
ESPN 60 No. 9
"Jabari Parker. He already has an NBA body and NBA skill set, so there is a lot of potential for him to be good early. After that, Embiid. He's a great defensive player,"
Dwayne Bacon
ESPN 100 No. 40
"I will take Jabari Parker. He can give you anything and everything. He's a complete player. He's definitely a player I look at when I'm playing the game. Even though he just left high school a year ago and just left college after one year, he's a complete player. Andrew Wiggins is great player, Joel Embiid is there, too, but I will take Jabari Parker because he can shoot it, he can post up … he can do it all."
Perry Dozier
ESPN 100 No. 29
"I would probably take Jabari, just because of how versatile he is. He already has an NBA body, NBA skill set and I can see him playing different positions like Carmelo Anthony,"
Ray Smith
ESPN 100 No. 26
"I'm taking Jabari Parker. He's a thick, explosive knockdown shooter. What else do you want? I take Jabari Parker. They talk about Andrew Wiggins, but he is still a little raw. Jabari Parker is ready to be a player."
Deng Adel
ESPN 100 No. 83
"It depends what my team needs. If they need an immediate impact player, I would take Jabari Parker. I mean, he's NBA ready. I think he can impact a team and be a franchise player."
The case for Wiggins
Tyler Dorsey
ESPN 100 No. 24
"I got to say Andrew Wiggins. Potential wise, his upside is so high because he is so athletic. I know everybody is athletic in the league, but he is so athletic and if he keeps working on that shot he is going to be deadly. That small forward position is pretty tough going against the best players in the world, so I think I would probably take one [Wiggins]."
Antonio Blakeney
ESPN 100 No. 16
"I think would take Andrew Wiggins. Basically, how good he is now and his potential. It would either be him or Parker, but I don't think Parker's potential is as high as Wiggins. I don't think Joel Embiid will be a bust, but he's already hurt. If I was Cleveland, I wouldn't take a chance on that with him. I would definitely take Andrew Wiggins because of how athletic he is, and how good he will be."
Seventh Woods
ESPN 60 No. 20
"Probably Wiggins. He's just an all-around player and the most athletic in the draft,"
Embiid gets a vote
Skal Labissiere
ESPN 100 No. 11
"He's a center who can do everything. He's a 7-footer that can run the floor, block shots, has post moves and his upside is really great. Parker would be second because of his skill set."
March, 31, 2014
3/31/14
12:30
PM ET
Want to ask ESPN RecruitingNation national recruiting director Paul Biancardi a question about basketball recruiting? Tweet it to @PaulBiancardi using the hashtag #AskCoachB.
@PaulBiancardi What's Kansas's recruiting outlook for 2015? #AskCoachB

— Matthew Wenzel (@Matt_Wenzel4) March 25, 2014
Freshman center
Joel Embiid
has yet to officially announce his NBA draft decision, but it looks like fellow freshman phenom
Andrew Wiggins
will do so on Monday. The school released a statement that the 6-foot-8 freshman from Canada will make an announcement at 3 p.m. ET. When you have an announcement set up, it usually means you are going somewhere, not staying.
Looking ahead to 2015,
Naadir Tharpe
will be graduating next year, which makes point guard an absolute need in the 2015 class. Everyone will also be keeping tabs on returning wing
Wayne Selden
and incoming freshmen
Cliff Alexander
and
Kelly Oubre
next season.
The Jayhawks' needs in 2015 could be many depending on which players declare for the NBA draft next year. Here is an early peek at their wish list in 2015. On the perimeter there's
Malik Newman
,
Jalen Brunson
,
Jalen Adams
,
Antonio Blakeney
,
Montaque Gill-Ceasar
and
P.J. Dozier
. Dozier, who has been sidelined with a knee injury this year, will be back and has already shown the talent to be a high-major prospect.
The main targets for the frontcourt are
ESPN 60
No. 1
Ivan Rabb
,
Diamond Stone
,
Stephen Zimmerman
,
Chase Jeter
and
Carlton Bragg
.
This is an early, fluid list of recruits Kansas has targeted. There is a very good chance this list will change after the spring evaluation period.
March, 10, 2014
3/10/14
12:30
PM ET
Want to ask ESPN RecruitingNation national recruiting director Paul Biancardi a question about basketball recruiting? Tweet it to @PaulBiancardi using the hashtag #AskCoachB.
@PaulBiancardi Chances on Turner going to KU? And how will he fit in if Embiid stays? #AskCoachB

— Nick O'Dwyer (@Nick_ODwyer23) March 8, 2014
Myles Turner
has taken official visits so far to Ohio State, Oklahoma State, Kansas and Duke. He has been saying for a while his last visit will be to Texas.
I believe Kansas, with all of its prior success with big men under Bill Self, is being seriously considered. It's hard to imagine that
Joel Embiid
will stay in college with his progress and potential.
In terms of playing together, it would be easy as Turner can play in the high post, which is more of his natural position.
Embiid would stay more in the paint with his back to the basket. I will tell you this from witnessing Embiid in the past: He can shoot the ball better than the public knows, and that means if he goes to the high post, Turner can slide inside at anytime.
If Embiid stays at Kansas, the house will be a little more crowded with
Cliff Alexander
,
Perry Ellis
,
Hunter Mickelson
and
Landen Lucas
. It's a problem Self would certainly embrace.
February, 26, 2014
2/26/14
12:30
PM ET
Want to ask ESPN RecruitingNation national recruiting director Paul Biancardi a question about basketball recruiting? Tweet it to @PaulBiancardi using the hashtag #AskCoachB.
@PaulBiancardi how do you think cliff Alexander will fit in if Embiid stays

— Hunter Kerr (@kerr_hunter) February 26, 2014
Curie High School and
Cliff Alexander
, who is No. 3 in the ESPN 100, recently won the Chicago Public League championship and will compete for a state championship in March.
Alexander is powerful and explosive in the paint both at scoring and rebounding. He is best utilized running the floor and then playing on the blocks. At times he can function at the foul line with a straight-line drive or a short jumper.
Joel Embiid
is a paint player this year, but I can tell you, from watching him in high school, he could face up with an offseason of work. His jumper is accurate from the high post and even to the arc. If he were to come back, he could play up top in the high-low offense and be a good pick-and-pop big man.
Embiid and Alexander certainly could coexist and be hard to guard because they are extremely athletic with great size, length, power and mobility. Defensively, Kansas would protect the paint and control the defensive backboard as well as anyone in the nation.
Both would need to polish up and develop their face-up games while still staying dominant inside.
It would be a great problem for Kansas coach Bill Self, who has had tremendous success in developing his post players and winning Big 12 championships.
October, 17, 2013
10/17/13
9:00
AM ET
The ACC, SEC, Pac-12, Big East and AAC all held their annual media days this week, with the Big 12 and Big Ten scheduled to follow suit next week. That means we're seeing a variety of preseason coaches' polls identifying the top teams, players and freshmen in each conference.
From a recruiting perspective, one of the most interesting aspects of the preseason polls is finding the discrepancies between our final ESPN 100 rankings and coaches' expectations just a few months later.
[+] Enlarge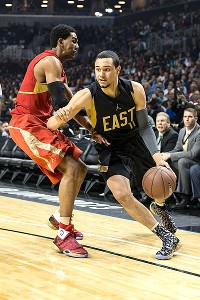 AP PhotoFreshman Tyler Ennis will likely play big minutes at point guard for Syracuse.
The reality is that player rankings and preseason polls are projecting two different things, so sometimes the highest-ranked players coming out of high school aren't the ones coaches expect to make the most immediate impact as college freshmen.
Our ESPN rankings are based on three weighted criteria: NBA potential, projected college impact and high school productivity. Preseason polls are only relevant to the second and have a narrower lens since they're only considering the upcoming season and not the entire scope of a college career.
The other major difference between final recruit rankings and preseason college polls is the presence of variables. Opportunity and fit, both with style of play and current personnel, are exceptionally important when assessing how impactful freshmen can be in their debut season but aren't relevant when calculating final rankings coming out of high school.
With those variances in mind, here's a look at five college freshmen whose immediate impact should exceed their final ESPN 100 ranking in the Class of 2013.
August, 20, 2013
8/20/13
11:18
AM ET
By
Dave Telep
| ESPN Insider
Editor's note: Every week in "Starting 5," we'll roll out five stories, themes and nuggets from the basketball recruiting world to set the table with the stories that need to be told and give you a leg up on the watercooler conversations around the office.
This week we look at three point guards using different lenses, what plans KU has for Late Night in the Phog, the recruiting revivals at UConn and Minnesota plus reduced lists from bigs
Paul White
and
Makinde London
.
To continue reading this article you must be an Insider
November, 15, 2012
11/15/12
7:58
PM ET
By
RecruitingNation
| ESPN Insider
Kansas head coach Bill Self announce two signings on Thursday.
Joining the Jayhawks will be center
Joel Embiid
(Cameroon/The Rock School) and ESPN 100 SG
Brannen Greene
(Monroe, Ga./Tift County).
"Joel's potential is untapped," Self said of Embiid. "I think he's just now starting to figure it out and get confidence. He will develop and be one of the very best tall guys in college basketball in just a year or two. The way we play, we can move him around and he made me a much better coach when he put his name on the dotted line."
To continue reading this article you must be an Insider
November, 13, 2012
11/13/12
11:17
AM ET
By
RecruitingNation
| ESPN Insider
Class of 2013 center
Joel Embiid
(Gainesville, Fla./The Rock School) announced his commitment to Kansas on Tuesday, ESPN.com has confirmed.
To continue reading this article you must be an Insider