NCB On The Trail:

Jaylen Brown
July, 25, 2014
Jul 25
9:33
AM ET
LAS VEGAS -- It was our first look at the national talent on the Adidas side of things and we did not go home disappointed. Hosting the Adidas Super 64 at the Cashman Center allows coaches and scouts to stay at one venue and take in the talents of fast-rising senior
Jaylen Brown
as well as the multi-faceted game of super junior
Miles Bridges
. However, there were a couple of highly ranked seniors that didn't match the Vegas heat as their performance would fall under the "too cool" category.
Best Senior
[+] Enlarge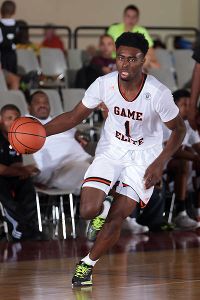 Kelly Kline/AdidasSeveral big-name college coaches were in attendance to watch small forward Jaylen Brown take to the court in Las Vegas.
Jaylen Brown
July, 17, 2014
Jul 17
5:43
PM ET
SUWANEE, Ga. -- The second day of showcase games continued to be played at an extremely high level here at the Under Armour Association (UAA) Finals.
Let's take a look at a few of the top performances from the Day 1 games.
Best Player
To continue reading this article you must be an Insider
July, 14, 2014
Jul 14
11:20
AM ET
The Adidas Unrivaled Camp had a strong blend of some of the nation's best players, with talent from the senior class down to the rising sophomore group. The format was simple and effective, with drill stations in the morning and games in the afternoon and evening. The camp concluded with senior and underclassman all-star games.
With many stars to choose from, let's take a look at who had an impressive camp, why, and the latest on recruiting for these top talents.
To continue reading this article you must be an Insider
June, 30, 2014
Jun 30
10:00
AM ET
WASHINGTON, D.C. -- The Kevin Durant Nike Skills Academies took place under the direction of former NBA player and coach John Lucas. NBA superstar Kevin Durant was on hand each day participating in scrimmages and giving guidance to the high school and college campers. This camp showed why the SG/SF positions in 2015 are maybe the most talented and deepest positions in the class. Many of these prospects own terrific positional size with some striking wing spans.
Who stood out the most during the event? Let's break it down:
Best at creating separation
To continue reading this article you must be an Insider
June, 3, 2014
Jun 3
11:35
AM ET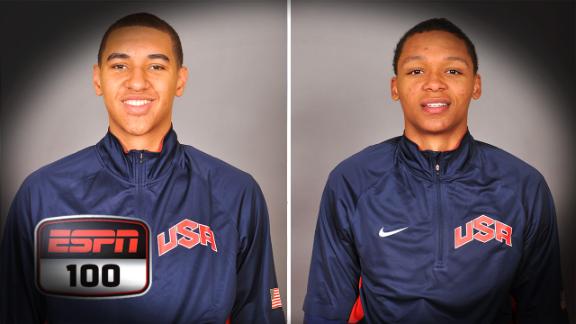 The ESPN 60 has officially grown into the
ESPN 100
for the Class of 2015, and there are plenty of intriguing storylines among the top rising seniors in the country:
[+] Enlarge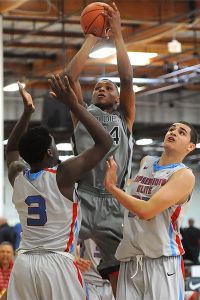 Chris Williams/Icon SMIIvan Rabb maintained his tenuous hold on the No. 1 spot in the 2015 class.
1. Top spot still up for grabs.
Ivan Rabb
has retained his spot as the top-ranked prospect in the Class of 2015, but make no mistake about it: This remains a very tight race that will continue to play out for the next 12 months. Rabb's versatility and efficiency during the Elite Youth Basketball League regular season, in addition to his vast physical upside, were enough for him to retain his title. But he has plenty of competition.
Ben Simmons
has been coming on as strong in recent months as any prospect in the class, as he is now turning potential into production on a much more consistent basis. In a class full of scoring guards,
Malik Newman
stands out as the most talented of them all, and very likely the best pure scorer in the ESPN 100.
Diamond Stone
has had an equally dominant spring in the Under Armour Association, playing his way into the top four and asserting his claim as a contender in the race for the No. 1 spot.
2. Oh, Henry.
No player has made a more dramatic jump up the rankings than
Henry Ellenson
, who went all the way from No. 47 to No. 5 in the ESPN 100. Ellenson averaged 18 points and 9 rebounds per game for Playground Elite during the EYBL season, showing a versatile and unique game for a 6-foot-9 power forward, all while continuing to raise his level of his production with each passing week. He can shoot the ball from the 3-point line but is also a threat to put the ball on the floor. He is perhaps most effective when he's able to get out and run in transition.
3. Other risers.
Ellenson is just the tip of the iceberg when it comes to players whose stock is rising.
Jaylen Brown
had a terrific spring on the adidas Gauntlet circuit and played his way into the top 10.
Chase Jeter
jumped more than 20 spots to land at No. 13, while Michigan State-bound big man
Deyonta Davis
moved up 30 spots to No. 18. Other spring stock risers include
Justin Simon
, who went from 45 to 23;
Jalen Adams
, 46 to 33; and
Jalen Coleman
, who hopped 24 spots to land at No. 34 in the ESPN 100.
4. Announcing his arrival.
Previously a member of the 2016 class,
Caleb Swanigan
is making his debut in the 2015 rankings at No. 17 after announcing his reclassification last month. The wide-bodied 6-9 big man has nimble feet for a player of his size and an even bigger presence on the backboards. He led the entire EYBL in rebounding this season and was equally dominant cleaning the glass on both ends. His recruitment has also heated up, with Arizona and Kansas joining a long list of scholarship offers that already included Michigan State, Indiana, Purdue and many others.
5. More notable newcomers.
While Swanigan might be the most notable of the new prospects in the ESPN 100, he's far from the only one. In a class in desperate need of point guards,
Corey Sanders
has helped to fill a major void. He was unranked in the last ESPN 60 but now makes his ESPN 100 debut ranked No. 31 in the class. Former UConn commit
Prince Ali
is another prospect who was on the outside looking in the last time we updated rankings, but he has more than proved himself in recent months.
Tres Tinkle
,
Admon Gilder
and
De'Jounte Murray
make their debuts in the top half of the ESPN 100.
[+] Enlarge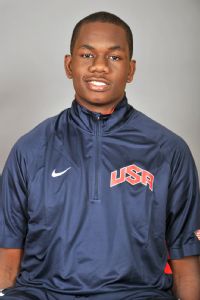 Bart Young/USA BasketballGeorgetown commit Jessie Govan is trending back up the ESPN 100.
6. Down but not out.
As some prospects go up the rankings, others must go down, but sometimes that's just the spark of motivation they need to reassert themselves in the coming months.
Jessie Govan
and
Terance Mann
are examples of prospects who slipped out of the rankings at one point in time but are now trending back in the right direction. At No. 23,
Tyler Dorsey
is a prospect who could make another climb up the ESPN 100 before all is said and done, while the same can be said for
P.J. Dozier
,
Charles Matthews
,
Doral Moore
and
K.J. Lawson
.
7. Big and getting bigger.
The 2015 class was already well known for the amount of size and frontcourt depth, but that has become an even bigger (no pun intended) trend in these most recent rankings. In fact, 11 of the top 15 ranked players in the class come at either the center or power forward positions, making this far and away the most frontcourt-dominated class we've seen in recent memory.
8. Plenty of positional size.
Size is a characteristic of this class, not just among the frontcourt positions, but across each of the five positions on the floor. Even the perimeter players atop the class have terrific size relative to their spot on the floor. Jaylen Brown is no slouch of a wing at 6-5, while
Brandon Ingram
's 6-8 frame is ideal.
Malachi Richardson
has equally imposing size at the shooting guard position at 6-6. Conversely, we don't see a player 6 feet or under until
Kendall Small
(ditto on the no pun intended) checks in at No. 60.
9. Scoring guards.
While the big men dominate the top of the rankings, many of the best guards in the class all seem to come from a similar prototype. They handle the ball more than natural 2-guards and yet are more focused on their individual offense than pure point guards. Instead, guys such as Newman,
Antonio Blakeney
,
Allonzo Trier
and
Isaiah Briscoe
can be best described as scoring guards -- guards who act as the primary playmakers for their respective teams but look for their own offense first and foremost before passing as a result of forcing the defense to collapse or rotate.
10. On the cusp.
The final spots in the ESPN 100 are always some of the most debatable, essentially because there are so many prospects who can make a legitimate claim on the top 100 status. That was particularly true this year, when proven players such as
Bryant Crawford
and
Rex Pflueger
were left just on the outside looking in, along with other deserving prospects such as
Joseph Toye
,
Matt Ryan
,
Chimezie Metu
,
Marcus Derrickson
and several others.
May, 7, 2014
May 7
10:30
AM ET
In high school basketball, the best players usually concentrate on their offense because that's how their teams win games. But there are several prospects who have the potential to be elite defenders. Let's examine the five best defenders among the incoming freshmen and one from the Class of 2015.
1. Justise Winslow, Duke
Winslow has a college-ready body and mindset that will help him influence the game with his defensive prowess. His defensive versatility might be the best among the entire freshman class as the 6-foot-6 forward can defend point guards through power forwards. The athletic Winslow can be a factor in full-court pressure or trapping situations as well as in a straight-up man-to-man denial defense locking up, the opposing team's best offensive threat. What makes him a special defender is that he is always thinking about where he should be next on the floor. Winslow will be extremely important for Duke next season.
To continue reading this article you must be an Insider
May, 5, 2014
May 5
9:00
AM ET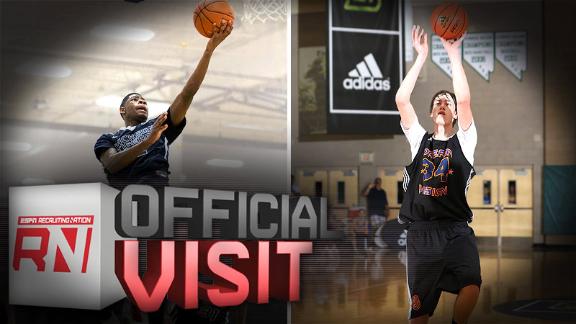 The Class of 2015 is in its early stages of development as new prospects are being recognized weekly and more established prospects are working to keep their reputations intact. May is a time to evaluate and analyze the nation's best. We will update our rankings in June after we get a thorough evaluation and find the emerging talent in this class.
With six months to go before the early signing period here is an early preview of the Class of 2015:
To continue reading this article you must be an Insider
April, 27, 2014
Apr 27
10:00
AM ET
DUNCANVILLE, Texas -- The Duncanville Fieldhouse was the site of the Adidas Dallas Gauntlet, which is the first stop on the tournament series that will also head to Indianapolis (May 16-18) and Orlando, Fla., (May 23-26). These three qualifying events will determine which 32 teams will complete in championship play at the Adidas Super 64 in Las Vegas from July 23-27.
Here are a few players that stood out at this event, which was loaded with Division I-caliber talent.
To continue reading this article you must be an Insider
December, 26, 2013
12/26/13
4:08
PM ET
By
John Stovall
| ESPN.com
FORT MYERS, Fla. -- The City of Palms Classic is, in my opinion, the best high school basketball tournament in the country. The field is always strong, the games are generally highly competitive, and the crowd is involved and boisterous. The 41st edition of the tournament was extremely good and full of high-level talent.
Here were some of the best performances from this year's City of Palms.
Best Player
Isaiah Whitehead (Brooklyn, N.Y./Lincoln)
2014, SG/PG, 6-foot-3, 200 pounds
Signed with Seton Hall
Whitehead is much improved and is one of the best guards in the country. He plays like a man among boys, and his ability to make plays for himself and others really sets him apart. He is more than capable of playing point guard at the next level and beyond. He averaged more than 25 points per game at the City of Palms and rarely forced anything while leading Lincoln to a fifth-place finish.
To continue reading this article you must be an Insider
August, 5, 2013
8/05/13
11:02
AM ET
LONG BEACH, Calif. -- After three days of competition at the Adidas Nations, the matchups are set for Monday night's third-place and championship games, which will both air on ESPNU.
Adidas Nations features the world's elite 18-and-under players representing teams from the United States, Africa, Australia, Latin America, the Philippines and Russia. The format is a combination of skill work, drills and game competition, culminating in Monday's championship.
The Adidas Nations third-place game between Africa and USA 2015/2016 Red will feature eight players ranked in the ESPN 60 and will air live at 7 p.m. ET on ESPNU and WatchESPN. Following that, the championship contest between USA 2014 Red and USA 2014 Blue will include 18 players ranked in the ESPN 100 and will air live at 9 p.m. ET on ESPNU and WatchESPN.
The title tilt will include a number of intriguing matchups, led by a must-see big man battle between No. 1 overall prospect
Jahlil Okafor
for USA Red versus No. 10 recruit
Myles Turner
for USA Blue. At the power forward position,
Kevon Looney
and
Craig Victor
of USA Red will battle
Trey Lyles
and
Reid Travis
of USA Blue. The small forward spot, meanwhile, will pair up
Stanley Johnson
of USA Red against North Carolina-bound
Theo Pinson
of USA Blue. And finally, the backcourt battles will include
Kaleb Joseph
and Louisville recruit
JaQuan Lyle
of USA Red versus Maryland-bound
Romelo Trimble
and Ohio State commit
D'Angelo Russell
of USA Blue.
Emmanuel Mudiay
of USA Blue is not expected to play in the championship game due to a banged-up knee, while
Malik Newman
of USA 2015/2016 Red will likely miss the third-place game with a sore hip. If healthy, Mudiay would have made 19 ESPN 100 prospects in the title game and Newman would have made nine ESPN 60 recruits in the third-place contest.
But there will still be plenty of talent on display. Here's a closer look at eight players -- two for each team -- to watch Monday night on ESPNU for the Adidas Nations third-place and championship games.
To continue reading this article you must be an Insider
July, 24, 2013
7/24/13
10:42
AM ET
Last week, the second of July's three open evaluation periods took me to three events in Georgia, where it was time to do work on players from the Southeast. The Best of the South, Elite 32 and All-American Juco Showcase had my full attention. The juco thing was fun, but I found that high school and grassroots hoops is more my speed.
Of course, that's not the only thing I learned from my time in the Peach State. Here are my top 10 takeaways from July's second evaluation period.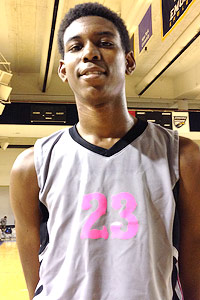 Dave Telep/ESPNESPN 25 center Juwan Durham is one of the nation's top recruits in the Class of 2016.
1. Durham is not taking this summer lightly
During July, the challenge is seeing as many of the rising seniors enough times so you can feel good about the evaluation and create reasonable expectations for them. However, your head is always on a swivel, pivoting just enough to see the next wave of underclassmen backing up the current crop.
ESPN 25 center
Juwan Durham
(Tampa, Fla./Tampa Prep) is one of the nation's top prospects in the 2016 class and is thus two summers away from taking center stage. But that doesn't mean we shouldn't take him seriously.
To continue reading this article you must be an Insider
July, 19, 2013
7/19/13
2:00
PM ET
Editor's note: This is the latest entry in Dave Telep's July Road Trip blog. Throughout the month, Dave will check in each day he's on the road while covering some of the biggest basketball recruiting events in the country. He'll let you know where he is, offer some highlights of the day and give a quick look at what's next.
SUWANEE, Ga. -- After a few days off the road, we're back at it as the Best of the South at the Suwanee Sports Academy tipped off on Thursday. This event is mid-major heaven, with some senior and underclassman high-major prospects sprinkled in. It's a chance to peek into the state of Georgia and its tributaries for a couple days.
Here are some nuggets from Thursday's action in Suwanee.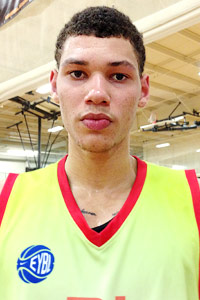 Dave Telep/ESPNOften overshadowed on his AAU team, 2014 PF Mike Gilmore got a chance to play a starring role on Thursday.
Gilmore only needed the chance
Since April, 2014 power forward
Mike Gilmore
(Jacksonville, Fla./Episcopal) has been talked about in this blog almost every time I've seen him. To me, he's one of the more undervalued power forward stocks in the Southeast.
The Each 1 Teach 1 big man is the fourth-best prospect on his own travel team, a squad that includes North Carolina-bound point guard
Joel Berry
, Ohio State-bound shooting guard
D'Angelo Russell
and Duke-bound shooting guard
Grayson Allen
. You can see why he might get overshadowed.
Well, E1T1's three big names didn't attend the Best of the South. And by the looks of his play, Gilmore wasn't too broken up about it.
To continue reading this article you must be an Insider
June, 27, 2013
6/27/13
9:56
AM ET
The recruiting world is flush with comparisons as scouts, college coaches and fans alike search for different ways to project what kind of player a prospect will develop into. With the NBA draft upon us Thursday night, we're offering our take on five lottery pick talents, including potential No. 1 overall pick
Nerlens Noel
, by finding their high school contemporaries who may be heading down a parallel path.
To continue reading this article you must be an Insider
June, 15, 2013
6/15/13
8:31
PM ET
CHARLOTTESVILLE, Va. -- There have been a number of terrific performances at the
NBPA Top 100 Camp
, but here are quick-hitting scouting impressions on more than 30 players who have caught my eye on a consistent basis outside of
P.J. Dozier
,
Elbert Robinson
and
Jordan McLaughlin
, whom I already did individual blogs on.
2014 PF/C Payton Dastrup:
Attacks the rim with great energy and urgency, finishing and competing at a high level. He simply didn't take plays off.
2015 PG Jalen Brunson:
He runs the team, distributes the ball, has feel and court vision, and when you back away he can drain the jumper. He might not make the play to win the game, but he won't make the play to lose it either. He's rock solid and learning on the job.
To continue reading this article you must be an Insider