NCB On The Trail:

Jalen Lindsey
December, 20, 2013
12/20/13
12:30
PM ET
Want to ask ESPN RecruitingNation national recruiting director Paul Biancardi a question about basketball recruiting? Tweet it to @PaulBiancardi using the hashtag #AskCoachB.
#AskCoachB How do you see Jalen Lindsey's game translating to the next level?

— Sports Guru (@FieldJudge) December 20, 2013
If you are talking about the college level, there are some aspects of
Jalen Lindsey
's game that really really stand out.
First Lindsey (Franklin, Tenn./Huntington Prep) is a freakish athlete with an explosive and quick vertical leap. He also owns a 3-point jumper and hits it with consistency.
After that, he must become a more effective driver and passer. With his elite athletic ability, he will draw a crowd. He can use that talent to make driving plays, finishing plays and to defend. As a junior, the 6-foot-7 small forward was Mr. Basketball in Tennessee.
A statistic that really translates is rebounding, and this is an area in which he can improve. Right now he is most comfortable facing up from the 3-point line. Shooting and athleticism will translate right away at Providence.
Linsdey is headed to Providence to play for Ed Cooley, who will utilize his strength and size to develop his basketball IQ. His shooting and athletic ability will carry over to the college game in good fashion.
December, 19, 2013
12/19/13
10:00
AM ET
Take a look at the top teams in the country and you'll find a plethora of approaches. There's varying styles of play, a broad range of coaching philosophies, and even vastly different levels of experience within their rosters.
But take a closer look and you'll notice one of the only true commonalities is in regard to the way in which each roster is built. They've all got a dynamic offensive player or two, scorers or playmakers to serve as the pillars of the team's offense, but those guys are then surrounded by complimentary pieces, or what Seth Greenberg has dubbed
"blend players,"
who buy into taking on less glamorous roles for the good of the team.
November, 13, 2013
11/13/13
4:39
PM ET
By
RecruitingNation
| ESPN.com
The Providence Friars announced the signing of three players to National Letters of Intent on Wednesday.

ESPN 100 C
Paschal Chukwu
(Westport, Conn./Fairfield College Prep), ESPN 100 SF
Jalen Lindsey
(Franklin, Tenn./Huntington Prep) and PF
Ben Bentil
(Middletown, Del./St. Andrew's) signed on with head coach Ed Cooley's 2014 class.
"Ben, Pashcal and Jalen will provide depth, length and athleticism to our team," Cooley said in a press release. "We feel that these three nationally ranked players will help us to continue to build our program towards achieving our ultimate goal."
September, 30, 2013
9/30/13
2:06
PM ET
Three-star senior power forward
Ben Bentil
(Middletown, Del./St. Andrew's) made a verbal commitment to Providence on Monday, joining a pair of ESPN 100 prospects in center
Paschal Chukwu
(Westport, Conn./Fairfield Prep) and small forward
Jalen Lindsey
(Franklin, Tenn./Huntington Prep) to complete the Friars' frontcourt of the future.
Why he committed:
Ultimately, this was about two things: Bentil saw Providence as a program on the rise, and the Friars had immediate minutes to offer him next year. The fact that Miami and Georgetown both landed other prospects up front certainly didn't hurt the Friars' chances, but ultimately this is yet another example of how dynamic head coach Ed Cooley can be on the recruiting trail when he locks in on a target.
To continue reading this article you must be an Insider
September, 30, 2013
9/30/13
12:30
PM ET
Want to ask ESPN RecruitingNation national recruiting director Paul Biancardi a question about basketball recruiting? Tweet it to @PaulBiancardi using the hashtag #AskCoachB.
@PaulBiancardi #AskcoachB why did Jalen Lindsey plummet in the espn100 all the way down to 73rd.. Wasn't he once ranked in the 90s??

— Mike Surette (@WayneSuretzky) September 26, 2013
Jalen Lindsey
is a one-time ESPN 60 prospect, having headed into his junior season at No. 19 based on his size and long-range shooting. He also had a terrific junior season, earning a Mr. Basketball award and winning another state championship. However, during this past spring and summer, he did not play up to his lofty ranking (which was No. 32). He shot the ball at over 40 percent from beyond the arc, which has always been a strong suit, in the Nike EYBL summer league.
Athletes sometimes get highly publicized at a young age based on their physical size along with their ability to stand out using their physical tools and skill or basketball IQ.
Specifically for Lindsey, his ball-handing did not improve at the rate we hoped for and at times he did not play with the same intensity we saw at a younger stage of his career. For any player, if their performance and production lessen, it's likely they will drop out of any rankings.
But let's keep this all in perspective -- he is still in our ESPN 100, which is a remarkable place to be, and he is an accomplished player. Every time we update our rankings we discover more players who have emerged and move in and up on our big board. If Lindsey can improve his handle, play with more passion and become a more complete player while keeping his sharp-shooting jumper, he can always move back up.
When a player moves down in any ranking format it's usually a combination of what others are doing by playing at a high level compared to the player who dropped who no longer is performing or producing at a high level.
Jalen Lindsey is a very good player who will help Providence win a lot of games.
August, 29, 2013
8/29/13
10:45
PM ET
When coach Ed Cooley makes a recruit a priority the percentages are usually in favor of the Rhode Island native. The Friars landed earlier tonight big-time ESPN 100 center
Paschal Chukwu
(Westport, CT/Fairfield Prep). This Providence program is
beginning to take shape
just like the Fairfield team that ED Cooley took to postseason appearances.

Why he committed:
Trusted assistant Bob Simon has been recruiting Chukwu for a couple of years and the trust factor with Cooley, Simon and staff was hard to beat as loyalty and trust were a big part of the decision. The proximity was perfect as Chukwu wanted to be close to home and be in a big-time basketball program with a small-school feel. Providence checked all the boxes.
What he brings:
Great length and excellent mobility. Chukwu's approach in the paint, specifically at the rim, has been much more assertive as he looks to block more shots on defensive and finishing with authority by dunking more on the offensive end. What makes his shot blocking special is his timing as he waits and leaves his feet seconds after the offensive player has jumped up in the air and released the ball.
To continue reading this article you must be an Insider
August, 29, 2013
8/29/13
9:28
PM ET
ESPN 100 center
Pascal Chukwu
(Westport, CT/Fairfield Prep) committed to Providence on Thursday night, announcing his decision via Twitter.
To continue reading this article you must be an Insider
August, 20, 2013
8/20/13
9:00
AM ET
It was an incredibly busy weekend of action on the recruiting front, not just because of the series of high-major commitments, but also because of trimmed lists, scheduled visits, and scholarship offers, all of which have the potential to create multiple ripples on the pending domino effect.
Commitment Catch-Up
• ESPN 100 PF
Craig Victor
(New Orleans, La./Findlay Prep) commits to Arizona: The 31st-ranked prospect and 5th best PF in the country
announced on Saturday he was heading to Arizona
, giving coach Sean Miller his third high level combination forward in as many years.
To continue reading this article you must be an Insider
July, 18, 2013
7/18/13
10:18
AM ET
The first July evaluation period has come and gone, but not before a number of elite prospects made their mark on the court at events like the Nike Peach Jam, adidas Invitational and the LeBron James Skills Academy.
We brought back national recruiting director Paul Biancardi's #AskCoachB mailbag to answer any questions you may have on the busy month and which recruits and classes are making waves. As a reminder, you can always get Paul's take on any prospect or find about new recruiting activity anytime on Twitter using the hashtag.
In this week's mailbag, Paul examines UNC's possibilities for landing an elite shooting guard in its 2014 class, what Ohio State should add to its second-ranked recruiting class, Ed Cooley turning Providence into a serious player in recruiting and whether
Justise Winslow
and Florida recruit
Brandone Francis
are in line for a bump in ranking in the next ESPN 100.
So let's get rolling with your questions.
---
@PaulBiancardi With the great play by Justise Winslow in the U19 & Peach Jam, does he crack top 10 & will he join Tyus/Okafor? #AskCoachB

— Michael Torres (@michaeltorres03) July 16, 2013
He comes home with a gold medal from Prague, and I heard he was a very valuable member of that U-19 team. His ability to pass, defend, handle the ball, combined with his basketball acumen impact without needing to score makes him special. At times, he can even bring the ball up the floor with a point guard's mentality. He's part of a small group of guys outside the top 10 who have a strong chance at cracking the top 10 in our next rankings.
On his status in the proposed package deal of
Tyus Jones
and
Jahlil Okafor
, I think Winslow would like for it to happen. But after going overseas and playing this summer, he'll see his decision and future should be more about a school that fits his needs rather than trying to fit his needs with someone else's. I'm sure all three are trying to make it happen, but the longer it goes the less of a possibility it will happen.
---
@PaulBiancardi @RecruitingESPN does the commitment of Jalen Lindsey cement the fact that PC and Ed Cooley are serious players in recruiting?

— Craig Leighton (@Craigl78) July 17, 2013
Providence has been a legit team in recruiting from the moment Ed Cooley got hired. That's how he won at Fairfield and he did a tremendous job evaluating talent as an assistant at Boston College. Now as the leader at Providence, he's not only doing a great job evaluating talent, he's bringing those top guys in. When you look at Ricky Ledo (No. 21 in 2012),
Kris Dunn
(No. 23 in 2012) and
Brandon Austin
(No. 56 in 2013), that's three big players he signed, and then add a commit from current ESPN 100 SF
Jalen Lindsey
, and you can see how big of an impact he's had in a short time. Providence recruiting was instantly upgraded with his hire and the Friars are in great hands going forward.
---
@PaulBiancardi Who is most likely to commit to Ohio State next? Could the package deal swing toward OSU of Jahlil and Tyus? #AskCoachB

— Jesus Urbina (@DiggzBuckEye559) July 17, 2013
I will say I love the Buckeyes class right now as it boasts skill, versatility and two guys who can flat out score in
Keita Bates-Diop
and
D'Angelo Russell
. With that said, it's obvious they still need to add some size to the frontcourt despite earning a pledge from three-star center
David Bell
.
I can't say who they will land but some of their biggest targets on their board are top-10 recruits
Jahlil Okafor
and
Myles Turner
. Now the Buckeyes are in the running to win the Okafor and Jones sweepstakes, but if they miss out, Turner would be a great consolation prize. Other potential targets are forwards
Leron Black
and
Paul White
and center
Elbert Robinson
, all of whom would be great gets for the No. 2-ranked team in the ESPN Class Rankings.
---
@PaulBiancardi I read the updates about the 5 schools who lead for Jones/Okafor. Any word on when they might decide? #AskCoachB

— Patrick Clark (@PatrickClark82) July 15, 2013
I see them finishing out the July and August event season and then taking some official visits together in the fall. I would say the earliest we can expect a decision is the early signing period (mid-November). They still need to take some official visits and sort things out before making a pledge.
---
@PaulBiancardi #AskCoachB which 2014 SG will get the next offer from Roy and UNC?

— Ryan Hunt (@RyanHuntMuzik) July 15, 2013
The Tar Heels are looking for someone who can score and shoot with range. Someone like No. 11 senior prospect
Rashad Vaughn
would fit that bill. He's the most dynamic scoring guard in the class and he does it from all three levels: Behind the line, inside the arc and driving to the basket. This guy has a knack for putting the ball in the basket, he just needs to cut down on his attempts and become more efficient. If Vaughn is out the mix, the Heels may go after Georgia scorer
Ahmed Hill
, the No. 33 overall player and eighth-rated 2-guard.
---
@PaulBiancardi @RecruitingESPN will Brandone Francis be moving up in the 2014 rankings?

— Damian Jerome (@Jeromestackin14) July 17, 2013
He's an intriguing prospect who has had a good summer. I saw him play well at adidas and at the LeBron camp and he had a strong showing at NBA camp. He has a strong body and the ability to score on the perimeter and in the paint or post up to get buckets down low. I like his skill level and IQ and his body. When you factor all those things, he has a chance to move up depending on how strong he finishes the summer. Right now he's at 34, but he has the ability to crack the top 25.
---
@PaulBiancardi - On a scale from 1-10, do you focus more on offensive or defensive tendencies when scouting!? Thx

— Coach Corbin (@coachcorbin150) July 1, 2013
When most coaches recruit, they think about finding the right fit and need in a prospect. When you talk about fit and need, it usually revolves around a player's offense, skill level, size at the position and basketball IQ. Some coaches will look at defensive attributes depending on their scheme, but in large part coaches recruit more for offense, IQ and athleticism because they can teach defense later in the process. It's harder to teach a guy to be more skilled or athletic than it is to teach defense.
I look at scouting through a similar lense when evaluating players for the ESPN 100 rankings. You look for attributes and qualities that will make a good offensive player a strong defender, whether it's his ability to rebound, stay in front of guys or take charges. For big guys, I have put an emphasis on how they defend ball screens, cover the low post and hedge out as well as skills and IQ.
July, 16, 2013
7/16/13
12:07
AM ET
ESPN 100 small forward
Jalen Lindsey
(Franklin, Tenn./Huntington Prep) ended his recruitment Monday night by committing to Providence over offers from Tennessee, Florida, Louisville, LSU, Mississippi State and others.
Lindsey is ranked the No. 32 prospect in the ESPN 100 and is the Friars' first pledge in the 2014 class.
[+] Enlarge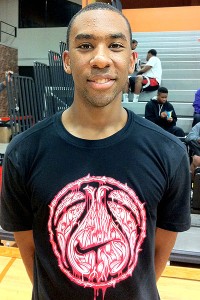 Paul Biancardi/ESPN.comESPN 100 SF Jalen Lindsey committed to Providence on Monday.
"I chose Providence because they recruited me the hardest and were the most sincere," Lindsey said. "I believe coach Ed Cooley is a great coach, and he is the best fit to help me showcase my skills and help me reach my dream to become a NBA player."
So what will Providence be getting in the four-star recruit?
To continue reading this article you must be an Insider
August, 2, 2012
8/02/12
9:49
PM ET
Ohio State basketball went big with its latest offer in the class of 2014.
That's big as in
Jalen Lindsey
(Franklin, Tenn./Christ Presbyterian Academy).
The 6-foot-6 Lindsey is ranked 19th in the ESPN 60.
To continue reading this article you must be an Insider