NCB On The Trail:

Jalen Adams
November, 5, 2014
Nov 5
9:30
AM ET
With the early signing period and the college basketball season around the corner, things are quieting down on the recruiting circuit. With that said, there were several recruiting storylines that developed this offseason. With conference media days taking place around the country, many of these topics came up. Here are five worth keeping an eye on moving forward:


June, 26, 2014
Jun 26
10:00
AM ET
UNION, New Jersey -- The first wave of Nike's annual Skills Academies came to Kean University this week for The Bigs Skills Academy and The Ones Skills Academy, for big men and point guards, respectively.
A total of 34 players -- 19 guards and 15 big men -- took part in three days of skill development led by longtime NBA coach Kevin Eastman while picking up extra tutelage from NBA stars such as
Kyrie Irving
,
Anthony Davis
,
DeMarcus Cousins
,
Michael Carter-Williams
and
Trey Burke
, among others, as their college counterparts went through similar sessions on the next court. Here's a look at who stood out:
To continue reading this article you must be an Insider
June, 3, 2014
Jun 3
11:35
AM ET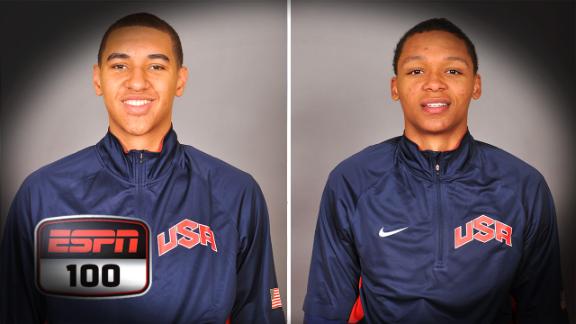 The ESPN 60 has officially grown into the
ESPN 100
for the Class of 2015, and there are plenty of intriguing storylines among the top rising seniors in the country:
[+] Enlarge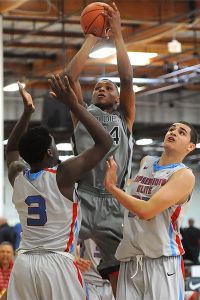 Chris Williams/Icon SMIIvan Rabb maintained his tenuous hold on the No. 1 spot in the 2015 class.
1. Top spot still up for grabs.
Ivan Rabb
has retained his spot as the top-ranked prospect in the Class of 2015, but make no mistake about it: This remains a very tight race that will continue to play out for the next 12 months. Rabb's versatility and efficiency during the Elite Youth Basketball League regular season, in addition to his vast physical upside, were enough for him to retain his title. But he has plenty of competition.
Ben Simmons
has been coming on as strong in recent months as any prospect in the class, as he is now turning potential into production on a much more consistent basis. In a class full of scoring guards,
Malik Newman
stands out as the most talented of them all, and very likely the best pure scorer in the ESPN 100.
Diamond Stone
has had an equally dominant spring in the Under Armour Association, playing his way into the top four and asserting his claim as a contender in the race for the No. 1 spot.
2. Oh, Henry.
No player has made a more dramatic jump up the rankings than
Henry Ellenson
, who went all the way from No. 47 to No. 5 in the ESPN 100. Ellenson averaged 18 points and 9 rebounds per game for Playground Elite during the EYBL season, showing a versatile and unique game for a 6-foot-9 power forward, all while continuing to raise his level of his production with each passing week. He can shoot the ball from the 3-point line but is also a threat to put the ball on the floor. He is perhaps most effective when he's able to get out and run in transition.
3. Other risers.
Ellenson is just the tip of the iceberg when it comes to players whose stock is rising.
Jaylen Brown
had a terrific spring on the adidas Gauntlet circuit and played his way into the top 10.
Chase Jeter
jumped more than 20 spots to land at No. 13, while Michigan State-bound big man
Deyonta Davis
moved up 30 spots to No. 18. Other spring stock risers include
Justin Simon
, who went from 45 to 23;
Jalen Adams
, 46 to 33; and
Jalen Coleman
, who hopped 24 spots to land at No. 34 in the ESPN 100.
4. Announcing his arrival.
Previously a member of the 2016 class,
Caleb Swanigan
is making his debut in the 2015 rankings at No. 17 after announcing his reclassification last month. The wide-bodied 6-9 big man has nimble feet for a player of his size and an even bigger presence on the backboards. He led the entire EYBL in rebounding this season and was equally dominant cleaning the glass on both ends. His recruitment has also heated up, with Arizona and Kansas joining a long list of scholarship offers that already included Michigan State, Indiana, Purdue and many others.
5. More notable newcomers.
While Swanigan might be the most notable of the new prospects in the ESPN 100, he's far from the only one. In a class in desperate need of point guards,
Corey Sanders
has helped to fill a major void. He was unranked in the last ESPN 60 but now makes his ESPN 100 debut ranked No. 31 in the class. Former UConn commit
Prince Ali
is another prospect who was on the outside looking in the last time we updated rankings, but he has more than proved himself in recent months.
Tres Tinkle
,
Admon Gilder
and
De'Jounte Murray
make their debuts in the top half of the ESPN 100.
[+] Enlarge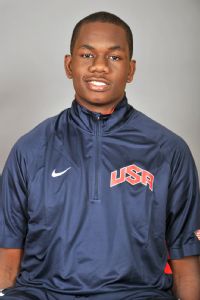 Bart Young/USA BasketballGeorgetown commit Jessie Govan is trending back up the ESPN 100.
6. Down but not out.
As some prospects go up the rankings, others must go down, but sometimes that's just the spark of motivation they need to reassert themselves in the coming months.
Jessie Govan
and
Terance Mann
are examples of prospects who slipped out of the rankings at one point in time but are now trending back in the right direction. At No. 23,
Tyler Dorsey
is a prospect who could make another climb up the ESPN 100 before all is said and done, while the same can be said for
P.J. Dozier
,
Charles Matthews
,
Doral Moore
and
K.J. Lawson
.
7. Big and getting bigger.
The 2015 class was already well known for the amount of size and frontcourt depth, but that has become an even bigger (no pun intended) trend in these most recent rankings. In fact, 11 of the top 15 ranked players in the class come at either the center or power forward positions, making this far and away the most frontcourt-dominated class we've seen in recent memory.
8. Plenty of positional size.
Size is a characteristic of this class, not just among the frontcourt positions, but across each of the five positions on the floor. Even the perimeter players atop the class have terrific size relative to their spot on the floor. Jaylen Brown is no slouch of a wing at 6-5, while
Brandon Ingram
's 6-8 frame is ideal.
Malachi Richardson
has equally imposing size at the shooting guard position at 6-6. Conversely, we don't see a player 6 feet or under until
Kendall Small
(ditto on the no pun intended) checks in at No. 60.
9. Scoring guards.
While the big men dominate the top of the rankings, many of the best guards in the class all seem to come from a similar prototype. They handle the ball more than natural 2-guards and yet are more focused on their individual offense than pure point guards. Instead, guys such as Newman,
Antonio Blakeney
,
Allonzo Trier
and
Isaiah Briscoe
can be best described as scoring guards -- guards who act as the primary playmakers for their respective teams but look for their own offense first and foremost before passing as a result of forcing the defense to collapse or rotate.
10. On the cusp.
The final spots in the ESPN 100 are always some of the most debatable, essentially because there are so many prospects who can make a legitimate claim on the top 100 status. That was particularly true this year, when proven players such as
Bryant Crawford
and
Rex Pflueger
were left just on the outside looking in, along with other deserving prospects such as
Joseph Toye
,
Matt Ryan
,
Chimezie Metu
,
Marcus Derrickson
and several others.
May, 22, 2014
May 22
12:05
PM ET
ESPN 60
guard
Allonzo Trier
made Nike EYBL history last weekend, becoming the first player to ever record 30 or more points in each game of a single session.
While the feat has never been accomplished before on the Nike circuit, ironically, Adidas had someone accomplish the very same thing on the same weekend when fellow ESPN 60 guard
Jalen Adams
finished with 30 or more points in all four of his games.
While Trier and Adams are similar in that they are two of the nation's best scoring guards in the 2015 class, they're unique in the way they look to attack the defense.
To continue reading this article you must be an Insider
May, 2, 2014
May 2
10:00
AM ET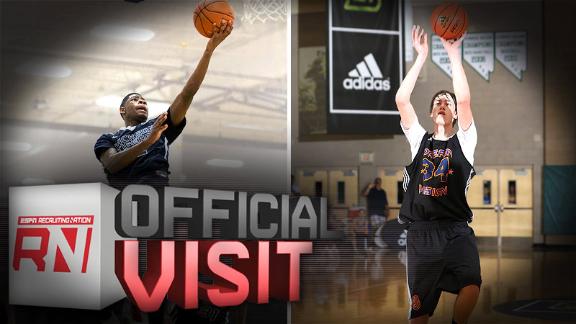 With
Myles Turner
's commitment
to Texas
serving as an unofficial close to the
2014 recruiting class
, it's time to focus on the
2015 crop
.
Here are 10 questions that the recruiting world will seek to answer in the next year:
1. Will it be one and done?
To continue reading this article you must be an Insider
April, 14, 2014
Apr 14
2:45
PM ET
HANOVER, Mass. -- The seventh annual Northeast Hoops Festival featured many of the top programs from New England, New York and beyond, allowing us the opportunity to both check in on high-profile prospects and get a glimpse at others primed to make a name for themselves during the upcoming April evaluation period.
Top Prospect Watch, 2015
To continue reading this article you must be an Insider
March, 31, 2014
Mar 31
12:30
PM ET
Want to ask ESPN RecruitingNation national recruiting director Paul Biancardi a question about basketball recruiting? Tweet it to @PaulBiancardi using the hashtag #AskCoachB.
@PaulBiancardi What's Kansas's recruiting outlook for 2015? #AskCoachB

— Matthew Wenzel (@Matt_Wenzel4) March 25, 2014
Freshman center
Joel Embiid
has yet to officially announce his NBA draft decision, but it looks like fellow freshman phenom
Andrew Wiggins
will do so on Monday. The school released a statement that the 6-foot-8 freshman from Canada will make an announcement at 3 p.m. ET. When you have an announcement set up, it usually means you are going somewhere, not staying.
Looking ahead to 2015,
Naadir Tharpe
will be graduating next year, which makes point guard an absolute need in the 2015 class. Everyone will also be keeping tabs on returning wing
Wayne Selden
and incoming freshmen
Cliff Alexander
and
Kelly Oubre
next season.
The Jayhawks' needs in 2015 could be many depending on which players declare for the NBA draft next year. Here is an early peek at their wish list in 2015. On the perimeter there's
Malik Newman
,
Jalen Brunson
,
Jalen Adams
,
Antonio Blakeney
,
Montaque Gill-Ceasar
and
P.J. Dozier
. Dozier, who has been sidelined with a knee injury this year, will be back and has already shown the talent to be a high-major prospect.
The main targets for the frontcourt are
ESPN 60
No. 1
Ivan Rabb
,
Diamond Stone
,
Stephen Zimmerman
,
Chase Jeter
and
Carlton Bragg
.
This is an early, fluid list of recruits Kansas has targeted. There is a very good chance this list will change after the spring evaluation period.
March, 18, 2014
Mar 18
10:00
AM ET
By
ESPN.com staff
| ESPN Insider
March Madness is in full swing with conference tournaments and selection Sunday giving way to the opening rounds of the NCAA tournament.
With each possession of each game now carrying far greater magnitude, championships are being decided by the players and teams that are able to control their emotions and execute under intensity and pressure.
Coaches go to great lengths to simulate these types of scenarios during the course of the year. Programs such as Kentucky and Connecticut actually monitor their players' heart rates during games and practices, measuring and ultimately trying to reduce the variance as much as possible, while other coaches dedicate a huge amount of practice time to late-game situations in hopes of relieving the pressure of a potential tense moment, replacing it with a sense of preparedness.
Ultimately though, so much of being able to thrive in high-intensity situations comes down to a player's DNA, and that is something that can be evaluated during the recruiting process, especially at this time of year, when high schools are going through their own postseason tournament runs.
With that in mind, we again went to our team of experts at Recruiting Nation and asked them which current high school prospects are built for future March Madness success, specifically in the game's most critical minutes.
To continue reading this article you must be an Insider
January, 19, 2014
Jan 19
11:00
PM ET
SPRINGFIELD, Mass. -- Day two of the Spalding Hoophall Classic continued to showcase top national talent to a packed house of fans, college coaches and national media alike. Here's a look at who stood out on Sunday:
Best guard: Jalen Coleman (Indianapolis/La Lumiere)
Every part of Coleman's performance was impressive on Sunday. He shot the ball extremely well from long range, was low to the ground with his rips and created space in the mid-range area. Defensively he was equally impressive, shutting down
Kobe Eubanks
, rotating well away from the ball and communicating appropriately. More impressive than his production was the fact almost everything he did on both ends of the floor would have translated into a college game.
To continue reading this article you must be an Insider
August, 9, 2013
8/09/13
8:19
AM ET
This week wasn't quite as busy as last week in the Northeast region, but there was still plenty of action. Here's a look at a few commitments that have gone down in the last seven days:
• Robert Morris landed a commitment from Jamesville-Dewitt (N.Y.) guard
Jafar Kinsey
, a quick, attacking style guard. A combo guard with a college ready driving game, Kinsey gets wherever he wants on the floor and also has the potential to become a very good defender at the next level.
• Albany added a commitment from Christian Brothers Academy (N.Y.) big man Greg Stire. The local product is tough and rugged, defends the post and has a solid motor. He'll be solid but unspectacular offensively and able to contribute some both around the rim and facing the basket.
• Fairleigh Dickinson landed a late commitment in the Class of 2013 from Canisius (N.Y.) guard/forward
Matt MacDonald
. The 6-foot-3 swingman is a master role player who will bring toughness and leadership to the FDU locker room. He's also a gym rat who has worked his way into a consistent shooter over the years.
And here's a look at some of the notable offers and visits to come across the wire this week:
To continue reading this article you must be an Insider
July, 13, 2013
7/13/13
1:58
PM ET
INDIANAPOLIS -- As the teams fight for a chance to advance to the championship game, Friday at the
adidas Invitational
was another day of passionate basketball. With two games per day, each team needs not only its stars but also its supporting players to step up.
Saturday marks the last full day of competition and begins bracket play as we move toward Sunday's championship game, which will be televised on ESPNU at 2 p.m. ET.
But before we get to that, here's a detailed breakdown of a few young players who separated themselves with their strong play on Friday during Day 3 of the adidas Invitational, including ESPN 60 forward
Carlton Bragg
and a pair of rising 2016 prospects.
To continue reading this article you must be an Insider
June, 20, 2013
6/20/13
10:21
AM ET
We're back with another edition of the
#AskCoachB
Twitter mailbag. Once again, ESPN National Recruiting Director Paul Biancardi is on hand to answer fans' questions regarding the recently released ESPN player rankings, and other recruiting inquiries.
In this week's mailbag, we tackle the hotly contested decision to move
Cliff Alexander
ahead of
Tyus Jones
, behind top senior recruit
Jahlil Okafor
in the top three; break down Ohio State's current four-man class; and discuss UNLV recruit
Dwayne Morgan
's drop in the ESPN 100. You can have your recruiting questions answered by Biancardi on Twitter at any time using the hashtag, but only the best questions make this blog.
Now on to your questions.
---
@RecruitingESPN what are your thoughts on Ohio State basketball recruiting so far? #AskCoachB

— Jesus Urbina (@DiggzBuckEye559) June 18, 2013
I love their quartet of committed players because they're different but all high-level prospects.
Keita Bates-Diop
has a prototypical small forward body along with great shooting ability, touch and range. And when he's not facing the basket, he can post you up and get buckets in the low and midpost.
D'Angelo Russell
is a finesse scoring guard who can slide over to the point because of his ability to facilitate, utilizing his hoops acumen and vision. He's already a good 3-point shooter and can get to the rim with ease, but he needs to work on his middle game to complete his game.
Jae'Sean Tate
is a physically imposing player for his size (6-foot-5, 190 pounds) and is a relentless rebounder and terrific finisher. He's probably the most physical perimeter player we've seen this spring/summer.
David Bell
, a big man with a lot of upside, rounds out the Buckeyes' 2014 class.
---
@PaulBiancardi How good do you see Karl Towns truly being? #AskCoachB

— Christian (@oCSquareDo) June 15, 2013
Karl Towns
has extraordinary touch and range as a shooter and he's an above-average passer -- all that at 7-feet tall. Like most big guys, who often blossom later in their careers, he'll need extra time to develop. Right now he stands out on offense when facing the basket, but his low-post game is evolving. Towns will have to get his body in optimum physical condition for him to maximize his potential.
As for his future, guys with his combination of size and skill usually don't stay in college very long. He'll be at Kentucky in the near future, where he should significantly impact the game whenever he's on the floor. The only question is, will he impact contests on a consistent basis, or just when he feels like it?
To continue reading this article you must be an Insider
June, 18, 2013
6/18/13
4:12
PM ET
This past Saturday was an important date on the recruiting calendar.
On June 15 it became permissible for college coaches to call, text or send private messages via social media to prospects in the Class of 2015. That made it a big day for coaches and players alike, as prospects felt the excitement of their first recruiting calls and coaches looked to make an early impression with some of their top underclassmen targets.
Predictably, it wasn't long before many of these phone conversations were soon documented on the internet, with Twitter timelines essentially keeping a running log of exactly who was talking to whom. Among the day's biggest news was No. 10 rising junior
Cheick Diallo
hearing from an ACC power while
Jalen Adams
had conversations with nearly 10 major programs.
Here's a look back at some of the more noteworthy tidbits from a busy Saturday in the northeast.
To continue reading this article you must be an Insider