September, 25, 2013
Sep 25
11:00
AM ET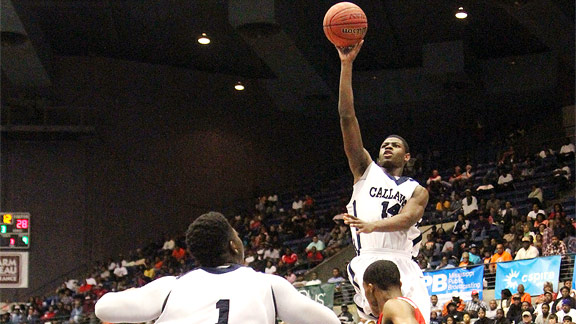 AP Photo/Charles SmithCallaway, Miss., shooting guard Malik Newman might be No. 1 in the 2015 ESPN 60, but a deep class of big men will challenge him for that spot over the next 18 months.
We've processed a full summer worth of action and now our
updated ESPN 60
includes the top national prospects in the 2015 recruiting class. Here's 10 things every college basketball fan should know as this class heads into its junior season:
1. A battle for the top spot
There's a new No. 1 in town, and while Paul Biancardi
breaks down
why
Malik Newman
(Jackson, Miss./Callway) is the new top dog, I'm here to tell you this race is far from over. The previous No. 1
Ivan Rabb
(Oakland, Calif./Bishop O'Dowd) is going to want his title back, and no one is making a more aggressive charge to the top of the rankings than
Stephen Zimmerman
(Las Vegas/Bishop Gorman) who has been coming on strong all spring and summer.
Ben Simmons
(Melbourne, Australia/Montverde Academy),
Diamond Stone
(Milwaukee/Dominican), and
Elijah Thomas
(Lancaster, Texas/Lancaster) are three other guys who will challenge in the coming 18 months as the top spot is still very much up for grabs moving forward in the 2015 class.
To continue reading this article you must be an Insider
August, 23, 2013
Aug 23
9:00
AM ET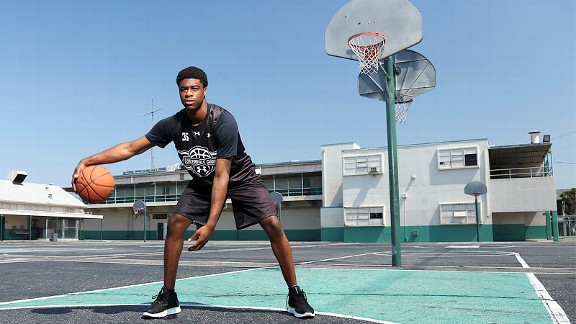 Kelly Kline/Under ArmourThe Under Armour Elite 24 has always had top-level talent and this weekend's edition is no different, as ESPN 100 No. 5 player Emmanuel Mudiay is part of star-studded cast.
BROOKLYN, NY -- The 8th annual Under Armour Elite 24 game and dunk/skills competition will feature some of the nation's most outstanding basketball prospects. Previous games included top prep players such as Kyrie Irving (Cleveland Cavaliers), Kevin Love (Minnesota Timberwolves), Kemba Walker (Charlotte Bobcats), Brandon Jennings (Detroit Pistons), Jrue Holiday (New Orleans Pelicans) and Lance Stephenson (Indiana Pacers) participated in this famed event.
This two-day event will take place at the Tobacco Warehouse in Brooklyn Bridge Park under The Brooklyn Bridge.
Catch all the action live on ESPNU, with the Dunk and Skills competition Friday at 7pm ET and the Elite 24 game Saturday at 7 p.m. ET.
5 Reasons to watch
1. Stars will be shining bright
The Elite 24 has been known for its star power, and this year's roster is stronger than ever. From top to bottom this game has the best players in the country regardless of class and position. This game has an abundance of gifted prospects, which is going to make it exciting and entertaining to witness as the best high school players go head to head.
The Elite 24 has 13 of the top 25 players in the 2014 ESPN 100 and 5 of the top 10, led by ESPN No. 3
Tyus Jones
, No. 5
Emmanuel Mudiay
and No. 7
Chris McCullough
(Syracuse). The game also has a bevy of underclassman phenoms such as 2015 ESPN 60 prospects No. 1
Ivan Rabb
, No. 2
Malik Newman
and No. 7
Stephen Zimmermann
, along with 2016 ESPN 25 No. 2
Thon Maker
.
2. It's all about the matchups
Point guard: Jones vs. Mudiay
Jones is a pure point guard who has tremendous vision and makes great decisions. He is outstanding in handing out the assist in transition or when the game slows down. Mudiay brings outstanding size and athletic ability along with excellent penetration and passing skills. They're not only two of the best players in their respective positions, but two of the best in the nation.
Shooting guards: Rashad Vaughn vs. D'Angelo Russell
All-star games are about scoring points and these two guys do it as well as anyone in the 2014 class. Vaughn is always on the attack and can score with a long jumper or a finish at the rim. Russell is smooth and under control, always ready to launch his deadly long-range jumper. They are two of the best at creating their own shot when there is no offensive flow.
Small forwards: Kelly Oubre vs. Justin Jackson
Teammates for the AAU Houston Hoops, the battle between these two will be electrifying, as both are high-level scorers with great length, athletic ability and skill. Oubre is a dynamic finisher and will mix in some jumpers. Jackson is perhaps the best scoring small forward in the class, possessing touch and instinct from anywhere on the floor. Can Oubre contain Jackson's lethal mid-range jumper?
Power forwards
Myles Turner
and Zimmermann are two of the best frontcourt players in the country. Turner might be the best shot blocker in his the 2014 class and Zimmermann has tremendous skill for his age.
3. The college game looks better than ever
When this roster of players enters the college game it will bring with it excitement, skill, superior athletic ability and plenty of potential to the college game.
All of the players participating in this year's event are being recruited at the highest level. Turner is the hottest prospect in the nation and Jones being pursued by the likes of Baylor, Duke, Kansas, Kentucky, Michigan State, and Ohio State. Some have already made their pledges, with Jackson,
Joel Berry
and
Theo Pinson
committed to North Carolina,
Romelo Trimble
and
Dion Wiley
pledging with Maryland,
Chris Chiozza
headed to Florida, McCullough at Syracuse and Russell to Ohio State. For the ones not committed yet their lists have been trimmed down, with college coaches and their fanbases will be closely watching.
The college game will continue to be extremely healthy. This list of prospects will influence and impact their future schools as well as the landscape of college basketball.
4. History lesson
This event has had numerous players go on and be successful in the NBA. When looking at the numbers, 37 Elite 24 players have become first-round NBA draft picks, with 23 ending up in the lottery, over the past eight years.
Three have become no. 1 overall picks: 2011 alum Anthony Bennett, 2009 participant Kyrie Irving and 2008 prospect John Wall. This year participants should add to that impressive list in the near future.
5. Last event of the summer
It seems as if the summer basketball circuit flies by each year, with so many players making a mark by competing and traveling around the country. As the summer season comes to an end, the Elite 24 gives players, college coaches, fans, and postseason all-star game voting members one last opportunity to view some of the best players in the nation on a national stage until their high school seasons begin. Many of the senior prospects will be candidates for postseason accolades and as the fall rolls around, so this makes the Elite 24 a special game.
August, 22, 2013
Aug 22
11:00
AM ET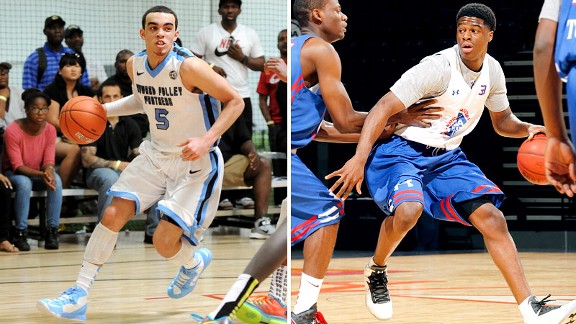 Icon SMI, Courtesy of Andrew ShurtleffTyus Jones, left, and Emmanuel Mudiay are the top two point guard recruits in the Class of 2014.
The 2013 Under Armour Elite 24 will be held at the Tobacco Warehouse in Brooklyn, N.Y., on Friday and Saturday. The game airs live on ESPNU at 7 p.m. ET on Saturday, Aug. 24, while the Slam Dunk Contest and Skills Competition will air on Friday, Aug. 23 at 7 p.m. on ESPNU.
Here are the game's best matchups to watch by position:
Point guard matchup
Tyus Jones vs. Emmanuel Mudiay
Jones will attack the lane off the dribble or from ball screens, and Mudiay will return the favor when he is not getting to the rim on the break. It will be interesting to see who will do the better job containing penetration and which one will shoot the ball better, in addition to seeing which one will be better when they are eye-to-eye at end of shot-clock or game situations. Jones and Mudiay are elite playmakers and finishers in the lane. It will be exciting to witness which one imposes his will first and sets the tone from the most important position on the court.
Shooting guard matchup
Malik Newman vs. Rashad Vaughn
Newman will put Vaughn's on-ball defense to the test right from the first touch, and Vaughn will attack Newman off the bounce and go right at him. Which one of these scoring machines will get off to the better start and set the rules? Their won't be any time to relax on offense or defense because both can create and make tough, contested shots and acrobatic finishes.
Small forward matchup
Justise Winslow vs. Stanley Johnson
This power wing matchup brings strength, toughness and competitiveness at the highest level of high school basketball. Can Johnson beat Winslow off the dribble and finish against a wing who is just as big and strong as he is? Winslow, who is one of the best defenders in the class, will have Johnson's full attention in many areas of the game. Winslow not only defends, he rebounds, facilitates and can score in the post, facing up and attacking with straight-line drives. It will be fun to watch these two big-bodied wings compete for advantages all over the court.
Power forward matchup
Ivan Rabb vs. Chris McCullough
This matchup is between two long, athletic, explosive quick-off-the-floor forwards. Who will miss the first block-out and give up a tip dunk and get the crowd fired up? Which one will display his much improved ball skills and shooting and get off to a quick start? Expect rim-level rebounds, blocked shots and poster-like, above-the-rim finishes early in this one.
Center matchup
Myles Turner vs. Stephen Zimmerman
These two skilled centers will surely make each other compete at high level because both have great face-up games and ball skills for their size, not to mention their ability to finish above the rim. Will Zimmerman's offensive package have an answer for the shot blocking ability of Turner? Both run the floor extremely well. Who will beat the other down the floor for the most easy scores and attack the glass for put-backs and defensively rebound to start the break? It will be fun to see which player will have to adjust his game the most, and which gives the other the most difficulty when defending one-on-one in the post or on the perimeter.
August, 22, 2013
Aug 22
9:00
AM ET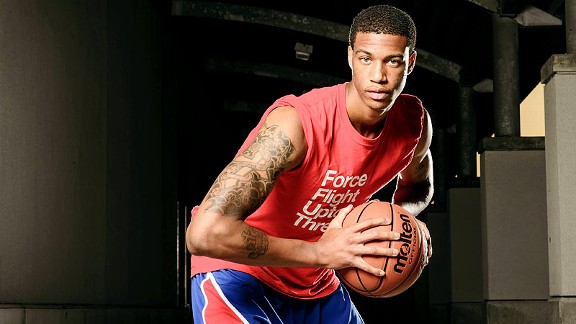 Dustin Snipes/Icon SMISyracuse forward commit Chris McCullough is looking to put his athleticism and skillset on display this weekend at the Under Armour Elite 24 in Brooklyn, N.Y.
Breakdowns of the key prospect competing at Under Armour Elite 24 showcase. The 2013 Under Armour Elite 24 will be held at the Tobacco Warehouse in Brooklyn, N.Y., on Friday and Saturday. The game airs live on ESPNU at 7 p.m. ET Saturday, while the Slam Dunk Contest and Skills Competition will air Friday at 7 p.m. ET on ESPNU.
2014
Tyus Jones
Point Guard
Apple Valley, Minn./Apple Valley
6-foot-2, 180 pounds
College:
Undeclared
Jones is a true point guard that pushes the pace, runs his team and makes great decisions off the ball screen in addition to being an excellent finisher for his size. He has an an all-business approach and is a winner.
NBA Comparisons:
Tony Parker
/Ray McCallum/John Stockton
Emmanuel Mudiay
Point Guard
Dallas/Prime Prep
6-5, 198
College:
Undeclared
Mudiay is a scoring point guard with great size and athletic ability that plays in full-attack mode and can also facilitate. He can take over the game offensively at times and is great at making plays at end-of-clock situations.
NBA Comparison:
Tyreke Evans
Chris McCullough
Power Forward
Bronx, N.Y./Brewster Academy
6-9, 210
College:
Syracuse
McCullough is a extra-long athletic forward that excels on the break and finishes above the rim on all clear paths. He rebounds and blocks shots to go along with being a capable multiple-position lockdown defender as well with great upside.
NBA Comparison:
Taj Gibson
Justin Jackson
Small Forward
Tomball, Texas/Homeschool Christian Youth Association
6-8, 190
College:
North Carolina
Jackson is a long and lean wing with a great feel for the game and a sweet shooting stroke and floater that is money from deep in the lane and along the baseline. Capable of scoring big numbers with a scoring package that extends to the arc.
NBA Comparisons:
Jeremy Lamb/Tayshaun Prince/Reggie Miller
Myles Turner
Center
Bedford, Texas/Euless Trinity
6-11, 225
College:
Undeclared
Turner is a post that is long with a great motor. He has an advanced face-up game with range to the arc. He can also put it on the floor and pass with accuracy in addition to being an elite shot blocker with off-the-charts upside.
NBA Comparisons:
Anthony Davis/LaMarcus Aldridge/ Tim Duncan/Theo Ratliff
Rashad Vaughn
Shooting Guard
Golden Valley, Minn./Findlay Prep
6-6, 206
College:
Undeclared
Vaughn is an attacking wing that excels on the break and can make scoring plays off the bounce in a variety of ways He is a tough matchup at the shooting guard position because he has range out to the arc and is relentless at attempting to make high-level scoring plays.
NBA Comparisons:
Jamal Crawford/Jerry Stackhouse
July, 15, 2013
Jul 15
10:56
AM ET
By
John Stovall
| ESPN.com
NORTH AUGUSTA, S.C. -- The
Nike Peach Jam
, which took place this past Thursday through Sunday, is widely considered the No. 1 high school hoops event of the summer. It pits the best Nike-sponsored travel teams against each other in a winner-take-all tournament format. There are 40 travel teams that compete throughout the spring in the Nike EYBL (Elite Youth Basketball League) and the 24 squads with the best records make the Peach Jam, which serves as the EYBL "playoffs."
This year's Peach Jam once again showcased an incredible amount of high-level talent and only fueled the debate over the No. 1 player in the Class of 2014 between AAU teammates
Jahlil Okafor
and
Cliff Alexander
. Here's a look at the best performances, including the top prospects in the 2014, 2015 and 2016 classes, the guys who played the hardest, the biggest sleepers and more.
Best in 2014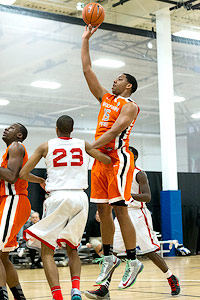 AP Photo/Damen Jackson via Triple Play New MediaNo. 1 recruit Jahlil Okafor continues to hold the title of the nation's most-feared post scorer.
Jahlil Okafor (Chicago/Whitney Young)
2014, C, 6-11, 275
Travel Team: Mac Irvin Fire
The reigning No. 1 player in the 2014 class did nothing to take away from that ranking at the Peach Jam. He was dominant at times and averaged almost 17 points and 10 rebounds per game for the tournament. The big fella takes control of the paint offensively and is a future one-and-done player.
To continue reading this article you must be an Insider
July, 9, 2013
Jul 9
12:07
PM ET
LAS VEGAS -- The third and final day of the
LeBron James Skills Academy
wrapped up on Monday with Florida beating Duke, 59-53, in the finals of the playoff bracket. Speedy PG
Lourawls Nairn
(Bel Aire, Kan./Sunrise Academy), rugged post
Angel Delgado
(Northfield, Mass./Redemption Academy) and versatile wing
Boubacar Moungoro
(Bradenton, Fla./IMG Academy) led the way for the winners, while Duke received an outstanding all-around performance from bully ball connoisseur
Isaiah Briscoe
(Newark, N.J./St. Benedicts).
Here are some superlatives from the final day of the elite skills academy.
To continue reading this article you must be an Insider
July, 8, 2013
Jul 8
12:50
PM ET
Editor's note: This is the latest entry in Dave Telep's July Road Trip blog. Throughout the month, Dave will check in each day he's on the road while covering some of the biggest basketball recruiting events in the country. He'll let you know where he's at, offer some highlights of the day and give a quick look at what's next.
LAS VEGAS -- Everyone was assembling. The stage was set for No. 10 rising senior
Myles Turner
(Euless, Texas/Trinity) to take on No. 2
Cliff Alexander
(Chicago/Curie). Unfortunately, the much-anticipated matchup didn't happen after a leg injury for Turner put this titanic tilt on ice.
Still, a long Day 2 at the
LeBron James Skills Academy
on Sunday and the first day of games allowed ample time to evaluate and gather intel on many premier players. Here are some nuggets from Day 2.
[+] Enlarge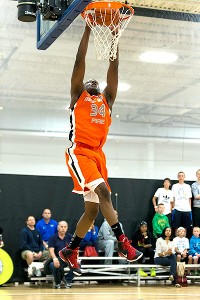 AP Photo/Damen Jackson via Triple Play New MediaDay 2 at the LeBron camp belonged to No. 2 recruit Cliff Alexander, who dominated both games he played.
No Myles, but plenty of Alexander
To continue reading this article you must be an Insider
July, 7, 2013
Jul 7
10:35
AM ET
Editor's note: This is the first installment of Dave Telep's July Road Trip blog. Throughout the month, Dave will check in each day he's on the road while covering some of the biggest basketball recruiting events in the country. He'll let you know where he's at, offer some highlights of the day and give a quick look at what's next.
LAS VEGAS -- I'm a believer in good starts, and Saturday was the first day of a month-long journey in search of the perfect recruit. However, before arriving at the
LeBron James Skills Academy
, I had to spend the better part of the day delayed at the Salt Lake City airport.
Determined not to let flight delays set the tone for the entire month, I turned to Jason Statham's "Redemption" to see if the flick could change my fortunes. Didn't work; movie stunk. But luckily the airline eventually got us a working plane headed for Sin City and I was on my way.
Day 1 of the LeBron camp featured a pair of sessions, of which I attended one. It was really a day of drills and a light scrimmage to end the evening. The camp takes on a more serious tone Sunday when they split up the 80 campers and start keeping score.
Here are some nuggets from Day 1.
To continue reading this article you must be an Insider
July, 1, 2013
Jul 1
11:53
AM ET
In college basketball, legacies are made in March and championships are won in April, but the foundations for both are built in July.
July is the
most important month of the year
in basketball recruiting. Sure, there's an early signing period in the fall and a late signing period in the spring when pen is put to paper and commitments become official. But the groundwork for most of those signings is laid in July, when a trio of live evaluation periods (July 10-14, July 17-21 and July 24-28 for 2013) and dozens of elite events have prospects and college coaches criss-crossing the country in a crazy month of hoops.
With that in mind, here are the top 10 things you need know this July on the basketball recruiting trail.
1. July is here -- and why you should care
July is a weird month. For those involved in the fraternity that is college basketball recruiting, the players, coaches and media kiss their families goodbye and set forth to all corners of the country to either demonstrate their talents or search for the next wave of college prospects. Think of July like you would the first three days of a golf major. It's the time when teams and players alike position themselves for a stretch run in the fall that culminates with official visits and official signings.
Simply put, July sets the table for seasons to come in college hoops. Recruiters will lock in on the priority targets for their teams, the players who will become future favorites of their fan bases. In some cases, the head coach will watch every single game of a handful of the most important prospects on his wish list. Simultaneously, those same players will scan the gym, intently looking to see which coaches are watching them. It's a delicate dance orchestrated with a basketball game in the backdrop.
It sounds fun, but the reality is that the futures of programs and individual players are tied to the rigors of July. Prospects don't arrive on campuses without hard work by coaching staffs, and coaching staffs don't get the best players unless they can set their final priorities.
To continue reading this article you must be an Insider
July, 1, 2013
Jul 1
10:45
AM ET
July is a
key month in recruiting
as a number of high-profile events give coaches an up-close look at potential targets. Elite recruits will want to put forth their best effort to enhance their chances at garnering offers from college's elite, while under-the-radar prospects can use the extra exposure to generate new buzz.
Let's take a look at the best hoops events July has to offer.
[+] Enlarge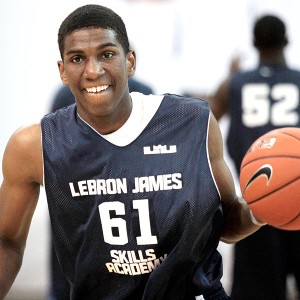 Courtesy of NikeBasketball.comKevon Looney and other top recruits have used July events like the LeBron James Skills Academy to improve their recruiting stock.
LeBron James Skills Academy
When:
July 5-9
Where:
Las Vegas
Why it's important:
This Nike event allows 80 of the nation's top high school prospects an opportunity to display their talent in front of media and scouts from every NBA team.
To continue reading this article you must be an Insider
June, 20, 2013
Jun 20
10:21
AM ET
We're back with another edition of the
#AskCoachB
Twitter mailbag. Once again, ESPN National Recruiting Director Paul Biancardi is on hand to answer fans' questions regarding the recently released ESPN player rankings, and other recruiting inquiries.
In this week's mailbag, we tackle the hotly contested decision to move
Cliff Alexander
ahead of
Tyus Jones
, behind top senior recruit
Jahlil Okafor
in the top three; break down Ohio State's current four-man class; and discuss UNLV recruit
Dwayne Morgan
's drop in the ESPN 100. You can have your recruiting questions answered by Biancardi on Twitter at any time using the hashtag, but only the best questions make this blog.
Now on to your questions.
---
@RecruitingESPN what are your thoughts on Ohio State basketball recruiting so far? #AskCoachB

— Jesus Urbina (@DiggzBuckEye559) June 18, 2013
I love their quartet of committed players because they're different but all high-level prospects.
Keita Bates-Diop
has a prototypical small forward body along with great shooting ability, touch and range. And when he's not facing the basket, he can post you up and get buckets in the low and midpost.
D'Angelo Russell
is a finesse scoring guard who can slide over to the point because of his ability to facilitate, utilizing his hoops acumen and vision. He's already a good 3-point shooter and can get to the rim with ease, but he needs to work on his middle game to complete his game.
Jae'Sean Tate
is a physically imposing player for his size (6-foot-5, 190 pounds) and is a relentless rebounder and terrific finisher. He's probably the most physical perimeter player we've seen this spring/summer.
David Bell
, a big man with a lot of upside, rounds out the Buckeyes' 2014 class.
---
@PaulBiancardi How good do you see Karl Towns truly being? #AskCoachB

— Christian (@oCSquareDo) June 15, 2013
Karl Towns
has extraordinary touch and range as a shooter and he's an above-average passer -- all that at 7-feet tall. Like most big guys, who often blossom later in their careers, he'll need extra time to develop. Right now he stands out on offense when facing the basket, but his low-post game is evolving. Towns will have to get his body in optimum physical condition for him to maximize his potential.
As for his future, guys with his combination of size and skill usually don't stay in college very long. He'll be at Kentucky in the near future, where he should significantly impact the game whenever he's on the floor. The only question is, will he impact contests on a consistent basis, or just when he feels like it?
To continue reading this article you must be an Insider
June, 13, 2013
Jun 13
8:58
AM ET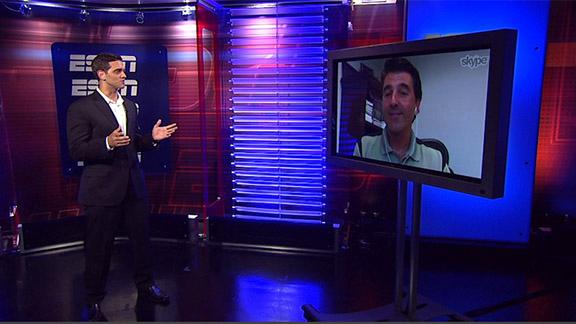 The new player rankings are out and the 2015 class of rising juniors has expanded from the ESPN 25 to the
ESPN 60
. With these prospects halfway through their high school careers, here are 10 things you need to know about the Class of 2015.
1. There's a big man invasion
To continue reading this article you must be an Insider
February, 22, 2013
Feb 22
11:27
AM ET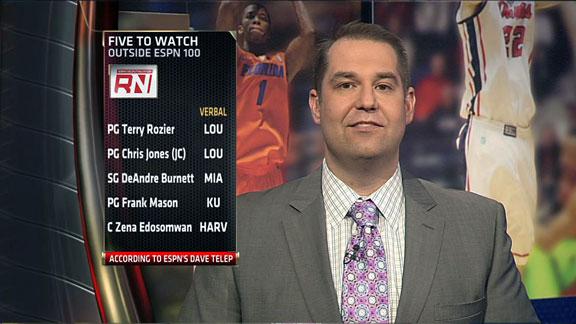 In this week's Friday notebook, two prospects join an exclusive group of high school basketball players, three ESPN 60 stars plot to play together in college and the basketball community suffers a heartbreaking loss.
To continue reading this article you must be an Insider
February, 14, 2013
Feb 14
2:24
PM ET
By
RecruitingNation
| ESPN.com
The McDonald's All American game rosters will be announced live on ESPNU on Thursday during a special program airing at 5 p.m. ET.
ESPN's National Recruiting Director Paul Biancardi and host Matt Schick will break down the rosters and look ahead to the annual showcase, which will be played on April 3 at Chicago's United Center.
To continue reading this article you must be an Insider