NCB On The Trail:

Isaiah Wright
September, 6, 2013
9/06/13
9:44
AM ET
By
RecruitingNation
| ESPN.com
American Athletic Conference
Louisville
Jaylen Johnson
| PF | Ypsilanti, Mich./Ypsilanti
HT: 6-9 WT: 210
Class of 2014
Positional Rank: 15
Stars: 4
ESPN 100: 62
Big Ten Conference
Illinois
Leron Black
| PF | Memphis, Tenn./White Station
HT: 6-7 WT: 215
Class of 2014
Positional Rank: 6
Stars: 4
ESPN 100: 36
Big 12
Baylor
Mark Vital
| SF | Lake Charles, La./Washington-Marion
HT: 6-4 WT 215
Class of 2016
Positional Rank: NA
West Virginia
Jevon Carter
| SG | Maywood, Ill./Proviso East
HT: 6-2 WT: 180
Class of 2014
Positional Rank: NA
Stars: 3
Big East
Marquette
Phillip Flory
| SG | Wisconsin Rapids, Wis./Wisconsin Rapids
HT: 6-3
Class of 2017
Positional Rank: NA
Stars: Evaluation Pending
Conference USA
East Carolina
Lance Tejada
| PG | Hollywood, Fla./Blanche Ely
HT: 6-1 WT: 175
Class of 2014
Positional Rank: 22
Stars: 4
ESPN 100: 96
Glenn Bryant
| SF | Marietta, Ga./Kell
HT: 6-6 WT: 180
Class of 2014
Positional Rank: NA
Stars: Evaluation Pending
Southern Miss
Willie Carmichael
| PF | Apopka, Fla./Wekiva
HT: 6-7 WT: 195
Class of 2014
Positional Rank: NA
Stars: 2
ACC
Virginia
Isaiah Wilkins
| SF | Norcross, Ga./Greater Atlanta Christian
HT: 6-7 WT: 185
Class of 2014
Positional Rank: NA
Stars: 2
Wake Forest
Isaac Haas
| C | Piedmont, Ala./Hokes Bluff
HT: 7-1 WT: 275
Class of 2014
Positional Rank: 18
Stars: 4
Pac-12
UCLA
Trevon Bluiett
| SF | Indianapolis/Park Tudor
HT: 6-5 WT: 205
Class of 2014
Positional Rank: 10
Stars: 4
ESPN 100: 41
Utah
Kyle Kuzma
| SF | Burton, Mich./Rise Academy
HT: 6-8 WT: 200
Class of 2014
Positional Rank: 27
Stars: 4
Isaiah Wright
| PG | Boise, Idaho/Borah
HT: 6-2 WT: 175
Class of 2014
Positional Rank: NA
Stars: 2
Stanford
Robert Cartwright
| PG | Pasadena, Calif./Flintridge Prep
HT: 6-2 WT: 165
Class of 2014
Positional Rank: 34
Stars: 3
SEC
Auburn
Sam Logwood
| SF | Indianapolis/La Lumiere
HT: 6-7 WT: 205
Class of 2014
Positional Rank: 20
Stars: 4
ESPN 100: 78
Jack Purchase
| PF | Melbourne, Australia/Carey Baptist Grammar
HT: 6-10 WT: 200
Class of 2014
Positional Rank: NA
Stars: Evaluation Pending
Vanderbilt
Wade Baldwin
| PG | Hillsborough, N.J./St. Joseph
HT: 6-2 WT: 180
Class of 2014
Positional Rank: 29
Stars: 4
South Carolina
TeMarcus Blanton
| SG | Locust Grove, Ga./Luella
HT: 6-4 WT: 185
Class of 2014
Positional Rank: 37
Stars: 3
Atlantic 10
Virginia Commonwealth
Justin Tillman
| PF | Redford, Mich./Pershing
HT: 6-8 WT: 175
Class of 2014
Positional Rank: 29
Stars: 4
George Washington
Paul Jorgensen
| PG | Ramsey, N.J./Don Bosco
HT: 6-3 WT: 185
Class of 2014
Positional Rank: 45
Stars: 3
Horizon League
Illinois-Chicago
Tai Odiase
| C | Chicago/Homewood-Flossmoor
HT: 6-9 WT: 195
Class of 2014
Positional Rank: NA
Stars: 2
Ivy League
Pennsylvania
Mike Auger
| PF | Hopkinton, Mass./New Hampton
HT: 6-6 WT: 205
Class of 2014
Positional Rank: NA
Stars: 2
Cornell
Jordan Abdur-Ra'oof
| SF | Rockville, Md./Gonzaga College
HT: 6-7 WT: 200
Class of 2014
Positional Rank: NA
Stars: 2
Yale
Eric Anderson
| PF | West Chester, Pa./The Haverford School
HT: 6-6 WT: 200
Class of 2014
Positional Rank: NA
Stars: 2
Sun Belt
Georgia State
Jeff Thomas
| SG | Norwalk, Ohio/Norwalk
HT: 6-5 WT: 185
Class of 2014
Positional Rank: NA
Stars: Evaluation Pending
Jordan Session
| SF | McDonough, Ga./Eagles Landing
HT: 6-9 WT: 190
Class of 2014
Positional Rank: NA
Stars: Evaluation Pending
Colonial Athletic Association
College of Charleston
Evan Bailey
| SG | Massillon, Ohio/Jackson
HT: 6-6 WT: 185
Class of 2014
Positional Rank: NA
Stars: 3
Atlantic Sun
Mercer
Jestin Lewis
| SG | Richmond, Va./Wallace State C.C.
HT: 6-2 WT: 170
Class of 2014
JUCO
Jacksonville
Tim Bond
| SG | Baltimore/City College H.S.
HT: 6-4
Class of 2014
Positional Rank: NA
Stars: Evaluation Pending
MAC
Buffalo
Mory Diane
| SG | Detroit/Country Day
HT: 6-3 WT: 170
Class of 2014
Positional Rank: NA
Stars: 2
WAC
Cal State Bakersfield
Sadiq Inuwa
| PF | Houston/La Lumiere
HT: 6-7 WT: 200
Class of 2014
Positional Rank: NA
Stars: Evaluation Pending
September, 3, 2013
9/03/13
1:51
PM ET
Each week, Starting 5 takes you on a tour of the recruiting landscape. It delves into topics, recruiting trends and stories. This edition focuses on the Utah Utes' recent run of commitments, emotional toughness in recruits and tells you what happened on last weekend's commitment spree.
Utah could have one in Kuzma
[+] Enlarge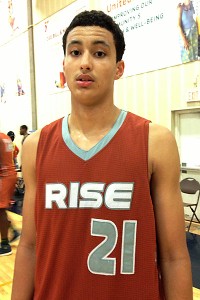 Dave Telep/ESPN Kyle Kuzma grew six inches and became a bigger prospect. Utah noticed early.
The Utah Utes last weekend added a player that isn't nationally known – yet – but is significant to the future of the program. Small forward
Kyle Kuzma
(Burton, Mich./Rise Academy) is one of those neat stories that manage to fly under the radar until that first breakout week on the scene in college. Consider yourself warned.
To continue reading this article you must be an Insider
July, 22, 2013
7/22/13
3:49
PM ET
CALIFORNIA -- The second of July's three evaluation periods ended with a bang out West this past weekend, with a pair of exciting events taking place in California.
Marshawn Cherry's San Diego All-Stars Pump-n-Run squad efficiently put away the competition in impressive fashion to win the Double Pump Best of the Summer event in Anaheim. The victors were led by one of the fastest rising prospects in the country in
Trey Kell
.
As Kell and his teammates were celebrating their championship, Ryan Silver launched his Pangos Stars of the Future event, and to say it was a success would be an understatement. The prospects in attendance ranged from the Class of 2015 to 2017, and none were as impressive as 6-foot-10 DeAndre Ayton. Many other recruits contributed standout performances, including
Max Heidegger
, Nuwr'iyl Williams and
Vance Jackson
.
Let's take a closer look at which prospects made the most noise at the two West Coast events.
To continue reading this article you must be an Insider