NCB On The Trail:

Elbert Robinson
February, 26, 2014
2/26/14
9:00
AM ET
Freshmen might be the talk of college basketball this season, but if you are paying attention you are starting to notice that experience counts.
The new No. 1 team in the country, Florida, starts a quartet of seniors in
Casey Prather
,
Scottie Wilbekin
,
Patric Young
and
Will Yeguete
.
The leading candidate for this year's Wooden Award as college basketball's best player is also a senior, as Creighton's
Doug McDermott
is averaging 26 points and almoist 7 rebounds while shooting high percentages from the 3-point line, free-throw line and the field.
So while
Jabari Parker
,
Andrew Wiggins
,
Julius Randle
,
Joel Embiid
and
Tyler Ennis
could all bolt for the NBA -- only to be replaced by the likes of
Jahlil Okafor
,
Myles Turner
,
Cliff Alexander
,
Tyus Jones
and
Emmanuel Mudiay
-- it might actually be others from the 2014 class, who might not necessarily have the same level of instant success, but nonetheless go on to make their mark on college basketball by staying longer and getting better at each step along the way.
Here's a look at some of the most likely candidates:
October, 16, 2013
10/16/13
10:00
AM ET
This week's class rankings
see three new entrants: Marquette, San Diego State and USC. But those aren't the only teams to watch. Here are four things you need to know about the class rankings, from LSU's big splash to Kansas' momentum and much more.
To continue reading this article you must be an Insider
October, 8, 2013
10/08/13
9:21
AM ET
ESPN 100 center
Elbert Robinson
(Garland, Texas/Lakeview Centennial) has committed to LSU over Ohio State, Nebraska and Georgia Tech giving the Tigers the No. 54 overall player in the class of 2014.
"Me and [LSU coach Johnny Jones] have a great relationship and he asked to give him an opportunity" Robinson said.

This is huge for LSU because the talent rich state of Texas is prime recruiting territory for the Tigers and continues the strong recruiting ties Jones developed in the state when he was the head coach of North Texas.
To continue reading this article you must be an Insider
September, 13, 2013
9/13/13
1:30
PM ET
By
Dave Telep
| ESPN Insider
Who's that guy headed to Xavier? Buffalo? They landed a top-100 player? Plus who's spending the weekend in College Station? All this and more as we empty the notebook.
Hanging with Johnny Football
[+] Enlarge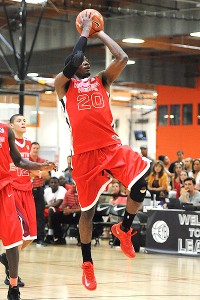 Chris Williams/Icon SMIESPN 100 wing Justise Winslow is looking to visit Texas A&M this weekend and Florida next weekend.
The biggest football extravaganza this weekend takes us to College Station, Texas, where Johnny Football faces the best professional college team in the country, Alabama. Can you imagine how many recruits requested a campus visit that weekend?
To continue reading this article you must be an Insider
September, 9, 2013
9/09/13
3:13
PM ET
Today it's hard to find player who wants to be a true center or accept that his is a center, as the game has made hybrid positions from the forward and guard positions. A center remains someone who is known as the tallest or strongest player on the floor, who likes physical contact and stays close to the basket.
A center's primary role is to protect the basket defensively by not allowing his man or other opposing players to get good looks at the basket from inside the painted area. In most cases with young big men, their defense is ahead of their offensive development for a number of reasons. One is they don't get to touch the ball that much and are still developing their foot- and hand-eye coordination. On the offensive side of the floor a center must be able to score inside by finishing drop-off passes or making a post move with his back to the basket. In addition, a center should be able to rebound, screen and make free throws.
A true center who demonstrates the positional qualities and understands and accepts who he is can impact the game at any level. Let's take a look at five keys to being an elite center, why they're important and which prospects in the Class of 2014 do them best.
1. Back-to-the-basket scorer
To continue reading this article you must be an Insider
August, 20, 2013
8/20/13
11:18
AM ET
By
Dave Telep
| ESPN Insider
Editor's note: Every week in "Starting 5," we'll roll out five stories, themes and nuggets from the basketball recruiting world to set the table with the stories that need to be told and give you a leg up on the watercooler conversations around the office.
This week we look at three point guards using different lenses, what plans KU has for Late Night in the Phog, the recruiting revivals at UConn and Minnesota plus reduced lists from bigs
Paul White
and
Makinde London
.
To continue reading this article you must be an Insider
July, 18, 2013
7/18/13
10:18
AM ET
The first July evaluation period has come and gone, but not before a number of elite prospects made their mark on the court at events like the Nike Peach Jam, adidas Invitational and the LeBron James Skills Academy.
We brought back national recruiting director Paul Biancardi's #AskCoachB mailbag to answer any questions you may have on the busy month and which recruits and classes are making waves. As a reminder, you can always get Paul's take on any prospect or find about new recruiting activity anytime on Twitter using the hashtag.
In this week's mailbag, Paul examines UNC's possibilities for landing an elite shooting guard in its 2014 class, what Ohio State should add to its second-ranked recruiting class, Ed Cooley turning Providence into a serious player in recruiting and whether
Justise Winslow
and Florida recruit
Brandone Francis
are in line for a bump in ranking in the next ESPN 100.
So let's get rolling with your questions.
---
@PaulBiancardi With the great play by Justise Winslow in the U19 & Peach Jam, does he crack top 10 & will he join Tyus/Okafor? #AskCoachB

— Michael Torres (@michaeltorres03) July 16, 2013
He comes home with a gold medal from Prague, and I heard he was a very valuable member of that U-19 team. His ability to pass, defend, handle the ball, combined with his basketball acumen impact without needing to score makes him special. At times, he can even bring the ball up the floor with a point guard's mentality. He's part of a small group of guys outside the top 10 who have a strong chance at cracking the top 10 in our next rankings.
On his status in the proposed package deal of
Tyus Jones
and
Jahlil Okafor
, I think Winslow would like for it to happen. But after going overseas and playing this summer, he'll see his decision and future should be more about a school that fits his needs rather than trying to fit his needs with someone else's. I'm sure all three are trying to make it happen, but the longer it goes the less of a possibility it will happen.
---
@PaulBiancardi @RecruitingESPN does the commitment of Jalen Lindsey cement the fact that PC and Ed Cooley are serious players in recruiting?

— Craig Leighton (@Craigl78) July 17, 2013
Providence has been a legit team in recruiting from the moment Ed Cooley got hired. That's how he won at Fairfield and he did a tremendous job evaluating talent as an assistant at Boston College. Now as the leader at Providence, he's not only doing a great job evaluating talent, he's bringing those top guys in. When you look at Ricky Ledo (No. 21 in 2012),
Kris Dunn
(No. 23 in 2012) and
Brandon Austin
(No. 56 in 2013), that's three big players he signed, and then add a commit from current ESPN 100 SF
Jalen Lindsey
, and you can see how big of an impact he's had in a short time. Providence recruiting was instantly upgraded with his hire and the Friars are in great hands going forward.
---
@PaulBiancardi Who is most likely to commit to Ohio State next? Could the package deal swing toward OSU of Jahlil and Tyus? #AskCoachB

— Jesus Urbina (@DiggzBuckEye559) July 17, 2013
I will say I love the Buckeyes class right now as it boasts skill, versatility and two guys who can flat out score in
Keita Bates-Diop
and
D'Angelo Russell
. With that said, it's obvious they still need to add some size to the frontcourt despite earning a pledge from three-star center
David Bell
.
I can't say who they will land but some of their biggest targets on their board are top-10 recruits
Jahlil Okafor
and
Myles Turner
. Now the Buckeyes are in the running to win the Okafor and Jones sweepstakes, but if they miss out, Turner would be a great consolation prize. Other potential targets are forwards
Leron Black
and
Paul White
and center
Elbert Robinson
, all of whom would be great gets for the No. 2-ranked team in the ESPN Class Rankings.
---
@PaulBiancardi I read the updates about the 5 schools who lead for Jones/Okafor. Any word on when they might decide? #AskCoachB

— Patrick Clark (@PatrickClark82) July 15, 2013
I see them finishing out the July and August event season and then taking some official visits together in the fall. I would say the earliest we can expect a decision is the early signing period (mid-November). They still need to take some official visits and sort things out before making a pledge.
---
@PaulBiancardi #AskCoachB which 2014 SG will get the next offer from Roy and UNC?

— Ryan Hunt (@RyanHuntMuzik) July 15, 2013
The Tar Heels are looking for someone who can score and shoot with range. Someone like No. 11 senior prospect
Rashad Vaughn
would fit that bill. He's the most dynamic scoring guard in the class and he does it from all three levels: Behind the line, inside the arc and driving to the basket. This guy has a knack for putting the ball in the basket, he just needs to cut down on his attempts and become more efficient. If Vaughn is out the mix, the Heels may go after Georgia scorer
Ahmed Hill
, the No. 33 overall player and eighth-rated 2-guard.
---
@PaulBiancardi @RecruitingESPN will Brandone Francis be moving up in the 2014 rankings?

— Damian Jerome (@Jeromestackin14) July 17, 2013
He's an intriguing prospect who has had a good summer. I saw him play well at adidas and at the LeBron camp and he had a strong showing at NBA camp. He has a strong body and the ability to score on the perimeter and in the paint or post up to get buckets down low. I like his skill level and IQ and his body. When you factor all those things, he has a chance to move up depending on how strong he finishes the summer. Right now he's at 34, but he has the ability to crack the top 25.
---
@PaulBiancardi - On a scale from 1-10, do you focus more on offensive or defensive tendencies when scouting!? Thx

— Coach Corbin (@coachcorbin150) July 1, 2013
When most coaches recruit, they think about finding the right fit and need in a prospect. When you talk about fit and need, it usually revolves around a player's offense, skill level, size at the position and basketball IQ. Some coaches will look at defensive attributes depending on their scheme, but in large part coaches recruit more for offense, IQ and athleticism because they can teach defense later in the process. It's harder to teach a guy to be more skilled or athletic than it is to teach defense.
I look at scouting through a similar lense when evaluating players for the ESPN 100 rankings. You look for attributes and qualities that will make a good offensive player a strong defender, whether it's his ability to rebound, stay in front of guys or take charges. For big guys, I have put an emphasis on how they defend ball screens, cover the low post and hedge out as well as skills and IQ.
July, 1, 2013
7/01/13
11:24
AM ET
There is a saying among coaches that goes like this, "October to April is when we become a team, the rest is when you become a player."
July is the time of year when elite players step it up a notch and separate themselves from their peers.
During the month
, college coaches head out to evaluate prospects in full and often make their decisions on which recruits they want or don't want based on a player's improvement, performance and production.
The players who play the game to prove what they can do get lost in the crowd, while the prospects who focus on improving and winning have the best chance of rising up in the ESPN 100 rankings and furthering their recruiting stock.
Here's a list of currently ranked prospects whose stock could see a rise this month based on what we have already seen from them and what we project will happen.
To continue reading this article you must be an Insider
June, 27, 2013
6/27/13
3:00
PM ET
By
Adam Finkelstein & John Stovall
| ESPN Insider
UNION, N.J. -- Kean University was host to Nike's Big Man Skills Academy and Point Guard Skills Academy from Monday through Wednesday of this week. A total of 39 elite high school players (16 big men and 23 guards) were in action along with counterparts from the college game, who served as the counselors for the event.
With some of the nation's top prospects in attendance -- including top-10 talents like
Emmanuel Mudiay
,
Malik Newman
and
Myles Turner
-- here's a look at who impressed as the best of the best.
To continue reading this article you must be an Insider
June, 13, 2013
6/13/13
5:25
PM ET
CHARLOTTESVILLE, Va. -- Class of 2014 center
Elbert Robinson
(Garland, Texas/Lakeview Centennial) was literally the big man on campus during the morning session at the NBPA Top 100 Camp held at the University of Virginia. The 6-foot-11, 270-pound lefty was terrific from start to finish, highlighted by a game-winning jumper in sudden death.
A showing like his on a stage of this magnitude will likely expand the list of teams in the hunt for the No. 60 overall player in the ESPN 100.
To continue reading this article you must be an Insider
June, 12, 2013
6/12/13
12:03
PM ET
By
Dave Telep
| ESPN Insider
The new player rankings are out and the 2014 class of rising seniors has graduated from the ESPN 60 to its
initial full ESPN 100
. As this group of prospects takes center stage in a new recruiting cycle, here are 10 things you need to know about the Class of 2014.
1. Potential landscape-altering package deal
To continue reading this article you must be an Insider