NCB On The Trail:

Duke Blue Devils
June, 17, 2014
6/17/14
10:00
AM ET
If you've noticed a sudden rush of recruiting information for 2016 prospects in the last few days, it's no coincidence.
Sunday was the first day that college coaches were permitted to contact prospects in the rising junior class, and for some prospects that literally meant the phone rang when the clock struck midnight.
Often times, those conversations are followed by some sort of offer. Here's a look at some of the latest news for the
Class of 2016
:
May, 7, 2014
5/07/14
10:30
AM ET
In high school basketball, the best players usually concentrate on their offense because that's how their teams win games. But there are several prospects who have the potential to be elite defenders. Let's examine the five best defenders among the incoming freshmen and one from the Class of 2015.
1. Justise Winslow, Duke
Winslow has a college-ready body and mindset that will help him influence the game with his defensive prowess. His defensive versatility might be the best among the entire freshman class as the 6-foot-6 forward can defend point guards through power forwards. The athletic Winslow can be a factor in full-court pressure or trapping situations as well as in a straight-up man-to-man denial defense locking up, the opposing team's best offensive threat. What makes him a special defender is that he is always thinking about where he should be next on the floor. Winslow will be extremely important for Duke next season.
To continue reading this article you must be an Insider
December, 30, 2013
12/30/13
9:00
AM ET
Basketball is played right through the new year, so as we look back and plan ahead let's take a look halfway through this season at which 2014 prospects have performed best in 14 categories.
1. Best in the low post: Jahlil Okafor (Chicago/Whitney Young), Duke signee
If a team needs to score a basket in the lower half of the painted area, Okafor is the one to pass it to. He has secure hands to catch almost any pass and a soft touch with superb footwork. He also has a wide mobile body to seal his man and the patience to throw the ball back out and re-post his 7-foot-3 wing span.
To continue reading this article you must be an Insider
November, 20, 2013
11/20/13
9:00
AM ET
By
RecruitingNation
| ESPN Insider
After an incredibly busy early signing period, there aren't many top 2014 prospects left on the board as we head into the high school season. Conventional wisdom suggests that's a recipe for a quiet late signing period, but the reality is that with so many national powerhouse programs still looking to add pieces to their classes, things could get very interesting in the next few months.
With that in mind, we once again polled our team of experts at Recruiting Nation and asked them what the biggest storyline will be in advance of the late signing period. Here's what they had to say:
To continue reading this article you must be an Insider
November, 15, 2013
11/15/13
6:53
PM ET
It's a wonder it hasn't happened before. It's a wonder it doesn't happen more often.
On Friday afternoon, Jahlil Okafor and Tyus Jones -- the power forward ranked No. 1 overall in the class of 2014, and the top point guard -- announced in tandem that they would be attending Duke next fall. They were, in effect, a package deal, the first of note since Greg Oden and Mike Conley together went from Lawrence North (Ind.) to Ohio State in 2007.
[+] Enlarge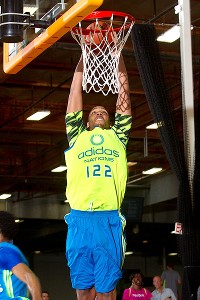 Jeff Hinds/adidasBy teaming up with summer camp buddy Tyus Jones, Jahlil Okafor might have helped redefine the package deal in recruiting.
In that way, as Recruiting Nation's Adam Finkelstein explained Friday, the news is not unprecedented. But the Okafor and Jones package deal is different, too -- either a sign of the times, or a sign of things to come.
What makes it so is the nature of their friendship. Okafor and Jones didn't attend high school together. They didn't grow up on the same block. Instead, they formed a relationship in the summers, at AAU events, prospect camps and, especially, USA Basketball squads. From Finkelstein:
Instead, their joint playing experiences have come primarily with USA Basketball, beginning in October 2010 and continuing with subsequent selections in each of the next two summers to national teams that won gold medals while traveling to Mexico and Lithuania.
It was on that initial trip to Mexico, in the summer before their sophomore season, that talk of a potential package deal first originated. That conversation quickly intensified and it wasn't even a year later that both young stars went on record as saying they planned to play together in college. … They even went so far as to coordinate many of their in-home visits last spring before taking official visits to Baylor, Duke, and Kansas together this fall.
If this seems unusual, it should. Package deals are rare in general, but when they do happen, they are usually the product of the leverage an elite recruit has to get his less-elite friend (or brother, or former coach) a spot at a top college program alongside him. A coach acquiesces to taking the lesser player to land the greater; the benefits usually outweigh the costs.
There is no such calculation here. Any program in the country would have happily taken either Okafor or Jones. But when the two played together for the United States, they discovered that they complemented each other immensely well, that they'd be better off in college with one another than without. They also discovered they were friends.
For all the speculation about Mike Krzyzewski's role with USA Basketball, that last part -- friendship -- seems the root of the Joneskafor deal; the two have described themselves not only as close, but as best friends. As CBS's Gary Parrish insightfully said Thursday, for people in, say, their 40s, the thought of sustaining a friendship that meaningful with a summer camp buddy might seem silly. It wasn't even possible until recently. Now the question is not whether you can maintain a long-distance relationship but whether you prefer to use Facetime or Skype to aid in doing so.
To be sure, Okafor and Jones are not the first elite recruits to team up in recent seasons. See Calipari, John, in your indices; Kentucky has been piling McDonald's All-Americans into ensemble casts for going on half a decade. But Okafor and Jones (OkaJones? better?) more deeply, and more openly, coordinated their decisions than any top recruits in memory. And they didn't even have to live in the same place.
Could this be first of many? Well, why not? Top prospects play together constantly during the summer; they form relationships and bonds at crucial times in their lives; they have much in common. For the best of the best, college basketball is a one-year proposition. How do you maximize your chances of winning a national title? Better yet, how do you guarantee your fun?
Bringing your best friend along for the ride is a good place to start. Only this time, the best friend is the best point guard in the country.
So, yes: It's a wonder this kind of package deal hasn't happened before. At the very least, it seems unlikely to be the last.
October, 15, 2013
10/15/13
9:00
PM ET
Small forward
Justise Winslow
(Houston/Saint John's), who is ranked 14th in the ESPN 100, has scheduled his three remaining official visits after already taking official trips to Florida and UCLA, plus an unofficial to Texas A&M.
To continue reading this article you must be an Insider
September, 9, 2013
9/09/13
11:35
PM ET
Five-star center
Myles Turner
(Bedford, TX/Trinity) is starting to set up his home and official visits with some of college basketball's blue bloods starting this week, his mother Mary Turner said on Monday.
To continue reading this article you must be an Insider
June, 19, 2013
6/19/13
1:03
PM ET
Harry Giles
, the nation's top-ranked rising sophomore, suffered a serious knee injury last week in Uruguay while playing for USA Basketball's U16 squad. Upon returning from the FIBA America's World Championships, Giles had an MRI and received devastating news: The 15-year old phenom had torn his ACL, MCL and meniscus. Surgery, possibly within the next month, is on the horizon.
[+] Enlarge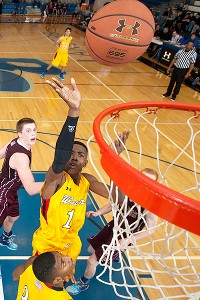 Kelly Kline/Under ArmourHarry Giles, the No. 1 player in the ESPN 25, could miss the upcoming season with a knee injury.
Giles thinks he suffered the potential sophomore season-ending injury during the team's second game against Argentina. "I was on the fast break and I felt someone on the right try to take the ball. Then from behind, [I] got pushed [and got] hit on the outside of my knee," Giles said.
Giles had been USA's starting power forward before the collision and the team went on to win the FIBA America's championship without him. "But there was a noticeable downtick in the energy of the guys," according to a source at the event.
Giles is one of the elite prospects -- if not the best overall -- in all of high school basketball. As a freshman, he teamed with North Carolina pledge and No. 13 recruit
Theo Pinson
to produce a state championship at Wesleyan Christian, a school just outside of Winston Salem, N.C. He averaged 13.0 points, 7.0 rebounds, 2.0 assists and 2.0 steals on the season and drew the attention of head coaches at Duke, North Carolina and Kentucky.
In a nutshell, this is one of the top young basketball players on the planet in his age group. He's a special prospect because of his ability, his makeup and his ceiling for improvement. When an injury of this magnitude happens, it typically takes the player out for the better part of a season. Giles is ranked as the top player in his class, which by the way, could be one of the top groups in recent memory. The approach on our end in evaluating him will be patience as he should be given the proper time to recover and rehab. As much as he's a high school star and future collegian, the reality is this is a young man with a long-term future in the game of basketball. Expect decisions to be made with the proper perspective and he'll be allowed to take as much time as needed to return.