NCB On The Trail:

DeAndre Ayton
January, 21, 2015
Jan 21
2:30
PM ET
By
John Stovall
| ESPN Insider
DAYTON, Ohio -- The
Hoophall Classic
wasn't the only event with top high school basketball prospects in attendance this past weekend. Here are five observations from the Good Samaritan Flyin' to the Hoop Invitational.
1. Jackson is one of 2016's best:
Josh Jackson
(No. 3 in the ESPN 60) is a probable future pro. His size, length, skill and athletic ability are at a unique level. I'm not sure I have seen a combination like this since
LeBron James
in high school. I'm not saying he's LeBron, but as an athlete, it is close. Jackson is improving skill-wise and is a much better ball-handler, facilitator and jump shooter versus a year ago. He had 31 points and 14 rebounds in a matchup against Huntington Prep.
January, 5, 2015
Jan 5
12:00
PM ET
LOS ANGELES -- We attended the Jordan Take Flight Challenge at the Jordan Hanger in Los Angeles, and here's what we saw.
1.
DeAndre Ayton
and
Thon Maker
are arguably two of the top 10 prospects in all of high school basketball and they impact the game in different ways. Ayton (No. 1 in the ESPN 25) is a traditional post player who snags rebounds, blocks shots displaying tremendous timing, and he can finish in transition like an
Anthony Davis
(New Orleans Pelicans) clone. Meanwhile, Maker is a hybrid 4-man who handles the ball extraordinarily well and his passing can be pin-point. On the other hand, Ayton needs to continue to refine his budding inside-out skills; Maker needs to get stronger while attacking the rim and rebounding in traffic.
To continue reading this article you must be an Insider
December, 23, 2014
12/23/14
9:00
AM ET
FORT MYERS, Fla. --- The 42nd Culligan City of Palms Classic High School Basketball Tournament brought some of the nation's top talent and teams to Southwest Florida for six days of action at Bishop Verot High School.
To continue reading this article you must be an Insider
July, 24, 2014
7/24/14
10:40
AM ET
LAS VEGAS -- The first night of the evaluation period landed us at Bishop Gorman High School for the Las Vegas Fab 48, and there was a plethora of talent on hand. While
Dwayne Bacon
was converting buckets at all three levels, super sophomore
DeAndre Ayton
displayed glimpses of his immense talent at both ends.
Best Player
Brandon Sampson
2015, SG, 6-foot-5, 170 pounds
AAU Team: Louisiana Elite
LSU was three-deep (coaches) while Sampson showed off his repertoire. The willowy shooting guard facilitated the offense on occasion, but he was at his best creating space with the dribble and launching jump shots from the mid-range to the 3-point line. He still needs to get stronger for the next level, but his shooting skills and bouncy nature make him one of the elite 2-guards in the country.
To continue reading this article you must be an Insider
July, 11, 2014
7/11/14
9:30
AM ET
Ivan Rabb
, the No. 1 player in the ESPN 100, has had his moments at this camp. However,
Ben Simmons
is making a strong push for that spot as he has been clearly the best player after a couple of sessions. There is no player in the country who combines skill, savvy and athleticism like Simmons.
Most explosive
Malik Monk
2016, SG, 6-foot-3, 180 pounds
To continue reading this article you must be an Insider
July, 10, 2014
7/10/14
2:15
PM ET
With all the speculation over LeBron James' next destination, he still found time to exhibit his elaborate skill set with all the campers as he leapfrogged from one court to another. However, he wasn't the only star of the day as local product
Stephen Zimmerman
dazzled onlookers with his vast skill set. Zimmerman wasn't the only camper that stood out as Syracuse-bound
Malachi Richardson
, multiskilled
Miles Bridges
, and 2017 stud
DeAndre Ayton
all had their moments.
Best Player
Ben Simmons
To continue reading this article you must be an Insider
June, 5, 2014
6/05/14
12:59
PM ET
By
John Stovall
| ESPN.com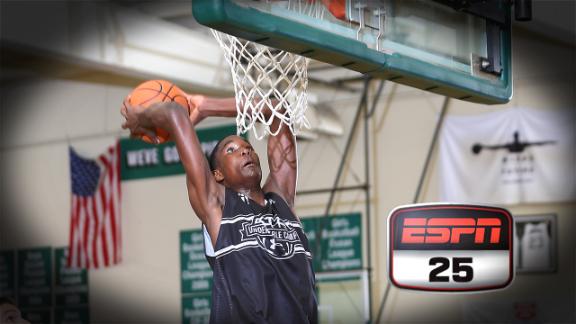 Here are 10 things to know about our updated
Class of 2017 ESPN 25
player rankings:
1. Projecting freshmen:
As with any freshman class, this one is loaded with potential. It will be fun to watch their development over the next three years. This class could easily be better than the
2015 class
, and it has a chance to catch the outstanding
2016 class
. Some of these freshmen are already making an impact on the 16-and-under and 17-and-under levels; they just need to continue to develop.
[+] Enlarge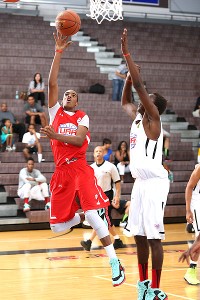 Kelly Kline/Under ArmourTroy Brown Jr. is the top point guard in the Class of 2017.
2. Strength in the frontcourt:
The Class of 2017 has some pretty good point guards, which already puts it ahead of the 2015 class. The point guards in 2017 are lead by 6-foot-5 Penny Hardaway-clone
Troy Brown Jr.
There is still only one true point in the ESPN 25 (
Jalek Felton
and
Trevon Duval
are combos), but there is plenty of depth when looking at the next 50 players. Posts and wings dominate the class at the top.
3. Early impact:
It is interesting to note that none of the players in our top 25 play in their age group (15-and-under level) with their summer club teams. They all play "up" in division, either one or two age groups. That lets you know the strength of the class. These youngsters are making immediate impacts despite limited experience.
4. Breeding success:
Many players in our top 25 have famous athletic bloodlines:
Gary Trent Jr
. (father played in the NBA),
Connor McCaffery
(father is Iowa basketball coach Fran McCaffery),
Isaiah Stokes
(brother of former Tennessee forward Jarnell),
Jalek Felton
(nephew of NBA guard
Raymond Felton
),
Michael Porter
(father is assistant women's coach at Missouri),
Victor Bailey Jr.
(father was a wide receiver in the NFL) and Tomas Murphy (Dad, Jay, played in the NBA and overseas).
5. Are true big men back?:
The true center might be trying to make a comeback. Two of our top five players are true centers.
DeAndre Ayton
is more of a face-up player right now, but he is developing a solid back-to-the-basket game.
Zach Brown
projects as a back-to-the-basket player. Others who project as true low-post centers are Nick Richards, Mitchell Robinson,
Kaleb Wesson
, Wyatt Yess, James Banks and
Brandon McCoy
, just to name a few.
6. Point guard depth:
There are several great prospects who just missed our top 25, including point guards
Jaylen Hands
and Trae Young, wing
Mitchell Ballock
and shooting guard Jordan Myers. This appears to be a deep class. As these talents continue to develop, there will be quite a few changes in our rankings.
7. Top prospect is foreign:
The No. 1 player was not born in the United States. Ayton is originally from the Bahamas. He came to America in the seventh grade. If he can remain No. 1, he would be the only player who wasn't born in the U.S. to begin and end No. 1.
8. Super growth spurt:
Porter is a super talented and skilled wing. He was already good, but he has been helped as a prospect by a tremendous change in his body. He was 6-4 last June but is now almost 6-8.
9. Positions are changing:
This class is continuing the trend of skilled big men and scoring point guards. It seems that over the past few years, true low-post centers and pure point guards are disappearing. Centers are becoming more and more skilled at an early age and moving away from the basket, while point guards are becoming more playmakers and facilitators versus running-their-team-type guards. With the success of players such as
Anthony Davis
and
Russell Westbrook
, look for the trend to continue.
10. Age is a factor:
Over the past few years, incoming freshmen are becoming older. This class continues that trend with almost all of our entire top 25 being older than 15.
June, 5, 2014
6/05/14
12:55
PM ET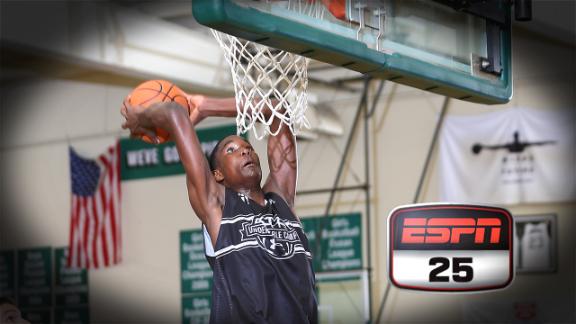 It's extremely early to identify and evaluate underclassmen, as much can change along the way. For players just finishing their freshman years in high school, it is a very fluid time in their development. In the Class of 2017, one prospect currently stands alone at the top of the newly released
ESPN 25
.
DeAndre Ayton
, originally from the Bahamas, not only demonstrates outstanding long-term upside, but he is highly productive right now. Being at the top of any list is rewarding, but it also means you had better improve and work even harder to stay there.
The 6-foot-10 Ayton, from San Diego, is a special prospect as he combines the physical tools, some established skill and a couple of traits that make him the best in his class. Let's break down his game.
To continue reading this article you must be an Insider
April, 14, 2014
4/14/14
10:21
PM ET
GARDEN GROVE, Calif. -- Gerry Freitas put together the most talent-laden So-Cal Hoop Review event in its tenure with 110 teams in attendance. Many of the elite players were on hand including UCLA commit
Lonzo Ball
, ESPN Super 60 prospects
Kendall Small
,
Stephen Thompson Jr
. and
Jeremy Hemsley
, as well as well as 2017 studs
DeAndre Ayton
and
Cody Riley
. Here's a look at the field.
Most upside
Lonzo Ball
2016, PG, 6-foot-5, 185 pounds
Status: Committed to UCLA
Ball is the most physically gifted point guard in the West and quite possibly the country. His passing has some Jason Kidd written all over it and he'll rebound and score from all three levels. However, his on-ball defense needs much work and his shot mechanics (low release) need polishing.
DeAndre Ayton
2017, PF, 6-10, 220 pounds
Status: All major conferences will be involved with him before it's all said and done
Ayton is a physical specimen with a
Kevin Garnett
frame. His fundamentals (plays too straight up and down) and post skills (lacks feel with back to the basket) need a lot of work. However, there is no one on the West Coast with his size, athleticism, and overall upside.
To continue reading this article you must be an Insider
January, 28, 2014
1/28/14
9:00
AM ET
By
John Stovall
| ESPN Insider
Every year the incoming high school freshmen class is met with plenty of anticipation and hoopla. The 2016 class has been called the best class in quite a while. So far, so good as that class looks like it will produce several impact college and possibly professional players. The 2017 class seems to be good, but not quite as deep. Right now it lacks the immediate impact players of 2016.
Here is a look at the top 10 players from the Class of 2017 to watch based on current talent and potential for future excellence:
To continue reading this article you must be an Insider
July, 5, 2013
7/05/13
3:52
PM ET
INGLEWOOD, Calif. -- Under Armour continued its "Grind" session circuit this week at Inglewood High School and the talent on display was high level. The Undeniable Camp introduced the players to a variety of skill-development drills, as well as some freelance scrimmaging.
Whether it was 2014 guard
Isaiah Whitehead
(Brooklyn, N.Y./Lincoln) blitzing the ball up court or 2016 guard
Derryck Thornton
(Henderson, Nev./Findlay Prep) putting defenders on their heels, several of the nation's elite rose to the top at the Under Armour Undeniable Camp, including a pair of 2014 Maryland commits.
However, the most perplexing aspect of the camp was the lack of urgency -- whether it was in a particular drill or scrimmage -- from many of the prospects in attendance. These camps should be a privilege for these players, and assertiveness should not be an afterthought.
Here were some of the top performers from the camp.
To continue reading this article you must be an Insider