NCB On The Trail:

Corey Sanders
September, 4, 2014
9/04/14
1:21
PM ET
Point guard
Corey Sanders
, the No. 32 player in the
2015 ESPN 100
, has committed to new Big Ten member Rutgers. Sanders also had offers from Tennessee, South Florida, DePaul and Central Florida, which he was previously committed to until October 2013. He gives Scarlet Knights coach Eddie Jordan his most highly ranked player to date.
Let's break down what Sanders will bring to the Scarlet Knights:
July, 24, 2014
7/24/14
10:40
AM ET
LAS VEGAS -- The first night of the evaluation period landed us at Bishop Gorman High School for the Las Vegas Fab 48, and there was a plethora of talent on hand. While
Dwayne Bacon
was converting buckets at all three levels, super sophomore
DeAndre Ayton
displayed glimpses of his immense talent at both ends.
Best Player
Brandon Sampson
2015, SG, 6-foot-5, 170 pounds
AAU Team: Louisiana Elite
LSU was three-deep (coaches) while Sampson showed off his repertoire. The willowy shooting guard facilitated the offense on occasion, but he was at his best creating space with the dribble and launching jump shots from the mid-range to the 3-point line. He still needs to get stronger for the next level, but his shooting skills and bouncy nature make him one of the elite 2-guards in the country.
To continue reading this article you must be an Insider
June, 3, 2014
6/03/14
11:37
AM ET
By
RecruitingNation staff
| ESPN Insider
As we turn our attention to the Class of 2015 and the newly released
ESPN 100
, here's a look at five college basketball programs that have a head start on the 2015 recruiting trail:
To continue reading this article you must be an Insider
June, 3, 2014
6/03/14
11:35
AM ET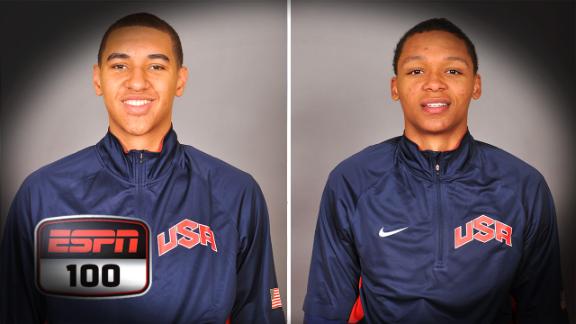 The ESPN 60 has officially grown into the
ESPN 100
for the Class of 2015, and there are plenty of intriguing storylines among the top rising seniors in the country:
[+] Enlarge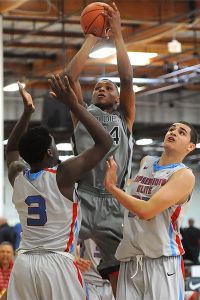 Chris Williams/Icon SMIIvan Rabb maintained his tenuous hold on the No. 1 spot in the 2015 class.
1. Top spot still up for grabs.
Ivan Rabb
has retained his spot as the top-ranked prospect in the Class of 2015, but make no mistake about it: This remains a very tight race that will continue to play out for the next 12 months. Rabb's versatility and efficiency during the Elite Youth Basketball League regular season, in addition to his vast physical upside, were enough for him to retain his title. But he has plenty of competition.
Ben Simmons
has been coming on as strong in recent months as any prospect in the class, as he is now turning potential into production on a much more consistent basis. In a class full of scoring guards,
Malik Newman
stands out as the most talented of them all, and very likely the best pure scorer in the ESPN 100.
Diamond Stone
has had an equally dominant spring in the Under Armour Association, playing his way into the top four and asserting his claim as a contender in the race for the No. 1 spot.
2. Oh, Henry.
No player has made a more dramatic jump up the rankings than
Henry Ellenson
, who went all the way from No. 47 to No. 5 in the ESPN 100. Ellenson averaged 18 points and 9 rebounds per game for Playground Elite during the EYBL season, showing a versatile and unique game for a 6-foot-9 power forward, all while continuing to raise his level of his production with each passing week. He can shoot the ball from the 3-point line but is also a threat to put the ball on the floor. He is perhaps most effective when he's able to get out and run in transition.
3. Other risers.
Ellenson is just the tip of the iceberg when it comes to players whose stock is rising.
Jaylen Brown
had a terrific spring on the adidas Gauntlet circuit and played his way into the top 10.
Chase Jeter
jumped more than 20 spots to land at No. 13, while Michigan State-bound big man
Deyonta Davis
moved up 30 spots to No. 18. Other spring stock risers include
Justin Simon
, who went from 45 to 23;
Jalen Adams
, 46 to 33; and
Jalen Coleman
, who hopped 24 spots to land at No. 34 in the ESPN 100.
4. Announcing his arrival.
Previously a member of the 2016 class,
Caleb Swanigan
is making his debut in the 2015 rankings at No. 17 after announcing his reclassification last month. The wide-bodied 6-9 big man has nimble feet for a player of his size and an even bigger presence on the backboards. He led the entire EYBL in rebounding this season and was equally dominant cleaning the glass on both ends. His recruitment has also heated up, with Arizona and Kansas joining a long list of scholarship offers that already included Michigan State, Indiana, Purdue and many others.
5. More notable newcomers.
While Swanigan might be the most notable of the new prospects in the ESPN 100, he's far from the only one. In a class in desperate need of point guards,
Corey Sanders
has helped to fill a major void. He was unranked in the last ESPN 60 but now makes his ESPN 100 debut ranked No. 31 in the class. Former UConn commit
Prince Ali
is another prospect who was on the outside looking in the last time we updated rankings, but he has more than proved himself in recent months.
Tres Tinkle
,
Admon Gilder
and
De'Jounte Murray
make their debuts in the top half of the ESPN 100.
[+] Enlarge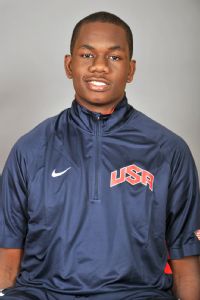 Bart Young/USA BasketballGeorgetown commit Jessie Govan is trending back up the ESPN 100.
6. Down but not out.
As some prospects go up the rankings, others must go down, but sometimes that's just the spark of motivation they need to reassert themselves in the coming months.
Jessie Govan
and
Terance Mann
are examples of prospects who slipped out of the rankings at one point in time but are now trending back in the right direction. At No. 23,
Tyler Dorsey
is a prospect who could make another climb up the ESPN 100 before all is said and done, while the same can be said for
P.J. Dozier
,
Charles Matthews
,
Doral Moore
and
K.J. Lawson
.
7. Big and getting bigger.
The 2015 class was already well known for the amount of size and frontcourt depth, but that has become an even bigger (no pun intended) trend in these most recent rankings. In fact, 11 of the top 15 ranked players in the class come at either the center or power forward positions, making this far and away the most frontcourt-dominated class we've seen in recent memory.
8. Plenty of positional size.
Size is a characteristic of this class, not just among the frontcourt positions, but across each of the five positions on the floor. Even the perimeter players atop the class have terrific size relative to their spot on the floor. Jaylen Brown is no slouch of a wing at 6-5, while
Brandon Ingram
's 6-8 frame is ideal.
Malachi Richardson
has equally imposing size at the shooting guard position at 6-6. Conversely, we don't see a player 6 feet or under until
Kendall Small
(ditto on the no pun intended) checks in at No. 60.
9. Scoring guards.
While the big men dominate the top of the rankings, many of the best guards in the class all seem to come from a similar prototype. They handle the ball more than natural 2-guards and yet are more focused on their individual offense than pure point guards. Instead, guys such as Newman,
Antonio Blakeney
,
Allonzo Trier
and
Isaiah Briscoe
can be best described as scoring guards -- guards who act as the primary playmakers for their respective teams but look for their own offense first and foremost before passing as a result of forcing the defense to collapse or rotate.
10. On the cusp.
The final spots in the ESPN 100 are always some of the most debatable, essentially because there are so many prospects who can make a legitimate claim on the top 100 status. That was particularly true this year, when proven players such as
Bryant Crawford
and
Rex Pflueger
were left just on the outside looking in, along with other deserving prospects such as
Joseph Toye
,
Matt Ryan
,
Chimezie Metu
,
Marcus Derrickson
and several others.
May, 17, 2014
5/17/14
9:46
PM ET
HOUSTON -- The Under Armour Invitational brings local travel teams together to compete under one roof and create an event loaded with high school talent from around the country.
Let's take a look at a few of the impressive performances that we witnessed.
Best true scoring point guard
To continue reading this article you must be an Insider
September, 29, 2013
9/29/13
11:31
PM ET
ESPN 100 shooting guard
Adonys Henriquez
(Orlando, Fla./Orlando Christian Prep) made a verbal commitment to Central Florida this weekend, marking the fourth player to commit to head coach Donnie Jones in the last two weeks.
The hot streak for UCF began with ESPN 60 power forward
Alex Owens
(Orlando, Fla./Oak Ridge) on Sept. 17, grew a day later with junior point guard
Corey Sanders
(Lakeland, Fla./IMG Academy), continued to gain momentum late last week with 2015 power forward
Chad Brown
(Deltona, Fla./Deltona) and was punctuated by Henriquez's decision on Sunday morning.
Why he committed:
Henriquez was previously committed to Miami and continued to make staying close to home a priority during his second time through the process. He picked UCF over Butler, Vanderbilt, Minnesota and Creighton.
To continue reading this article you must be an Insider
September, 20, 2013
9/20/13
9:27
AM ET
By
RecruitingNation
| ESPN.com
SEC
Kentucky
Tyler Ulis
PG Matteson, Ill./Marian Catholic
HT: 5-9 WT: 150
Class of 2014
Positional Rank: 8
Stars: 4
ESPN 100: 38
Vanderbilt
Matthew Fisher-Davis
SG Charlotte, N.C./Charlotte Christian
HT: 6-5 WT: 175
Class of 2014
Positional Rank: 28
Stars: 4
Texas A&M
Alex Robinson
PG Arlington, Texas/Timberview
HT: 6-1 WT: 170
Class of 2014
Positional Rank: 20
Stars: 4
ESPN 100: 89
Big Ten
Purdue
Vincent Edwards
SF Middletown, Ohio/Middletown
HT: 6-7 WT: 200
Class of 2014
Positional Rank: 22
Stars: 4
ESPN 100: 80
Big East
Georgetown
Paul White
PF Chicago/Whitney Young
HT: 6-8 WT: 185
Class of 2014
Positional Rank: 14
Stars: 4
ESPN 100: 57
Seton Hall
Isaiah Whitehead
SG Brooklyn, N.Y./Lincoln
HT: 6-4 WT: 195
Class of 2014
Positional Rank: 10
Stars: 4
ESPN 100: 35
ACC
Florida State
Josh Gray
PG Houston/Odessa College (Juco)
HT: 6-1 WT: 175
Class of 2014
Virginia Tech
T.J. Lang
SF Mobile, Ala./McGill-Toolen Catholic
HT: 6-7 WT: 195
Class of 2014
Positional Rank: NA
Stars: Evaluation Pending
Virginia
Jack Salt
C Auckland, New Zealand/Westlake
HT: 6-10
Class of 2014
Positional Rank: NA
Stars: Evaluation Pending
Wake Forest
Rondale Watson
SG Lewisburg, W.Va./Greenbrier East
HT: 6-3
Class of 2014
Positional Rank: NA
Stars: Evaluation Pending
American Athletic
Cincinnati
Quadri Moore
C Linden, N.J./Linden
HT: 6-8 WT: 225
Class of 2014
Positional Rank: 8
Stars: 4
ESPN 100: 83
Gary Clark
PF Clayton, N.C./Clayton
HT: 6-7 WT: 215
Class of 2014
Positional Rank: 26
Stars: 4
Central Florida
Alex Owens
PF Orlando, Fla./Oak Ridge
HT: 6-8 WT: 230
Class of 2015
Positional Rank: 9
Stars: 4
ESPN 60: 44
Corey Sanders
PG Lakeland, Fla./IMG Academy
HT: 6-1 WT: 185
Class of 2015
Positional Rank: NA
Stars: 3
Atlantic 10
Virginia Commonwealth
Terry Larrier
SF Bronx, N.Y./The Phelps School
HT: 6-7 WT: 200
Class of 2014
Positional Rank: 15
Stars: 4
ESPN 100: 59
Richmond
Paul Friendshuh
PF New Prague, Minn./New Prague
HT: 6-9 WT: 205
Class of 2014
Positional Rank: NA
Stars: Evaluation Pending
Conference USA
Tulsa
Mitch Wilbekin
PG Gainesville, Fla./The Rock School
HT: 6-1 WT: 160
Class of 2014
Positional Rank: NA
Stars: 2
UTEP
Trey Touchet
SG Lafayette, La./St. Thomas More
HT: 6-2 WT: 175
Class of 2014
Positional Rank: NA
Stars: Evaluation Pending
Middle Tennessee State
DeVante Jones
SG Chicago/Southwest Tennessee C.C. (Juco)
HT: 5-11
Class of 2014
Mountain West
Boise State
David Wacker
C Converse, Texas/Judson
HT: 6-9 WT: 235
Class of 2014
Positional Rank: NA
Stars: Evaluation Pending
Air Force
Jacob Van
PG Mansfield, Texas/Lake Ridge
HT: 6-2
Class of 2014
Positional Rank: NA
Stars: Evaluation Pending
Southern Conference
Davidson
Rusty Reigel
SG Charlotte, N.C./Charlotte Latin
HT: 6-2 WT: 190
Class of 2014
Positional Rank: NA
Stars: 2
Western Carolina
Alex Hicks
PF Phenix City, Ala./Glenwood School
HT: 6-8 WT: 195
Class of 2014
Positional Rank: NA
Stars: Evaluation Pending
NEC
Mount St. Mary's
Troy Henderson
SF Charlotte, N.C./Gaston Day School
HT: 6-6 WT: 175
Class of 2014
Positional Rank: NA
Stars: Evaluation Pending
St. Francis (Pa.)
Basil Thompson
SF Philadelphia/Imhotep Institute
HT: 6-6 WT: 175
Class of 2014
Positional Rank: NA
Stars: 2
Sacred Heart
Cane Broome
PG East Hartford, Conn./St. Thomas More
HT: 6-0 WT: 160
Class of 2014
Positional Rank: NA
Stars: 2
MAC
Western Michigan
Drake Lamont
C Plantation, Fla./American Heritage
HT: 6-9 WT: 200
Class of 2014
Positional Rank: 39
Stars: 3
Ball State
Sean Sellers
SF Greensburg, Ind./Greensburg
HT: 6-6 WT: 175
Class of 2014
Positional Rank: NA
Stars: 2
Big South
Liberty
A.C. Reid
SF Spring Branch, Texas/Smithson Valley
HT: 6-5 WT: 190
Class of 2014
Positional Rank: NA
Stars: Evaluation Pending
UNC-Asheville
Kevin Vannatta
SG Columbus, Ohio/Upper Arlington
HT: 6-2
Class of 2014
Positional Rank: NA
Stars: Evaluation Pending
Big Sky
Montana State
Ghassan Nehme
SG Colorado Springs, Colo./Cheyenne Mountain
HT: 6-3 WT: 174
Class of 2014
Positional Rank: NA
Stars: Evaluation Pending
Weber State
Hayden Hunter
PG North Richland Hills, Texas/Richland
HT: 5-11
Class of 2014
Positional Rank: NA
Stars: Evaluation Pending
Idaho State
Geno Luzcando
PG Mount Pleasant, Utah/Wasatch Academy
HT: 6-3
Class of 2014
Positional Rank: NA
Stars: Evaluation Pending
America East
UMass-Lowell
Josh Gantz
PF Grove City, Ohio/Bishop Ready
HT: 6-6 WT 185
Class of 2014
Positional Rank: NA
Stars: Evaluation Pending
Dontavious Smith
PF Springhill, La./North Webster
HT: 6-8
Class of 2014
Positional Rank: NA
Stars: Evaluation Pending
Binghamton
John Schurman
SG Manlius, N.Y./Fayetteville-Manlius
HT: 6-5
Class of 2014
Positional Rank: NA
Stars: Evaluation Pending
Missouri Valley
Bradley
Donte Thomas
SF South Holland, Ill./Thornwood
HT: 6-6
Class of 2014
Positional Rank: NA
Stars: Evaluation Pending
Northern Iowa
Luke McDonnell
PF Dubuque, Iowa/Dubuque Senior
HT: 6-8 WT: 200
Class of 2015
Positional Rank: NA
Stars: Evaluation Pending
OVC
Murray State
JayQuan McCloud
PG North Chicago, Ill./North Chicago Community
HT: 6-4 WT: 180
Class of 2014
Positional Rank: NA
Stars: Evaluation Pending
Tennessee-Martin
Chris Clark
SG Columbia, Mo./Hickman
HT: 6-3 WT: 175
Class of 2014
Positional Rank: NA
Stars: Evaluation Pending
SIU-Edwardsville
C.J. Carr
PG Rock Island, Ill./Rock Island
HT: 5-6 WT: 145
Class of 2014
Positional Rank: NA
Stars: Evaluation Pending
Horizon League
Oakland
Alek Frascone
PG Washington Township, Mich./Eisenhower
HT: 6-0 WT: 150
Class of 2014
Positional Rank: NA
Stars: Evaluation Pending
Summit League
South Dakota State
Mike Daum
PF Kimball, Neb./Kimball
HT: 6-9
Class of 2014
Positional Rank: NA
Stars: Evaluation Pending
Atlantic Sun
Florida Gulf Coast
Eric Moeller
C St. Louis/Central Florida C.C. (Juco)
HT: 6-11 WT: 200
Class of 2014
Mercer
Demetre Rivers
PF Goose Creek, S.C./Stratford
HT: 6-6
Class of 2014
Positional Rank: NA
Stars: Evaluation Pending
Ivy League
Princeton
Alec Brennan
PF Weston, Mass./Milton Academy
HT: 6-10 WT: 225
Class of 2014
Positional Rank: 35
Stars: 3
Brown
Patrick Triplett
PG St. Louis/Bayless Senior
HT: 6-4 WT: 200
Class of 2014
Positional Rank: NA
Stars: Evaluation Pending
WCC
Pepperdine
Nate Gehring
C Waukee, Iowa/Waukee
HT: 6-10 WT: 220
Class of 2014
Positional Rank: 44
Stars: 3
MAAC
Quinnipiac
Ayron Hutton
SG Virginia Beach, Va./Cape Henry
HT: 6-3
Class of 2014
Positional Rank: NA
Stars: Evaluation Pending