On The Trail:

Chris McCullough
September, 2, 2013
Sep 2
9:53
AM ET
The power forward position has traditionally been a player with a combination of size and strength who can score in the paint. Specifically, the "four man" plays in the high post facing the basket or in low post with his back to the basket scoring, passing and using his dribble.
Since the inception of the 3-point shot, some forwards have utilized the line by becoming "stretch forwards." Some forwards handle the ball extremely well for their size and have even become point forwards.
In today's game, it's hard to box some players into a specific position because the game is being coached differently. Coaches from the NBA level down to the high school game are reconstructing the power forward position into a hybrid spot and taking advantage of mismatches on the offensive end of the floor. They can adapt by playing faster or more zone if the matchup is not in their favor from a defensive perspective.
To continue reading this article you must be an Insider
August, 29, 2013
Aug 29
9:00
AM ET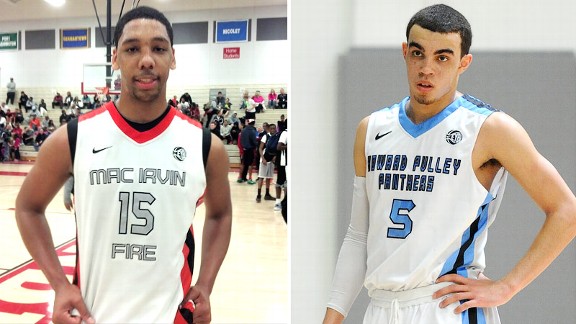 ESPN, Icon SMIJahlil Okafor and Tyus Jones have discussed going to school together and the ESPN 100 prospects have scheduled several official visits as a tandem.
One of the lasting themes of the Class of 2014 has been the perpetual rumors of package deals, and yet as we get closer to and closer to November's early signing period we're still waiting for the first to come to fruition.
With that in mind, we examined the most rumored potential package deals in the country and set the odds in order to determine which have the best chance of actually happening.
First though, it's necessary to define what a "package deal" is. In it's purest form, it would be a situation where two or more prospects are recruited in unison and make one collaborative decision. But there really aren't many situations currently like that in the 2014 class, with one notable exception.
Instead, most of the recent talk around "package deals" really reflects prospects that could potentially end up at the same school, even if they don't go through the recruiting process together. As such, that is the definition which we'll operate under for the purposes of this article and projecting the likelihood of such deals actually happening.
To continue reading this article you must be an Insider
August, 23, 2013
Aug 23
9:00
AM ET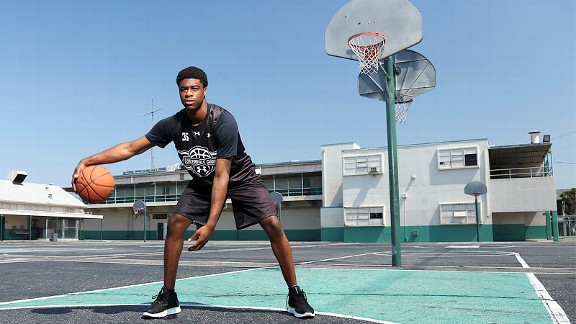 Kelly Kline/Under ArmourThe Under Armour Elite 24 has always had top-level talent and this weekend's edition is no different, as ESPN 100 No. 5 player Emmanuel Mudiay is part of star-studded cast.
BROOKLYN, NY -- The 8th annual Under Armour Elite 24 game and dunk/skills competition will feature some of the nation's most outstanding basketball prospects. Previous games included top prep players such as Kyrie Irving (Cleveland Cavaliers), Kevin Love (Minnesota Timberwolves), Kemba Walker (Charlotte Bobcats), Brandon Jennings (Detroit Pistons), Jrue Holiday (New Orleans Pelicans) and Lance Stephenson (Indiana Pacers) participated in this famed event.
This two-day event will take place at the Tobacco Warehouse in Brooklyn Bridge Park under The Brooklyn Bridge.
Catch all the action live on ESPNU, with the Dunk and Skills competition Friday at 7pm ET and the Elite 24 game Saturday at 7 p.m. ET.
5 Reasons to watch
1. Stars will be shining bright
The Elite 24 has been known for its star power, and this year's roster is stronger than ever. From top to bottom this game has the best players in the country regardless of class and position. This game has an abundance of gifted prospects, which is going to make it exciting and entertaining to witness as the best high school players go head to head.
The Elite 24 has 13 of the top 25 players in the 2014 ESPN 100 and 5 of the top 10, led by ESPN No. 3
Tyus Jones
, No. 5
Emmanuel Mudiay
and No. 7
Chris McCullough
(Syracuse). The game also has a bevy of underclassman phenoms such as 2015 ESPN 60 prospects No. 1
Ivan Rabb
, No. 2
Malik Newman
and No. 7
Stephen Zimmermann
, along with 2016 ESPN 25 No. 2
Thon Maker
.
2. It's all about the matchups
Point guard: Jones vs. Mudiay
Jones is a pure point guard who has tremendous vision and makes great decisions. He is outstanding in handing out the assist in transition or when the game slows down. Mudiay brings outstanding size and athletic ability along with excellent penetration and passing skills. They're not only two of the best players in their respective positions, but two of the best in the nation.
Shooting guards: Rashad Vaughn vs. D'Angelo Russell
All-star games are about scoring points and these two guys do it as well as anyone in the 2014 class. Vaughn is always on the attack and can score with a long jumper or a finish at the rim. Russell is smooth and under control, always ready to launch his deadly long-range jumper. They are two of the best at creating their own shot when there is no offensive flow.
Small forwards: Kelly Oubre vs. Justin Jackson
Teammates for the AAU Houston Hoops, the battle between these two will be electrifying, as both are high-level scorers with great length, athletic ability and skill. Oubre is a dynamic finisher and will mix in some jumpers. Jackson is perhaps the best scoring small forward in the class, possessing touch and instinct from anywhere on the floor. Can Oubre contain Jackson's lethal mid-range jumper?
Power forwards
Myles Turner
and Zimmermann are two of the best frontcourt players in the country. Turner might be the best shot blocker in his the 2014 class and Zimmermann has tremendous skill for his age.
3. The college game looks better than ever
When this roster of players enters the college game it will bring with it excitement, skill, superior athletic ability and plenty of potential to the college game.
All of the players participating in this year's event are being recruited at the highest level. Turner is the hottest prospect in the nation and Jones being pursued by the likes of Baylor, Duke, Kansas, Kentucky, Michigan State, and Ohio State. Some have already made their pledges, with Jackson,
Joel Berry
and
Theo Pinson
committed to North Carolina,
Romelo Trimble
and
Dion Wiley
pledging with Maryland,
Chris Chiozza
headed to Florida, McCullough at Syracuse and Russell to Ohio State. For the ones not committed yet their lists have been trimmed down, with college coaches and their fanbases will be closely watching.
The college game will continue to be extremely healthy. This list of prospects will influence and impact their future schools as well as the landscape of college basketball.
4. History lesson
This event has had numerous players go on and be successful in the NBA. When looking at the numbers, 37 Elite 24 players have become first-round NBA draft picks, with 23 ending up in the lottery, over the past eight years.
Three have become no. 1 overall picks: 2011 alum Anthony Bennett, 2009 participant Kyrie Irving and 2008 prospect John Wall. This year participants should add to that impressive list in the near future.
5. Last event of the summer
It seems as if the summer basketball circuit flies by each year, with so many players making a mark by competing and traveling around the country. As the summer season comes to an end, the Elite 24 gives players, college coaches, fans, and postseason all-star game voting members one last opportunity to view some of the best players in the nation on a national stage until their high school seasons begin. Many of the senior prospects will be candidates for postseason accolades and as the fall rolls around, so this makes the Elite 24 a special game.
August, 22, 2013
Aug 22
11:00
AM ET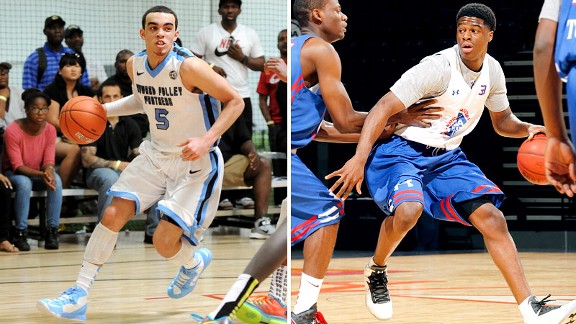 Icon SMI, Courtesy of Andrew ShurtleffTyus Jones, left, and Emmanuel Mudiay are the top two point guard recruits in the Class of 2014.
The 2013 Under Armour Elite 24 will be held at the Tobacco Warehouse in Brooklyn, N.Y., on Friday and Saturday. The game airs live on ESPNU at 7 p.m. ET on Saturday, Aug. 24, while the Slam Dunk Contest and Skills Competition will air on Friday, Aug. 23 at 7 p.m. on ESPNU.
Here are the game's best matchups to watch by position:
Point guard matchup
Tyus Jones vs. Emmanuel Mudiay
Jones will attack the lane off the dribble or from ball screens, and Mudiay will return the favor when he is not getting to the rim on the break. It will be interesting to see who will do the better job containing penetration and which one will shoot the ball better, in addition to seeing which one will be better when they are eye-to-eye at end of shot-clock or game situations. Jones and Mudiay are elite playmakers and finishers in the lane. It will be exciting to witness which one imposes his will first and sets the tone from the most important position on the court.
Shooting guard matchup
Malik Newman vs. Rashad Vaughn
Newman will put Vaughn's on-ball defense to the test right from the first touch, and Vaughn will attack Newman off the bounce and go right at him. Which one of these scoring machines will get off to the better start and set the rules? Their won't be any time to relax on offense or defense because both can create and make tough, contested shots and acrobatic finishes.
Small forward matchup
Justise Winslow vs. Stanley Johnson
This power wing matchup brings strength, toughness and competitiveness at the highest level of high school basketball. Can Johnson beat Winslow off the dribble and finish against a wing who is just as big and strong as he is? Winslow, who is one of the best defenders in the class, will have Johnson's full attention in many areas of the game. Winslow not only defends, he rebounds, facilitates and can score in the post, facing up and attacking with straight-line drives. It will be fun to watch these two big-bodied wings compete for advantages all over the court.
Power forward matchup
Ivan Rabb vs. Chris McCullough
This matchup is between two long, athletic, explosive quick-off-the-floor forwards. Who will miss the first block-out and give up a tip dunk and get the crowd fired up? Which one will display his much improved ball skills and shooting and get off to a quick start? Expect rim-level rebounds, blocked shots and poster-like, above-the-rim finishes early in this one.
Center matchup
Myles Turner vs. Stephen Zimmerman
These two skilled centers will surely make each other compete at high level because both have great face-up games and ball skills for their size, not to mention their ability to finish above the rim. Will Zimmerman's offensive package have an answer for the shot blocking ability of Turner? Both run the floor extremely well. Who will beat the other down the floor for the most easy scores and attack the glass for put-backs and defensively rebound to start the break? It will be fun to see which player will have to adjust his game the most, and which gives the other the most difficulty when defending one-on-one in the post or on the perimeter.
August, 22, 2013
Aug 22
9:00
AM ET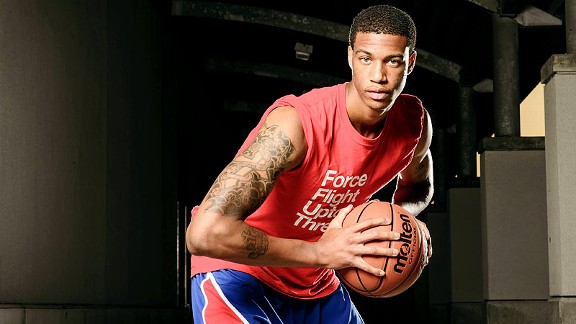 Dustin Snipes/Icon SMISyracuse forward commit Chris McCullough is looking to put his athleticism and skillset on display this weekend at the Under Armour Elite 24 in Brooklyn, N.Y.
Breakdowns of the key prospect competing at Under Armour Elite 24 showcase. The 2013 Under Armour Elite 24 will be held at the Tobacco Warehouse in Brooklyn, N.Y., on Friday and Saturday. The game airs live on ESPNU at 7 p.m. ET Saturday, while the Slam Dunk Contest and Skills Competition will air Friday at 7 p.m. ET on ESPNU.
2014
Tyus Jones
Point Guard
Apple Valley, Minn./Apple Valley
6-foot-2, 180 pounds
College:
Undeclared
Jones is a true point guard that pushes the pace, runs his team and makes great decisions off the ball screen in addition to being an excellent finisher for his size. He has an an all-business approach and is a winner.
NBA Comparisons:
Tony Parker
/Ray McCallum/John Stockton
Emmanuel Mudiay
Point Guard
Dallas/Prime Prep
6-5, 198
College:
Undeclared
Mudiay is a scoring point guard with great size and athletic ability that plays in full-attack mode and can also facilitate. He can take over the game offensively at times and is great at making plays at end-of-clock situations.
NBA Comparison:
Tyreke Evans
Chris McCullough
Power Forward
Bronx, N.Y./Brewster Academy
6-9, 210
College:
Syracuse
McCullough is a extra-long athletic forward that excels on the break and finishes above the rim on all clear paths. He rebounds and blocks shots to go along with being a capable multiple-position lockdown defender as well with great upside.
NBA Comparison:
Taj Gibson
Justin Jackson
Small Forward
Tomball, Texas/Homeschool Christian Youth Association
6-8, 190
College:
North Carolina
Jackson is a long and lean wing with a great feel for the game and a sweet shooting stroke and floater that is money from deep in the lane and along the baseline. Capable of scoring big numbers with a scoring package that extends to the arc.
NBA Comparisons:
Jeremy Lamb/Tayshaun Prince/Reggie Miller
Myles Turner
Center
Bedford, Texas/Euless Trinity
6-11, 225
College:
Undeclared
Turner is a post that is long with a great motor. He has an advanced face-up game with range to the arc. He can also put it on the floor and pass with accuracy in addition to being an elite shot blocker with off-the-charts upside.
NBA Comparisons:
Anthony Davis/LaMarcus Aldridge/ Tim Duncan/Theo Ratliff
Rashad Vaughn
Shooting Guard
Golden Valley, Minn./Findlay Prep
6-6, 206
College:
Undeclared
Vaughn is an attacking wing that excels on the break and can make scoring plays off the bounce in a variety of ways He is a tough matchup at the shooting guard position because he has range out to the arc and is relentless at attempting to make high-level scoring plays.
NBA Comparisons:
Jamal Crawford/Jerry Stackhouse
July, 9, 2013
Jul 9
12:07
PM ET
LAS VEGAS -- The third and final day of the
LeBron James Skills Academy
wrapped up on Monday with Florida beating Duke, 59-53, in the finals of the playoff bracket. Speedy PG
Lourawls Nairn
(Bel Aire, Kan./Sunrise Academy), rugged post
Angel Delgado
(Northfield, Mass./Redemption Academy) and versatile wing
Boubacar Moungoro
(Bradenton, Fla./IMG Academy) led the way for the winners, while Duke received an outstanding all-around performance from bully ball connoisseur
Isaiah Briscoe
(Newark, N.J./St. Benedicts).
Here are some superlatives from the final day of the elite skills academy.
To continue reading this article you must be an Insider
July, 8, 2013
Jul 8
12:50
PM ET
Editor's note: This is the latest entry in Dave Telep's July Road Trip blog. Throughout the month, Dave will check in each day he's on the road while covering some of the biggest basketball recruiting events in the country. He'll let you know where he's at, offer some highlights of the day and give a quick look at what's next.
LAS VEGAS -- Everyone was assembling. The stage was set for No. 10 rising senior
Myles Turner
(Euless, Texas/Trinity) to take on No. 2
Cliff Alexander
(Chicago/Curie). Unfortunately, the much-anticipated matchup didn't happen after a leg injury for Turner put this titanic tilt on ice.
Still, a long Day 2 at the
LeBron James Skills Academy
on Sunday and the first day of games allowed ample time to evaluate and gather intel on many premier players. Here are some nuggets from Day 2.
[+] Enlarge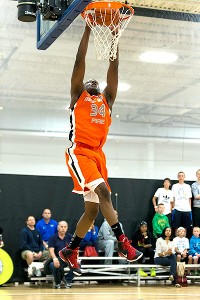 AP Photo/Damen Jackson via Triple Play New MediaDay 2 at the LeBron camp belonged to No. 2 recruit Cliff Alexander, who dominated both games he played.
No Myles, but plenty of Alexander
To continue reading this article you must be an Insider
June, 12, 2013
Jun 12
12:03
PM ET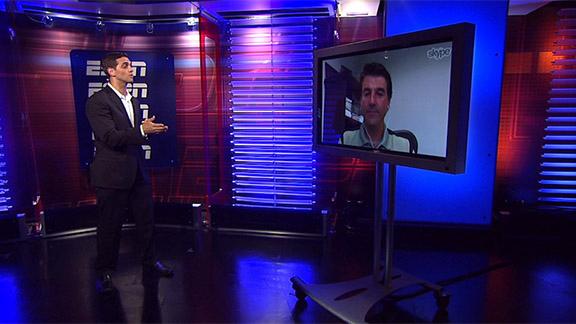 The new player rankings are out and the 2014 class of rising seniors has graduated from the ESPN 60 to its
initial full ESPN 100
. As this group of prospects takes center stage in a new recruiting cycle, here are 10 things you need to know about the Class of 2014.
1. Potential landscape-altering package deal
To continue reading this article you must be an Insider