NCB On The Trail:

Chinanu Onuaku
November, 20, 2013
Nov 20
10:12
AM ET
The early signing period will officially come to an end in a matter of hours. Before the clock strikes midnight, we look at some of the biggest winners and losers of the past eight days.
Winners
[+] Enlarge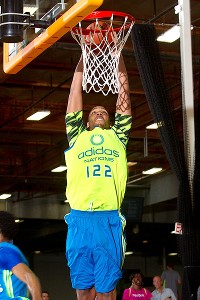 Jeff Hinds/adidasDuke is a big winner with the addition of Jahlil Okafor, the nations top-ranked overall prospect,
Duke
When the nation's top-ranked overall prospect and best point guard coordinate a dual announcement on national TV and flip over your hat, it's a win. Duke might not officially have the top-ranked recruiting class in the country just yet, but there's no denying it scored the biggest prize.
To continue reading this article you must be an Insider
November, 15, 2013
Nov 15
5:10
PM ET
By
RecruitingNation
| ESPN.com

Louisville coach Rick Pitino announced the signing of four ESPN 100 players on Friday.
Leading the way for the Cardinals is small forward
Shaqquan Aaron
(Seattle/Rainier Beach) along with point guard
Quentin Snider
(Louisville, Ky./Ballard), power forward
Jaylen Johnson
(Ypsilanti, Mich./Ypsilanti) and center
Chinanu Onuaku
(Upper Marlboro, Md./Riverdale Baptist).
Snider became the fourth recruit on Friday after decommitting from Illinois. He had originally committed to Louisville as a junior.
"This is a tremendous class that is deep, talented and all have great potential to improve," Pitino. "Not only is it a well-balanced group with outstanding basketball players, but they really fit our system. We look for offensive players who can be a triple-threat -- shoot, pass and beat their man off the bounce -- and this group can certainly do that."
November, 7, 2013
Nov 7
11:11
AM ET
With seven ESPN 100 commitments in as many days, the last week has been incredibly busy on the recruiting wire, but the best could still be yet to come with
Reid Travis
,
Cliff Alexander
,
Jahlil Okafor
and
Tyus Jones
all likely to make decisions in time to sign during the early signing period, which begins next week.
In case you missed any of last week's headlines, here's a rundown:
Devin Robinson
chose Florida over Indiana on Wednesday; later that night, big man
Michael Humphrey
picked Stanford over Arizona;
Devin Booker
started a busy Thursday by picking Kentucky over Missouri;
James Blackmon Jr.
pulled a surprise by spurning Kentucky to recommit to Indiana;
Kevon Looney
's commitment to UCLA was equally surprising, with most predicting Duke, Florida or Tennessee; former UCLA pledge
Trevon Bluiett
picked Xavier over Butler and Michigan State on Friday; and
Trey Lyles
chose Kentucky over Louisville on Tuesday.
That flurry of activity, along with the upcoming announcements, has brought more clarity to a lot of top national programs. Here's a look at some of the implications:
To continue reading this article you must be an Insider
October, 20, 2013
Oct 20
10:51
PM ET
Center/power forward
Myles Turner
(Bedford, Texas/Trinity), the No. 2 player in the ESPN 100, has returned home to Texas after spending the weekend at Ohio State, his first official visit.
To continue reading this article you must be an Insider
October, 9, 2013
Oct 9
10:04
AM ET
October, 4, 2013
Oct 4
4:53
PM ET
ESPN 100 big man
Chinanu Onuaku
(Upper Marlboro ,Md./Riverdale Baptist) kept everyone guessing until the end, but eventually he picked national champion Louisville over Georgetown, and Miami. Onuaku, younger brother of New Orleans Pelicans big man Arinze Onuaku, is a promising post player.
Why he committed:
The chance to play right away and to play for hall of fame coach Rick Pitino. The development of former Cardinal Gorgui Dieng made a big impression on Onuaku as he was looking for a program and coach that could help him grow and reach his potential.
What he brings:
A physically strong and long true center who understands his role. Quietly he improved this summer on the national circuit. His shot-blocking, rebounding and ability to screen and free up teammates are still the strength of his game. When he rebounds the ball it's with two hands on the defensive glass, and he is well schooled in throwing the outlet pass to start the break. At this stage of his career his defense is ahead of his offense. His physical presence in the paint is impressive. The one aspect of his game that's under the radar is that he is a good passing big man.
To continue reading this article you must be an Insider
October, 3, 2013
Oct 3
12:30
PM ET
Want to ask ESPN RecruitingNation national recruiting director Paul Biancardi a question about basketball recruiting? Tweet it to @PaulBiancardi using the hashtag #AskCoachB.
@PaulBiancardi #AskcoachB who do you think gets Chinanu Onuaku? Louisville Maryland Miami or Cincinnati? #AskcoachB

— terps (@UltimateTerpFan) September 14, 2013
Chinanu Onuaku
(Upper Marlboro, Md./Riverdale Baptist) is set to make his college decision on Friday afternoon, as he just returned home from his third and final visit to Georgetown. He also visited Louisville and Miami.
Louisville seems to be the frontrunner for the center at this point, as the Cardinals are coming off a national championship last season and currently hold the nation's No. 19 recruiting class. Miami losses a lot this season and so far it has done a very good job of building the nation's No. 20-ranked class. Both schools have a need for more size.
Never count out the local school, Georgetown, which sits in a good spot after getting the last visit.
It would be a surprise if he picks Maryland, which has assembled the No. 3 class and has a loaded roster with really no room. The Terps are mainly focusing on underclassmen right now. Cincinnati could be a dark horse in this race.
August, 30, 2013
Aug 30
11:00
AM ET
Each week, Dave Telep empties his notebook and tosses everything he's got into one file. We call it, hold your breath … Notebook. Where's the No. 1 package in high school basketball this weekend? What are the champs up to? Read on.
The national champions are going big this weekend. Big as in big men on campus. During the spring and summer, the red carpet was rolled out for Rick Pitino. This weekend, it's his turn to roll it out for a pair of prospects.
Louisville's top interior target, for a long time, has been former Indiana pledge
Trey Lyles
. The big man makes his return visit, this time officially, alongside center
Chinanu Onuaku
, brother of former Syracuse big man Arinze.
If you're recruiting against the Cardinals, you've got a heightened sense of awareness here. The Cardinals football team is talented, the environment will be live, and the Cardinals are armed with that national title hardware. They had players selected in both rounds of the NBA draft in June.
Big package hits the road
The Baylor Bears have the most to gain this weekend. The proposed package deal of
Tyus Jones
and
Jahlil Okafor
hits the visit trail for the first time this month and they'll do it together. The Bears have the nation's top overall player and No. 1 point guard on campus. How'd they do it? Jared Nuness, a Baylor staffer, is related to Jones and that helped. The competition is stiff and there's virtually no chance for a commitment this weekend, as the pair will take other visits.
A&M is visit weekend to keep an eye on
Will he or won't he? If it meant landing a few recruits would Johnny Manziel sign an autograph for a couple of key targets? We'll find out in a few weeks when the Alabama Crimson Tide roll into College Station to play the Aggies. As one might imagine, weekends of this magnitude bring out a host of players who want to take visits.
Sometimes we forget what it means to host players on a weekend like this one in mid-September. I've always been on the school of thought that you can do a better job with a lesser number of targets. Others want as many kids on campus for the experience. For the time being, it seems Texas A&M is going quality over quantity.
Point guard
Alex Robinson
is on the visit docket. He'll be accompanied by center
Elbert Robinson
. The other main Aggies target is
Justise Winslow
, but we haven't heard his visit list yet and he's also expected to announce another round of cuts in the near future.
Gamecocks kick off the season with a prospect party
Frank Martin wasn't messing on Thursday night. His South Carolina Gamecocks hosted North Carolina in the border battle. Why not invite some N.C. kids to the Palmetto State for an evening? Why not invite the best player in North Carolina?
Sophomore
Harry Giles
, the best prospect in the Class of 2016, headlined a serious pack of prospects. Forward TeMarcus Blanton,
Dante Buford
, guards P.J. Dozer,
Marcus Stroman
and sophomore
Seventh Woods
were on campus. You'd have to go back to the days when Bobby Cremins and George Felton took official visits to have a better collection of players than that.
Speaking of Buford, he'll knock out his five official visits in consecutive weekends beginning Sept. 4. First up is Oklahoma, followed by Miami, Oklahoma State, Southern Cal and South Carolina.

Enfield called Johnson on Day One
The moment you get your head coaching job, there's a precious window to pick up the phone and share the news. Southern Cal coach Andy Enfield did just that, from the office of his athletic director, once he was named coach. Enfield called senior
Stanley Johnson
. Enfield then hired Tony Bland and Jason Hart as assistants, two guys Johnson knows well. However, it's Arizona's Sean Miller and Kentucky's John Calipari with whom Johnson said he has the best relationships.
Johnson discussed the trend of kids from his high school, Mater Dei, transferring in college. All he could say was it won't happen to him. "I will not be a transfer."
Bouncing around
From the "we didn't see this coming" files. Small forward Boubacar Moungoro, a high school senior out of Florida, signed with a Spanish pro team on Thursday. In July, he was slow to produce a list. Now we know why.
To continue reading this article you must be an Insider
August, 28, 2013
Aug 28
9:00
AM ET
After reviewing the July notes, a number of players popped onto the radar. Whether they make any top 100 lists is to be determined, but they are candidates. Frankly, this summer could yield more change than usual in a list of this nature. I'd pay close attention to the next 100 list because I'd bet the ESPN staffers shake it up and you see a host of new faces.
If the new list had PF
Michael Humphrey
(didn't see him in July), SG
Matthew Fisher-Davis
, SG
Bryant McIntosh
, PF
Yante Maten
, F Bonzie Colson, PG
Lamonte Bearden
or SG
B.J. Stith
, it wouldn't be met with much resistance as those prospects each put together strong summers; some are better players than prospects and that's a factor.
Ten Non-100 Potential Risers
To continue reading this article you must be an Insider
August, 20, 2013
Aug 20
11:18
AM ET
Editor's note: Every week in "Starting 5," we'll roll out five stories, themes and nuggets from the basketball recruiting world to set the table with the stories that need to be told and give you a leg up on the watercooler conversations around the office.
This week we look at three point guards using different lenses, what plans KU has for Late Night in the Phog, the recruiting revivals at UConn and Minnesota plus reduced lists from bigs
Paul White
and
Makinde London
.
To continue reading this article you must be an Insider
July, 29, 2013
Jul 29
2:42
PM ET
LAS VEGAS -- The fifth and final day at the
elite AAU events in Las Vegas
on Sunday had a little bit of everything.
It began with a lights-out shooting performance from ESPN 100 point guard
Riley LaChance
(Brookfield, Wis./Brookfield Central), followed by a spectacular scoring outburst by ESPN 60 shooting guard
Tyler Dorsey
(Los Angeles/St. John Bosco).
As the day wore on, ESPN 100 Maryland commit
Romelo Trimble
(Arlington, Va./Bishop O'Connell) found his shooting groove while 2015 shooting guard
Jeffrey McClendon
(Pasadena, Calif./Pasadena) proved that playing lockdown defense can garner attention as well.
Finally, the last game of the day was a tilt between two of the more highly acclaimed 2016 ESPN 25 prospects in
Deadrick Lawson
(Memphis, Tenn./Hamilton) and
Joe Hampton
(Hyattsville, Md./DeMatha), with Lawson leading his Team Penny to the U15 championship over Hampton's DC Assault squad.
Here's a closer look at some of the best performances from Day 5 at the Las Vegas Classic and Las Vegas Fab 48.
To continue reading this article you must be an Insider
July, 29, 2013
Jul 29
12:57
PM ET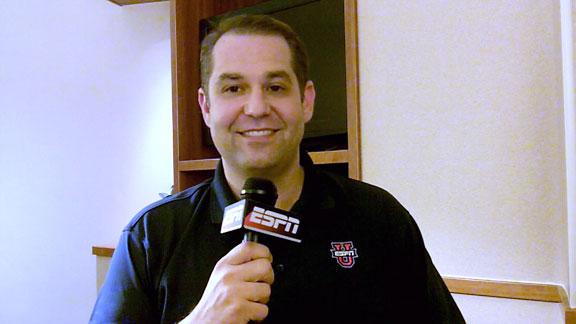 Editor's note: This is the final entry in Dave Telep's July Road Trip blog. Throughout the month, Dave checked in each day he was on the road while covering some of the biggest basketball recruiting events in the country, from Las Vegas to South Carolina to Indianapolis to Georgia to Orlando and back to Vegas to close things out.
LAS VEGAS -- That's it? It's over? When the July recruiting period ends, there's no parade and no season-ending party -- only a slew of dreary players, coaches and scouts who are all too happy to pack up and head home.
For me, the month started in Las Vegas at the
LeBron James Skills Academy
and ended here as well with a trio of
elite Vegas AAU events
over the weekend. For the last entry in my July road trip blog, here's a look at the storylines that stood out on Sunday in Las Vegas, including items on ESPN 100 guards
Romelo Trimble
and
Isaiah Whitehead
, the search for big men and some recruiting news and notes.
To continue reading this article you must be an Insider
July, 27, 2013
Jul 27
1:07
PM ET
LAS VEGAS -- The third and final day of pool play Friday at the
elite Las Vegas events
was filled with a little bit of everything.
ESPN 100 point guard
Jordan McLaughlin
appears to be back to his old self as he sliced and diced with impeccable passing, smooth shooting and cat-quick drives. Speaking of quickness, ESPN 60 point guard
Hyron Edwards
has that highly coveted second gear. And then there's ESPN 100 shooting guard
Trey Kell
, who came to Vegas with minimal fanfare outside of the West Coast. At this stage, however, there isn't a hotter 2014 prospect out west than Kell.
Here's a closer look at some of the top performances on Day 3 in Vegas at the adidas Super 64 and Las Vegas Fab 48. Bracket play begins Saturday and continues Sunday.
To continue reading this article you must be an Insider