NCB On The Trail:

Brandon Austin
October, 17, 2013
10/17/13
9:00
AM ET
The ACC, SEC, Pac-12, Big East and AAC all held their annual media days this week, with the Big 12 and Big Ten scheduled to follow suit next week. That means we're seeing a variety of preseason coaches' polls identifying the top teams, players and freshmen in each conference.
From a recruiting perspective, one of the most interesting aspects of the preseason polls is finding the discrepancies between our final ESPN 100 rankings and coaches' expectations just a few months later.
[+] Enlarge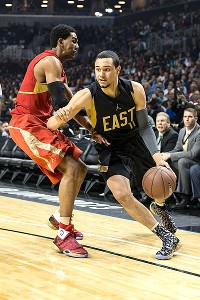 AP PhotoFreshman Tyler Ennis will likely play big minutes at point guard for Syracuse.
The reality is that player rankings and preseason polls are projecting two different things, so sometimes the highest-ranked players coming out of high school aren't the ones coaches expect to make the most immediate impact as college freshmen.
Our ESPN rankings are based on three weighted criteria: NBA potential, projected college impact and high school productivity. Preseason polls are only relevant to the second and have a narrower lens since they're only considering the upcoming season and not the entire scope of a college career.
The other major difference between final recruit rankings and preseason college polls is the presence of variables. Opportunity and fit, both with style of play and current personnel, are exceptionally important when assessing how impactful freshmen can be in their debut season but aren't relevant when calculating final rankings coming out of high school.
With those variances in mind, here's a look at five college freshmen whose immediate impact should exceed their final ESPN 100 ranking in the Class of 2013.
September, 20, 2013
9/20/13
9:28
PM ET
By
Dave Telep
| ESPN Insider
Truth? It's not a big campus visited weekend. Take a look at the pedestrian football schedule and you'll see what I mean. However, there are a few stragglers on campus this weekend, some of which are crucial to a few programs this year and next.
To continue reading this article you must be an Insider
August, 23, 2013
8/23/13
8:47
AM ET
By
RecruitingNation
| ESPN.com
Big Ten conference
Ohio State
Mickey Mitchell
SF Plano, Texas/Plano West
HT: 6-foot-6 WT: 210 pounds
Class of 2015
Positional Rank: 31
Stars: 4
ESPN 60: 31
Big East conference
Seton Hall
Angel Delgado
PF Troy, N.Y./Huntington Prep
HT: 6-8 WT: 215
Class of 2014
Positional Rank: 16
Stars: 4
ESPN 100: 63
Pac-12 conference
Arizona
Craig Victor
PF New Orleans/Findlay Prep)
HT: 6-8 WT: 205
Class of 2014
Positional Rank: 5
Stars: 4
ESPN 100: 31
ACC
Syracuse
Kaleb Joseph
PG Nashua, N.H./Cushing Academy
HT: 6-3 WT: 165
Class of 2014
Positional Rank: 10
Stars: 4
ESPN 100: 51
Maryland
Trayvon Reed
C Snellville, Ga./Shiloh
HT: 7-1 WT: 210
Class of 2014
Positional Rank: 9
ESPN 100: 84
SEC
Missouri
JaKeenan Gant
PF Springfield, Ga./Effingham County
HT: 6-8 WT: 210
Class of 2014
Positional Rank: 7
Stars: 4
ESPN 100: 37
Tennessee
C.J. Turman
C Madison, Ga./Morgan County
HT: 6-9 WT: 215
Class of 2014
Positional Rank: 15
Stars: 4
Alabama
Brandon Austin
SF Montgomery, Ala./Carver
HT: 6-5 WT: 180
Class of 2015
Positional Rank: 14
Stars: 4
Big West conference
UC-Santa Barbara
Justin Burks
SF Las Vegas/Arbor View
HT: 6-5 WT: 180
Class of 2014
Positional Rank: NA
Stars: 2
CAA
Drexel
Rashann London
SG Philadelphia/Roman Catholic
HT: 6-2 WT: 180
Class of 2014
Positional Rank: NA
Stars: Evaluation Pending
Ivy League
Princeton
Mike LeBlanc
SF Dover, N.H./New Hampton School
HT: 6-6 WT: 185
Class of 2014
Positional Rank: NA
Stars: Evaluation Pending
NEC
Farleigh Dickinson
Devin Eke
PF Scotch Plains, N.J./Union Catholic
HT: 6-6
Class of 2014
Position Rank: NA
Stars: Evaluation Pending
America East
Binghamton
Justin McFadden
SG Ardmore, Pa./Lower Merion
HT: 6-5 WT: 200
Class of 2014
Positional Rank: NA
Stars: Evaluation Pending
Vermont
Brandon Hatton
SG Covington, Ky./Dixie Heights
HT: 6-2
Class of 2014
Positional Rank: NA
Stars: Evaluation Pending
Cam Ward
SG Marshall, Wisc./Marshall
HT: 6-2 WT: 155
Class of 2014
Positional Rank: NA
Stars: Evaluation Pending
July, 18, 2013
7/18/13
10:18
AM ET
The first July evaluation period has come and gone, but not before a number of elite prospects made their mark on the court at events like the Nike Peach Jam, adidas Invitational and the LeBron James Skills Academy.
We brought back national recruiting director Paul Biancardi's #AskCoachB mailbag to answer any questions you may have on the busy month and which recruits and classes are making waves. As a reminder, you can always get Paul's take on any prospect or find about new recruiting activity anytime on Twitter using the hashtag.
In this week's mailbag, Paul examines UNC's possibilities for landing an elite shooting guard in its 2014 class, what Ohio State should add to its second-ranked recruiting class, Ed Cooley turning Providence into a serious player in recruiting and whether
Justise Winslow
and Florida recruit
Brandone Francis
are in line for a bump in ranking in the next ESPN 100.
So let's get rolling with your questions.
---
@PaulBiancardi With the great play by Justise Winslow in the U19 & Peach Jam, does he crack top 10 & will he join Tyus/Okafor? #AskCoachB

— Michael Torres (@michaeltorres03) July 16, 2013
He comes home with a gold medal from Prague, and I heard he was a very valuable member of that U-19 team. His ability to pass, defend, handle the ball, combined with his basketball acumen impact without needing to score makes him special. At times, he can even bring the ball up the floor with a point guard's mentality. He's part of a small group of guys outside the top 10 who have a strong chance at cracking the top 10 in our next rankings.
On his status in the proposed package deal of
Tyus Jones
and
Jahlil Okafor
, I think Winslow would like for it to happen. But after going overseas and playing this summer, he'll see his decision and future should be more about a school that fits his needs rather than trying to fit his needs with someone else's. I'm sure all three are trying to make it happen, but the longer it goes the less of a possibility it will happen.
---
@PaulBiancardi @RecruitingESPN does the commitment of Jalen Lindsey cement the fact that PC and Ed Cooley are serious players in recruiting?

— Craig Leighton (@Craigl78) July 17, 2013
Providence has been a legit team in recruiting from the moment Ed Cooley got hired. That's how he won at Fairfield and he did a tremendous job evaluating talent as an assistant at Boston College. Now as the leader at Providence, he's not only doing a great job evaluating talent, he's bringing those top guys in. When you look at Ricky Ledo (No. 21 in 2012),
Kris Dunn
(No. 23 in 2012) and
Brandon Austin
(No. 56 in 2013), that's three big players he signed, and then add a commit from current ESPN 100 SF
Jalen Lindsey
, and you can see how big of an impact he's had in a short time. Providence recruiting was instantly upgraded with his hire and the Friars are in great hands going forward.
---
@PaulBiancardi Who is most likely to commit to Ohio State next? Could the package deal swing toward OSU of Jahlil and Tyus? #AskCoachB

— Jesus Urbina (@DiggzBuckEye559) July 17, 2013
I will say I love the Buckeyes class right now as it boasts skill, versatility and two guys who can flat out score in
Keita Bates-Diop
and
D'Angelo Russell
. With that said, it's obvious they still need to add some size to the frontcourt despite earning a pledge from three-star center
David Bell
.
I can't say who they will land but some of their biggest targets on their board are top-10 recruits
Jahlil Okafor
and
Myles Turner
. Now the Buckeyes are in the running to win the Okafor and Jones sweepstakes, but if they miss out, Turner would be a great consolation prize. Other potential targets are forwards
Leron Black
and
Paul White
and center
Elbert Robinson
, all of whom would be great gets for the No. 2-ranked team in the ESPN Class Rankings.
---
@PaulBiancardi I read the updates about the 5 schools who lead for Jones/Okafor. Any word on when they might decide? #AskCoachB

— Patrick Clark (@PatrickClark82) July 15, 2013
I see them finishing out the July and August event season and then taking some official visits together in the fall. I would say the earliest we can expect a decision is the early signing period (mid-November). They still need to take some official visits and sort things out before making a pledge.
---
@PaulBiancardi #AskCoachB which 2014 SG will get the next offer from Roy and UNC?

— Ryan Hunt (@RyanHuntMuzik) July 15, 2013
The Tar Heels are looking for someone who can score and shoot with range. Someone like No. 11 senior prospect
Rashad Vaughn
would fit that bill. He's the most dynamic scoring guard in the class and he does it from all three levels: Behind the line, inside the arc and driving to the basket. This guy has a knack for putting the ball in the basket, he just needs to cut down on his attempts and become more efficient. If Vaughn is out the mix, the Heels may go after Georgia scorer
Ahmed Hill
, the No. 33 overall player and eighth-rated 2-guard.
---
@PaulBiancardi @RecruitingESPN will Brandone Francis be moving up in the 2014 rankings?

— Damian Jerome (@Jeromestackin14) July 17, 2013
He's an intriguing prospect who has had a good summer. I saw him play well at adidas and at the LeBron camp and he had a strong showing at NBA camp. He has a strong body and the ability to score on the perimeter and in the paint or post up to get buckets down low. I like his skill level and IQ and his body. When you factor all those things, he has a chance to move up depending on how strong he finishes the summer. Right now he's at 34, but he has the ability to crack the top 25.
---
@PaulBiancardi - On a scale from 1-10, do you focus more on offensive or defensive tendencies when scouting!? Thx

— Coach Corbin (@coachcorbin150) July 1, 2013
When most coaches recruit, they think about finding the right fit and need in a prospect. When you talk about fit and need, it usually revolves around a player's offense, skill level, size at the position and basketball IQ. Some coaches will look at defensive attributes depending on their scheme, but in large part coaches recruit more for offense, IQ and athleticism because they can teach defense later in the process. It's harder to teach a guy to be more skilled or athletic than it is to teach defense.
I look at scouting through a similar lense when evaluating players for the ESPN 100 rankings. You look for attributes and qualities that will make a good offensive player a strong defender, whether it's his ability to rebound, stay in front of guys or take charges. For big guys, I have put an emphasis on how they defend ball screens, cover the low post and hedge out as well as skills and IQ.
November, 19, 2012
11/19/12
8:59
PM ET
By
RecruitingNation
| ESPN Insider
ESPN 100 SF
Brandon Austin
(Philadelphia/Imhotep Charter) verbally committed to Providence on Monday, ESPN.com has learned.
The 6-foot-6 wing originally committed to Penn State as a junior before re-opening his recruitment last summer. He also held offers from Connecticut, Georgetown, Rutgers, Temple and Xavier.
To continue reading this article you must be an Insider
July, 29, 2012
7/29/12
4:06
PM ET
Multiple sources reported over the weekend that 6-foot-9 power forward
Julian Moore
(Philadelphia/Germantown Academy) has committed to Penn State.
To continue reading this article you must be an Insider
July, 22, 2012
7/22/12
7:59
PM ET
By
Dave Telep
| ESPN Insider
Brandon Austin
(Philadelphia/Imhotep Charter), ranked No. 90 in the ESPN 100, pulled back from his Penn State commitment on Sunday. According to one of the administrators of his travel team, it's been brewing and wasn't directly related to the news surrounding the Penn State football team.
"The kid said he rushed the commitment and wants to open it back up and see what's out there," Lonnie Lowry of Team Philly said.
To continue reading this article you must be an Insider
February, 13, 2012
2/13/12
11:38
AM ET
Over the weekend, two programs landed junior targets. Georgia went for a possible Brandon Jennings clone while Penn State dipped into Philadelphia for its latest wing.
Georgia coach Mark Fox and his staff did their homework and after a couple of up-close evaluations, the Dawgs moved on point guard
J.J. Frazier
(Ludowici, Ga./Faith Baptist), who was also drawing interest from Virginia, Clemson, George Mason, Murray State and Jacksonville.
"He's a little guy, he's really about 5-9 but quick as lightning," Frazier's AAU coach, Jessie Fleming, said. "What separates him as a point guard is that he really can shoot the ball."
After watching a few YouTube clips he does look a little like Jennings in that he's a lefty who can stop and drill the midrange jumper. He's an exciting player and we'll see how he holds up through the summer.
Up in State College, Pat Chambers went for athleticism with his latest recruit. Small forward
Brandon Austin
(Philadelphia/Imhotep Charter) is a raw athlete with a lot of upside.
Austin has a classic body of an athletic wing and if he can fine-tune his game in terms of understanding and taking his basketball feel up a notch, he'll be a dangerous player.
February, 9, 2012
2/09/12
11:48
PM ET
Junior small forward
Brandon Austin
(Philadelphia/Imhotep Charter) ended his recruitment on Thursday with an oral pledge to Penn State. The news was first announced via his Twitter account and confirmed through multiple sources.
Austin, a 4-star wing who was previously ranked in the ESPNU Super 60, chose the Nittany Lions over Georgetown, Rutgers, Syracuse, Villanova, Miami and Tennessee.
ESPN.com Recruiting Coordinator Adam Finkelstein watched Austin take off for Team Philly on the AAU circuit. "He's a big versatile guard who has a ton of upside," said Finkelstein. "He has the size and skill level to play all three backcourt positions, including the point, and as he continues to grow into his body he's only going to continue to get better.
To continue reading this article you must be an Insider