NCB On The Trail:

Alex Robinson
September, 20, 2013
9/20/13
9:27
AM ET
By
RecruitingNation
| ESPN.com
SEC
Kentucky
Tyler Ulis
PG Matteson, Ill./Marian Catholic
HT: 5-9 WT: 150
Class of 2014
Positional Rank: 8
Stars: 4
ESPN 100: 38
Vanderbilt
Matthew Fisher-Davis
SG Charlotte, N.C./Charlotte Christian
HT: 6-5 WT: 175
Class of 2014
Positional Rank: 28
Stars: 4
Texas A&M
Alex Robinson
PG Arlington, Texas/Timberview
HT: 6-1 WT: 170
Class of 2014
Positional Rank: 20
Stars: 4
ESPN 100: 89
Big Ten
Purdue
Vincent Edwards
SF Middletown, Ohio/Middletown
HT: 6-7 WT: 200
Class of 2014
Positional Rank: 22
Stars: 4
ESPN 100: 80
Big East
Georgetown
Paul White
PF Chicago/Whitney Young
HT: 6-8 WT: 185
Class of 2014
Positional Rank: 14
Stars: 4
ESPN 100: 57
Seton Hall
Isaiah Whitehead
SG Brooklyn, N.Y./Lincoln
HT: 6-4 WT: 195
Class of 2014
Positional Rank: 10
Stars: 4
ESPN 100: 35
ACC
Florida State
Josh Gray
PG Houston/Odessa College (Juco)
HT: 6-1 WT: 175
Class of 2014
Virginia Tech
T.J. Lang
SF Mobile, Ala./McGill-Toolen Catholic
HT: 6-7 WT: 195
Class of 2014
Positional Rank: NA
Stars: Evaluation Pending
Virginia
Jack Salt
C Auckland, New Zealand/Westlake
HT: 6-10
Class of 2014
Positional Rank: NA
Stars: Evaluation Pending
Wake Forest
Rondale Watson
SG Lewisburg, W.Va./Greenbrier East
HT: 6-3
Class of 2014
Positional Rank: NA
Stars: Evaluation Pending
American Athletic
Cincinnati
Quadri Moore
C Linden, N.J./Linden
HT: 6-8 WT: 225
Class of 2014
Positional Rank: 8
Stars: 4
ESPN 100: 83
Gary Clark
PF Clayton, N.C./Clayton
HT: 6-7 WT: 215
Class of 2014
Positional Rank: 26
Stars: 4
Central Florida
Alex Owens
PF Orlando, Fla./Oak Ridge
HT: 6-8 WT: 230
Class of 2015
Positional Rank: 9
Stars: 4
ESPN 60: 44
Corey Sanders
PG Lakeland, Fla./IMG Academy
HT: 6-1 WT: 185
Class of 2015
Positional Rank: NA
Stars: 3
Atlantic 10
Virginia Commonwealth
Terry Larrier
SF Bronx, N.Y./The Phelps School
HT: 6-7 WT: 200
Class of 2014
Positional Rank: 15
Stars: 4
ESPN 100: 59
Richmond
Paul Friendshuh
PF New Prague, Minn./New Prague
HT: 6-9 WT: 205
Class of 2014
Positional Rank: NA
Stars: Evaluation Pending
Conference USA
Tulsa
Mitch Wilbekin
PG Gainesville, Fla./The Rock School
HT: 6-1 WT: 160
Class of 2014
Positional Rank: NA
Stars: 2
UTEP
Trey Touchet
SG Lafayette, La./St. Thomas More
HT: 6-2 WT: 175
Class of 2014
Positional Rank: NA
Stars: Evaluation Pending
Middle Tennessee State
DeVante Jones
SG Chicago/Southwest Tennessee C.C. (Juco)
HT: 5-11
Class of 2014
Mountain West
Boise State
David Wacker
C Converse, Texas/Judson
HT: 6-9 WT: 235
Class of 2014
Positional Rank: NA
Stars: Evaluation Pending
Air Force
Jacob Van
PG Mansfield, Texas/Lake Ridge
HT: 6-2
Class of 2014
Positional Rank: NA
Stars: Evaluation Pending
Southern Conference
Davidson
Rusty Reigel
SG Charlotte, N.C./Charlotte Latin
HT: 6-2 WT: 190
Class of 2014
Positional Rank: NA
Stars: 2
Western Carolina
Alex Hicks
PF Phenix City, Ala./Glenwood School
HT: 6-8 WT: 195
Class of 2014
Positional Rank: NA
Stars: Evaluation Pending
NEC
Mount St. Mary's
Troy Henderson
SF Charlotte, N.C./Gaston Day School
HT: 6-6 WT: 175
Class of 2014
Positional Rank: NA
Stars: Evaluation Pending
St. Francis (Pa.)
Basil Thompson
SF Philadelphia/Imhotep Institute
HT: 6-6 WT: 175
Class of 2014
Positional Rank: NA
Stars: 2
Sacred Heart
Cane Broome
PG East Hartford, Conn./St. Thomas More
HT: 6-0 WT: 160
Class of 2014
Positional Rank: NA
Stars: 2
MAC
Western Michigan
Drake Lamont
C Plantation, Fla./American Heritage
HT: 6-9 WT: 200
Class of 2014
Positional Rank: 39
Stars: 3
Ball State
Sean Sellers
SF Greensburg, Ind./Greensburg
HT: 6-6 WT: 175
Class of 2014
Positional Rank: NA
Stars: 2
Big South
Liberty
A.C. Reid
SF Spring Branch, Texas/Smithson Valley
HT: 6-5 WT: 190
Class of 2014
Positional Rank: NA
Stars: Evaluation Pending
UNC-Asheville
Kevin Vannatta
SG Columbus, Ohio/Upper Arlington
HT: 6-2
Class of 2014
Positional Rank: NA
Stars: Evaluation Pending
Big Sky
Montana State
Ghassan Nehme
SG Colorado Springs, Colo./Cheyenne Mountain
HT: 6-3 WT: 174
Class of 2014
Positional Rank: NA
Stars: Evaluation Pending
Weber State
Hayden Hunter
PG North Richland Hills, Texas/Richland
HT: 5-11
Class of 2014
Positional Rank: NA
Stars: Evaluation Pending
Idaho State
Geno Luzcando
PG Mount Pleasant, Utah/Wasatch Academy
HT: 6-3
Class of 2014
Positional Rank: NA
Stars: Evaluation Pending
America East
UMass-Lowell
Josh Gantz
PF Grove City, Ohio/Bishop Ready
HT: 6-6 WT 185
Class of 2014
Positional Rank: NA
Stars: Evaluation Pending
Dontavious Smith
PF Springhill, La./North Webster
HT: 6-8
Class of 2014
Positional Rank: NA
Stars: Evaluation Pending
Binghamton
John Schurman
SG Manlius, N.Y./Fayetteville-Manlius
HT: 6-5
Class of 2014
Positional Rank: NA
Stars: Evaluation Pending
Missouri Valley
Bradley
Donte Thomas
SF South Holland, Ill./Thornwood
HT: 6-6
Class of 2014
Positional Rank: NA
Stars: Evaluation Pending
Northern Iowa
Luke McDonnell
PF Dubuque, Iowa/Dubuque Senior
HT: 6-8 WT: 200
Class of 2015
Positional Rank: NA
Stars: Evaluation Pending
OVC
Murray State
JayQuan McCloud
PG North Chicago, Ill./North Chicago Community
HT: 6-4 WT: 180
Class of 2014
Positional Rank: NA
Stars: Evaluation Pending
Tennessee-Martin
Chris Clark
SG Columbia, Mo./Hickman
HT: 6-3 WT: 175
Class of 2014
Positional Rank: NA
Stars: Evaluation Pending
SIU-Edwardsville
C.J. Carr
PG Rock Island, Ill./Rock Island
HT: 5-6 WT: 145
Class of 2014
Positional Rank: NA
Stars: Evaluation Pending
Horizon League
Oakland
Alek Frascone
PG Washington Township, Mich./Eisenhower
HT: 6-0 WT: 150
Class of 2014
Positional Rank: NA
Stars: Evaluation Pending
Summit League
South Dakota State
Mike Daum
PF Kimball, Neb./Kimball
HT: 6-9
Class of 2014
Positional Rank: NA
Stars: Evaluation Pending
Atlantic Sun
Florida Gulf Coast
Eric Moeller
C St. Louis/Central Florida C.C. (Juco)
HT: 6-11 WT: 200
Class of 2014
Mercer
Demetre Rivers
PF Goose Creek, S.C./Stratford
HT: 6-6
Class of 2014
Positional Rank: NA
Stars: Evaluation Pending
Ivy League
Princeton
Alec Brennan
PF Weston, Mass./Milton Academy
HT: 6-10 WT: 225
Class of 2014
Positional Rank: 35
Stars: 3
Brown
Patrick Triplett
PG St. Louis/Bayless Senior
HT: 6-4 WT: 200
Class of 2014
Positional Rank: NA
Stars: Evaluation Pending
WCC
Pepperdine
Nate Gehring
C Waukee, Iowa/Waukee
HT: 6-10 WT: 220
Class of 2014
Positional Rank: 44
Stars: 3
MAAC
Quinnipiac
Ayron Hutton
SG Virginia Beach, Va./Cape Henry
HT: 6-3
Class of 2014
Positional Rank: NA
Stars: Evaluation Pending
September, 17, 2013
9/17/13
1:02
PM ET
Texas A&M coach Billy Kennedy took another excellent point guard off the board on Tuesday when ESPN 100 playmaker
Alex Robinson
(Arlington, Texas/Timberview) committed to the Aggies over offers from Vanderbilt, Florida State and Pittsburgh and recent interest from Louisville.
"I had a great relationship with the coaching staff, I loved the campus and living conditions at A&M," Robinson said.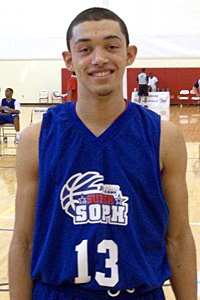 Reggie RankinESPN 100 PG Alex Robinson is a big pickup for Texas A&M.
The four-star prospect, who is ranked No. 89 overall in the ESPN 100, is fresh off his official visit to College Station over the weekend. This is a huge pickup for Kennedy and his staff, starting with the fact that Robinson is an in-state, nationally recognized recruit at a position that is in incredible demand throughout the country due to lack of high-major depth at the position.
"Coach Kennedy was straightforward with me, and I like that," Robinson said. "Coaches talked to me a lot, but Coach Kennedy backed up what he said with facts, and when I did my research those facts were true."
September, 13, 2013
9/13/13
1:30
PM ET
By
Dave Telep
| ESPN Insider
Who's that guy headed to Xavier? Buffalo? They landed a top-100 player? Plus who's spending the weekend in College Station? All this and more as we empty the notebook.
Hanging with Johnny Football
[+] Enlarge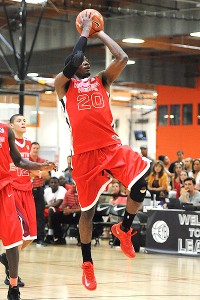 Chris Williams/Icon SMIESPN 100 wing Justise Winslow is looking to visit Texas A&M this weekend and Florida next weekend.
The biggest football extravaganza this weekend takes us to College Station, Texas, where Johnny Football faces the best professional college team in the country, Alabama. Can you imagine how many recruits requested a campus visit that weekend?
To continue reading this article you must be an Insider
August, 20, 2013
8/20/13
11:18
AM ET
By
Dave Telep
| ESPN Insider
Editor's note: Every week in "Starting 5," we'll roll out five stories, themes and nuggets from the basketball recruiting world to set the table with the stories that need to be told and give you a leg up on the watercooler conversations around the office.
This week we look at three point guards using different lenses, what plans KU has for Late Night in the Phog, the recruiting revivals at UConn and Minnesota plus reduced lists from bigs
Paul White
and
Makinde London
.
To continue reading this article you must be an Insider
August, 13, 2013
8/13/13
9:00
AM ET
Reading through the typical recruiting jargon can be a difficult task, especially for the untrained eye, but suffice it to say that things aren't always what they seem.
Some of the most misleading statements often include sayings like, "He has offers from," or "He chose school X over," or "He decommitted from," primarily because they consider only one side of the process.
The fact of the matter is that schools choose prospects as much as prospects choose schools, and the former is no less fluid than the latter.
What does that mean? It means that sometimes when a tweet or recruiting article says Player X committed to School Y over offers from Schools A, B, C and D, what it can really mean is that Schools A, B, C and D offered Player X at some point in the past, but are no longer recruiting him, so he decided to commit to School Y.
Now, why would a school suddenly stop recruiting a prospect? Because they suddenly realized he wasn't good enough? Possibly, but more likely it's because they have since received a commitment from, or feel like they are on the verge of a commitment from, someone else at the same position whom they hold in a little higher esteem.
So, with that in mind, we're going to rewind through a
particularly busy few weeks
in the national point guard market and make an attempt to translate the real story. Whether it was a prospect who made a commitment or cut his list, we'll tell you which schools are in, which are out, the real story behind whose decision it was, and the bottom line for each prospect. Then we'll circle back and tell you which two ESPN 100 point guards are still uncommitted and open to new suitors.
[+] Enlarge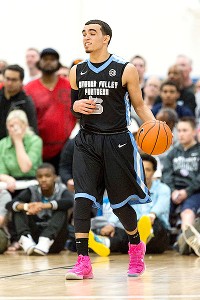 AP Photo/Damen Jackson No. 1 PG Tyus Jones recently reaffirmed his desire to play college hoops with No. 1 overall recruit Jahlil Okafor.
News:
Tyus Jones
(Apple Valley, Minn./Apple Valley) reaffirms his intent to go to school with
Jahlil Okafor
(Chicago, Ill./Whitney Young)
In:
Baylor, Duke, Kansas, Kentucky, Michigan State, Ohio State
Out:
Minnesota
Real story:
Minnesota is still on Jones' list of seven, but the Gophers aren't on Okafor's list. That, in addition to the fact Richard Pitino and his staff could be seen prioritizing other targets this summer, is indication enough that Jones isn't likely to be staying home next season. The latest twist in the story is Okafor's AAU coach, Mike Irvin, going on record saying there is a great chance Duke lands Jones, while Okafor's camp has denied the Blue Devils are the leader for the package deal.
Bottom line:
Jones and Okafor do want to go to school together, but they don't yet agree on where. Jones appears pretty set on Duke, but Okafor not quite as much at this point. ESPN 100 SF
Justise Winslow
(Houston/Saint John's) is also part of the conversation, making this potentially one of the biggest package deals in recent history.
To continue reading this article you must be an Insider
August, 2, 2013
8/02/13
11:27
AM ET
By
Dave Telep
| ESPN Insider
Thanks to a busy July and a run of news this week following the end of the July evaluation periods, the return of our weekly Friday recruiting notebook has no shortage of big-time recruiting info. From a big decommitment for Louisville to a host of trimmed up college lists to notes from a busy month on the road, we've got you covered.
To continue reading this article you must be an Insider
July, 31, 2013
7/31/13
9:57
AM ET
By
Dave Telep
| ESPN Insider
To understand what just happened in college basketball recruiting, let me use a golf analogy. In golf majors, Saturdays set the players up for the final round and determine the pairings for the homestretch.
In college basketball, the month of July is like that Saturday of a golf major. Coaches fly coast to coast, some to evaluate and others simply to babysit prospects. It's a grueling 15 days on the road -- separated into three different five-day open evaluation periods -- and even the seasoned veterans will tell you that. Technology has made it easier to keep track of the recruits, but travel is travel, and so much time in different cities is rough on the bodies of the players and coaches.
Still, July remains the single most important month on the recruiting calendar. It sets the tone for in-home and official visits. It helps set up the final round and determines the pairings for the homestretch.
For the better part of July 6-28,
I was on the road
. Every day was something new and an opportunity to gather intelligence on players and pay attention to the world of college basketball recruiting. If you didn't learn something daily, you weren't doing your job.
Here are 10 key things I learned this month on the recruiting trail, from package deals to the loaded 2016 class and everything in between.
To continue reading this article you must be an Insider
July, 17, 2013
7/17/13
12:02
PM ET
By
Dave Telep
| ESPN Insider
The first half of a July on the recruiting trail was more of a sprint than anything else. July 6-14 was a convergence of talent and time zones. From Las Vegas to North Augusta, S.C., to Indianapolis, I felt like I was in a new city daily with waves of players being tossed at me.
After having a chance to get my bearings, here are 10 things that stood out from the
cross-country travel assignment
. This entails info not only from the
Nike Peach Jam
and
adidas Invitational
during the first open evaluation period (July 10-14) but also from the
LeBron James Skills Academy
(July 6-8) before the live period began. The second half of July includes two more open eval periods July 17-21 and 24-28.
1. White was on the verge of elevating his game
To continue reading this article you must be an Insider