Prospects play GM, make their top pick
June, 21, 2014
6/21/14
1:21
PM ET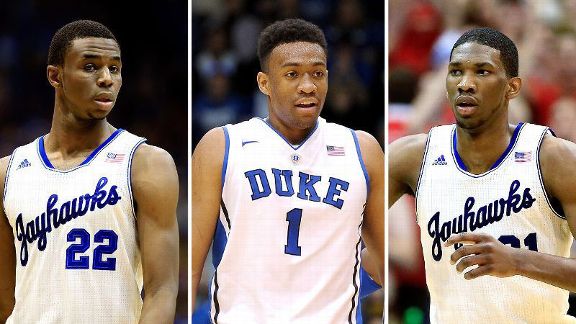 Getty ImagesJabari Parker (center) is more NBA ready in the eyes of prospects than former Kansas teammates Andrew Wiggins (left) and Joel Embiid.
CHARLOTTESVILLE, Va. -- The NBA draft is Thursday night. With the top pick the Cleveland Cavaliers are expected to choose from among
Andrew Wiggins
,
Jabari Parker
and
Joel Embiid
.
The draft was a hot topic this week among the most talented high school prospects in the country at the NBPA Top100 camp.
Who would they take with the No. 1 overall selection? The results might surprise you.
Parker in landslide
Thon Maker
ESPN 60 No. 1
"Whew, I don't know if I could make that call. I would say Jabari Parker. His body is ready right now and his mentality is catching up to it. When he played at Duke, I think that helped him a lot. He had to make quicker moves, and in the league when he gets the ball, he has three seconds to make his move or he will be corralled with double teams. I also think his passing is nice, too, and he can shoot the ball. So in my eyes, I think he is ready now. His body is ready, his game is there and I would take him."
Ben Simmons
ESPN 100 No. 2
Commitment:
LSU
"Depends on what team. With Cleveland, I would probably go with Jabari because he is a more polished player already and they wouldn't have to wait a year. If they are going with someone in the future, I would probably have to go with JoJo [Embiid]. He's just nice. He has moves, he's coordinated, and he can have an impact in the future."
[+] Enlarge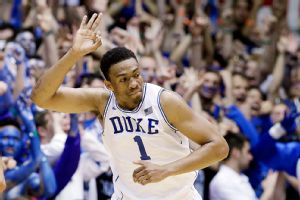 AP Photo/Gerry BroomeJabari Parker averaged 19.1 points and 8.7 rebounds during his freshman season at Duke.
Chase Jeter
ESPN 100 No. 13
"Jabari Parker because he is the most skilled now. They talk about potential when it comes to Wiggins, but Jabari Parker is skilled now and I feel like with him you know what you are going to get – high-character, high-quality guy."
Dennis Smith Jr.
ESPN 60 No. 9
"Jabari Parker. He already has an NBA body and NBA skill set, so there is a lot of potential for him to be good early. After that, Embiid. He's a great defensive player,"
Dwayne Bacon
ESPN 100 No. 40
"I will take Jabari Parker. He can give you anything and everything. He's a complete player. He's definitely a player I look at when I'm playing the game. Even though he just left high school a year ago and just left college after one year, he's a complete player. Andrew Wiggins is great player, Joel Embiid is there, too, but I will take Jabari Parker because he can shoot it, he can post up … he can do it all."
Perry Dozier
ESPN 100 No. 29
"I would probably take Jabari, just because of how versatile he is. He already has an NBA body, NBA skill set and I can see him playing different positions like Carmelo Anthony,"
Ray Smith
ESPN 100 No. 26
"I'm taking Jabari Parker. He's a thick, explosive knockdown shooter. What else do you want? I take Jabari Parker. They talk about Andrew Wiggins, but he is still a little raw. Jabari Parker is ready to be a player."
Deng Adel
ESPN 100 No. 83
"It depends what my team needs. If they need an immediate impact player, I would take Jabari Parker. I mean, he's NBA ready. I think he can impact a team and be a franchise player."
The case for Wiggins
Tyler Dorsey
ESPN 100 No. 24
"I got to say Andrew Wiggins. Potential wise, his upside is so high because he is so athletic. I know everybody is athletic in the league, but he is so athletic and if he keeps working on that shot he is going to be deadly. That small forward position is pretty tough going against the best players in the world, so I think I would probably take one [Wiggins]."
Antonio Blakeney
ESPN 100 No. 16
"I think would take Andrew Wiggins. Basically, how good he is now and his potential. It would either be him or Parker, but I don't think Parker's potential is as high as Wiggins. I don't think Joel Embiid will be a bust, but he's already hurt. If I was Cleveland, I wouldn't take a chance on that with him. I would definitely take Andrew Wiggins because of how athletic he is, and how good he will be."
Seventh Woods
ESPN 60 No. 20
"Probably Wiggins. He's just an all-around player and the most athletic in the draft,"
Embiid gets a vote
Skal Labissiere
ESPN 100 No. 11
"He's a center who can do everything. He's a 7-footer that can run the floor, block shots, has post moves and his upside is really great. Parker would be second because of his skill set."