NCB On The Trail:

SMU Mustangs
October, 15, 2014
10/15/14
5:35
PM ET
ESPN 100 point guard
Shake Milton
verbally committed to SMU on Wednesday, choosing the Mustangs and Hall of Fame coach Larry Brown over Oklahoma and Indiana. Now that the No. 11 point guard is off the board only two ESPN 100 lead guards remain available:
Isaiah Briscoe
and
P.J. Dozier
. Here's a look at what Milton will bring to Dallas:
Why he committed:
Milton was looking for a coach who he felt could bring out the best in his game now and help him in the future. "I really want to be coached by Coach Brown because he can help me reach all the goals that I have athletically and academically," Milton told ESPN.com. "He has coached and developed so many players plus one day when the ball stops bouncing I want to work in a NBA front office and someday be a general manager. I feel coach brown can help get me in the right direction after my career."
What he brings:
One of the most steady point guards in the senior class, Milton is more of a decision-maker versus a risk taker, one who values the ball and the possession. As a lead guard with passing vision, Milton emphasizes pushing the ball with a speed dribble or the hit-ahead pass to put pressure on the defense. Milton embraces major moments in a close game and shows the fortitude needed to shine in clutch situations. Being a big guard at 6-foot-5 with a long frame he can be a good defender. He is not the best leaper nor does he own blow-by speed, but his size and length cover ground to get him where he needs to be. If he commits to guarding he will be able to defend the small quicker opponent.
May, 5, 2014
5/05/14
4:35
PM ET
ESPN 60
shooting guard
Matt McQuaid
committed to SMU on Monday. The Class of 2015 prospect was seriously courted by Alabama, Creighton, Oklahoma, Texas, Texas A&M and Wichita State, among others.
To continue reading this article you must be an Insider
April, 24, 2014
4/24/14
9:50
AM ET
It's been a busy month for the top high school seniors in America.
First, it was the McDonald's All American Game, then the Nike Hoop Summit and finally last week's Jordan Brand Classic.
While these all-star-style games are mostly about show and only rarely about competition, they also serve as the first real opportunity that NBA scouts have to evaluate these prospects.
With the vast majority of the NBA's 30 franchises having a consistent presence at all three events (both games and practices), we spoke to front-office personnel from five different teams to see their first impressions of the top players in the ESPN 100.
Here's what they had to say:
To continue reading this article you must be an Insider
April, 17, 2014
4/17/14
10:00
AM ET
The Jordan Brand Classic features the best talent high school basketball has to offer. Here are some of the most intriguing potential matchups in this terrific annual event, which airs Friday night at 7 p.m. ET on ESPN2.
Tyus Jones (Duke) vs. Tyler Ulis (Kentucky)
This matchup will be the battle for who can get the most assists. Both are terrific pass-first point guards who can play fast or slow. They can make open shots in order to keep the defense honest, and their decision-making on the offensive end of the floor is excellent, as well. Ulis can apply more heat on the ball defensively, while Jones is stronger and the better finisher in heavy traffic. It will be interesting to see who makes the fewest mistakes with the ball and who will win the assist category as Jones and Ulis push each other on both ends of the floor.
To continue reading this article you must be an Insider
April, 16, 2014
4/16/14
12:30
PM ET
Want to ask ESPN RecruitingNation national recruiting director Paul Biancardi a question about basketball recruiting? Tweet it to @PaulBiancardi using the hashtag #AskCoachB.
Parker decision alter Myles Turner's decisison ?!?!? #askcoachb

— brezinski (@nickbrezinski) April 15, 2014
I don't believe
Jabari Parker
's decision on whether to turn pro has any bearing at all on the college decision of ESPN 100 No. 2 overall prospect
Myles Turner
.
Turner wanted to finish taking his visits and then try to figure out what his best option would be. He is done with visits; now it's time for him to weigh all the pros and the cons. He is looking for a situation where he has a strong relationship with the head coach and the overall chemistry of the team. Furthermore, he wants a coach who has proven track record developing his players over the course of a year or over time, and preparing them for the next level will be important.
Whether Parker stays at Duke or declares for the NBA draft won't affect Turner's decision. His list of schools is still the same: Arizona, Duke, Oklahoma State, Ohio State, Texas, SMU and Texas A&M. Look for him to make his decision sometime after the Jordan Brand Classic game, which is at 7 p.m. ET Friday on ESPN2.
April, 3, 2014
4/03/14
12:24
AM ET
CHICAGO -- Wednesday marked the 37th Annual McDonald's All-American game featuring the top high school boys basketball players in the country. The game took place at the United Center, home of the NBA's Chicago Bulls.
Best low-post player: Jahlil Okafor
To continue reading this article you must be an Insider
April, 1, 2014
4/01/14
10:00
AM ET
CHICAGO -- The prestigious
McDonald's All American Game
annually brings together the best talent in high school basketball, all on one stage. Here are a few game matchups to watch for this year's star-studded event, which can be seen live on ESPN Wednesday night at 9:30 ET.
To continue reading this article you must be an Insider
March, 25, 2014
3/25/14
10:50
AM ET
By
RecruitingNation
| ESPN Insider
It was a memorable first four days of the
2014 NCAA tournament
, with a combination of dramatic finishes and Cinderella stories.
Archie Miller and Dayton knocked off perennial powerhouses Ohio State and Syracuse en route to a spot in the Sweet 16, while Harvard and North Dakota State scored similar upsets on the first day of the tournament.
Perhaps the most shocking result, though, came on Friday when Mercer coach Bob Hoffman led his No. 14-seeded Bears to a hard-fought win over Mike Krzyzewski and the No. 3-seeded Duke Blue Devils.
While these programs aren't necessarily regulars on our
national recruiting page
, their postseason success can be attributed, at least in part, to successful recruiting. With that in mind, we once again turned to our team of experts at RecruitingNation to ask them which programs could emerge as potential "
Giant Killers
" in future years based on recent recruiting efforts:
To continue reading this article you must be an Insider
March, 18, 2014
3/18/14
10:00
AM ET
By
ESPN.com staff
| ESPN Insider
March Madness is in full swing with conference tournaments and selection Sunday giving way to the opening rounds of the NCAA tournament.
With each possession of each game now carrying far greater magnitude, championships are being decided by the players and teams that are able to control their emotions and execute under intensity and pressure.
Coaches go to great lengths to simulate these types of scenarios during the course of the year. Programs such as Kentucky and Connecticut actually monitor their players' heart rates during games and practices, measuring and ultimately trying to reduce the variance as much as possible, while other coaches dedicate a huge amount of practice time to late-game situations in hopes of relieving the pressure of a potential tense moment, replacing it with a sense of preparedness.
Ultimately though, so much of being able to thrive in high-intensity situations comes down to a player's DNA, and that is something that can be evaluated during the recruiting process, especially at this time of year, when high schools are going through their own postseason tournament runs.
With that in mind, we again went to our team of experts at Recruiting Nation and asked them which current high school prospects are built for future March Madness success, specifically in the game's most critical minutes.
To continue reading this article you must be an Insider
August, 30, 2013
8/30/13
8:29
AM ET
By
ESPN.com staff
| ESPN.com
SEC
Missouri

Ronnie Suggs
SG (Washington, Mo./Washington)
HT: 6-4 WT: 17
Class of 2015
Positional Rank: NA
Stars: Evaluation Pending
Big 12
Baylor
Damiyne Durham
SG (Oakwood, Texas/Oakwood)
HT: 6-4 WT: 175
Class of 2014
Positional Rank: NA
Stars: Evaluation Pending
American Athletic Conference
SMU
Emmanuel Mudiay
PG (Dallas/Prime Prep)
HT: 6-5 WT: 190
Class of 2014
Positional Rank: 2
Stars: 5
ESPN 100: 5
Houston
JaQuel Richmond
PG (Greensboro, N.C./Wesleyan Christian)
HT: 6-1 WT: 170
Class of 2014
Positional Rank: 26
Stars: 4
Big East
Providence
Paschal Chukwu
C (Westport, Conn./Fairfield College Prep)
HT: 7-1 WT: 220
Class of 2014
Positional Rank: 5
Stars: 4
ESPN 100: 58
West Coast Conference
Gonzaga
Josh Perkins
PG (Denver/Huntington Prep)
HT: 6-3 WT: 185
Class of 2014
Positional Rank: 6
Stars: 5
ESPN 100: 24
Big West Conference
UC Santa Barbara
Gabriel Vincent
SG (Stockton, Calif./St. Mary's)
HT: 6-2 WT: 180
Class of 2014
Positional Rank: NA
Stars: 2
Ivy League
Princeton
Aaron Young
PG (Lynchburg, Va./Virginia Episcopal)
HT: 6-1 WT: 170
Class of 2014
Positional Rank: NA
Stars: Evaluation Pending
Brown
Jason Massey
SG (Plantation, Fla./American Heritage)
HT: 6-5 WT: 180
Class of 2014
Positional Rank: NA
Stars: 2
MAAC
Fairfield
Tyler Nelson
SG (Lawrence, Mass./Central Catholic)
HT: 6-0 WT: 165
Class of 2014
Positional Rank: NA
Stars: 1
Missouri Valley Conference
Missouri State
Chris Kendrix
SG (Willard, Mo./Willard)
HT: 6-5 WT: 180
Class of 2014
Positional Rank: NA
Stars: Evaluation Pending
Big South
Longwood
Ryan Badowski
SG (Brunswick, Ohio/Brunswick)
HT: 6-3 WT: 165
Class of 2014
Positional Rank: NA
Stars: Evaluation Pending
Atlantic 10
St. Bonaventure
Idris Taqqee
SF (Ashburnham, Mass./Cushing Academy)
HT: 6-3 WT: 180
Class of 2014
Positional Rank: NA
Stars: Evaluation Pending
August, 26, 2013
8/26/13
7:51
PM ET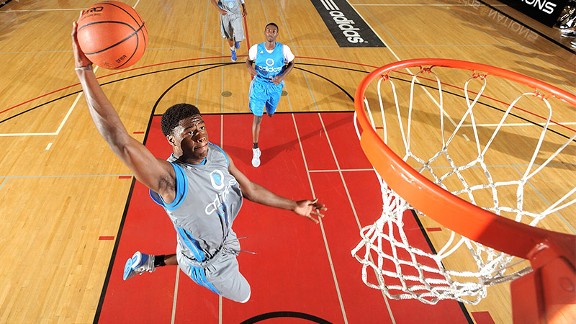 Kelly Kline/Getty ImagesEmmanuel Mudiay, ESPN's No. 2 ranked point guard, committed to SMU this weekend.
While Larry Brown celebrated moments after
Emmanuel Mudiay
gave his SMU Mustangs a verbal commitment Saturday night on national television, Tom Izzo likely went into full-fledged panic mode.
He wasn't alone, either.
Brown and the Mustangs -- with the help of assistant coach Ulric Maligi and Prime Prep's Ray Forsett (the coach of the Dallas-area school that Mudiay calls home) -- jolted the college basketball world when Mudiay chose SMU over Kentucky, Kansas, Baylor and Oklahoma State. Sure, there were signs that the Mustangs weren't just thrown on the list as a favor (as was the case for the Harrison twins, Andrew and Aaron, a year ago), but few gave them much of a chance until 24 hours prior to the announcement.
Certainly this gives Brown and the Mustangs instant credibility, especially within the borders of Texas. We all know Brown can coach, but let's not forget that he can recruit as well. He was also the same guy who, to help lure Danny Manning to Kansas, hired Manning's father Ed, so it's no surprise he and Maligi came up with the genius plan to give Mudiay's brother, Jean Micheal Mudiay -- a fringe Division I player in the junior college ranks -- a scholarship in order to secure one of the nation's top players.
To continue reading this article you must be an Insider