NCB On The Trail:

College Basketball
March, 30, 2015
Mar 30
6:00
PM ET
By
John Stovall
| ESPN Insider
COLUMBUS, Ohio -- The Ohio State High School championships were played this past weekend and, as usual, there was a lot of excitement and great basketball.
1. We are the champions
In the small school division (Division IV), New Madison Tri-Village defeated Canal Winchester Harvest Prep. Tri-Village was led by 6-foot-3 senior SG Colton Linkous (Ashland commit) with 22 points and 12 rebounds. Harvest Prep was led by PG/SG David Dennis (West Liberty commit) with 14 points. In Division III, Cleveland Villa Angela St. Joseph downed Lima Central Catholic. Villa Angela St. Joseph was led in scoring by 6-2 senior SG
Brian Parker
(Marist) with 17 points. Nortwestern commit Dererk Pardon added 15, and 6-9 Kansas commit
Carlton Bragg
added 12. Lima Central Catholic was led by 6-6 Jr. SF/PF Dantez Walton with 13. The Division II game featured upstart Defiance versus Cleveland Central Catholic. SF Katwan Singleton (Findlay) led Defiance with 18 while SG
Antwon Lillard
led CCC with 24. The big school (Division I) matchup featured Huber Heights Wayne against Westerville South. Wayne won the up-and-down affair behind 19 points from 5-11 senior PG/SG D'Mitrik Trice. Sophomore center
Kaleb Wesson
led Westerville South with 15 points.
2. Like father, like son(s)
As Huber Heights Wayne was winning the state title with D'Mitrik Trice leading them on the court and Travis Trice Sr. coaching them to victory, oldest son and big brother,
Travis Trice Jr.
was leading Michigan State to the Final Four. The Trice family has been running all over the country following Trice Jr. and handling the Wayne basketball team. Now they can all be together in Indianapolis as the Spartans take on Duke and continue their quest for a national championship. Quite a year for the Trice family.
3. Signed, sealed and committed
The Ohio State tournament featured a lot of big-time talents, many of which are signed/committed to various schools. 6-8 senior PF
Xeyrius Williams
(Huber Heights Wayne/Dayton), 6-6 senior PF
Ahmad Wagner
(Huber Heights Wayne/Iowa), 6-5 senior SF Katwan Singleton (Defiance/Findlay), 5-8 senior PG Amos (A.J.) Harris (Dayton Dunbar/Ohio State), 6-9 senior PF Carlton Bragg (Cleveland Villa Angela-St. Joseph/Kansas commit), 6-7 senior PF Dererk Pardon (Cleveland Villa Angela-St. Joseph/Northwestern), 6-2 senior SG Brian Parker (Cleveland Villa Angela-St. Joseph/Marist), 6-1 senior SG/PG David Dennis (Canal Winchester Harvest Prep/West Liberty), 6-3 senior SG Colton Linkous (New Madison Tri-Village/Ashland), 6-2 senior SG
Alan Vest
(Dayton Chaminade-Julienne/Wright State) and 6-4 junior WG
Trey Landers
(Huber Heights Wayne/Dayton commit) round out the list.
4. Unsigned talent
There are a few hidden gems left around the country and a few played in the Ohio State Championship. Senior WF
Kipper Nichols
(Lakewood St. Edward), at 6-7, is a versatile forward that is skilled and gives great effort. He is a borderline high-major player that is going to make some coach very happy in the late signing period. SP/PG D'Mitrik Trice (Huber Heights Wayne) is a top-end shooter with a great basketball IQ. He is a combo guard that should find a home at the low- to mid-major level. Senior SG Antwon Lillard (Cleveland Central Catholic) is a solid athlete and a solid scorer that mid-major programs should be all over this time of year. PF Damion Cook (New Madison Tri-Village) is an undersized 4-man, at 6-3, but has a lot of toughness and productiveness. Senior PF Montel McRae is a great combination of size, length, athletic ability and skill. He is a bit of a project but the talent is unmistakable. He has enough of a package to at least play mid-major basketball.
5. Future stars
The future is bright in the state of Ohio. Junior SG
Frankie Hughes
(Garfield Heights) had 14 points and 11 rebounds in his semifinal loss to Westerville South. He is a skilled wing and a very good shooter. Junior SF/PF
Willie Jackson
(Garfield Heights) is a mid-range dynamo. He had 20 points and nine rebounds in the same loss, dominating inside the 3-point line. Kaleb Wesson (Westerville South) just might be the next big thing in Ohio as he averaged a double-double (16 & 10) in two tournament games. Junior PF
Derek Funderburk
(Lakewood St. Edward) has a lot of tools and a lot of talent. He will be a high-major recruit in the 2016 class. Junior PG
Roderick Caldwell
(Huber Heights Wayne) is the straw the stirs the drink for Wayne. He is at least a mid-major talent. SF Dantez Walton (Lima Central Catholic) is one of the most improved players in Ohio. Sophomore SG Ethan Linder (Haviland Wayne Trace) is a super small-school sleeper with a great upside while 6-6 Jr. WF Andre Wesson (Westerville South) is a skilled up and comer that should be a Midwest mid-major priority.
January, 5, 2015
Jan 5
9:30
AM ET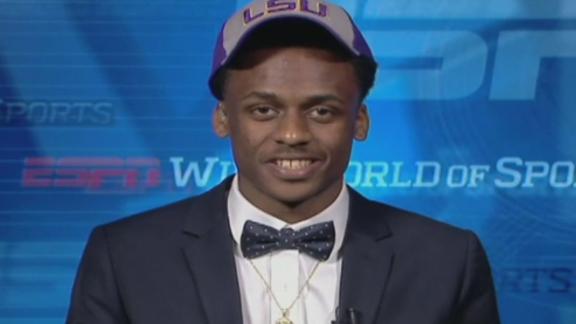 Antonio Blakeney
's commitment to LSU on Friday gave the Tigers the No. 6 recruiting class in the country and brought an end to a headline-filled four months for the five-star shooting guard.
When Blakeney committed to Louisville in early September, it seemed like the end to a normal recruitment. The Cardinals had been at the forefront of his recruitment for a few months, with Kentucky and LSU making strong pushes in the summer but falling short.
Blakeney was the icing on the cake for what was likely Rick Pitino's
best recruiting class
during his time at Louisville.
Less than two weeks later, everything changed.
To continue reading this article you must be an Insider
December, 23, 2014
12/23/14
10:00
AM ET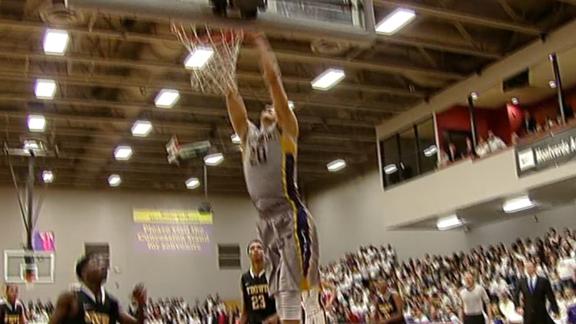 Ben Simmons
-- the No. 1 prospect in the
senior class
and an
LSU
commit -- is leading his Montverde Academy (No. 1) team and impacting games with his versatility by way of scoring, rebounding and handing out assists. When you evaluate his game closely, it's easy to see that it's his passing vision and accuracy that make him special and others better.
Simmons is a native of Australia and has a father who played college basketball in the states (Oklahoma City College) and professionally in Australia at the highest level (Melbourne Tigers). His father, Dave, has aided in his development and has passed down some high level instincts for the game. Ben Simmons wants to be great, and quickly acknowledges his need to improve defensively and not to lose his focus and intensity during games.
The number of Australian-born players making an impact in college basketball is growing and Simmons will be the next one to do so.
I sat down with Simmons, who is quietly dominating the high school landscape.
1. You came to this country as a sophomore extremely talented, a little passive and with a lot promise. How did you become the No. 1 player in the country?
To continue reading this article you must be an Insider
November, 10, 2014
11/10/14
6:30
PM ET
PARKER, Colo. -- Here are five observations from West Coast Elite's Colorado camp.
To continue reading this article you must be an Insider
July, 14, 2014
7/14/14
3:20
PM ET
Arizona head coach Sean Miller landed his second ESPN 100 recruit from the
Class of 2015
on Sunday. See how
Ray Smith
fits in to the Wildcats' future plans:
To continue reading this article you must be an Insider
June, 20, 2014
6/20/14
11:15
AM ET
At this time last week, Arizona had two early verbal commitments in the Class of 2015 and two graduating seniors whose scholarships would need to be filled.
The Wildcats' work seemed to be done early. Except it wasn't. Not even close.
Last weekend, ESPN 100 guard
Tyler Dorsey
decommitted from the Wildcats in a move that many had come to expect.
To continue reading this article you must be an Insider
May, 6, 2014
5/06/14
10:30
AM ET
Though the top three prospects in the
Class of 2014
are big men who control the paint, there are several outstanding shooters in the class. Let's examine the five best shooters among the incoming freshmen and one from the Class of 2015.
1. Justin Jackson, North Carolina
He started out as a 3-point shooter but has developed into a master of the mid-range jump shot. Most outstanding shooters are confident and comfortable from a certain spot on the floor, but that's not the case with Jackson. He is equally effective and productive from a catch-and-shoot scenario as he is putting the ball on the deck and rising up to finish inside the arc or in the paint. A combination of length, balance and extension with a feathery touch will make him hard to defend.
To continue reading this article you must be an Insider
April, 7, 2014
4/07/14
11:21
PM ET
March, 29, 2014
3/29/14
12:47
AM ET
March, 19, 2014
3/19/14
11:54
PM ET
By
John Stovall
| ESPN Insider
March, 17, 2014
3/17/14
2:00
PM ET
By
ESPN.com staff
| ESPN.com
While the 68 teams that made the NCAA tournament prepare for the madness, fans of teams on the outside must turn the page to next year. Thanks to a core of returning players and strong incoming recruits, here are five programs that could be dancing at this time next year.
Quick references:
Georgetown's 2013-14 roster
Georgetown's 2014 recruiting class
Possible 2014-15 starting five:

G: D'Vauntes Smith-Rivera

G: Jabril Trawick

F: Paul White

F: Mikael Hopkins

C: Josh Smith
Who it loses: Four players will be gone for coach John Thompson III. Markel Starks and Nate Lubick have been starters since they were sophomores and were instrumental to last season's Big East championship team. Starks was first team All-Big East this season, scoring 17 points per game. Aaron Bowen played a big role as the sixth man and gave the team a spark off the bench. At times, he played starter's minutes. Moses Ayegba was a front-court presence off the bench and was a strong presence in the paint.
Who it adds: This four-man class is the nation's seventh best and it includes three ESPN 100 players. This class is loaded with versatility and scoring talent as the Hoyas will continue to cause matchup problems for opponents. Isaac Copeland's growth continues to impresses us, as he combines size and athletic ability with a very fluid set of skills. He won a championship at Brewster Academy in the New England Prep school league, which is some of the best competition in the country. Paul White is the consummate forward in the Georgetown system as he showed he could be a facilitator, bucket-getter or defender. L.J. Peak is a battle-tested and tough small forward who can score in different ways and someone who can play right away because he competes so hard. Tre Campbell was a first-team all-league performer as a point guard in the prestigious WCAC, an ultra-competitive Washington, D,C.-area high school conference. Georgetown predicates its system of having a high level of skill on the floor at all times and this class gives them that edge plus a whole lot more.
What it means for next season: Next season's team could be more gifted and athletic as the freshman class gives them a big boost. The one freshman who needs to be good early is Campbell, because of the departure of Starks. With Smith-Rivera returning as the team's leading scorer and best 3-point shooter, and Smith back controlling the inside, this team could be a contender for a Big East title. Georgetown has always played the game with many interchangeable parts and next season it will have plenty of pieces to choose from.
Trending: Up. The Hoyas return the strength of their roster and add a lot of talent. Under the guidance of JT3, that means more postseason appearances. - Paul Biancardi
For breakdowns of Indiana, Maryland, Seton Hall and USC,
click here

.
January, 9, 2014
1/09/14
12:00
PM ET
Forty-six Division I schools came into the season with a new basketball coach. The vast majority of those changes were met with optimism and enthusiasm.
But with conference play now revving up, many first year coaches are dealing with the harsh reality that rebuilding isn't going to happen overnight. And in those types of situations, sometimes your first year recruiting class can be more important than your win-loss record.
A coach's first recruiting class is absolutely critical to his long-term success. It's about more than just filling out next year's roster. It's about setting the tone for the way in which the staff and program will be viewed by prospects, high school coaches, and AAU coaches moving forward. And this time of year, when the product on the floor isn't always something a coach can sell, making an initial splash on the recruiting trail is often times all it takes to develop the type of positive momentum to build on.
With that in mind, here's a look at how seven first-year coaches are doing on the trail:
To continue reading this article you must be an Insider