December, 30, 2014
12/30/14
8:22
PM ET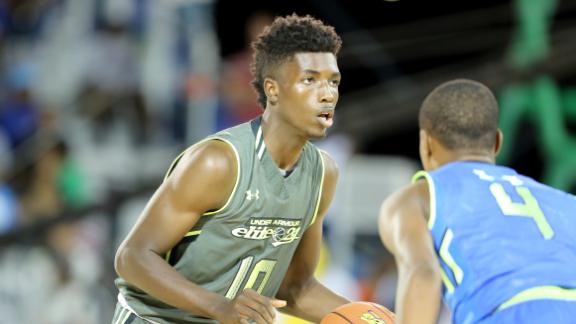 ESPN 25 No. 7 shooting guard
Jalek Felton
committed to North Carolina on Tuesday after being heavily recruited by Kansas, Louisville, South Carolina and Wichita State. The five-star guard puts the Tar Heels on the board in the Class of 2017 in a huge way. Here's what Felton will bring to Chapel Hill.
November, 19, 2014
11/19/14
8:45
PM ET
By
RecruitingNation
| ESPN.com
Florida State head coach Leonard Hamilton announced the signing of four athletes Wednesday as the early signing period came to a close.
Hamilton has three ESPN 100 prospects headed to Tallahassee next season including shooting guard
Malik Beasley
(No. 31 overall), small forward
Dwayne Bacon
(No. 39) and shooting guard
Terrance Mann
(No. 82). Four-star center
Jean Marc Christ Koumadje
also signed with the Seminoles.
"I must give my staff tremendous credit for recognizing the needs of our program and working very hard to address all of those needs in outstanding fashion," Hamilton told the school's website. "I could not be happier with the group of players we have signed. Not only is this an extremely talented group but it is a group of young men all with tremendous character -- character that further allows us to continue to move our program forward."
Florida State's class currently ranks
No. 6
on ESPN.com.
November, 18, 2014
11/18/14
11:13
AM ET
By
RecruitingNation
| ESPN.com
Louisville head coach Rick Pitino announced the signing of three ESPN 100 prospects on Monday night.
Suiting up for the Cardinals next season will be ESPN 100 small forward
Deng Adel
(No. 30 overall), ESPN 100 shooting guard
Donovan Mitchell
(No. 38) and ESPN 100 power forward
Raymond Spalding
(No. 52).
"I think this will prove out to be one of the best recruiting classes we have had since I've been here," Pitino told the school's website, "and we will probably add one more."
Pitino's class is currently ranked
No. 8 on ESPN.com
.
November, 12, 2014
11/12/14
7:59
PM ET
By
RecruitingNation
| ESPN.com
Duke head coach Mike Krzyzewski announced the signing of two ESPN 100 prospects on Wednesday as the week-long early-signing period kicked off.
Joining the Blue Devils in 2015 will be ESPN 100 center
Chase Jeter
(No. 9 overall) and ESPN 100 shooting guard
Luke Kennard
(No. 26).
"We are excited about Luke and Chase joining our program," Krzyzewski told the school's website. "Both of them are terrific young men as well as extremely talented players. They will fit well into our team as well as the Duke community.
Chase is a natural athlete that runs well, catches well and he's a really good talker. I like everything about Luke Kennard. He's a natural athlete and a competitor."
Coach K's class is currently
ranked No. 9
on ESPN.com.
October, 20, 2014
10/20/14
9:14
PM ET
Fresh off his unofficial visit to Virginia, ESPN 60 point guard
Kyle Guy
pulled the trigger and made
a verbal commitment to the Cavaliers
. The 39th-ranked junior chose UVa over Indiana, Butler, Purdue, Xavier and many other offers. Here is a look at what Guy will bring to Charlottesville:
To continue reading this article you must be an Insider
October, 8, 2014
10/08/14
10:05
AM ET
Seven-foot center
Doral Moore
, ranked No. 60 in the ESPN 100, ended his recruitment today when he committed to head coach Danny Manning and Wake Forest over finalists Kentucky, Ohio State, Florida and Illinois. Here is a look at what Moore will bring to the ACC:
To continue reading this article you must be an Insider
November, 15, 2013
11/15/13
6:53
PM ET
It's a wonder it hasn't happened before. It's a wonder it doesn't happen more often.
On Friday afternoon, Jahlil Okafor and Tyus Jones -- the power forward ranked No. 1 overall in the class of 2014, and the top point guard -- announced in tandem that they would be attending Duke next fall. They were, in effect, a package deal, the first of note since Greg Oden and Mike Conley together went from Lawrence North (Ind.) to Ohio State in 2007.
[+] Enlarge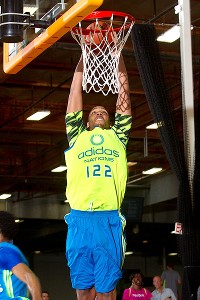 Jeff Hinds/adidasBy teaming up with summer camp buddy Tyus Jones, Jahlil Okafor might have helped redefine the package deal in recruiting.
In that way, as Recruiting Nation's Adam Finkelstein explained Friday, the news is not unprecedented. But the Okafor and Jones package deal is different, too -- either a sign of the times, or a sign of things to come.
What makes it so is the nature of their friendship. Okafor and Jones didn't attend high school together. They didn't grow up on the same block. Instead, they formed a relationship in the summers, at AAU events, prospect camps and, especially, USA Basketball squads. From Finkelstein:
Instead, their joint playing experiences have come primarily with USA Basketball, beginning in October 2010 and continuing with subsequent selections in each of the next two summers to national teams that won gold medals while traveling to Mexico and Lithuania.
It was on that initial trip to Mexico, in the summer before their sophomore season, that talk of a potential package deal first originated. That conversation quickly intensified and it wasn't even a year later that both young stars went on record as saying they planned to play together in college. … They even went so far as to coordinate many of their in-home visits last spring before taking official visits to Baylor, Duke, and Kansas together this fall.
If this seems unusual, it should. Package deals are rare in general, but when they do happen, they are usually the product of the leverage an elite recruit has to get his less-elite friend (or brother, or former coach) a spot at a top college program alongside him. A coach acquiesces to taking the lesser player to land the greater; the benefits usually outweigh the costs.
There is no such calculation here. Any program in the country would have happily taken either Okafor or Jones. But when the two played together for the United States, they discovered that they complemented each other immensely well, that they'd be better off in college with one another than without. They also discovered they were friends.
For all the speculation about Mike Krzyzewski's role with USA Basketball, that last part -- friendship -- seems the root of the Joneskafor deal; the two have described themselves not only as close, but as best friends. As CBS's Gary Parrish insightfully said Thursday, for people in, say, their 40s, the thought of sustaining a friendship that meaningful with a summer camp buddy might seem silly. It wasn't even possible until recently. Now the question is not whether you can maintain a long-distance relationship but whether you prefer to use Facetime or Skype to aid in doing so.
To be sure, Okafor and Jones are not the first elite recruits to team up in recent seasons. See Calipari, John, in your indices; Kentucky has been piling McDonald's All-Americans into ensemble casts for going on half a decade. But Okafor and Jones (OkaJones? better?) more deeply, and more openly, coordinated their decisions than any top recruits in memory. And they didn't even have to live in the same place.
Could this be first of many? Well, why not? Top prospects play together constantly during the summer; they form relationships and bonds at crucial times in their lives; they have much in common. For the best of the best, college basketball is a one-year proposition. How do you maximize your chances of winning a national title? Better yet, how do you guarantee your fun?
Bringing your best friend along for the ride is a good place to start. Only this time, the best friend is the best point guard in the country.
So, yes: It's a wonder this kind of package deal hasn't happened before. At the very least, it seems unlikely to be the last.