July, 11, 2014
Jul 11
9:00
AM ET
PHILADELPHIA -- The Reebok Classic Breakout took a backseat to no other event over the past 48 hours as the staff did a tremendous job of putting together a deep and talented roster, which in turn attracted over 200 Division I college coaches including dozens of high-profile head coaches. Here's a look at which players were most impressive throughout the first two days of action:
Best pure point guard:
Derryck Thornton
The rising senior from Findlay Prep (Henderson, Nevada) picked up right where he left off after standing out at the Steph Curry Camp to start the month. Thornton was a true floor general, in complete control every time he stepped on the court and able to impact the game in a variety of different ways. He handles the ball on a string and excels at making a variety of different reads off the pick and roll. He holds his dribble going through the lane as well as anyone in the field, just waiting on the defense to break down and reveal open receivers. He even shot the ball well here, making a series of pull-ups as well as rhythm 3s. Thornton took unofficial visits to both Kentucky and Michigan last month and was followed by both Kentucky's John Calipari and Michigan's John Beilein here.
[+] Enlarge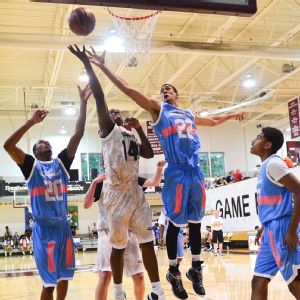 Lisa Lake/Getty Images for ReebokOver 100 of the country's best high school basketball players gathered in Philadelphia for the 2014 Reebok Classic Breakout.
Best pace point guard:
Jawun Evans
The six-footer was the story of the day on Thursday, standing out on both ends of the floor. Evans has high-level jets and an extra gear to his game. He creates tempo, makes good decisions while in first gear and gets himself in the paint but can also change the game with his ability to pressure the ball defensively. Tennessee's Donnie Tyndall, USC's Andy Enfield and Clemson's Brad Brownell all made Evans a priority along with assistants from Virginia Tech, Oklahoma State, and Texas, but don't be surprised to see this list get longer as Evans seems intent to assert himself among the nation's elite lead guards.
Best prospect:
Diamond Stone
The No. 4 -ranked overall prospect in the ESPN 100 never dominated the field like many hoped he would coming into the camp, but he hardly got the chance. Stone rarely got enough touches to make his typical impact, and even when he did, they were never in his sweet spots. Instead, we saw only flashes of his talent. His hands are phenomenal, his touch super soft, and his release point high. He also excels at spinning off contact inside the paint and is able to turn both shoulders to maneuver inside. Connecticut's Kevin Ollie made him a clear priority every time he took the court, while Kentucky's Calipari also followed him.
Breakout big man:
Jean Marc Christ Koumadje
The 7-foot-3 import from Senegal was the main story for the first night at camp. In addition to his obvious size, he runs the floor extremely well and is very bouncy and assertive despite a frame that's very lean. Louisville, Connecticut, and Tennessee offered immediately after seeing his first game on Wednesday as Rick Pitino and Ollie continued to trail him throughout the day on Thursday. Koumadje is almost completely raw when it comes to his skill set, but there aren't many big men with a more intriguing combination of physical tools.
Breakout guard:
Donovan Mitchell
He came into camp already owning a variety of high-major offers, but he added a couple of new ones to his list here in Louisville and Memphis. Pitino and Josh Pastner followed Mitchell along with the likes of Providence's Ed Cooley, Boston College's Jim Christian, and Florida State's Leonard Hamilton, all of whom were here more to recruit than evaluate the ESPN 100 guard. Mitchell is a powerful two-guard known for his leaping ability and competitive nature. The biggest development in his game was his improved shooting range, which combined with his straight-line driving ability, makes him an even more dangerous scoring threat.
Most intriguing big man:
Skal Labissiere
He's far from a finished product but there were flashes of sheer stardom and they seemed to be popping up with increased frequency throughout the course of the last 48 hours. He showed some quick bounce around the rim, the foundation for a nice jump hook over his left shoulder, and good touch facing the basket out to the perimeter. He has a tendency to drift to the perimeter too often at times but he can also show a little bit of a nasty streak. As he continues to fill out a naturally strong frame, and further polish his skills, he's only going to become more dominant. Memphis has made him their top priority with Pastner following his every move. Calipari and Donnie Tyndall were there with assistants from Georgetown and Baylor among others.
Best 2016 big man:
Abdul Hakim Ado
The rising junior big man had a steady buzz about him on Wednesday night and was the talk of the camp by Thursday. He's long, athletic, and extremely active on both ends of the floor. He was blocking and altering all sorts of shots around the rim, finishing possessions on the defensive glass, and showing a constant motor throughout. Offensively, his range and bounce continued to be assets but he also had impressive poise and footwork inside the paint. He used his pivots very well and had a good sense of timing when finishing plays at the rim. Pitino was on him from the onset Thursday night but his list of followers grew with every passing game.
Best from the West:
Chimezie Metu
To continue reading this article you must be an Insider