Why nonconference schedules are crucial
January, 30, 2012
1/30/12
11:44
AM ET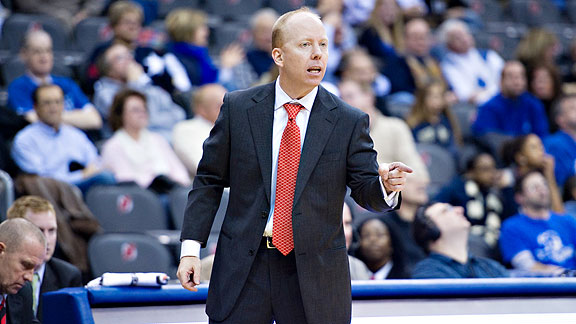 Rich Kane/Icon SMIIf Mick Cronin's Bearcats don't get an at-large berth, his nonconference schedule will be the reason.
C.M. Newton, one of the wisest men to steer the NCAA selection and seeding process, put it very concisely about a dozen years ago: "Teams have no control over their conference schedule, so we look very closely at who you choose to play."
Last week, our own Andy Katz reported the
five factors most crucial
to the selection committee -- among them is nonconference strength of schedule.
To this day, many misinterpret the committee's weighing nonconference SOS so heavily. It's not a macho thing, as in, "My team has more courage than yours because we play anybody, anywhere." It's actually a much simpler consideration.
Nonconference schedules -- along with obscenely unbalanced home-road ratios in major conferences -- skew win-loss records. And not just a little bit. If the path to a 20-win season includes 10 victories against teams under the 250 mark in the RPI, are we really looking at a 20-win team?
Of course not, which is why nonconference scheduling is so critical to the hard math of the RPI and the perceived value of a team in the eyes of the selection committee. Almost every year we see one or more potential at-large teams kicked to the curb for this reason. And you can bet it will happen again this season.
Last year, it was Colorado (nonconference SOS rank: 325, record: 20-13) and Alabama (nonconference SOS rank: 284, record: 21-11). In 2010, it was Virginia Tech (nonconference SOS rank: 339, record: 23-8). Other examples off the top of my head include Penn State in 2009 (nonconference SOS rank: 307, record: 22-11) and New Mexico in 2008 (nonconference SOS rank: 269, record: 24-8).
In the past five seasons, just
five
teams have been awarded an at-large bid with nonconference schedules ranked below 275. The list is even shorter than I would have thought: