Big teams falter as bubble stays soft
February, 15, 2012
2/15/12
11:54
AM ET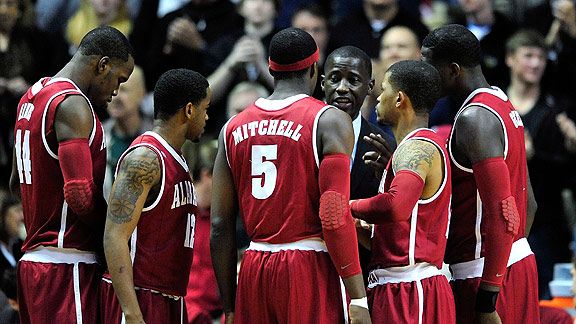 Grant Halverson/Getty ImagesAlabama has been struggling and several players, like Tony Mitchell, are sidelined.
Remember the past few updates when I've said the
Connecticut Huskies
had a long way to go before they fell out of the bracket? Well, on the proverbial road to the Final Four, the Huskies seem to have the car in reverse, the pedal to the floor and the Grand Canyon looming in the rearview mirror.
The defending national champs missed two opportunities to break out of their funk with an impressive win, losing to Louisville and Syracuse on the road. Now a Wednesday night win against DePaul is a must-have if the Huskies want to stay out of the danger zone. UConn still has a top-20 RPI, but a home loss to the No. 180 team could really hurt that standing.
Connecticut is not alone in terms of recent struggles. West Virginia lost close games -- but still lost -- to Louisville and Pitt and now hits the road to face its "Backyard" rival, as well as Notre Dame. Meanwhile, Alabama is reeling as well, dropping two straight and trying to cope with the suspension of two of its best players (
JaMychal Green
and
Tony Mitchell
). The bubble is a soft one, but none of these teams can lose "winnable" games and feel too good about their chances from here out.
Now let's take a look at Wednesday's S-Curve update:
The S curve
This is where teams would fall if Selection Sunday was Feb. 15. Remember, the curve flows left to right, then right to left, then back again as you read down the chart. Teams with an asterisk currently lead their conference and project to receive an automatic bid, per the rules of Bracketology.
GREEN:
Teams with tourney odds of 75 percent or better through games of Feb. 15.
YELLOW:
"Last four in" (will play March 13-14 in Dayton, Ohio)
GOLD:
Lowest four auto-bids (will play March 13-14 in Dayton, Ohio)
RED:
"First four out" (teams 69-72 on the S curve)