Wild Tuesday shifts the S-Curve
February, 22, 2012
2/22/12
11:29
AM ET
Want to know what it's really like in the NCAA tournament selection committee room? Let's use Tuesday night as an example:
•
8:35 p.m. ET:
Illinois is getting crushed at Ohio State. The Illini, headed for a 5-10 Big Ten record, are removed from the at-large consideration board entirely.
•
8:44 p.m. ET:
Seton Hall is in command against Georgetown. The win would leapfrog the Hall over four teams, including Arizona, which falls to the "Last Four In" group. The Hoyas slide two spots to No. 12 overall on the S-Curve.
•
8:53 p.m. ET:
Xavier loses at Massachusetts, dropping the Musketeers three spots. One of the three teams they slip behind is Arizona, so Sean Miller's current and former teams trade places on the "Last Four In" list. UMass moves onto the consideration board as No. 80 overall.
[+] Enlarge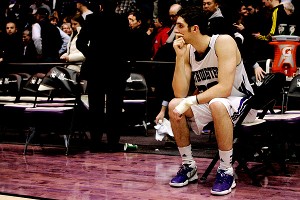 Tommy Giglio/US PRESSWIREDavide Curletti and Northwestern are alive in the bracket. Barely.
•
8:58 p.m. ET:
Florida does what it is supposed to against Auburn and remains No. 14 overall.
•
9 p.m. ET:
Stony Brook (winner at Hartford) and Vermont (loser at previously winless Binghamton) flip-flop as AQ designee from the America East Conference.
•
9:06 p.m. ET:
Missouri's home-court comeback attempt against Kansas State falls short. No longer an outright conference leader and with a nonconference SOS of 273, the Tigers slide off the top line. Michigan State improves to No. 3 overall and Duke, which is next in line, assumes the fourth No. 1 seed. Meanwhile, K-State, with a season sweep of Mizzou in hand, makes the biggest leap of the night from a No. 9 to No. 7 seed.
•
9:41 p.m. ET:
NC State is going down to North Carolina. The previous "last team in" is out of the field, elevating Texas to the same spot it lost less than 24 hours earlier.
•
9:55 p.m. ET:
A bad night for ACC bubble teams continues when Miami loses at eighth-place Maryland. Miami and NC State were among the "Last Four In" heading into Tuesday's action, but both now reside on "First Four Out" list. The temporary winner is Central Florida, which bubbles up into the field as No. 54 overall.
•
10:04 p.m. ET:
Three games with bracket implications -- Michigan at Northwestern, Evansville at Creighton and Loyola (Ill.) at Valparaiso -- are heading for overtime. The top line is also quivering again as No. 1 Kentucky is down big at Mississippi State.
•
10:16 p.m ET:
The Big Ten game finishes first, with Michigan outlasting Northwestern in Evanston. The Wolverines gain a spot as No. 11 overall, but the real decision involved Northwestern. After careful review of the still-weak overall bubble, the Wildcats drop two spots but remain within the "Last Four In" group. Their quest for the first NCAA bid in school history is still alive. Barely.
•
10:20 p.m. ET:
Creighton outlasts a sub-.500 Evansville team. Still, the Bluejays slip from No. 24 to No. 25 overall. In real life, that is the difference between a No. 6 and No. 7 seed.
•
10:27 p.m. ET:
Valpo clinches its first Horizon League championship. Kentucky and Mississippi State are going down to the wire. In a key late game, New Mexico and Colorado State are underway in Fort Collins.
•
11:10 p.m. ET:
Virginia survives numerous clock delays and a stubborn Virginia Tech squad to win in Blacksburg. There's no change for UVa on the S-Curve.
•
11:14 p.m. ET:
Kentucky is going to hang on in Starkville. The Wildcats remain No. 2 overall and Mississippi State slides from No. 36 (No. 9 seed) to No. 37 (No. 10 seed). Yes, bracketology can be a cruel business.
•
11:34 p.m. ET:
Joey Brackets sends a contingency update to Bristol. If Colorado State holds on to upset New Mexico, the Rams grab the final at-large slot from UCF. We wake up Wednesday morning to see CSU's name crawling across the bottom of the screen in the win column.
And this was an "easy" night, with only 20 games total. Wednesday night gives us 58 more, so, if you don't like your team's current position, just wait until morning.
The S Curve
This is where teams would fall if Selection Sunday was Feb. 22. Remember, the curve flows left to right, then right to left, then back again as you read down the chart. Teams with an asterisk currently lead their conference and project to receive an automatic bid, per the rules of bracketology.
GREEN:
Teams with tourney odds of 80 percent or better through games of Feb. 15.
YELLOW:
"Last four in" (will play March 13-14 in Dayton, Ohio)
GOLD:
Lowest four auto-bids (will play March 13-14 in Dayton, Ohio)
RED:
"First four out" (teams 69-72 on the S curve)