Moving day on the bubble
March, 8, 2012
3/08/12
1:01
PM ET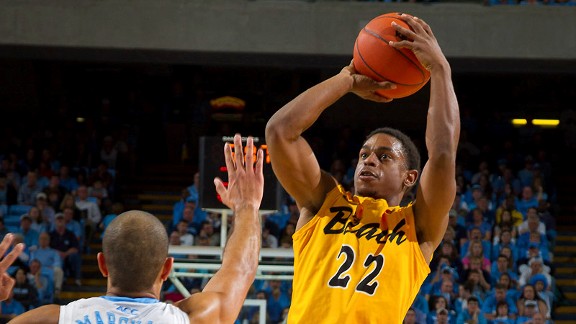 Peyton Williams/UNC/Getty ImagesCasper Ware and the Long Beach State 49ers can't afford a loss in the Big West tourney.
It's moving day on the bubble.
With the remainder of conference tournaments tipping off Thursday -- including the ACC, Big Ten, MWC, SEC and WAC -- we should start to see some dramatic changes on the fringes of the bid picture.
Wednesday night we got a little taste as the Big East lost its grip on 10 bids with Seton Hall losing to Louisville (and not looking particularly bid-worthy in the process, either).
But Thursday should give us a lot more clarity. Take a look at Thursday's S curve and then peek at the plethora of games with big bracket impact today:
The S curve
This is where teams would fall if Selection Sunday were today. Remember, the curve flows left to right, then right to left, then back again as you read down the chart. Teams with an asterisk currently lead their conferences and project to receive automatic bids, per the rules of bracketology. While Michigan State, Ohio State and Michigan tied for the Big Ten regular-season title, the asterisk goes to the Spartans as they are the highest of the three teams on the S curve. Teams with an asterisk in bold have won their conference tournaments and clinched auto-bids.
ALL CAPS: Regular-season champion (NIT auto-bid if needed) or highest remaining seed
Bold
: NCAA automatic qualifier
GREEN:
Teams with tourney odds of 90 percent or better through games of Feb. 28.
YELLOW:
"Last four in" (will play March 13-14 in Dayton, Ohio)
GOLD:
Lowest four auto-bids (will play March 13-14 in Dayton, Ohio)
RED:
"First four out" (teams 69-72 on the S curve)
PURPLE:
"Next four out" (teams 73-76 on the S curve)