The Selection Sunday S curve
March, 11, 2012
3/11/12
10:42
AM ET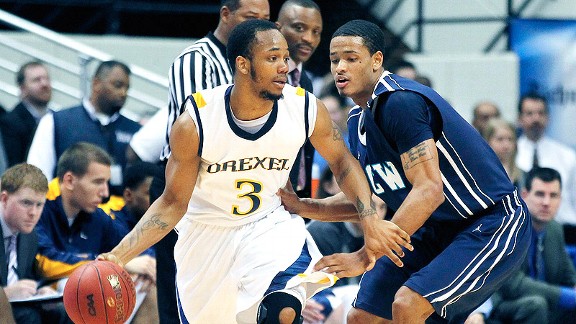 Geoff Burke/US PresswireThe Drexel Dragons have been bounced by the St. Bonaventure Bonnies' A-10 title win.
Editor's Note: This file has been updated to reflect St. Bonaventure's victory in the A-10 title game.
There's nothing to prepare yourself for Selection Sunday like a vigorous seed scrubbing. As game results have unfolded at a furious pace during the past two weeks, I hit the pause button the Saturday night before the bracket's release to scrutinize all of the seedings and make sure all resumes are reflected accurately on the S curve. In the process, we've had a few changes overnight.
With Kansas having lost, it now seems likely that the Big Ten title winner -- either Michigan State or Ohio State -- will earn the fourth No. 1 seed. The loser will get a No. 2, which is where the Jayhawks now fall as well.
The
Drexel Dragons
got a second life in the bracket, but it proved to be short-lived. The Dragons' continued presence was contingent on the
St. Bonaventure Bonnies
not stealing a bid. Now that the Bonnies have locked up the A-10 autobid, Drexel is back on the bubble's bad side, where it'll be joined by Mississippi State. The Bulldogs just closed the season too poorly (2-6 in their past eight games) to merit more consideration.
Another team hurt by the Bonnies' win is BYU, which now falls into the Last Four In and figures to play in the first-round games in Dayton.
Here's how the rest of the reviewed and reconfigured S curve plays out as of 3:45 p.m. ET Sunday.
The S Curve
ALL CAPS: Regular-season champion (NIT auto-bid if needed) or highest remaining seed
Bold
: NCAA automatic qualifier
GREEN:
Teams with tourney odds of 90 percent or better through games of 3:45 p.m. ET, March 11.
YELLOW:
"Last four in" (will play March 13-14 in Dayton, Ohio)
GOLD:
Lowest four auto-bids (will play March 13-14 in Dayton, Ohio)
RED:
"First four out" (teams 69-72 on the S curve)
PURPLE:
"Next four out" (teams 73-76 on the S curve)