February, 18, 2015
Feb 18
9:14
AM ET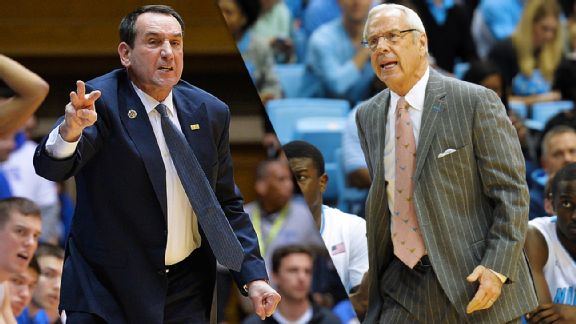 Getty ImagesWho will come out on top when Coach K's Blue Devils battle Roy Williams' Tar Heels?
With No. 4 Duke hosting No. 15 North Carolina on Wednesday night, Seth Greenberg and Fran Fraschilla got together to discuss the big rivalry game. The former head coaches debated the biggest keys for both sides, each team's X factor and the long-term potential for the Tobacco Road programs this season.
---
What are the biggest keys for North Carolina and Duke?
Fran Fraschilla:
Let's start with North Carolina. The biggest key will come on the inside. They gave up 40 points to Pittsburgh in the paint, and Coach Roy Williams has shuffled his inside lineup around between
Isaiah Hicks
,
Kennedy Meeks
and
Brice Johnson
because they've lost three of their past four games. It's imperative against Duke and
Jahlil Okafor
that they tighten up their inside defense. That is a huge concern, and it's jumped up to bite them in recent weeks.
Seth Greenberg:
I completely agree, Fran. If you're putting together a game plan for how to beat Duke, it starts with defending Okafor. Are we doubling him? Are we playing man-to-man? If we double him, what are we going to give and take away? The best way to defend Okafor is to make him defend on every possession. Offensively, they must try to push Okafor off the block, which is really important.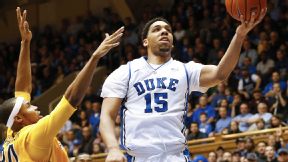 AP Photo/Ellen OzierHow will North Carolina defend Duke's star center Jahlil Okafor?
If you're Duke, you have to rebound the basketball. North Carolina's best offense sometimes is the second shot. The Blue Devils have to rebound the ball better on the defensive end, and when you have a dominant rebounder like Okafor, it helps. Duke has to find a way to force North Carolina to play in the half court and limit easy baskets. You also must continue to take
Marcus Paige
out of the game. He hasn't been the same player this season as last, but in this game, on this stage, you always wonder if all of a sudden he's going to elevate his game.
I would not be shocked to see Duke play some zone. When you look at North Carolina, they're a little bit like Louisville. Duke zoned them in an earlier win. I think Coach K would like to see if they can defend Carolina without having to zone them, but I would not be shocked to see it. That keeps Okafor out of foul trouble, and it also forces Carolina out of their offensive rhythm.
---
Who are the game's biggest X factor players?
Greenberg:
The X factor in a lot of ways for Duke is
Justise Winslow
because of his versatility. In three of the past four games he's had a double-double. He's a guy who can attack and make plays. He can get Duke some easy baskets, and that's important at times because they can get stuck.
There are two X factors for Carolina: Johnson, who impacted the game last season with his length, and Hicks, who takes pressure off others because he can score. Overall, I think this is a challenge to Carolina's toughness. I question its toughness at times. The Tar Heels are talented, but if you were to ask me who the toughest guy on their team is, I'd have a hard time answering that. If you don't have that guy -- the guy who raises everyone's temperature -- that's a concern for a coach.
It sounds silly, but when Mike [Krzyzewski] wants to shake it up, he can put
Marshall Plumlee
in the game. He's going to knock people around, be physical, tough and fly to the glass. He's going to do those things. Who is that guy for Carolina? There isn't a guy on that team who jumps out to me that raises their temperature.
Fraschilla:
For North Carolina, it's got to be Paige. He hasn't had as much of the big-game magic as he had last year during the end of a brilliant sophomore season. He had a great shot late against NC State earlier in the season, but he has got to get back to being the Marcus Paige of his sophomore year. He made only 8 of 27 3-pointers in the past four games, and for UNC to go to Cameron Indoor Stadium and have a chance to win, he's not only the Tar Heels' X factor, but just a huge factor overall in the game. It would be hard for me to conceive of North Carolina winning in Durham without a big game from Paige.
I think if you're Coach K, you want to establish Okafor because he's having an outstanding freshman season. But much like Paige was a year ago for Carolina,
Tyus Jones
has become Duke's big-shot guy. He's been brilliant versus ranked teams, averaging 15 points and five assists versus Duke's six ranked opponents and shooting near 50 percent from 3. He has certainly proved to be a big-time player.
With that said, we need to throw some kudos to
Quinn Cook
. He's had a big season both as a great team leader off the court and by his play on the court. He's quietly had one of the better seasons in the ACC. I know Coach K has remarked over how his leadership has grown during his time at Duke. It's particularly important because this is the last time he's going to play North Carolina at Cameron. He could be a big factor.
To continue reading this article you must be an Insider