January, 13, 2015
Jan 13
1:06
PM ET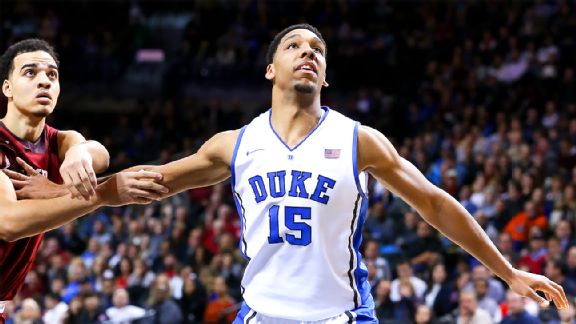 Rich Graessle/Icon SportswireDuke center Jahlil Okafor has 140 post-up points this season, good for one of the highest rates ever.
Players such as Duke's
Jahlil Okafor
don't come around college basketball very often. In fact, unlike in the days of Patrick Ewing, Hakeem Olajuwon and even
Tim Duncan
, they don't stay very long, either.
So enjoy watching this 6-foot-11 freshman now before he leaves for the NBA draft in June. He will be the No. 1 pick.
I've watched Okafor since after his freshman year at Chicago's Whitney Young High School. I worked with him at the
LeBron James
Skills Academy and saw him dominate international competition at the FIBA Under-19 World Championship in Prague before his senior year.
What makes Okafor so special is that he knows who he is as a player. Blessed with a unique combination of great agility, soft hands, keen timing and fundamentally sound footwork, he operates almost exclusively in the low post. This is his playground, even though he could operate on the perimeter effectively if he chose.
I've tried to watch every offensive possession of Okafor's freshman season, and I have come away impressed as a coach. He is shooting 68 percent from inside the arc, with most of those shots coming at the rim. I can't remember, in the past decade or more, a freshman who has more back-to-the-basket polish than he does. In fact, according to Synergy, since 2006-07 only six major-conference players have scored at least 250 points on post-ups. Okafor is poised to join this group.
Let's look closer at Okafor's game and break down some of the things he does exceptionally well as a post player.
1. Catch and Look Middle
In the low post, Okafor almost always catches and looks middle. By doing this, he gets to read 95 percent of the floor.
When he looks over his inside shoulder, Okafor can locate where his own defender is.