September, 26, 2014
Sep 26
2:10
PM ET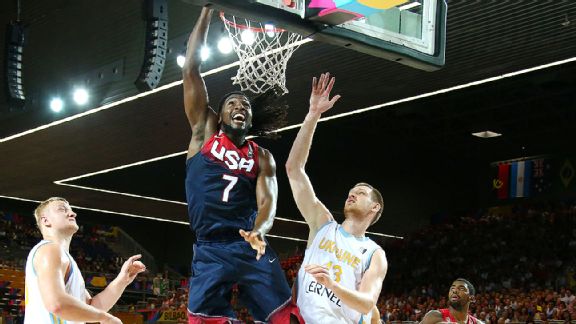 Nathaniel S. Butler/NBAE via Getty ImagesUsing FIBA goaltending rules would benefit a guy like Kenneth Faried.
After watching the FIBA Basketball World Cup this past month and watching every game that Team USA played, I came away thinking that there are some FIBA rules I would love to see adopted by college basketball.
While college basketball still is popular, there are ways it can be improved and made to be even more exciting -- not just for the players but for the fans, as well. Here are some FIBA rules that I hope would garner serious consideration from college basketball's rules makers.
---
The FIBA timeout rule
In FIBA play, the players cannot call a timeout. A timeout can be called only by the coach at the scorer's table and only when the ball is dead. This creates some interesting scenarios that do not manifest themselves in a college basketball game.
In FIBA basketball, players who are stuck in a double-team situation or dive on the floor for a loose ball, unlike college basketball, cannot be bailed out by calling timeout.