Invest in upside ... except for this time
May, 26, 2010
5/26/10
4:10
PM ET
By
Ryen Russillo
| ESPN Insider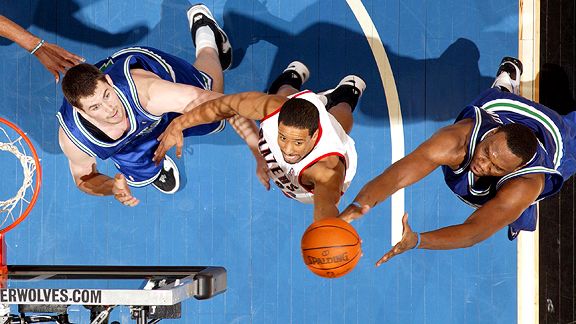 David Sherman/NBAE/Getty ImagesWith the defensive shortcomings of Love and Jefferson, the T-Wolves should go big with their pick.
When it comes to the draft, it's understood that general managers will almost always take an upside player over an experienced college player that could add immediate rotation depth or fill a need. There's a reason for this: The NBA's salary structure and trade restrictions make it very difficult to add significant talent throughout the season, so most GMs hope to get lucky by adding someone who could become a major asset in time.
So you end up with situation like last year's, when USC's
Taj Gibson
lasted until the 26th pick, while Ohio State's
B.J. Mullens
went two picks ahead of him. Granted, Mullens is almost four years younger, but he hadn't come close to matching Gibson's production in college. And sure enough, Gibson was of six players to receive rookie of the year votes this season, while Mullens played in 13 games, total.
I don't have a problem with that strategy. I understand the logic behind most of the upside picks -- and Mullens could be better than Gibson in time. But that strategy sets a lot of GMs up to fail.
Looking back on last year's Insider D.R.A.F.T. Initiative series, the success rate of
selections in the 20s
is traditionally poor.
So with that said, while teams still should generally try to take the best player available -- especially at the top of the draft -- there are a few teams that should put need first. Here are four examples to watch in June.
The early speculation is that Minnesota would be happy to see
Wesley Johnson
available at No. 4, but is SG/SF the biggest need? Maybe not, based on a conversation I had with GM David Kahn about the
Al Jefferson
-
Kevin Love
dynamic in the post.
"We have to have a significant third person to make it work," Kahn said. "I think on offense they played beautifully together; on defense the matchups are very problematic."
The Wolves could fill that need if either
Derrick Favors
or
DeMarcus Cousins
is available at No. 4. Offensively, Cousins is ahead of Favors, but defense is the concern, and with Favors being the better athlete, he's the better fit.
Drafting either Favors or Cousins would also give Minnesota a potential luxury: the chance to trade Jefferson or Love in exchange for a better perimeter player than they'd find in the draft. I have spoken to a couple of teams that are hoping to steal either Love or Jefferson from Minnesota this offseason, banking on the fact that the Wolves will be frustrated by the challenges of playing together. Don't expect Kahn to just give one away, though; he knows how valuable it is to land a big who can score. "I think people around the league try to trick people, even though it rarely works," he said.
Carlos Boozer
was the second-best player on the Jazz this season, but he'll be a free agent this summer. I spoke with a Utah source about a month before the playoffs started, and he said the team was trying to explore an extension with Boozer before this summer. It didn't happen, and the only way he'd come back now would be if Utah were to max him out for six years. There is no reason to do that.
Of course, even if Boozer were to stick around, the Jazz would still need help on the front line. Utah was destroyed in the paint against the
Los Angeles Lakers
in the playoffs.
Mehmet Okur
was out and
Andrei Kirilenko
was coming back from an injury, but even with both healthy, the Jazz are at a disadvantage defending post players.
The beauty of this year's draft class is that it's loaded with players projected at center/power forward.
Greg Monroe
,
Cole Aldrich
,
Ekpe Udoh
,
Daniel Orton
,
Hassan Whiteside
and
Solomon Alabi
all should be in the range of Utah's No. 9 selection. Not all are defensive stoppers, but none would be described as small. Orton measured the shortest among that group at "only" 6-foot-9.5.
Udoh is easily the best defender of the bunch. He changes shots at the rim and uses his athleticism to cover a lot of ground. Offensively, Udoh is behind Monroe, but the guess here is that Monroe will be gone by the time Utah picks.
Few teams have been
better on draft night
than the Spurs.
They have done a great job of adding rotation pieces late in the past two drafts, in
George Hill
(No. 26 in 2008) and
DeJuan Blair
(No. 37 in 2009). But despite their general success over the past decade, the Spurs have failed in one area -- finding an active big man to pair with
Tim Duncan
inside. Duncan is getting older and needs some help, especially after the Suns attacked him on D in their four-game sweep.
Frankly, Duncan could use a sidekick in the post. Since 2003 (
David Robinson
's last year) the Spurs have tried player after player alongside Duncan, including
Antonio McDyess
,
Theo Ratliff
,
Matt Bonner
,
Kurt Thomas
,
Fabricio Oberto
,
Francisco Elson
,
Rasho Nesterovic
and
Nazr Mohammed
.
It's not just the names; it's the constant turnover that has hindered the Spurs. That could change this year. San Antonio picks at No. 20 in a draft that is pretty deep with big guys. Even if there's a run on bigs in teens that saps the list Utah is considering, there are two more guys who should be available for the Spurs.
If the Spurs want athleticism and the physical tools to develop into an NBA defender, they could look at
Kevin Seraphin
from France. Seraphin is very raw offensively but he competes and has great hands around the rim. Meanwhile,
Craig Brackins
is as talented on offense as any other player his size. He doesn't project to be a defensive force, but his versatility on offense could make him a tough matchup at the pro level.
Memphis has two needs: improve the bench and, more importantly, replace
Rudy Gay
if he leaves this offseason.
The Grizzlies have three first-round picks: No. 12, No. 25 and No. 28. If Gay leaves, there is no player that will be taken at No. 12 that will replace his numbers immediately, but two players who could do that in a few years are
Xavier Henry
and
Avery Bradley
. Henry is the better shooter, and at 6-7, 220 pounds, he could actually fit into the small forward spot if Gay bolts. But if the Grizzlies want to go for help on defense, most decision-makers think Bradley -- a guard -- is the best defender in the draft.
Those multiple picks allow the Grizzlies to take the best player available at 12, though, and then circle back late in the first round to find college veterans who are ready to step in immediately and help them off the bench. Because there's always another Taj Gibson out there.