Colin Moran aims at top 10
April, 19, 2013
4/19/13
11:14
AM ET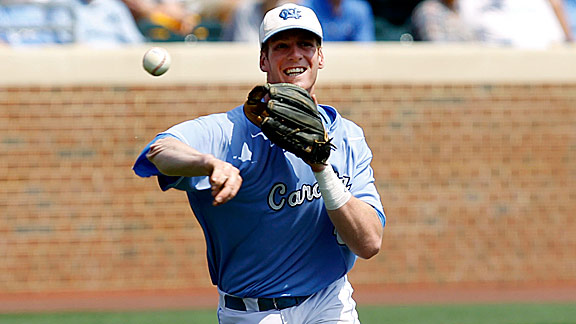 Bob Donnan/US PresswireColin Moran looks like he could stay at third base, increasing his draft value
North Carolina third baseman
Colin Moran
has been one of the best performers in Division 1 this year, including a stunning 35/8 BB/K ratio, but faces some skepticism about his swing and his ability to stay at third base in the long term.
I saw him live for the first time on Wednesday night at UNC's impressive Boshamer Stadium, and felt a lot better about his defense after watching infield practice and the game, although I can understand concerns over the swing.
The 6'3", 215-pound junior from Rye, New York, has outstanding hands and an easy throwing motion, along with great arm strength, so anything he gets to at third, he handles well, getting rid of the ball quickly. He's a fringy runner and his feet are not quick -- he tends to run a little flat-footed and often has trouble getting his feet started in the field because he's set up on his heels, but once he gets moving, he's fine, and should end up with average range at the position, or maybe a touch below, making up for it with surehandedness and a plus arm. He might end up at first base -- I don't think he could handle the outfield -- but I no longer think that's the most likely outcome.
At the plate, Moran has a great eye and generates good bat speed, with solid extension through the zone for average power or a tick above. He takes a long stride forward in the box but keeps his weight back, also keeping his hands very deep, with good hip rotation as well.
It's not a pretty swing, and it's not that consistent -- his hands come set in a different spot from swing to swing, and on some swings his front side goes soft (where he rolls over his front foot). He must have extremely strong wrists as well, because he's a little late getting the barrel of the bat into the zone but still manages to make a lot of hard contact, at least at this level, driving a ball to each gap in Wednesday night's game.
Moran will probably go in the top five picks -- if
Kris Bryant
goes 3 (Colorado) or 4 (Minnesota), I would guess Moran would go to Cleveland at 5 -- but I'm a little concerned about the unorthodox swing and have him ranked a little lower than that, 12th overall, in my most recent Future 50 ranking.