NFL's Coach of the Year contenders
November, 30, 2013
11/30/13
10:20
AM ET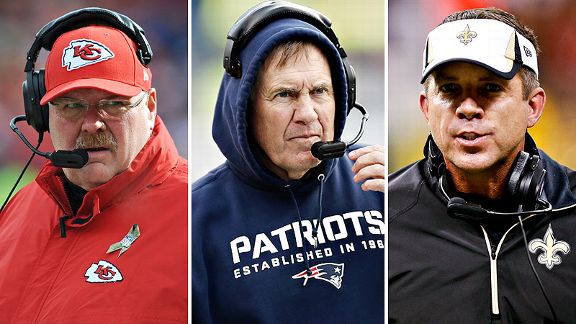 USA TODAY SportsAndy Reid's status as a runaway for coach of the year is no more. There are a number of challengers.
Seventeen NFL franchises have changed head coaches since the 2010 season. Those fired coaches were earning millions per year, of course. It was their lower-paid assistants who were most vulnerable to the churn. Some didn't have long-term contracts or places to go if their bosses failed to get work right away.
But the outlook is improving for some. In September, Ron Rivera seemed like a good candidate to be gone next season; the Panthers have won seven in a row since. Mike Tomlin and Tom Coughlin have become nearly prohibitive favorites to return after the ground beneath them shook earlier in the season. The tide has even turned some for the
Tampa Bay Buccaneers
' Greg Schiano.
On Nov. 16
, anyone betting on Schiano's return for the 2014 season could have risked just $100 for a shot at winning three times that much. Today, as the Bucs enter this weekend in the midst a winning streak, that same $100 bet would return just $150 if Schiano returned.
With those and other situations in mind, sources around the league offer thoughts on which way coaches are trending. As well, Kevin Bradley, the sportsbook manager for Bovada.lv, reveals betting lines for coaches' futures. We begin by examining coach-of-the-year credentials, with an eye toward which coaches are best positioned