April, 18, 2014
Apr 18
2:30
PM PT
April, 18, 2014
Apr 18
10:00
AM PT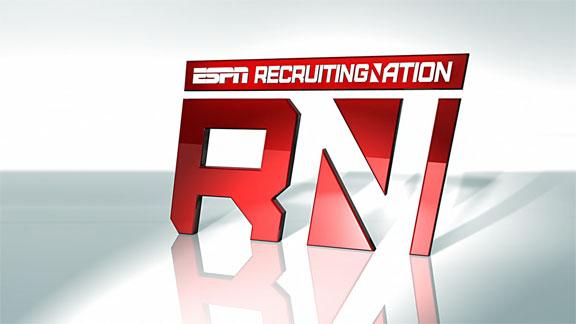 Throughout this recruiting cycle, RecruitingNation will profile a number of ESPN 300 prospects in the 2015 class, including an inside look at the prospect, his recruitment, a scouting report and what college program could benefit when he ultimately makes his decision.
When you attend a school as prestigious as Cretin-Derham Hall, as No. 16-ranked recruit
Jashon Cornell
does, you are bound to have connections. The Minnesota school has produced its share of college and NFL players over the years, including associate dean of students Marcus Freeman, who played for Notre Dame.
To continue reading this article you must be an Insider
April, 17, 2014
Apr 17
2:30
PM PT
Love is a burning thing, and it makes a fiery ring;
Bound by wild desire, I fell into a ring of fire.
April, 17, 2014
Apr 17
9:00
AM PT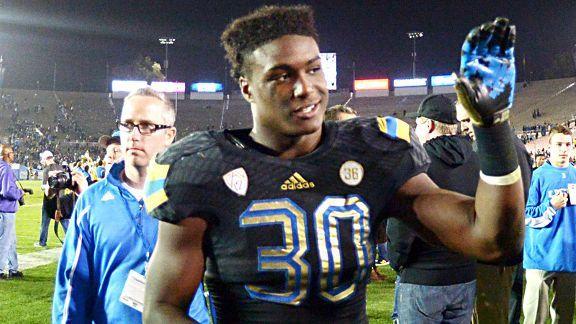 LOS ANGELES –
UCLA
's much-ballyhooed dual-threat threat
Myles Jack
-- the first player in league history to win the Pac-12's defensive
and
offensive freshman of the year -- has zero carries this spring.
None. Nada. A 230-pound donut of spring offensive production. And the reason is obvious to the man pulling the strings in Westwood.
"He is a defensive player -- period -- who
maybe
will have some offensive packages," stressed UCLA coach Jim Mora. "He hasn't taken a single offensive snap this spring, nor will he. In training camp, either. He plays defense for us. The important thing is to help us maximize his abilities at linebacker. He's phenomenal on either side of the ball. But in his mind and the reason he came here is to play linebacker. I'm not going to take that away from him. It would hurt our football team."
In a whirlwind 2013, Jack went from heralded recruit to starting linebacker to overnight social media/SportsCenter sensation. Six carries, 120 yards and one rushing touchdown later
against Arizona
, the "Jack of all trades" puns were as viral as the common cold.
[+] Enlarge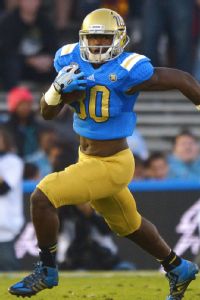 AP Photo/Mark J. TerrillUCLA's Myles Jack is focusing on defense this spring, but he could have some offensive packages during the fall.
"It was definitely crazy," Jack said. "My life pretty much changed after that Arizona game. People really knew who I was after that. It was definitely pandemonium in terms of my phone. Guys I hadn't talked to in a long time were hitting me up. It was wild."
This spring the UCLA coaching staff has reminded Jack that he is, above all else, a linebacker. They've kept him strictly on one side of the ball, but haven't ruled out that we might see him get some carries when the leaves start to turn. For now, the emphasis is on making him the best linebacker he can be.
And he was pretty good last season, posting the second highest number of tackles in school history for a true freshman with 75. That was enough to earn him second-team All-Pac-12 honors and placement on several freshman All-America teams. He was good, but not great. And he knows it.
Too often last season, Jack would rely on his athleticism rather than trusting in his still-developing technique. He'd guess. When he guessed right, the result would be a tackle for a loss or a highlight play. When he guessed wrong, what could have been a sack turned into a 3-yard gain. He was athletic enough to compensate. But the coaching staff is confident that when he reaches that sweet spot between athleticism and technique, well, look out.
"I'm not even close to where I need to be yet," Jack said. "In high school I carried the ball and played defensive end. I was in a four-point stance and I'd just run around the other guys. But in the Pac-12, these offensive linemen are big and fast. I need to do a better job with my hands and shedding blocks and reading my keys."
His collegiate offensive exploits speak for themselves. His 66-yard touchdown run against the Wildcats thrust him into the national spotlight and he ended the season with 267 rushing yards and seven touchdowns. He set a UCLA true freshman record with four rushing touchdowns
against Washington
, and on the other side of the ball, he led the Bruins with 11 passes defended and added a two interceptions with a pick-six in
the bowl win
over Virginia Tech.
Mora was quick to note that Jack isn't the only dual-threat the Bruins have on their roster. Last season defensive lineman
Eddie Vanderdoes
rushed for a touchdown and had an 18-yard reception. Linebacker
Jordan Zumwalt
had a 12-yard catch and defensive lineman
Cassius Marsh
had a 2-yard touchdown reception.
"If they can help us on either side of the ball, we're going to continue to use them," Mora said. "We're going to continue to use Myles on offense and in packages. We're going to continue to use Eddie Vanderdoes. We're going to continue to use Kenny Clark. We're going to find a guy that can replace Cassius. We've got guys like
Ishmael Adams
that we can play on both sides of the ball. But we have to make sure they are full entrenched at one position before we ask them to branch out. Otherwise you hurt their ability to grow."
April, 16, 2014
Apr 16
7:00
PM PT
What is your team's best quarter? Worst? And what does it mean?
While it's probably a mistake to read too much into how a team does quarter by quarter -- the final score is what counts -- it might provide some tidbits of insight.
The baseline, of course, is this: Good teams are going to win most every quarter and bad teams will lose most every quarter. But what does it mean if your team starts fast or slowly? Or owns the third quarter? Or sputters in the second?
The conventional wisdom is teams that do well in the third are good at making halftime adjustments, but coaches often snort at such talk.
Former Arizona State coach Dirk Koetter once painstakingly walked reporters through the halftime process to help them understand the small window for making significant schematic changes. Former Oregon coach Chip Kelly was at his snarky best -- even as he was being flattered -- when asked about "halftime adjustments."
Kelly, however, would admit that the occasional slow start by his offense was due to a feeling out period, where he and his assistants were taking the measure of what a defense was trying to do. That's the nature of football -- punching and counterpunching, reading and reacting.
Still, you probably shouldn't read too much into these numbers. While it's interesting that UCLA and Washington were very good in the third quarter last year while Arizona State -- curiously -- was not, the salient fact is the Sun Devils beat both.
Arizona, Oregon, UCLA and Washington were the only Pac-12 teams to win every quarter.
California was the only Pac-12 team outscored in all four quarters. The Bears gave up 181 points in the first quarter, the worst defensive quarter in the conference.
The highest scoring quarter belonged to Arizona State, with 192 points in the second. Washington had 184 points in the third and Oregon 182 points in the first.
The best defensive quarter was USC in the first, holding foes to 37 points. Washington yielded 44 in the first and UCLA gave up 44 in the third.
Arizona State was dominant in every quarter, other than the third, when it was outscored 109-99.
Stanford was dominant in every quarter other than the fourth, which it lost 85-92, suggesting the Cardinal didn't fight for a large margin of victory.
Oregon was dominant in all four quarters and, despite that, posted the best fourth-quarter margin of 78 points (137-59), suggesting the Ducks enjoyed producing a large margin of victory.
Stanford yielded 60 or fewer points in each of the first three quarters. Oregon did so in the third and fourth (47 points and 59 points). Only three other teams produced even a single quarter with 60 or fewer points: UCLA in the third (44), USC in the first (37) and Washington in the first (44).
Colorado was outscored in the first three quarters but won the fourth decisively, 130-70. That suggests Mike McIntyre's team didn't quit.
USC won 10 games last year despite being outscored in both the third and fourth quarters. Only Cal and Washington State matched that dubious distinction.
Utah was outscored only in the fourth quarter. Oregon State was outscored only in the first.
Washington's 119-point margin (184-65) in the third was the largest for any quarter. Oregon's 109-point margin in the first quarter was second (182-73). Arizona State had the largest second-quarter margin at 77 points (192-115).
April, 16, 2014
Apr 16
2:30
PM PT
It is a truth universally acknowledged, that a single man in possession of a good fortune, must be in want of a wife.
April, 16, 2014
Apr 16
11:45
AM PT
This recruiting cycle represents a huge year for talent in California, which means the Pac-12 should be able to put together some very healthy recruiting classes. In looking at the top five targets for the conference in the
2015 ESPN 300
, it's no surprise that three come from Southern California. But if the Pac-12 wants to have a better overall finish in the recruiting rankings next year -- USC at No. 14 overall was the highest finish in 2014 -- the conference will need to reel in several out-of-area standouts, which is why the first two names on the list are here.
To continue reading this article you must be an Insider
April, 15, 2014
Apr 15
2:30
PM PT
I'm an early bird and I'm a night owl, so I'm wise and have worms.
April, 14, 2014
Apr 14
7:00
PM PT
ESPN's Todd McShay released his
Mock Draft 4.0

on Friday, but unlike the first three, this one included projections for the second round to go along with the first.

If things were to play out how McShay envisions, the Pac-12 would account for just three first-round picks. The surprise there is not the amount, but who is not included -- UCLA OLB/DE
Anthony Barr
.
After projecting Barr at No. 7 in his first mock draft in December, McShay had him at No. 11 in versions 2.0 and 3.0. This time? All the way to the second round at No. 36 to the
Oakland Raiders
.
It's long been assumed the UCLA pass rusher was the obvious candidate to be the first Pac-12 player taken, but the torch -- at least in this instance -- has been passed to Oregon State receiver
Brandin Cooks
at No. 18 to the Jets. McShay's previous forecast had USC receiver
Marqise Lee
in that spot, but now he has Lee joining former Oregon coach Chip Kelly in Philadelphia at No. 22.

McShay notes:
Lee did some serious damage to Chip Kelly's Oregon teams in 2011 and 2012, with a combined 20 catches for 344 yards and three touchdowns.
UCLA offensive guard
Xavier Su'a-Filo
is tagged for former USC coach Pete Carroll and the Super Bowl champion Seahawks at No. 32.
Seven players from the Pac-12 were projected to go in the second round, and a notable running back from the conference is on the board after the first two rounds.
April, 14, 2014
Apr 14
2:30
PM PT
I remember the stupid things, the mood rings, the bracelets and the beads, the nickels and dimes, yours and mine. Did you cash in all your dreams?
April, 10, 2014
Apr 10
2:30
PM PT
And I said "What about Breakfast at Tiffany's?" … Well, that's the one thing we've got.
2013 TEAM LEADERS
| TEAM | RUSH | PASS | TOTAL |
| --- | --- | --- | --- |
| Offense | 196.6 | 251.6 | 448.2 |
| TEAM | PF | PA | MARGIN |
| Scoring | 36.5 | 24.1 | 12.4 |