November, 23, 2014
Nov 23
7:32
PM PT
November, 23, 2014
Nov 23
1:22
PM PT
November, 23, 2014
Nov 23
3:35
PM PT
A week after half the Pac-12 was ranked in the Associated Press poll, that total is
down to four
.
After poor showings on Saturday, USC and Utah both dropped from the rankings, but the remaining four -- Oregon, UCLA, Arizona and Arizona State -- are all at No. 13 or higher, which gives the Pac-12 the most teams ranked 13th or better.
Oregon has settled in at No. 3 behind top-ranked Florida State and Alabama, while Mississippi State and Baylor round out the top five. The Ducks received two first-place votes. UCLA moved up two spots to No. 9 after its 38-20 win against USC, while Arizona jumped three places to No. 12, a spot ahead of rival Arizona State.
UCLA, Arizona and Arizona State all remain in contention to win the Pac-12 South, which will be decided on Friday. If the Bruins beat Stanford at the Rose Bowl, they will be the division champions and play Oregon in the Pac-12 title game Dec. 5 at Levi's Stadium in Santa Clara, California. However, if the Bruins lose, the winner of the Territorial Cup between Arizona and ASU will take the division.
Both games are set to kick off at 3:30 p.m. ET.
November, 23, 2014
Nov 23
2:00
PM PT
November, 23, 2014
Nov 23
1:10
PM PT
It was an active weekend for recruits on social media, especially in Los Angeles, where UCLA turned in a huge performance in front of a number of Southern California's elite recruits. This weekend's look at Pac-12 visits through recruits' eyes on social media features stops in Eugene, Tempe, Berkeley and a whole lot of love for the Bruins in Los Angeles.
UCLA's big night
It all started with a bang for the Bruins, as ESPN 300 defensive end Keisean Lucier-South committed to UCLA well before the start of the game against USC.
November 23, 2014
Lucier-South, the nation's No. 29 prospect, had always been considered a lean to the Bruins, but solidifying his commitment was still cause for celebration in Westwood. It gives UCLA the Nos. 3 and 5 prospects in the state after not signing any of the top 13 California prospects in the 2014 class. Lucier-South was in attendance at the Rose Bowl as well, as UCLA's decisive 38-20 victory over USC made for a nice day for the new commitment.
Today was a good day #4sUp #8Clap ????????

— Keisean South1?6? (@KLSouth16) November 23, 2014
While Lucier-South was in attendance on an unofficial visit, there were more than a few official visitors in town for the Bruins. Perhaps the most important uncommitted official visitor was ESPN 300 guard Joshua Wariboko, the No. 174 prospect in the nation. He was on a visit with UCLA pledge Will Lockett and they had similar thoughts on the atmosphere on campus and at the game.
Rose bowl so live ??

— Will Lockett!!!! (@willdoesit__) November 22, 2014
Utah commit George Wilson was at the game and provided a quick snapshot.
?????? v. ?? ???? pic.twitter.com/md0wLM6qwV

— George Siaosi Wilson (@24isreal) November 23, 2014
But the lasting effects from this game might be more felt in the 2016 class, which was loaded in terms of visitors at the Rose Bowl. Outside linebacker Caleb Kelly, the nation's No. 38 prospect in his class, made the drive down.
Were ready for some football! 8 clap! ?? @calebkkelly @grnigne37 pic.twitter.com/nT5UkZRF7q

— Valerie Kelly (@valkel19) November 22, 2014
Insider linebacker Lokeni Toailoa, the nation's No. 79 prospect in 2016 retweeted a number of positive UCLA messages and had this simple statement, regarding UCLA's three straight wins in the rivalry.
Bruwins x3.

— Lokeni Toailoa (@LokeniTheGreat) November 23, 2014
2016 wide receiver Theo Howard, who holds early offers from both programs, was at the Rose Bowl.
Ucla vs usc tonight!!

— theo howard (@theohoward2) November 22, 2014
Running back Damian Alloway, a new addition to the 2016 ESPN 300, at No. 206 overall, holds an offer from UCLA and wasn't shy about which direction he was leaning Saturday night.
I mess with SC and UCLA tough but I'm only a UCLA fan today. #8clap ??

— Damian A1?1?oway (@dalloway11) November 22, 2014
UCLA also hosted 2016 prospects Traveon Beck and Frank Martin -- the No. 132 overall prospect in his class.
#8clap with my boy frank Martin @Frank_martin73 pic.twitter.com/nbKMQiyRnY

— Traveon Beck ? (@HeyImTray) November 23, 2014
More visitors to Oregon
The Ducks have taken advantage of in season official visitors more frequently than any other Pac-12 program, relying heavily on Autzen Stadium's tremendous atmosphere to make an impression on visitors. This weekend, a few notable uncommitted prospects took official visits in Marquise Doherty and Octavius Spencer, but the visit to watch could be Arizona State junior college linebacker commit Davon Durant. All three prospects likely heard plenty from Oregon's committed prospects in town on official visits -- offensive linemen Shane Lemieux and Jake Hanson.
Great times in Eugene with the fam pic.twitter.com/56FafUFBm9

— Jake Hanson (@Jake_Hanson72) November 23, 2014
Trip to Tempe
Arizona State had several interesting official visitors on campus, as ESPN 300 prospects John Houston, Stanley Norman and Joseph Wicker all made their way to Tempe. The Sun Devils also hosted committed junior college tight end Raymond Epps on an official visit.
We got the win. #ASUvsWashington #ForksUp pic.twitter.com/iXiuMBsSN5

— Raymond Epps (@Hard2Guard13) November 22, 2014
Big visitor for Big Game
Cal had a number of commits in town for the Big Game against Stanford. The Golden Bears also received an unofficial visit from 2016 ESPN 300 cornerback Treyjohn Butler, the No. 86 overall prospects who holds early Pac-12 offers from Arizona State, Cal, Washington and Washington State.
#GoBears pic.twitter.com/XpODtoR0y9

— Since98 (@_treyjohnb) November 22, 2014
Great time in the 510.. #calbears pic.twitter.com/YbPestDQqQ

— Since98 (@_treyjohnb) November 23, 2014
November, 23, 2014
Nov 23
10:40
AM PT
No. 1 Alabama, No. 2 Oregon and No. 3 Florida State are the closest things to locks for the inaugural College Football Playoff. Should all three of those teams win out -- which, of course, is no guarantee -- they should finish the season in the top four of the
selection committee's rankings
.
It's that coveted fourth spot that remains the greatest debate.
"It's also fair to say the differences between teams four through seven -- Mississippi State, TCU, Ohio State and Baylor -- are narrow, very narrow," committee chair Jeff Long said Tuesday. "There are more games to play and these teams are knocking on the door, and they're not the only ones."
Here's a closer look at those teams still "knocking on the door" and how Week 13 affected their playoff chances:
Mississippi State
Pros:
Although many other top teams struggled against lesser competition, the Bulldogs took care of business in a
51-0 dismantling
of Vanderbilt. Mississippi State needed to win with style, and the game was never in doubt. "If you don't think we controlled that game," quarterback
Dak Prescott
told The Associated Press, "then I don't know what you're looking for."
Cons:
Ole Miss self-destructed in a
30-0 loss
to Arkansas, the second straight opponent the Razorbacks have shut out. That doesn't bode well for Mississippi State, which is teetering on the edge of the bracket and has just one win over teams currently ranked in the selection committee's top 25 (Auburn). The Bulldogs finish the season on the road against Ole Miss in the Egg Bowl and their résumé could have used another boost, but the Rebels should drop out of the top 10 after suffering a third loss.
TCU
Pros:
The Horned Frogs were off to prepare for Thursday night's Thanksgiving game at Texas, but they were still helped by K-State's
Thursday night win
in Morgantown and Minnesota's
28-24 win
over Nebraska. For the fourth straight week, TCU was ranked ahead of Baylor, and Long said it was because "strength of schedule is an important factor that came into play, and [Baylor's] body of work is not quite comparable in the view of the committee." That Minnesota win has a lot to do with it, and it keeps looking better. Until Baylor adds a convincing K-State win to its résumé, there's no reason to think the committee will reward Baylor's head-to-head win over TCU.
Cons:
Ohio State won again. The Buckeyes were pushed by an unheralded Indiana team, but they clinched the Big Ten's East Division and earned a spot in the conference title game. Ohio State is one team both Baylor
and
TCU need to be worried about, as the Buckeyes jumped Baylor in the committee's rankings last week.
Baylor
Pros:
The Bears
beat Oklahoma State
and have now won three straight since their Oct. 18 loss at West Virginia, which is one result the committee has held against Baylor in its comparison to TCU. Baylor also benefited from K-State's Thursday night win in Morgantown. The Bears need to punctuate their playoff résumé with a season-ending win against a highly ranked K-State team at home Dec. 6. If Baylor and TCU both win out, the Bears should wind up on top.
Cons:
Ohio State, which jumped Baylor in the rankings last week, won again and clinched the Big Ten's East Division in the process. Baylor also didn't beat Oklahoma State as convincingly as TCU did, but that's splitting hairs: Baylor won 49-28, while TCU beat the Cowboys 42-9. The committee will compare results against common opponents. Baylor's biggest problems are its nonconference schedule and the loss at West Virginia.
Ohio State
Pros:
The Buckeyes
beat Indiana
to clinch the Big Ten's East Division, and Wisconsin also
won at Iowa
, putting the Badgers one victory from clinching the West Division. Ohio State should be able to avoid an upset against a middling Michigan team this coming week. There's certainly no margin for error after the Week 2 home loss to Virginia Tech, but if Ohio State can pull off an impressive win against a ranked Wisconsin team to win the Big Ten title, that loss to the Hokies just might be forgiven.
Cons:
It was an underwhelming first three quarters against the Hoosiers for the Buckeyes, who had three turnovers and continue to struggle with ball security. Every other bubble team the Buckeyes are up against found a way to win, too.
UCLA
Pros:
After an impressive
38-20 win
against USC, the No. 9-ranked Bruins are now in the driver's seat to win the Pac-12 South Division. UCLA can clinch the division with a win against Stanford on Friday. If the Bruins lose to Stanford, Friday's Arizona/Arizona State winner would win the division. UCLA remains the Pac-12's best hope at getting a two-loss conference champ in the playoff. If the Bruins can beat Oregon in the conference title game, they should have at least three wins over teams still ranked in the committee's top 25.
Cons:
Those two losses. The Oct. 4 home loss to Utah took another hit this weekend when Arizona trounced the Utes
42-10
, dropping Utah to four losses and out of the division race. Utah will also likely drop out of the committee's top 25.
Group of 5
Pros:
Marshall, Memphis, Northern Illinois, Colorado State and Boise State all continued to win. Undefeated Marshall didn't win any style points against UAB, but the Thundering Herd remain the only undefeated Group of 5 team.
Cons:
The selection committee hasn't ranked a Group of 5 team for three weeks, citing strength of schedule as the main reason. There's nothing left on Marshall's -- or any other Group of 5 front-runner's -- schedule likely to change that reasoning.
"Again, Marshall's body of work, their strength of schedule, what they've done to this point in time, the committee does not feel that they warrant being ranked in the top 25," Long said last week. "Again, they're very close. We've talked a lot about Marshall, we've talked about Boise State, Colorado State, Memphis, Northern Illinois -- all Group of 5 teams that are good teams and that we've certainly discussed."
November, 23, 2014
Nov 23
9:00
AM PT
All six Pac-12 games on Saturday were decided by at least three scores. For that, Pac-12, I award you no points, and may God have mercy on your soul ... but here are some helmet stickers.

Taylor Kelly, QB, Arizona State:
Kelly and the Sun Devils got off to a horrible start against Washington State, but that's but a distant memory after the senior finished strong in a
52-31
victory. He completed 12 of his final 14 passes for 188 yards and four touchdowns.
Nick Wilson, RB, Arizona:
The freshman ran for a career-high 218 yards on 20 carries with three touchdowns, including a 75-yarder, in Arizona's
42-10
victory over Utah. As Wilson goes, so do the Wildcats. Arizona is 8-0 when Wilson rushes for 19 or more yards.
Marcus Mariota, QB, Oregon:
In his final game at Autzen Stadium (probably), Mariota turned in a typical performance: 24 for 32, 323 yards, three touchdowns, no interceptions and ran for 73 yards and another score on eight carries in a
44-10
victory over Colorado. His 42 touchdowns this year (passing and rushing), breaks
Matt Barkley
's single-season Pac-12 record from 2011.
Blake Martinez, LB, Stanford:
Martinez recorded two interceptions and forced a fumble to help Stanford force five turnovers in a
38-17
victory against California -- the most it has forced in a game since Nov. 27, 2010 against Oregon State. He's the first player with two interceptions in the Big Game since Cal's Nnamdi Asomugha in 2001.
Brett Hundley, QB, UCLA:
Hundley threw for 326 yards, accounted for four touchdowns and broke Cade McNown's school record for total offense (now at 11,353) in the Bruins'
38-20
victory over USC. He's also the first UCLA quarterback since McNown to win three consecutive games against the Trojans.
Cyler Miles, QB, Washington:
Miles turned in his best performance of the season, completing 18 of 23 passes for 253 yards and two touchdowns without an interception to help the Huskies become bowl eligible with a
37-13
victory over Oregon State.
Vince Mayle, WR, Washington State:
Mayle showed why he's a semifinalist for the Biletnikoff Award with 15 catches for 252 yards -- his sixth 100-yard receiving game of the season. He cracked the 100-catch mark in the game (101) and set WSU's new single-season receiving record (1,404 yards).
November, 23, 2014
Nov 23
8:55
AM PT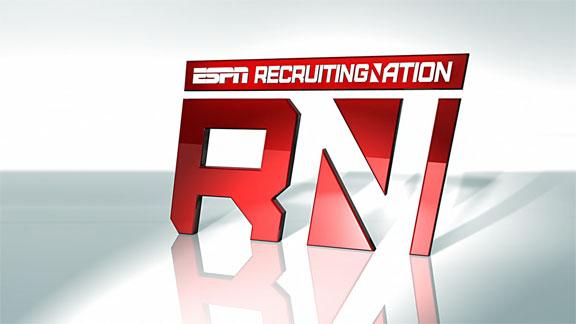 Prior to its prime-time victory over USC on Saturday, UCLA started the night by securing a commitment from
Keisean Lucier-South
. Here's what the ESPN 300 defensive end means for the Bruins' 2015 class:
November, 23, 2014
Nov 23
12:16
AM PT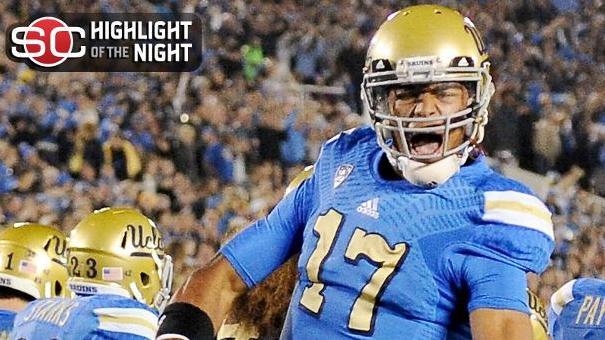 PASADENA, Calif. -- The transfer of sports ownership in Los Angeles is trickier than it is in most cities.
In other municipalities, you can close a deal in a day or transfer it from year to year like a pink slip without much debate.
Win, and it's yours. You own it. You run it. No debate about it.
Los Angeles, however, is different.
Ownership of the city with respect to its various sports isn't so much an annual transaction as almost a generational one that doesn't change hands overnight. As crazy as it might sound, head-to-head results don't mean as much in the long term as national accomplishments.
On Saturday, UCLA defeated USC 38-20 and claimed a third straight win in the crosstown rivalry. It represents the Bruins' longest win streak in the series since they claimed eight straight from 1991 to 1998. Not only has UCLA beaten USC three straight seasons, but each one has also been by double digits. The Bruins have scored at least 35 points in three straight games against the Trojans for the first time in the rivalry's 85-year history.
[+] Enlarge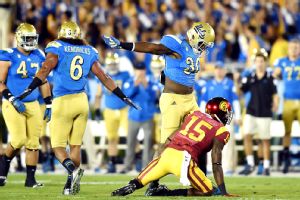 Chris Williams/Icon SportswireThe Bruins might own the Trojans for now, but they certainly don't own Los Angeles.
After Sunday's game, UCLA quarterback
Brett Hundley
, who is now 3-0 against USC, smiled and said, "UCLA runs L.A."
Last year, UCLA coach Jim Mora pumped his fists after beating USC at the Coliseum and screamed, "We own this town!"
There is no doubt UCLA is the better football team in Los Angeles and has been for three years now. If Los Angeles were just any other city, these results would make Los Angeles a UCLA football town.
By that reasoning, such recent dominance also would make Los Angeles a Clippers town. The Clippers have beaten the Lakers four straight times and eight times in their past nine meetings and thumped them by an average margin of 35.5 points during their final three meetings the past season.
But Los Angeles is not any other city.
Despite what outsiders might think, L.A. isn't as fickle as the weather or ever-changing standings. Teams don't relinquish ownership of this city after three years when they've been running things for more than 50 years.
Winning Los Angeles will always be far more difficult than winning a division or a championship. Have a great season, and you can claim one of those, but winning Los Angeles will always take more than a good season or three. It takes sustained success over decades -- the kind of sustained success great enough to change rooting interests passed down through generations.
This season's USC team is the last to be impacted by the three-year NCAA penalty that caps the annual roster at a maximum of 75 scholarship players and the yearly scholarship signees to 15, which is 10 fewer than the NCAA maximum in both cases. Perhaps it's just a coincidence that UCLA's three-year run has coincided with USC's punishment, but the Bruins certainly have taken advantage on and off the field, as well, in recruiting during this time period.
Mora and Hundley have enjoyed unprecedented success at UCLA over the past three years. Not only have they beaten USC three straight seasons, but Saturday's win also locked up the ninth win of the Bruins' season. Never before in the story of UCLA football (dating back to 1919), have the Bruins won at least nine games in three straight seasons.
But unless UCLA can beat Stanford next week and Oregon the following (they haven't beaten both in the same season since 2007), they will finish this three-year run without a conference title and without a trip to the Rose Bowl or a BCS quality bowl. The Bruins' most recent conference title and trip to the Rose Bowl were in 1998, and their most recent Rose Bowl win was 1985.
Los Angeles is a city owned and run by the teams that win championships. It's the only kind of currency this town recognizes. Head-to-head battles and win streaks are nice, but they are quickly forgotten when trophy cases accumulate dust. The same goes for empty seats in the crowd. As good as UCLA has been these past three seasons, they Bruins have been hard-pressed to get the Rose Bowl filled to capacity.
The Rose Bowl seats 92,542, but the most recent time a UCLA home game cracked 90,000 was in 2006, when a 7-6 UCLA squad spoiled USC's shot at playing in the national championship. Saturday's game drew 82,431 in Pasadena, which meant there were about 10,000 empty seats for the showdown between No. 9 UCLA and No. 19 USC.
USC has 11 national championships and six Heisman trophy winners, and 483 Trojans have been taken in the NFL draft -- second only to Notre Dame. From 2002 to 2008, USC enjoyed seven straight 11-win seasons, conference championships and BCS bowls and won two national championships. The Trojans also beat UCLA in 12 of 13 games from 1999 to 2011, culminating in a 50-0 win at the Coliseum. Sure, it's old news and nothing more than a history lesson, but it's what Los Angeles recognizes and respects.
Likewise, L.A. sports fans respect the Lakers' 16 NBA championships, UCLA's 11 national championships in college basketball and the Dodgers' six World Series titles. Yes, their crosstown rivals might get the better of them from time to time, but until that translates into something more than bragging rights, ownership of Los Angeles won't change hands.
November, 23, 2014
Nov 23
2:47
AM PT
A few things we learned this week in the Pac-12.
South Division picture clearer
: With UCLA's
38-20 whipping of USC
and Arizona's
42-10 bludgeoning of Utah
, the Trojans and Utes are out of the South Division race. So it comes down to UCLA, Arizona and Arizona State on the final weekend of the regular season to see who plays North Division champion Oregon on Dec. 5 for the Pac-12 title. UCLA controls its fate: It wins the South if it beats Stanford on Friday. If UCLA loses to Stanford, the winner of the Territorial Cup on Friday is the Pac-12 champion. Funny thing: Both games are 12:30 PT kicks, so they will be contested simultaneously, which means the Sun Devils and Wildcats likely will be doing some scoreboard watching during their rivalry game.
[+] Enlarge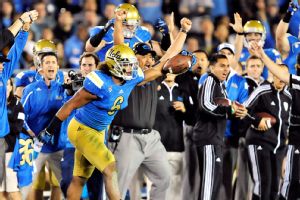 Gary A. Vasquez/USA TODAY SportsUCLA rolled over USC 38-20, which gave the Bruins three straight wins in the cross-town rivalry.
Battle for L.A. goes to UCLA
: UCLA has now won three in a row against USC for the first time since it won eight in a row from 1990 to 1998, so Bruins third-year coach Jim Mora has officially established a trend, even if this was Steve Sarkisian's first go-around over the Victory Bell. This was a big one, with both teams ranked and the South Division still available for the taking. UCLA, by the way, also keeps its hopes for a berth in the College Football Playoff alive -- hopes that will be pretty good if they win out and take the conference crown over Oregon. Next big question: Who wins the L.A. recruiting battle? By the way, USC has a lot of guys coming back in 2015, while UCLA will be breaking in a new QB with
Brett Hundley
likely heading to the NFL after he provided Bruins fans a troika of L.A. rule during his tenure. With UCLA rising under Mora and USC now free of NCAA sanctions, this rivalry should only get better -- as in, more nationally relevant.
This is the biggest Territorial Cup in a long time
: Arizona and Arizona State, both 9-2 overall and 6-2 in the Pac-12, will meet in the Territorial Cup as ranked teams for the first time since 1986. The most recent time both teams had at least nine wins was 1975 (ASU 10-0, Arizona 9-1). The South Division is still undecided. Next Friday, with everyone stuffed with turkey, this will be great fun in Tucson. Big question, though: Will Arizona QB
Anu Solomon
, who left the Wildcats' win over Utah with a lower-leg injury, be available?
Newly bowl eligible
: Stanford's
38-17 win
over Cal and Washington's
37-13 win
over Oregon State made each team bowl-eligible and gave the Pac-12 eight eligible teams. Cal and Oregon State still can become bowl-eligible on the final weekend. Cal needs to beat BYU at home on Saturday, while the Beavers need to end their six-game losing streak in the Civl War against state Oregon.
Cal is much better, but Stanford still rules the Big Game
: Cal and Stanford entered the Big Game with matching 5-5 records, but the Cardinal made a dominant statement and won their fifth in a row in the series. That means no Stanford senior will experience life without The Axe. Entering the game, it was a matchup of a good offense (Cal) versus a good defense (Stanford) and a bad offense (Stanford) versus a bad defense (Cal). We learned Stanford's good defense is better than Cal's good offense, and its bad offense is better than Cal's bad defense.
Washington State's freshman QB Luke Falk has lots of potential, but he hasn't yet arrived
: Falk was impressive coming off the bench to replace an injured
Connor Halliday
against USC and had a brilliant starting debut at Oregon State and a strong start at Arizona State, when the Cougs jumped ahead 21-7 against the Sun Devils. But things went haywire thereafter, and Falk started looking like a freshman. He committed five turnovers (four picks and a fumble) in a game the
Cougars lost 52-31
. He threw for 601 yards and three TDs, and he has shown plenty of good things that point to a strong future running Mike Leach's offense. But the performance in Sun Devil Stadium showed he's still got ways to go, which really shouldn't be surprising.
November, 23, 2014
Nov 23
2:27
AM PT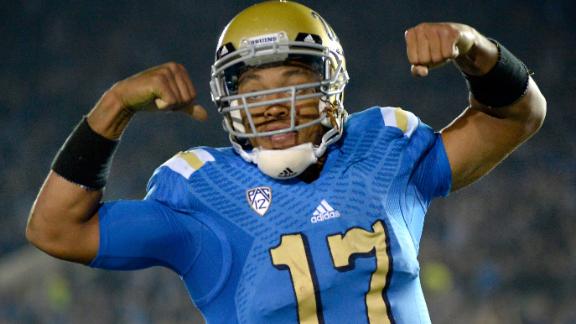 PASADENA, Calif. -- Naturally, UCLA coach Jim Mora would have preferred his Bruins be a pristine 11-0, having already locked up the Pac-12 South ahead of next week's season finale against Stanford.
But let's be honest. When you hoist your sails in Pac-12 waters, you're going to hit a couple of rocks.
UCLA took on water midway through the season with back-to-back losses to Utah and Oregon, and the national media just assumed the S.S. Bruin was unsalvageable.
But the Bruins bailed the water out. And five wins later -- including their most recent 38-20 pasting of USC Saturday night -- No. 9 UCLA once again finds itself hanging around for a spot in the College Football Playoff. And while swallowing a pair of home losses never sits well, perhaps the silver lining of the mid-season defeats is that the national media turned its oppressive stare away from Westwood, giving the Bruins the space they needed to grow into the team that throttled its rivals at the Rose Bowl Saturday night.
[+] Enlarge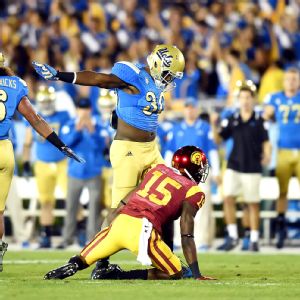 Chris Williams/Icon SportswireFor the third straight season, UCLA punched USC in the mouth and defeated the Trojans by double figures, a streak that hasn't happened in nearly 60 years.
"I don't know if it was the external pressure as much as it was the pressure we put on ourselves," UCLA defensive coordinator Jeff Ulbrich said. "We've got a young roster. They wanted it so bad. I dare to say
too
bad, to the point where they were pressing. This team has been built upon these guys trusting each other and loving ball and they almost lost that a bit in that mid-season lull. We dropped a couple and we swore to get back to who we are and not care about what everyone else thinks about us."
Saturday night, UCLA looked every bit the dominant team many thought it would be when the Bruins were tapped as the No. 7 team in the country in the preseason. The defense was vicious -- sacking USC quarterback
Cody Kessler
six times and picking up eight tackles behind the line of scrimmage. The Trojans, who averaged 35.2 points per game coming into the game, were held to just 20 points.
Offensively, quarterback
Brett Hundley
shook off an early pick-six and ended up 22-of-31 for 326 yards and three touchdowns. He also rushed for a 15-yard score.
And let's not overlook the fact that the Bruins are now 3-0 against USC in the Mora era. To boot, all three wins have come by 10 points or more. The last time that happened was 1953-55, a time period that saw the Bruins win the UPI national championship in 1954.
Mora took all of two sentences to relish the significance of the win.
"We don't bask in moments," he said. "We'll just move on to the next moment."
The next moment involves a Stanford squad that is 3-0 against Mora. With a victory Friday the Bruins will clinch the Pac-12 South and face the
Oregon Ducks
in the Pac-12 championship game. If they lose, then Saturday's Territorial Cup between Arizona State and Arizona will determine the division champion.
Schematically, the Bruins didn't make any drastic overhauls when they hit their two-game skid. They took the leash off Hundley and gave him more freedom to run. And they put more of an emphasis on their base offense. But for the most part, the UCLA team Saturday -- from an X's and O's standpoint -- was the same that won Aug. 30 at Virginia.
"Those two losses feel like 100 years ago," offensive coordinator Noel Mazzone said. "That doesn't mean I'm not [upset] that we lost both. I think we've seen the offensive line really improve over the last month. And the glass half full is that maybe we're a better football team because of those losses. The kids refocused, and we went back to our base, and we figured we'd just get good at what we do."
It sounds simple enough. The result has been a spike in the national rankings and UCLA's second win over a top-20 team in its last five games. And the Bruins are sure to climb again when the new rankings are released Tuesday, given their win over the No. 19 Trojans and Ole Miss' loss to Arkansas.
Of course, just like when his team was ranked No. 7 in the preseason, Mora was in no mood to talk about the playoff.
"I talk about the Pac-12 championship," he said. "We have to win Friday. If we can win Friday, we will have another shot to win the Pac-12 championship. I don't talk about that other stuff."
And yet the "other stuff" can't be ignored. Because if the Bruins were to win the conference, it would include a win over (likely) No. 2 Oregon and give them a compelling case for being the best two-loss team in the country. And if a conference championship counts for something -- as the selection committee claims -- the Bruins would have a very strong argument for inclusion.
November, 22, 2014
Nov 22
11:47
PM PT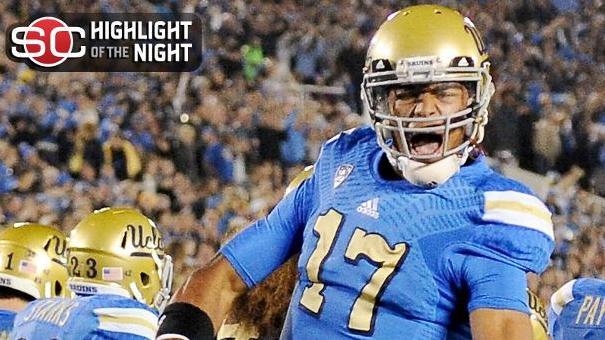 UCLA eliminated USC from the Pac-12 South race with a lopsided
38-20 win
at the Rose Bowl. It marks the first three-game winning streak in the series for the Bruins since 1996-98.
How the game was won:
After USC (7-4, 6-3 Pac-12) took a 7-0 lead, UCLA (9-2, 6-2) basically did whatever it wanted. The Bruins led 24-14 at halftime and extended the lead to 38-14 in the third quarter before coasting to the win.
Game ball goes to:
UCLA quarterback
Brett Hundley
finished 22-of-31 for 326 yards three touchdowns passes to move to 3-0 in his career against the Trojans -- the first Bruins quarterback since Cade McNown with such a record. Hundley also rushed for a touchdown and passed McNown to become UCLA's career leader in total offense.
What it means:
UCLA can lock up the Pac-12 South with a win against Stanford next week at home. It would be the Bruins' third appearance in the title game since it was introduced in 2011 -- the most of any Pac-12 team. USC could have clinched the division on Saturday with a win and an Arizona State loss to Washington State, but instead are no longer in contention.
Playoff implication:
UCLA is a serious threat for a playoff berth. If the Bruins win out, they would be 11-2 (including a potential revenge win against Oregon). Would that be enough to convince the committee they deserve a shot? Who knows, but they would have to be seriously considered. Their résumé would include five wins against teams that are currently ranked by the committee and both losses are also to ranked teams. That compares favorably to, say, Ohio State, which has one bad loss (Virginia Tech) and counts Minnesota as one of its best two wins.
Best play:
UCLA's
Thomas Duarte
caught a 57-yard pass from Hundley in the first quarter, which set the tone for the type of night it would be.
What's next:
UCLA hosts newly bowl-eligible Stanford (6-5, 4-4) next week and USC will host reeling Notre Dame (7-4).
2014 TEAM LEADERS
| TEAM | RUSH | PASS | TOTAL |
| --- | --- | --- | --- |
| Offense | 208.5 | 278.2 | 486.6 |
| TEAM | PF | PA | MARGIN |
| Scoring | 35 | 27.2 | 7.8 |