December, 28, 2014
Dec 28
6:05
PM PT
ORLANDO, Fla. -- Under Armour All-American running back
Soso Jamabo
is a hot commodity heading into the final stretch of the recruiting process. The nation's No. 28-ranked prospect in the 2015 ESPN 300 has already taken visits to UCLA and Notre Dame but is now contemplating the final few official visits before his decision.
December, 28, 2014
Dec 28
12:00
PM PT
In the 100 days leading up to signing day 2015, RecruitingNation will looking back at our ESPN recruiting rankings from 2006 to the present and count down the best player of the past 10 years at each ranking position, No. 100 to No. 1.

Shaquelle Evans, No. 40 in 2009 class

Evans picked Notre Dame in November of 2008 coming out of Inglewood (Calif.) taking only one official visit, to South Bend, despite offers from USC, UCLA, Oklahoma and a number of others. He was a member of a Fighting Irish 2008 class that included tight end Tyler Eifert, tackle Zack Martin, running back Theo Riddick, linebacker Manti Te'o and guard Chris Watt.

Evans saw action in six games for the Fighting Irish catching seven passes for 61 yards. He elected to transfer home after the 2009 season, and enrolled at UCLA.

Evans sat out the 2010 season due to NCAA transfer rules, but made his mark quickly in 2011. He played in 13 of 14 games for the Bruins including five starts. He finished the season with 19 catches and two touchdowns.

The 2012 season was when Evans began to show that he had a future in the NFL. In 14 starts, Evans caught a team leading 60 passes for 877 yards earning All-Pac 12 honorable mention by the league coaches.

Evans again led the Bruins in receptions as a senior catching 47 passes for 709 yards and nine touchdowns earning All-Pac 12 honors for a second straight season.

He capped his career catching a pass in his last 28 games, and made 32 career starts. In total he had 126 receptions for 1,895 yards for UCLA.

Evans was selected in the fourth round, No. 115 overall, in the 2014 NFL draft by the New York Jets.

Honorable mention: Byron Maxwell, No. 40 in 2006 and Travis Rudolph, No. 40 in 2014. Maxwell currently plays for the Seattle Seahawks after a standout career at Clemson. Rudolph has emerged as a key receiver for Florida State headed into the College Football playoff. He played like a player with an NFL future during the last half of the 2014 season.
December, 23, 2014
Dec 23
3:00
PM PT
Barring any surprises, seven Pac-12 teams will welcome back starting quarterbacks in 2015. Though the list isn't as glittering as it was last year, when 10 starters returned, including eventual Heisman Trophy winner
Marcus Mariota
, it's a strong crew, as good a group any other Power 5 conference will offer up.
That does mean five teams will feature new starters next fall, though that doesn't necessarily mean there will be five wide-open competitions. For example, senior
Mike Bercovici
is probably more locked into Arizona State's starting job than a couple of returning starters. His potential is a big reason the Sun Devils will be counted among the conference favorites next fall.
[+] Enlarge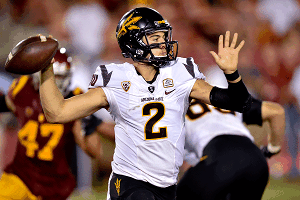 AP Photo/Gus RuelasMike Bercovici threw 12 TD passes with four interceptions this season, and flashed plenty of potential for Arizona State.
Not only is Bercovici a senior competing with four freshmen -- two redshirts -- he came off the bench this season for
Taylor Kelly
and played well in three starts. He knows coordinator Mike Norvell's offense and owns a big arm that should add a significant downfield passing component.
"I see [playing this season] as a big learning experience," Bercovici said. "Being here for four seasons and, in my fourth season, I finally get to see the field as a backup. I always wanted to prove to my teammates that I've been prepared."
He added, "Some of the success I had this year and some of the mistakes I made are all going to help me move on to the 2015 season."
Utah and Washington both welcome back returning starters in
Travis Wilson
and
Cyler Miles
, but there figures to be some intrigue this upcoming spring and fall as they try to hold onto their jobs, with Wilson most notably embroiled in a on-going, two-season competition with
Kendal Thompson
.
Like Bercovici, Washington State's
Luke Falk
gained valuable experience this season when he replaced an injured
Connor Halliday
, and he is a heavy favorite to win the Cougars starting job. Oregon, Oregon State and UCLA appear to have wide-open competitions, with the Bruins featuring touted incoming freshman Josh Rosen taking on an incumbent field led by
Jerry Neuheisel
this spring.
Bercovici was in a tight competition with Kelly heading into the 2012 season, but Kelly won the job and went on to become one of the most successful quarterbacks in program history. That could have sown the seeds of a rivalry between the two, or Bercovici could have transferred. Instead, he and Kelly became close friends.
That is why Bercovici had mixed feelings when he replaced a struggling Kelly in the Territorial Cup loss to Arizona.
"It was definitely tough to see him come off the field as a senior and for myself to come in, but we didn't really have time to think about that during the game," he said. "Some times you have bad days when things aren't going your way. It just sucks I couldn't lead us to victory in that fourth quarter."
That said, he sees the Hyundai Sun Bowl against Duke on Dec. 27 as being "Taylor's game."
"This is the last time he'll be in a Sun Devils uniform," he said. "I know he's going to go out with a bang."
After that, though, Bercovici will be eager to fill the ensuing vacancy behind center for a Sun Devils team expected to be in the South Division and national mix.
"This team knows this is my job moving forward," he said.
Here is how the Pac-12 sets up at quarterback for 2015, pending any unexpected NFL early entries.
2015 RETURNING STARTERS
Arizona
:
Anu Solomon
The skinny:
Though Solomon was impressive as a redshirt freshman first-year starter, he wasn't terribly efficient, ranking 61st in the nation in Total QBR and 55th in standard passing efficiency. So there is plenty of room to get better. The good news is 1,000-yard rusher
Nick Wilson
will be back, as will a strong crew of receivers. The offensive line has some notable holes.
California
:
Jared Goff
The skinny:
He threw for 331 yards per game with 35 TD passes and just seven interceptions as a true sophomore. If you are looking for a player who could breakout as a national name next fall, Goff might be your man. He has an NFL future. He also has a strong supporting cast coming back on offense -- nine returning starters -- including a deep and talented group of receivers.
Colorado
:
Sefo Liufau
The skinny:
He passed for a school-record 28 touchdowns, but also led the Pac-12 with 15 interceptions and was briefly benched late in the season. That said, the true sophomore has talent and will likely improve as a third-year starter as the young players around him grow up. It also would help him and the Buffs if receiver
Nelson Spruce
returns for his senior year instead of entering the draft.
Stanford:
Kevin Hogan
The skinny:
Hogan ranked sixth in the Pac-12 in QBR, despite being a third-year starter with a strong group of experienced receivers. Though the Cardinal running game and offensive line was a disappointment, there were plenty of times when Hogan was inconsistent in terms of both throwing and decision-making. What Stanford wants is for Hogan to return for his senior year and play like he did against California and UCLA for an entire season. Coach
David Shaw
said Hogan, who was
dealing with tough family situation
during the season, would be the starter if he returned and wouldn't face a challenge from touted freshman
Keller Chryst
.
USC:
Cody Kessler
The skinny:
If he opts to return for his senior season, Kessler will be an All-American candidate after throwing for 36 TDs with just four interceptions and ranking sixth in the nation in QBR. If there is one criticism of Kessler, it is that he feasted on inferior foes, but didn't turn in an A-list performance against ranked teams, most notably an ineffective showing against UCLA. He should greatly benefit from the maturation of a number of young but talented players forced into action this fall, most notably on the offensive line.
Utah:
Travis Wilson
The skinny:
This might be the Pac-12's most interesting quarterback situation. Wilson is set to become a four-year starter, but
he also might not return to the Utes
for his final season. That's because coaches might want to go with Kendal Thompson, who briefly replaced Wilson in the starting lineup before getting hurt. If that's the case, Wilson can transfer with no penalty, because he is set to graduate in 2015. Utah looks like it's going to be stacked on both sides of the ball next fall -- 16 other position-player starters are set to return -- but quarterback remains the issue, as it has since Utah joined the Pac-12.
Washington:
Cyler Miles
The skinny:
Miles also could face a challenge for his starting spot, though the rising junior also flashed ability at times while doing a good job of protecting the football -- see just three interceptions -- and played better the second half of the season. And who might provide a legitimate challenge, as no other quarterback on the roster appears capable of unseating him. It will be interesting to see how quickly touted incoming freshman Jake Browning picks things up this spring.
2015 COMPETITIONS*
Arizona State
: Mike Bercovici, Sr;
Manny Wilkins
, RFr; Coltin Gerhart, RFr.; Brady White, Fr.; Bryce Perkins, Fr.
The skinny:
Bercovici is more certain here than a couple of the conference's returning starters. He gained valuable experience this season replacing an injured Kelly, throwing 12 TDs with four interceptions, and flashed plenty of potential, including A-list arm strength. Though the Sun Devils have stocked up on young quarterbacks, including a pair of touted incoming freshmen, Bercovici is almost a certainty here.
Oregon:
Jeff Lockie
, Jr.;
Ty Griffin
, RSo.;
Taylor Alie
, RSo.;
Morgan Mahalak
, RFr., Travis Waller, Fr
The skinny:
Lockie was Mariota's backup this season and has thrown 30 passes in his career -- one TD! -- which means he will have more experience than Mariota did when he took over as a redshirt freshman. It also was a strong indicator of a pecking order when
Jake Rodrigues
and
Damion Hobbs
opted to transfer after spring practices, as they were both behind Lockie. Both Alie and Mahalak, however, have skills, and Waller is expect to be around this spring to join the fray. And perhaps there will be a wild-card transfer?
Oregon State:
Luke Del Rio
, So.;
Brent VanderVeen
, Jr.,
Nick Mitchell
, RFr.;
Marcus McMaryion
, RFr.,
Kyle Kempt
, RSo.
The skinny:
This one is wide open. Not only is there no clear leader, but you also have a new coaching staff under Gary Andersen with new schemes. VanderVeen started the season as
Sean Mannion
's backup, but Del Rio took over that spot about three game into the season. He threw 18 passes in mop-up duty, making him the only Beavers quarterback with any game experience. Might Andersen try to lure away Austin Kafentzis, a four-star quarterack from Sandy, Utah, from his commitment to Wisconsin, where Kafentzis originally planned to enroll early to play for Andersen? And what about James Pensyl, a 6-foot-7 hurler from Land O'Lakes, Florida, who committed to Mike Riley?
UCLA:
Jerry Neuheisel, Jr.,
Asiantii Woulard
, RSo.;
Mike Fafaul
, RJr.,
Aaron Sharp
, RFr., Josh Rosen, Fr.
The skinny
: Neuheisel was
Brett Hundley
's backup this season, and came off the bench to lead the Bruins past Texas. He is a capable, charismatic guy who probably relishes the idea of being counted out by many due to the arrival of Rosen. Rosen, however, is the guy many will be watching. Perhaps the best quarterback in the 2015 recruiting class, he will participate in spring practices when he can immediately put himself into the mix.
Washington State:
Luke Falk, RSo.;
Peyton Bender
, RFr.; Tyler Hilinski, Fr.

The skinny:
Falk started fast then faded a bit after coming off the bench to replace the injured Connor Halliday, but he is the overwhelming favorite here. In four games, he threw for 1,859 yards with 13 touchdowns and seven interceptions, with six of those picks coming in his last two games. Still, he didn't look like a walk-on. He looked like an A-list redshirt freshman suddenly thrust into action who was struggling against good teams. Coach Mike Leach won't make it seem like Falk is locked in during spring practice, but it's his job to lose.
*Listed year in school is for 2015
December, 22, 2014
Dec 22
4:30
PM PT
It will be another full week before the NFL wraps up its regular season, which means at least as long before Michigan will name its next head coach.
Former Wolverine and current San Francisco 49ers coach Jim Harbaugh remains the No. 1 target in Ann Arbor, but multiple reports point toward other coaches with an NFL background being on the Michigan wish list. Jason La Canfora from CBS Sports reported Sunday that Michigan has kept other NFL coaches on its radar, including Baltimore's John Harbaugh, Buffalo's Doug Marrone and Sean Payton from New Orleans.
[+] Enlarge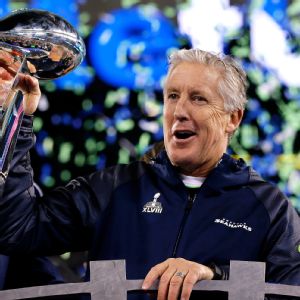 Kevin C. Cox/Getty ImagesPete Carroll has raised the Lombardi Trophy and the BCS national championship trophy.
Most current coaches who have left the NFL for a college program have found more success in school than on the pro level. If Harbaugh decides to join those ranks, he would be rare in that he would be leaving the NFL with a track record of success. Harbaugh is 43-19-1 as an NFL coach and led the 49ers to the NFC championship game in each of his first three seasons. Among the nine prominent coaches listed below who have been head coaches at both levels, only one left a professional league job for college on good terms. Here's a look at how some other programs have fared after hiring men with NFL experience.
Jim Mora (UCLA):
Mora spent his entire career in the NFL before he was hired to coach the Bruins three years ago. He had head-coaching jobs with Atlanta (2004-06) and Seattle (2009) and compiled a 32-34 record in that time. The Seahawks fired Mora after he went 5-11. He worked in broadcasting until 2012, when he went to UCLA. He has a 28-10 record so far in college and will face Kansas State in the Alamo Bowl on Jan . 2. He also has been mentioned as a potential candidate for the Michigan opening.
Pete Carroll (USC):
Carroll replaced Mora in Seattle in 2010 after almost a decade of coaching a dominant USC program. Carroll was 33-31 as a head coach in the NFL. His was fired after three seasons in New England where he had big shoes to fill as the replacement for Bill Parcells. Carroll was seen as an NFL bust who went on to win the 2005 BCS Championship. He returned to the NFL and salvaged his pro-level reputation by winning a Super Bowl, which is a career path Harbaugh probably wouldn't mind following.
Bill O'Brien (Penn State):
O'Brien is the only man on this list who left a successful NFL team for college. The caveat is that he was an offensive coordinator, not a head coach, during his time with the Patriots. O'Brien spent much of his early career as a college assistant. His first head-coaching job came at Penn State when he won national coach of the year honors in 2012. He left after the 2013 season to take over the Houston Texans, where he has again found success.
Nick Saban (Alabama):
Forty of the 42 seasons that Saban has coached have been in college football. He left LSU after winning a national title to coach the Miami Dolphins. Saban's team had a disappointing 15-17 record before he returned to the SEC as Alabama's coach in 2007. Rumors that Alabama – a blueblood program down on its luck – wanted Saban started during the regular season, and he had to dodge questions many times before saying outright that he wouldn't go to Alabama. Harbaugh has thus far avoided the same potential trap this season. Saban did, of course, wind up in Tuscaloosa, where he has won three national titles and is in position to make a run at a fourth in the coming weeks.
Bobby Petrino (Louisville):
Petrino had two stints in the NFL during his three decades of coaching. He was called an offensive genius by Jacksonville Jaguars head coach Tom Coughlin during his three years there as an assistant. Reviews after less than a year as Atlanta's head coach were not as kind. Petrino left Louisville with the promise of coaching Michael Vick and the Falcons in 2007. Vick was arrested before the season started and Petrino's team stumbled to a 3-10 start. He bailed in December, accepting a job at Arkansas, and informed his players by leaving a note in their lockers. He won double-digit games in his last two seasons with the Razorbacks before he was fired for off-the-field shenanigans.
[+] Enlarge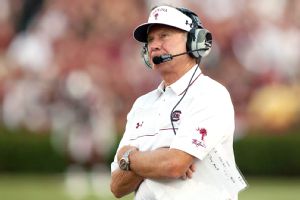 Jeremy Brevard/USA TODAY SportsSteve Spurrier again got the best of Georgia and showed that South Carolina will make noise in the SEC Eastern Division.
Steve Spurrier (South Carolina):
Spurrier has been the Head Ball Coach somewhere since 1987 and has only three losing season during that time. Two of them came during his brief cameo in the NFL. He resigned in 2003 after two disappointing seasons with the Washington Redskins and planned to retire. The former Gators legend returned to the SEC a year later. While he never has reproduced the success he had at Florida, he is 83-45 as South Carolina's coach since then.
Lane Kiffin (Alabama):
Kiffin became the youngest coach in Oakland Raider history in 2007, but his tenure there was short-lived. He was fired a month into his second season during an ugly spat with owner Al Davis. Kiffin finished his Oakland career with a 5-15 record. Kiffin has since burned bridges at Tennessee and been fired at USC, but has a 35-21 record on the college level. He also helped Alabama with a major offensive reconstruction this season.
Mike Riley (Nebraska):
One of the Big Ten's newest additions has coached in a wide variety of leagues since 1975. His three years as a head coach in the NFL have been among his least successful. Riley went 14-34 as the San Diego Chargers' coach. He was fired after a 1-15 record in 2001, when one of the team's three quarterbacks was veteran Jim Harbaugh. Riley has since found relative success in his hometown at Oregon State. The Beavers were 93-80 during 12 years under Riley.
Dennis Erickson (Utah):
Erickson is winding down a long coaching career as Utah's running backs coach. He has twice jumped from the NFL back to college after being fired. He took a crack at the pros in Seattle in 1995 after winning two national championships. His Seahawks' teams went 8-8 three times in four years, but he was fired. His second attempt, San Francisco in 2003 and 2004, was less successful. The 49ers fired him after a 2-14 year and he returned to the college ranks.
December, 19, 2014
Dec 19
6:15
PM PT
Happy Friday. Welcome to the mailbag. Pac-12 bowl season starts Saturday. Yay.
Follow me on Twitter
.
To the notes!
Duckzila from Portland writes:
The Oregon offense typically feasts on teams that are undisciplined on defense. My perception is Florida State is a team that relies on athleticism and freelances quite a bit on the defense side of the ball. Even when they shut down Georgia Tech in the second half of the ACC championship, they were helped out by an inaccurate quarterback missing open plays downfield. To be fair, I definitely suffer from seeing college football through green and yellow shaded glasses, and haven't watched a ton of FSU games this year. I'm curious if you see the FSU defense the same way?
Ted Miller:
No, I don't see Florida State's defense that way.
What I see is a talented unit that was rebuilding after being dominant during 2013's national title campaign, one that was breaking in a new coordinator, one that was then riddled by injuries. I see a defense that is on track to be
as healthy as it has been all season
against Oregon.
I see a defense that is adept at making adjustments. The Seminoles gave up 174 points in the first half this season. They yielded just 125 in the second half. Oregon's underrated defense gave up 141 points in the first half and 151 in the second half. I see a defense that overcame an offense that was stunningly turnover-prone -- the Seminoles' 27 turnovers would have been the highest total in the Pac-12. Oregon had just eight turnovers this season.
Further, and this isn't a terribly original point: Defenses tend to excel after extended pre-bowl preparation. The extra time helps a defense train its eyes, accustom itself to potential misdirection and create a laser-like focus on its keys. Ducks fans saw that when two offensive juggernauts, Auburn and Oregon, played a low-scoring, 22-19 slugfest for the 2010 national championship.
If Oregon's offense wins the battle with FSU's defense, I doubt we will say it's because FSU was undisciplined. I think we'll say it's because the Oregon offense is just really freaking hard to stop.
---
Matt from Washington, D.C. writes:
Ted-According to ESPN, Washington was tied with FSU for the most All-Americans yet won eight games, none against a high-quality team. With the shadow of Dan Hawkins looming large and so much talent leaving this year, what are the reasons for optimism for UW fans moving forward in the Petersen era?
Ted Miller:
It's not unfair to say Chris Petersen's first season was underwhelming, even disappointing. He inherited talent that hinted at 10 wins in the regular season and he won eight. He didn't beat a ranked team and the Huskies struggled against overmatched foes. While he's not one to navel-gaze in front of the media, my guess is Petersen will be as self-critical about himself and his staff as any message board.
So why be optimistic? Well, Petersen went 92-12 at Boise State and won two Fiesta Bowls, a record that far surpasses Dan Hawkins or, really, any coach outside of a Power 5 conference. There's a reason folks so celebrated his hiring. The guy is smart. He's detail-oriented. He has a system. Some of the things that cost the Huskies this year -- such as giving mouthy, me-first cornerback Marcus Peters the boot -- probably will pay off in the long term as Petersen establishes his culture.
Yet Petersen might need to recalibrate some. Playing a Pac-12 schedule is different than playing one or two Power 5 foes a year and trying to earn your big-boy-football bona fides. In the Pac-12, you play a marquee game against Oregon... and then you play a marque game against Arizona State the next weekend.
As much as he's emphasizing "OKGs -- Our Kind of Guys" in recruiting, he's probably going to need a more generous gray area when evaluating prospects, particularly ones who run 4.4-second 40-yard dashes and weigh more than 300 pounds. He also might need to rethink some spots on his coaching staff.
Yes, the Huskies take some huge roster hits heading into 2015, particularly on defense and the offensive line. Eight wins next year probably would be an overachievement. But Petersen wasn't hired for immediate flash. He was hired to return Washington to long-term glory. Those are two different processes, and the latter often includes worse short-term growing pains.
---
Ramon from Chatsworth, California, writes:
The Pac-12 South was an extremely tough division this season. The toughest, if you ask me. With the way the season ended for TCU and Baylor, which Pac-12 south team has the highest chances of being affected, positively and negatively, by their out-of-conference schedule in 2015?
Ted Miller:
Arizona State, UCLA, USC and Utah will be in good shape if the College Football Playoff committee is reviewing their nonconference schedules. Arizona and Colorado will not be.
Here are the schedules.
Arizona: UTSA, at Nevada, Northern Arizona
Arizona State: Texas A&M (Houston), Cal Poly, New Mexico
Colorado: at Hawaii, UMass, Colorado State (Denver), Nicholls State
UCLA: Virginia, at UNLV, BYU
USC: Arkansas State, Idaho, at Notre Dame
Utah: Michigan, Utah State, at Fresno State
Obviously, the Buffaloes are aiming for bowl eligibility, not a berth in the CFP, and have scheduled accordingly. Arizona is another matter, as the Wildcats' nonconference schedule is Baylor-esque and would be viewed dimly by the committee.
Of course, the Wildcats didn't envision they would be in the hunt this season, at least from the past scheduling perspective of athletic director Greg Byrne. If the Wildcats again surge in 2015, their nonconference schedule will be a problem, unless they emerge from the Pac-12 unbeaten.
December, 19, 2014
Dec 19
9:00
AM PT
Royal Purple Las Vegas Bowl
Why Utah wins: This has tended to be a letdown game for Pac-12 teams in recent years -- the league has lost four of the past five games in the Las Vegas Bowl. But Utah won't be lacking for motivation after returning to the postseason after a two-year absence and Colorado State, despite its strong season, will be a little deflated following Jim McElwain's departure for Florida. -- Chantel Jennings
Why Colorado State wins: Yes, the Rams lost their coach to Florida, but they're still running on the energy of a 10-2 season and a prolific offense. Receiver Rashard Higgins leads the nation with 17 touchdown catches and Utah is not playing its best ball of the season. I think that's the difference-maker here. -- David Lombardi
Hyundai Sun Bowl
Why Arizona State wins: Good quarterback. Good running back. Outstanding wide receiver and a defense that gets after it on the blitz more than any team in the country. The "attacking-hybrid" defense will leave the other Devils feeling blue. -- Kevin Gemmell
National University Holiday Bowl
Why Nebraska wins: It would be a fitting start to Mike Riley's tenure at Nebraska, wouldn't it? Although the former Oregon State coach won't be guiding his new team from the sideline, expect the Cornhuskers to make an impression with a victory over a Pac-12 foe. -- Chantel Jennings
Why USC wins: USC is a more talented, athletic team than Nebraska and would win this game without extenuating circumstances, but the acrimonious departure of Bo Pelini figures to leave some Cornhuskers indifferently motivated. Further, the Trojans, whose biggest issue is depth, almost certainly benefited more from a few weeks of off-time to heal various bumps and bruises. -- Ted Miller
Foster Farms Bowl
Why Stanford wins: Defense didn't win a championship for the Cardinal. But it can win a bowl game against a Maryland team that averages fewer than 30 points per game and only averages 130.4 yards per game on the ground. -- Kevin Gemmell
VIZIO Fiesta Bowl
Why Boise State wins: It's the Fiesta Bowl. The Broncos don't lose these games. In all seriousness, though, Boise State has ripped off eight straight wins. They're peaking right now, and Arizona had some wind taken of their sails against Oregon. -- David Lombardi
Why Arizona wins: It's a statement game for Arizona -- and the Pac-12 -- so don't expect the Wildcats to take their opponent lightly. It's been too fine a season for Arizona to end with a blowout loss to Oregon and a defeat at the hands of Boise State. Expect to see some fireworks from the Wildcats' young playmakers on offense as well as trophy-laden linebacker Scooby Wright. -- Chantel Jennings
Rose Bowl Game Presented by Northwestern Mutual
Why Oregon wins: Forget the Heisman versus Heisman storyline. The Ducks take care of the football, plain and simple. Florida State has danced with defeat several times, but other teams have let them off the hook. If they Ducks can force turnovers, they are one of the best teams in the country at making opponents pay. -- Kevin Gemmell
Why Florida State wins: Florida State is getting healthy during the break before this game, while Oregon lost All-American cornerback Ifo Ekpre-Olomu to a knee injury. That's a big problem when a team is preparing for Seminoles wide receiver Rashad Greene and quarterback Jameis Winston. Yet it's Oregon's greatest strength and Florida State's seeming weakness that will be the difference. The Ducks pretty much dominated every game they won this year. Florida State pretty much didn't dominate anyone, playing down to foes for three-plus quarters and making their fans squirm in the waning moments. That mental toughness in the fourth quarter will pay off in this one because Oregon won't dominate the Seminoles, and a tight final frame is when Florida State thrives. -- Ted Miller
Valero Alamo Bowl
Why Kansas State wins: This one starts with motivation, and we're betting Kansas State has more. UCLA started out in the preseason top 10 and envisioned itself winning the Pac-12 and playing in the College Football Playoff. It's not unreasonable to suspect the surprising and dispiriting blowout loss to Stanford during the final weekend of the season, which gave Arizona the Pac-12's South Division crown, will come with an extended hangover. While both offenses have good quarterbacks and explosive playmakers, the Wildcats have been more consistent on defense this year. That will be the difference. -- Ted Miller
Why UCLA wins: I'm taking the opposite side of the argument when it comes to motivation. Bowl games are all about motivation, yes, and the Bruins, with a chip on their shoulder, have a chance to end the season on a high note. Brett Hundley's finger is healthy and when he's at his best, there aren't many teams in the country that can stop him. Plus the Bruins are underdogs. That's a role they haven't played much this year, but seem to relish. -- Kevin Gemmell
TicketCity Cactus Bowl
Why Washington wins: The Huskies began to develop a semblance of offensive consistency toward the end of the season, and that makes them a capable all-around team. That certainly should be enough to beat a 6-6 Oklahoma State team that is nothing spectacular this season. -- David Lombardi
December, 19, 2014
Dec 19
8:00
AM PT
Happy Friday!
Leading off
All week we've been bringing you the All-America honors as they rolled in.
In total, 14 Pac-12 players were named to a first-team All-America squad. Of those 14,
Marcus Mariota
, Scooby Wright and
Hau'oli Kikaha
were unanimous selections. Two other players --
Tom Hackett
and
Ifo Ekpre-Olomu
-- were consensus selections appearing on at least three of the five recognized teams.
This is the eighth straight year the Pac-12 has had a unanimous selection and the first time since 2005 it's had three in one year (Reggie Bush, Dwayne Jarrett, Maurice Drew). The five recognized teams are the American Football Coaches Association, the Associated Press, the Football Writers Association of America, The Sporting News and the Walter Camp Football Foundation.
Here's the final tally among the big five:
Offense
QB, Marcus Mariota, Oregon, Jr., AFCA-AP-FWAA-SN-WC (unanimous)
OL, Jake Fisher, Oregon, Sr., FWAA
OL, Hroniss Grasu, Oregon, Sr., SN
OL, Andrus Peat, Stanford, Jr., SN
AP, Shaq Thompson, Washington, Jr., AP
Defense
DL, Nate Orchard, Utah, Sr., FWAA-WC
DL, Danny Shelton, Washington, Jr., AP-SN
DL, Leonard Williams, USC, Jr., AFCA
LB, Eric Kendricks, UCLA, Sr., SN
LB, Hau'oli Kikaha, Washington, Sr., AFCA-AP-FWAA-SN-WC (unanimous)
LB, Scooby Wright III, Arizona, So., AFCA-AP-FWAA-SN-WC (unanimous)
DB, Ifo Ekpre-Olomu, Oregon, Sr., AFCA-AP-WC (consensus)
P, Tom Hackett, Utah, Jr., AFCA-AP-FWAA-WC (consensus)
PR, Kaelin Clay, Utah, Sr., SN
Game of the year?
Just before the start of bowl season, the folks at Athlon Sports wanted to look back at the chaos that was the 2014 Pac-12 regular season. We've been running our pivotal plays series all week, so be sure to check that out. But Athlon looked at
the top 15 games of the season
. Here's their top five.
Oct 2: Arizona 31, Oregon 24
Oct. 4: Arizona State 38, USC 34
Sept. 6: Oregon 46, Michigan State 27
Oct. 25: Utah 24, USC 21
Oct. 4: Utah 30, UCLA 28
You'll note that three of their five are from Week 6. We noted last week in our Roadtrip Revisited post that every game that week was unbelievable. If you click the link, they actually rate 30 games. Fairly surprised the Cal-WSU game (also in Week 6) didn't make the top 10. To each their own.
News/notes/team reports
Just for fun
Really great read from our friend Max Olson on the Big 12 blog about the recruitment of linebacker Malik Jefferson.
Some interesting UCLA notes in there.
December, 18, 2014
Dec 18
2:00
PM PT
Bowl season for Pac-12 contenders begins this Saturday with Utah's clash against Colorado State. How much does each conference team have to prove during this postseason opportunity? Here's our list.
1. Oregon
Every year, one of the big questions out West revolves around the Ducks' chances of finally grabbing that national championship. Oregon boasts Superman this year, and it's almost certainly
Marcus Mariota
's last campaign in Eugene. Though their defense suffered a major blow with the loss of
Ifo Ekpre-Olomu
, the Ducks have their man under center. They can't take this chance to win it all for granted: A playoff appearance is a golden opportunity for this powerful Oregon program to prove that it can finally bring home college football's ultimate hardware. Florida State, the defending champs, await in the Rose Bowl Game Presented By Northwestern Mutual.
2. UCLA
This, likely
Brett Hundley
's final season in Westwood, was supposed to be year the Bruins surged from "good" to "elite." But they slipped too often, and the timing of their last fall -- a 31-10 finale loss at the hands of Stanford -- couldn't have been worse. Now, the narrative has shifted back to the old "they can't win the big one" theme, and that's the exact perception UCLA wanted to avoid. They have a chance to make a cleansing statement versus a good Kansas State squad, also 9-3, in the Valero Alamo Bowl.
3. Utah
The season started magically for the Utes -- aside from that 28-27 road bump at home against Washington State, of course. But after kicking 2014 off at 6-1, Utah dropped three of their last five games. They narrowly squeaked by Pac-12 bottom feeder Colorado to close the regular season, so it's fair to say that Kyle Whittingham's club stumbled to the finish line. An 8-4 record is nothing to scoff at, but the Utes could use a good stomping of Mountain West opponent Colorado State in the Royal Purple Las Vegas Bowl. It would go a long way toward maintaining that "we've arrived as a force in the Pac-12" tone over the offseason.
4. ASU
The Sun Devils' season trajectory had some similarities with Utah's, though ASU lost one fewer game late in the season. Still, they were a one-loss team until a rough November knocked them out of the conference race. A Hyundai Sun Bowl date against fellow 9-3 competitor Duke has become ASU's consolation price, and that is quite the step down from the Rose Bowl aspirations Todd Graham's club harbored followings its November 8 win against Notre Dame. So it's important for the Sun Devils to reverse trajectory heading into the offseason, and they would also like to prove that they are better in December than last season's 37-23 Holiday Bowl loss to Texas Tech.
5. Arizona
The Wildcats were peaking at the right time ---- Oh wait, there was red-hot Oregon in the Pac-12 championship game, and there were 24 yards of total offense for Arizona in the first half. Suddenly, Rich Rodriguez's club wasn't peaking at the right time. But the Wildcats can take solace in the fact that the Ducks have the ability to make good teams look foolish. They can also comfort themselves knowing that this VIZIO Fiesta Bowl is a prime chance to deliver a positive closing statement against a 10-2 Boise State team that loves that big stadium in Glendale.
6. USC
Steve Sarkisian really needed that blowout victory over Notre Dame in the finale to dump the "seven win" moniker that online trolls gleefully tossed around following the Trojans' loss to UCLA. Sark got the powerful performance he was looking for, so he's 8-4 heading into a National University Holiday Bowl matchup against Nebraska. Sure, a postseason win would be nice for the Trojans, but they are lower on this list because there is not all that much for them left to prove this season. Regardless of whether they win or lose on December 27, we know who USC is: a very talented, somewhat flawed, and ultimately thin team that's excited about getting a clean slate in 2015.
7. Stanford
There is very little the Cardinal can prove in their Foster Farms Bowl clash with Maryland on Dec. 30. Stanford capped a disappointing 7-5 regular season with a resounding 31-10 thumping of UCLA, and that performance made it very clear the Cardinal had underperformed in their games leading up to the finale. Now, David Shaw's team is a two-touchdown favorite against the Terrapins in a game 20 minutes away from campus, so there is really no chance to prove anything more than what the Cardinal already accomplished against the Bruins -- even in the case of a lopsided victory.
8. Washington
The Huskies managed eight wins in the first year of the Chris Petersen era, and they fought through some turmoil, too. The team delivered a strong finish following the dismissal of star cornerback Marcus Peters. So, the season has served as a solid foundation for Petersen to work with as he tries to assert himself in Seattle moving forward. It's hard to see the result of the TicketCity Cactus Bowl against 6-6 Oklahoma State swinging the vibe too far in either direction.
December, 18, 2014
Dec 18
8:00
AM PT
If you use more than 5 percent of your brain you don't want to be on earth.
Leading off
Another day, another round of All-America teams. Three more to catch you up on. You should know the names by now.
First up is The Sporting News
:
First-team offense: Marcus Mariota, QB, Oregon; Andrus Peat, OT, Stanford; Hroniss Grasu, C, Oregon;
First-team defense: Danny Shelton, DT, Washington; Scooby Wright III, LB, Arizona; Hau'oli Kikaha, LB Washington; Erick Kendricks, LB, UCLA.
First-team special teams: KR Kaelin Clay, Utah.
Second-team offense: Jaelen Strong, WR, Arizona State.
Second-team defense: Nate Orchard, DE, Utah; Shaq Thompson, LB, Washington; Ifo Ekpre-Olomu, CB, Oregon;
Special teams: Tom Hackett, P, Utah.
Next up is the AFCA FBS All-America team:
First-team offense: Mariota
First-team defense: Leonard Williams, DL, USC; Wright; Kikaha; Ifo Ekpre-Olomu, CB, Oregon.
Specialists: Hackett
And here's the Football Writers Association of America All-America team:
First-team offense: Mariota, Jake Fisher, OL, Oregon
First-team defense: Orchard, Kikaha, Wright III,
Specialists: Hackett
Second-team defense: Williams, Kendricks
The Sporting News also named Mariota
its player of the year.
Ifo out
No doubt, you've heard the news that Oregon cornerback Ifo Ekpre-Olomu, whose name appears on some All-America lists above, is
out for the rest of the season with a knee injury
. It's not an apocalyptic blow to the Ducks. But you don't want to be facing Winston down one of your best defenders, either.
Here's some reaction:
News/notes/team reports
Just for fun
A couple of ASU alums are already benefiting from the new Adidas deal.
Doorbell rings, A package, @adidasFballUS with a sweet pair of personalized #snakeskin cleats, makes me want to play! pic.twitter.com/l7e3ECRGi2

— Jake Plummer (@snakestakes) December 17, 2014
Xmas came early! Sweeeeeet!! @adidasFballUS #ForksUp pic.twitter.com/TAWidzTvXh

— Derek Hagan (@dhagan80) December 17, 2014
All together now ...
awwwwwww
@OrchardNate is the baby whisperer. #utahfootball #maXimusphillips #SFGVegasTakeover pic.twitter.com/bmNQGaiPxC

— Andy Phillips (@AndyDPhillips) December 18, 2014
December, 17, 2014
Dec 17
5:00
PM PT
You've surely already seen plenty of glittering All-Pac-12 teams. Here's the
All-Pac-12 team from the conference coaches
. And here's
ESPN.com's version
. Lots of star value. While there were a few tough omissions with legitimate differences of opinion -- running back? defensive front seven? -- there also was plenty of consensus, particularly if you made two teams.
Yet there also were some very good players who got just about no recognition and should have. That's why we're creating an "All-Underrated" team.
The idea was to spotlight players, mostly upperclassmen, who didn't make the first- or second-All-Pac-12 teams from the coaches or from ESPN.com.
Funny thing is, this team was also pretty darn difficult to make. There was lots of star value in the Pac-12 this season, and lots of good players who got lost in the shadows of those stars.
OFFENSE
[+] Enlarge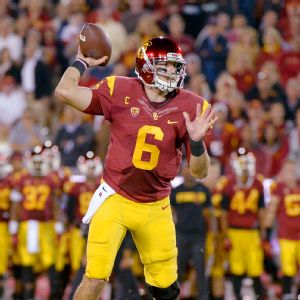 Harry How/Getty ImagesCody Kessler was quietly efficient for USC, throwing 36 touchdowns and only four interceptions.
QB: Cody Kessler, Jr., USC
: Kessler completed 71 percent of his passes for 3,505 yards with 36 TDs and just four interceptions.
He was second in the Pac-12 and sixth in the nation in Total QBR.
RB: Daniel Lasco, Jr., California
: Ranked sixth in conference with 92.9 yards per game, finishing the season with 1,115 yards and 12 TDs, which ranked third among conference running backs.
RB: Byron Marshall, Jr., Oregon
: After leading the Ducks in rushing last season, Marshall did most of his work as a receiver this year, but we're putting him here because this is his natural position. He led the Ducks with 61 receptions for 814 yards with five touchdowns while also rushing for 383 yards and a TD, averaging 7.7 yards per carry.
WR: Austin Hill, Sr., Arizona
: Hill wasn't the super-productive guy he was in 2012 before his knee injury, but he was a clutch and critical contributor to the Wildcats high-powered offense. He ranked second on the team with 45 receptions for 605 yards with four touchdowns. He also showed versatility as a tight end and demonstrated a willingness to block.
WR: Isiah Myers, Sr., Washington State
: Finished second on the Cougars with 78 catches, and his 972 receiving yards were fifth-most in the Pac-12. His 12 touchdown catches tied for the Pac-12 lead and tied for the second-most in WSU history. He posted three 100-yard games and finished his career sixth in WSU history with 164 receptions and tied for fourth with 19 career touchdowns.
WR: Jordan Payton, Jr., UCLA
: He led the Bruins with 63 receptions (8th on all-time UCLA single-season list) and 896 yards (10th) with seven touchdowns. His 14.2 yards per catch tied for second in the Pac-12.
OL: Joe Dahl, Jr., Washington State
:
The left tackle allowed just one sack in WSU's Pac-12 record 771 pass attempts and earned the team's "Bone" Award (given to the team's best offensive lineman following each game) a team-best six times. He has started all 25 games he has been at WSU, starting 12 at left guard before moving to left tackle in the New Mexico Bowl last year.

OL: Josh Mitchell, Jr., Oregon State: He stepped in for injured All-American candidate Isaac Seumalo and became the leader of the Beavers offensive line, the one constant for a unit that used six different combinations.

OL: Vi Teofilo, Jr., Arizona State: A physical blocker who got better as the season wore on, he earned honorable mention All-Pac-12 honors from the coaches.

OL: Hamani Stevens, Sr., Oregon: Slid over from left guard to center when All-American Hroniss Grasu went down and did a solid job. Was the only Ducks linemen to start every game this season.

OL: Daniel Munyer, Sr., Colorado: The Buffaloes best O-lineman -- the Buffs yielded the second-fewest sacks in the Pac-12 -- he graded out at 90.9 percent this season with a team-best 51 knockdowns.

DEFENSE

DL Andrew Hudson, Sr., Washington: Hudson ranked fourth in the Pac-12 with 11.5 sacks, and his 0.88 sacks per game ranked 13th in the nation. Finished fourth on the Huskies with 71 tackles, including 14.5 for a loss, with three forced fumbles.

DL David Parry, Sr., Stanford: A force in the middle of Stanford's dominant defense, he had 30 tackles, 7.5 tackles for a loss and 4.5 sacks. He also had six QB hurries.



[+] Enlarge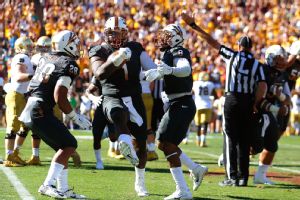 Christian Petersen/Getty ImagesMarcus Hardison (1) was an impact player on the Arizona State defensive line this season.

DL: Marcus Hardison, Sr., Arizona State: Ranked fifth in the conference with 10 sacks. He also had 40 tackles, including 14.0 tackles for a loss, with two forced fumbles and two memorable interceptions.

LB: Jared Norris, Jr., Utah: Led the Utes and was fourth in the conference in total tackles (108) and tackles per game (9.0). His 10.0 TFL is tied for 10th. He also had four sacks.
LB: Blake Martinez, Jr., Stanford
: More than a few folks think Martinez manned the middle of the Stanford defense this fall better than
Shayne Skov
did the previous few seasons. He led the Cardinal with 96 tackles and had six tackles for a loss, four sacks and two forced fumbles.
LB: J.R. Tavai, Sr., USC
: Despite missing two games with a knee injury, he led the Trojans with seven sacks. Also had 47 tackles, including 12 for losses, with two deflections, a fumble recovery and a team-best three forced fumbles. Won USC's Chris Carlisle Courage Award.
LB Michael Doctor, Sr., Oregon State
: Doctor returned from an ankle injury that killed his 2013 season and finished with 62 tackles (third on the team). He also tied for the team lead with three interceptions, including a pick-6 off
Taylor Kelly
in the Beavers' upset of Arizona State. Doctor also had two forced fumbles and a recovery.
S: Jordan Simone, Jr., Arizona State
: Former walk-on finished second on the Sun Devils with 90 tackles, including 4.5 for a loss, and a sack. He also had two interceptions and a forced fumble.
S: Jared Tevis, Sr., Arizona
: While he got lost amid the deserved hoopla for LB
Scooby Wright III
, Tevis, a former walk-on, finished second on the Wildcats with 119 tackles, including nine for loss, with four sacks and two interceptions. Most of that production came in the second half of the season.
CB: Alex Carter, Jr., Stanford
: Carter didn't have a lot of numbers -- 39 tackles, one interception, one forced fumble -- but there are a lot of observers who might rate him right up with Oregon's
Ifo Ekpre-Olomu
as an NFL prospect.
CB: Eric Rowe, Sr., Utah
: Third in the Pac-11 in passes defended per game (1.18). Tied for fourth in total passes defended (13). Looks like he could be the next NFL cornerback out of Utah.
SPECIALISTS
K: Cameron Van Winkle, So., Washington
: Led the Pac-12 in field goal percentage after connecting on 20 of 23 kicks -- 87 percent -- with a long of 51.
P: Darragh O'Neill, Sr., Colorado
: Had a 44.1 average, which ranked third in the conference, and had 27 punts inside the 20 -- second in the Pac-12 -- including 14 inside the 15. 66.7 percent of his punts (65) were not returned.
December, 17, 2014
Dec 17
3:00
PM PT
Has this been the greatest season in Pac-12 history? The jury is still out on that front, as the league's bowl slate remains to be played, and Oregon is tasked with carrying the conference flag into a playoff battle with the nation's big boys. But after a captivating regular season, the conference is undoubtedly in strong position entering this final foray.
The 2014 ride -- usually unpredictable, frequently stunning, always entertaining -- has been bathed in a downright surreal aura throughout (see #Pac12AfterDark). We want to commemorate the Paction, so we've assembled a list of the top 15 moments that defined this bizarre Pac-12 campaign while impacting its eccentric, memorable course.
We'll be counting down in increments of three throughout this entire week. Here's the third installment:
9. Andy Phillips game-winning FG vs. UCLA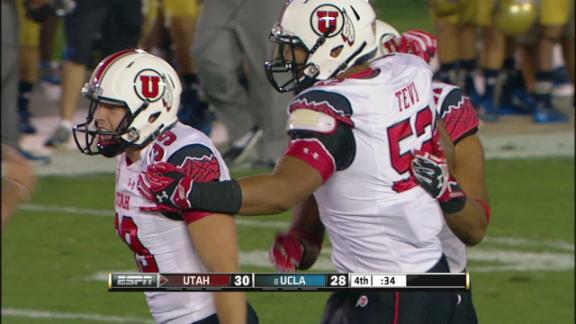 A 29-yard field goal attempt is cake for Andy Phillips. But with the Utes trailing by one point with 37 seconds remaining, this wasn't exactly a stroll in the park.
The three previous plays had only managed 5 yards, all on the ground. It all resulted in a fourth-and-5 and Phillips shining moment. But, as he had done so many times already in the 2014 season (and as he would do so many more times this season), Phillips was cool and collected, nailing the 29-yarder.
Phillips' field goal didn't completely seal the game for the Utes. The Bruins were able to go 36 yards in six plays, setting up
Ka'imi Fairbairn
to attempt a 50-yard field goal. But it was short and the unranked Utes managed to upset then-No. 8 UCLA in Pasadena.
"I've never understood what the word 'signature win' is, but this is a big win for us on the road," Utah coach Kyle Whittingham said.
8. Jerry Neuheisel putting the Bruins on his back in Texas
When UCLA quarterback
Brett Hundley
got injured on the second offensive drive for the Bruins, there was certainly a sinking feeling in Arlington. The depth behind Hundley was, well, limited and coach Jim Mora would be turning to sophomore Jerry Neuheisel, who had only attempted 13 passes total during his UCLA career.
But what Neuheisel did was nothing short of spectacular. He led the Bruin offense, completing 23 of 30 passes for 178 yards, two touchdowns and zero interceptions. Though, the crowning play -- and one that made him look like a true veteran -- was the game-winning 33-yard touchdown pass to
Jordan Payton
. The touchdown and ensuing PAT pulled the Bruins ahead 20-17 and the ensuing defensive series (holding the Longhorns to just 3 yards and a punt) kept No. 12 UCLA in the playoff conversation.
Neuheisel's play was also an early signifier as to how good the quarterback depth was in the Pac-12. Though we'd eventually go on to see
Mike Bercovici
,
Luke Falk
and
Kendal Thompson
/
Travis Wilson
(pick your starter and your back up), they'd all be referenced back to Neuheisel as he was kind of the starting point for the backup QB conversation after this performance against Texas.
7. Cal touchdowns against Stanford #Pac12refs
Oh, Pac-12 refs. Hell hath no furry like fans scorned. And there were several Pac-12 fan bases scorned this season. But Cal? Oh boy.
The Pac-12 announced on Nov. 25 that the officiating crew for the Stanford-Cal game made two mistakes and it cost the Bears a third-quarter touchdown. The replay crew overturned two touchdowns and the Pac-12 later decided that there was actually not enough evidence to overturn either of those calls.
A release stated that the "replay crew will be held accountable for the errors through the Conference's disciplinary process."
Just a month and a half before these unfortunate errors, NFL referee Tony Corrente resigned as the league's coordinator of football officiating. To say that it wasn't the greatest year for #Pac12refs would be an understatement. Better luck next year (because seriously, it can't get much worse).
Other defining moments:
December, 17, 2014
Dec 17
8:00
AM PT
Because you know I'm all about that bass, 'bout that bass.
Leading off
A few more All-America teams were announced Tuesday, and the usual Pac-12 suspects continue to rake in the honors. Here's the latest breakdown.
First up is the
Associated Press All-America team.
First-team offense: Marcus Mariota, QB, Oregon, Shaq Thompson, AP, Washington.
First-team defense: Danny Shelton, DT, Washington, Scooby Wright III, LB, Arizona, Hau'oli Kikaha, LB, Washington, Ifo Ekpre-Olomu, CB, Oregon, Tom Hackett, P, Utah.
Second-team offense: Andrus Peat, OT, Stanford, Hroniss Grasu, C, Oregon
Second-team defense: Nate Orchard, DE, Utah, Leonard Williams, DT, USC, Eric Kendricks, LB, UCLA
Third-team offense: Jake Fisher, OT, Oregon, Nelson Agholor, WR, USC.
Third-team defense: Su'a Cravens, S, USC.
Next up is the
Sports Illustrated All-America team
.
First-team offense: Mariota, Grasu, Peat.
First-team defense: Orchard, Wright III, Thompson, Kendricks, Ekpre-Olomu.
Second team offense: Jaelen Strong, WR, Arizona State.
Second team defense: Williams, Kikaha
Second team special teams: Hackett
Here's the
Fox Sports All-America team
.
First-team offense: Mariota
First-team defense: Williams, Wright III, Kikaha, Ekpre-Olomu,
First-team special teams: Hackett, Kaelin Clay, KR, Utah
Second-team offense: Agholor
Second-team defense: Orchard, Shelton, Thompson, Kendricks
Also, USA Today put together its
Freshman All-America team
. Included on that list from the Pac-12 are:
Offense: Toa Lobendahn, OL, USC, Jacob Alsadek, OL, Arizona
Defense: Lowell Lotulelei, DL, Utah, Adoree' Jackson, CB, USC, Budda Baker, S, Washington.
Finally, Bruce Feldman of Fox breaks down the most impressive freshmen.
Jackson and Baker are on his list.
News/notes/team reports
Just for fun
In case you missed it (and it would have been pretty hard to miss it if you follow Pac-12 football), here's the full presentation of Marcus Mariota
reading the Top 10
on the "Late Show with David Letterman."
December, 16, 2014
Dec 16
10:00
AM PT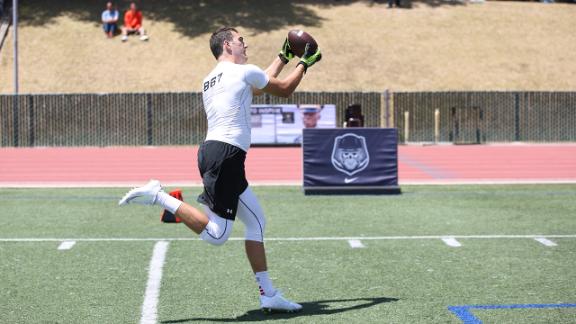 It was a busy weekend in the Pac-12, with commitments, offers, visits and awards touching nearly every team in the conference, including Stanford, USC and Washington reeling in big commitments and UCLA hosting impact prospects. Here is a look at some of the more impactful events of the past few days, as well as a glimpse of what this week could hold in the Pac-12.
To continue reading this article you must be an Insider
December, 16, 2014
Dec 16
8:00
AM PT
Bye bye Li'l Sebastian;
Miss you in the saddest fashion.
Bye bye Li'l Sebastian;
You're 5,000 candles in the wind.
Leading off
Where they heck have you all been on the weekends? We've been at games. What's your excuse?
According to a report by Jon Solomon of CBS Sports,
attendance has been down in college football
across the country. And the Pac-12 is no exception, experiencing a 2-percent drop across the board. Solomon breaks it down by conference. Here's what he had to say about the Pac-12.
Crowds dropped 2 percent to 52,758 and they are down 10 percent since peaking in 2007. Pac-12 attendance leader UCLA ranked 19th nationally. Only four of 12 conference schools had an increase: UCLA, Arizona, Utah and Washington State. A couple of schools' decreases were very minor.
Solomon has attendance numbers for all FBS schools on a chart. It's worth a look to see who is trending up and down.
Future looks bright
At ESPN, we love lists. And we know you love them too. That makes the end of the year like, well, like Christmas. Here's another list for you -- the ESPN.com
True Freshman All-America team
.
A trio of frosh from the Pac-12 are on the team -- including Oregon running back
Royce Freeman
:
Freeman started the season by beating out both junior Byron Marshall and sophomore Thomas Tyner for the starting running back spot at Oregon. He finished the regular season by leading the Pac-12 in rushing touchdowns (16) and racking up 1,299 rushing yards, becoming the first Oregon freshman to have a 1,000-yard-rushing season.
Also on the list were USC offensive lineman
Toa Lobendahn
and USC's
Adoree' Jackson
.
News/notes/team reports
Just for fun
Good one, Kyle.
#Pac12refs have been entrusted with Alabama vs. Ohio State. What could go wrong?

— Kyle Bonagura (@BonaguraESPN) December 15, 2014
Pretty sweet.
Look who's big time #GoDucks #mahalomarcus pic.twitter.com/mQa1dKQQom

— Andy McNamara (@McNamaraUO) December 15, 2014
2014 TEAM LEADERS
| TEAM | RUSH | PASS | TOTAL |
| --- | --- | --- | --- |
| Offense | 199.4 | 268.5 | 467.9 |
| TEAM | PF | PA | MARGIN |
| Scoring | 32.9 | 27.5 | 5.4 |