December, 10, 2013
Dec 10
2:34
PM PT
For the second time this week, the UCLA Bruins added a Southern California ESPN 300 prospect to their 2014 recruiting class.

On Sunday, defensive tackle
Ainuu Taua
(Lompoc, Calif./Lompoc) pledged to UCLA. On Tuesday, another player followed suit.
To continue reading this article you must be an Insider
December, 10, 2013
Dec 10
2:30
PM PT
You're a sad, strange little man. And you have my pity. Farewell.
December, 10, 2013
Dec 10
12:00
PM PT
College football players don't get paid a salary but they do get some nice parting gifts each season. If, that is, their team is able to claw its way to a bowl game.
Sports Business Daily has done its annual accounting of bowl gifts
, and let's just say there's a reason players like bowl games, beyond another chance to play and win.
The NCAA allows each bowl to award up to $550 worth of gifts to 125 participants per school, so this is all within the NCAA's complex web of rules.
You'll see "gift suite" over and over. Here's what that is, per SBD:
SportsBusiness Journal's eighth annual analysis of the gift packages provided to bowl game participants by the committees that host the games reveals that half of those organizations will stage a gift suite or shopping spree in the coming weeks. Gift suites are set up as private events prior to the game in which game participants, and often bowl VIPs, are given an order form and allowed to select a gift, or gifts, up to a value that is predetermined by each bowl, not to exceed the NCAA limit.
So what do Pac-12 players get this bowl season. Glad you asked.
Sheraton Hawaii Bowl (Oregon State vs. Boise State)
Tues., Dec. 24, 8 p.m. (ESPN); Honolulu
Gift suite; Oakley sunglasses; Tori Richard aloha shirt, Pro Athletics shorts and performance T-shirt; Ogio backpack; beach towel
AdvoCare V100 Bowl (Arizona vs. Boston College)
Tues., Dec. 31, 12:30 p.m. (ESPN); Shreveport, La.
Gift suite; Timely Watch Co. watch; New Era skull cap; football
Gildan New Mexico Bowl (Washington State vs. Colorado State)
Sat., Dec. 21, 2 p.m. (ESPN); Albuquerque, N.M.
Gift suite, portable mobile device charger, 8 GB USB; Oakley Breadbox sunglasses; cap, Oakley Fine Knit beanie; Oakley Flak Pack XL backpack; Gildan stadium blanket
Fight Hunger Bowl (Washington vs. BYU)
Fri., Dec. 27, 9:30 p.m. (ESPN); San Francisco
Soundmatters wireless portable speaker system; Fossil watch; Maxx HD Wayfarer sunglasses; messenger bag; Macy's gift card
Royal Purple Las Vegas Bowl (USC vs. Fresno State)
Sat., Dec. 21, 3:30 p.m. (ABC); Las Vegas
Samsung Galaxy Tab 3; beanie, cap; Oakley Flak Pack XL backpack; football, Zappos gift card
Hyundai Sun Bowl (UCLA vs. Virginia Tech
Tues., Dec. 31, 2 p.m. (CBS); El Paso, Texas
Gift suite; Timely Watch Co. watch; Top of the World cap, Majestic fleece pullover; Ogio backpack; coin, Helen of Troy hair dryer
National University Holiday Bowl (Arizona State vs. Texas Tech)
Mon., Dec. 30, 10:15 p.m. (ESPN); San Diego
$305 Best Buy gift card; Reactor Meltdown watch; Maui Jim sunglasses; cap
Valero Alamo Bowl (Oregon vs. Texas)
Mon., Dec. 30, 6:45 p.m. (ESPN); San Antonio
iPad Mini with retina display, Apple gift card; Fossil watch; panoramic photo, Schutt mini helmet
Rose Bowl Game presented by Vizio (Stanford vs. Michigan State)
Wed., Jan. 1, 5 p.m. (ESPN); Pasadena, Calif.
Gift suite; Fossil watch; New Era 59Fifty cap; Ogio backpack
December, 10, 2013
Dec 10
8:00
AM PT
There are a number of impact players in the 2014 recruiting class still uncommitted and looking hard at Pac-12 programs. While one commit won't likely make a break a class, there are prospects out there that are extremely important for each class, for reasons on and off the field. This week, we take a look at arguably the top uncommitted target for each program, and why the recruit would make such an impact for that school.
To continue reading this article you must be an Insider
December, 9, 2013
Dec 9
5:30
PM PT
So how do your Pac-12 reporters stack things up heading into the bowl season?
Glad you asked.
Here's Kevin's:
1. Florida State
2. Auburn
3. Alabama
4. Michigan State
5. Stanford
6. Baylor
7. Ohio State
8. Oregon
9. South Carolina
10. Missouri
11. Oklahoma
12. Clemson
13. Oklahoma State
14. LSU
15. UCF
16. Arizona State
17. UCLA
18. Louisville
19. Wisconsin
20. Fresno State
21. Duke
22. NIU
23. Texas A&M
24. Washington
25. Rice
And here's mine:
1. Florida State
2. Auburn
3. Alabama
4. Stanford
5. Michigan State
6. Baylor
7. Ohio State
8. South Carolina
9. Missouri
10. Oregon
11. Oklahoma
12. Oklahoma State
13. Clemson
14. Arizona State
15. UCLA
16. LSU
17. Central Florida
18. Louisville
19. Wisconsin
20. Fresno State
21. Duke
22. Georgia
23. Iowa
24. Washington
25. Northern Illinois
December, 9, 2013
Dec 9
3:08
PM PT
The Pac-12 is favored in eight of its nine bowl games, as Oregon State is the only underdog in its matchup with Boise State in the Sheraton Hawaii Bowl.
That's good news and bad news.
The good news is the conference has an excellent chance to post an impressive bowl record. The bad news is it has a chance to embarrass itself, too. Anything less than 6-3 would be a major disappointment.
[+] Enlarge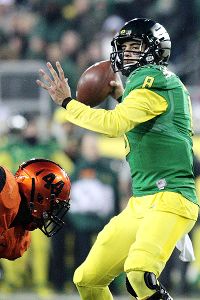 Scott Olmos/USA TODAY SportsMarcus Mariota and the Ducks struggled to the finish line, but they hope to have a strong showing against Texas in the Alamo Bowl.
Of course, the Pac-12 blog has always taken a dim view of judging a conference by its bowl record, despite its annual inevitability. The college football postseason is filled with teams with varied motivation, not to mention coaching turnover -- see Washington and USC, as well as Boise State. Still, a program is responsible for itself.
The biggest reason the Pac-12 should thrive this bowl season is also the biggest negative for the conference: just one BCS bowl team, unlike the SEC, Big Ten, ACC and Big 12, and unlike the previous three seasons. Yep, the deepest Pac-12 perhaps in history ended up being a negative when it came to handing out bowl invitations.
The most aggrieved party is No. 10 Oregon, the only eligible at-large team to be passed over. The Ducks were hoping to be pitted against Alabama in the Allstate Sugar Bowl, but the bowl went with Oklahoma, honoring a relationship with the Big 12 and perhaps thinking the Sooners will travel better than the Ducks.
Not to incur the wide-eyed wrath of Oregon fans, but the Sooners' case probably was stronger on merit, too. The Ducks lost two of their final four games, and they barely slipped by 6-6 Oregon State in the Civil War to conclude the season. Oklahoma is riding a three-game winning streak that was capped by impressive victory over No. 6 Oklahoma State on Saturday. Paired with the Sooners other quality win -- at Notre Dame -- that's more impressive than the Ducks best wins (UCLA and Washington). And the Sooners losses, to Baylor and Texas, are at least comparable to the Ducks' (Stanford and Arizona). According to ESPN Stats & Information, Oregon's and Oklahoma's schedules were pretty equivalent, the Ducks ranking 50th and the Sooners 55th.
Sure, Oregon would be favored against Oklahoma, but the Sugar Bowl folks took the temperature of the respective fan bases and found more smiles in Norman than Eugene.
Finally, to be honest, the way Oregon looked over the final month of the season suggests they'd be better off allowing the Sooners to deal with Alabama and Nick Saban.
As for the conference champions, kudos to Stanford for negotiating the nation's fourth-most difficult schedule with an 11-2 record. In fact, the Cardinal is ranked No. 1 in ESPN Stats & Information "
Championship Drive Rating
," which measures a team's overall merit -- the "difficulty of achieving their W-L or better and how well they control games using in-game win probability; both adjusted for quality of opponent."
Of course, Stanford, which opened as a 3-point favorite against Michigan State in the Rose Bowl Game presented by VIZIO, is where the Pac-12's overall offseason perception will start. It figures to get a tough fight from the defensive-minded Spartans. A Cardinal loss would diminish the Pac-12's national perception as a whole -- as in trickle down from the Big Ten champion being superior to the Pac-12 champ.
Oregon's matchup with Texas in the Valero Alamo Bowl is interesting. If both teams show up with their best game, Oregon wins by two or three touchdowns. But the Ducks over the final four weeks of the season would lose to Texas. The Ducks need to be motivated. They need to know, for one, that the Longhorns figure to be fired up, as they are perhaps playing their last game with Mack Brown as their coach.
The biggest mismatch of the conference's bowl season might be Arizona State against Texas Tech in the National University Holiday Bowl. The Sun Devils have won seven of eight -- the loss coming Saturday in the Pac-12 title game -- and are among the nation's hottest teams. The Red Raiders? They've lost five in a row, the last four being blowouts.
UCLA is in a similar situation in the Hyundai Sun Bowl against Virginia Tech. The Bruins have won four of five, while the Hokies have lost three of five. Virginia Tech's defense will challenge Bruins QB
Brett Hundley
, but the Hokies are horrid on offense.
USC and Washington will be the conference's biggest question marks due to coaching changes. The Trojans face a very good Fresno State team led by QB
Derek Carr
in the Royal Purple Las Vegas Bowl, while the Huskies face a BYU team that ran all over Texas earlier this season in the Fight Hunger Bowl. Under normal circumstances, both matchups would favor the Pac-12. But these aren't normal circumstances.
Oregon State will face a Boise State squad with the same deal in the Hawaii Bowl. While this is a down year for the Broncos, it's hard to bet against Boise State with Chris Petersen in a bowl game. But he's now in Seattle. The Beavers, by the way, really need to win this game, otherwise it's going to be a sour offseason in Corvallis.
Meanwhile, Arizona makes the longest trip to meet Boston College in Shreveport, Louisiana for the AdvoCare V100 Bowl. This is interesting just because you have the top two running backs in the country in Arizona's
Ka'Deem Carey
and Boston College's
Andre Williams
.
Finally, Washington State will be playing in its first bowl game since 2003 in the Gildan New Mexico Bowl against Colorado State. The Cougars have wins over USC, Utah and Arizona. The Rams' best win is over 5-7 Wyoming. Mike Leach and the Cougs should roll.
Again, when you added it all up, 9-0 is not unreasonable and 7-2 is almost pessimistic. But bowl games are funny things, and this has been a funny season.
As we move into a four-team College Football Playoff with a selection committee weighing who's in and who's out, perception might become even more important than it was with the quintessentially subjective BCS.
The Pac-12 seemed like -- at the very least -- the nation's second best conference, no matter the BCS bowl situation. It needs to make good on that during the bowl games.
December, 9, 2013
Dec 9
2:30
PM PT
The guy's in a big red suit flying around because he craves the spotlight. He's a fame junkie. The guy's a clown. He's a megalomaniac. It's all a big shell game. He presents himself like, "Look at me, I'm so nice." He's getting paid. He's got a whole thing happening. Know they sell more Santa statues along with trinkets ... than they do of Buddha?
December, 9, 2013
Dec 9
9:50
AM PT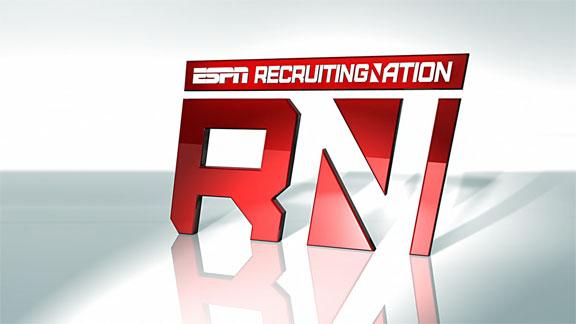 UCLA has a small class but
added a key piece Sunday
with a commitment from defensive tackle
Ainuu Taua
(Lompoc, Calif./Lompoc). Read below to see how our scouts believe he'll contribute to the Bruins defense.
To continue reading this article you must be an Insider
December, 9, 2013
Dec 9
8:00
AM PT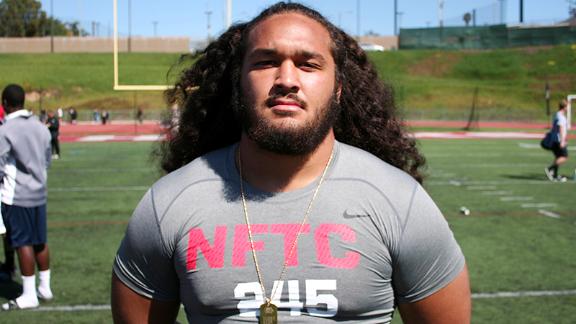 The Pac-12 conference has seen a flurry of action recently, with coaching news and rumors keeping recruits on their toes. Following a week where Steve Sarkisian took over at USC and Chris Petersen moved from Boise State to Washington, this past weekend was tame by comparison. But UCLA made some significant noise with a big commitment, while Oregon extended two intriguing offers. CIF championship games provided backdrops for huge performances from Pac-12 recruits, while the conference title tilt was only the appetizer in the battle between Arizona State and Stanford.
To continue reading this article you must be an Insider
December, 8, 2013
Dec 8
9:34
PM PT
Associated Press
NEWPORT BEACH, Calif. -- UCLA linebacker Anthony Barr has won the Lott IMPACT Trophy as the collegiate defensive player having the biggest influence on his team.
The other finalists were Chris Borland of Wisconsin, Devon Kennard of Southern California and James Morris of Iowa.
Barr, the first Bruin to win the 10th annual award, led UCLA with 20 tackles for losses. He also had 10 sacks, five forced fumbles, four fumbles recoveries and 62 total tackles.
The award is named for Hall of Fame defensive back Ronnie Lott and goes to a player with strong academic work, community involvement and team leadership.
UCLA will receive $25,000 for its general scholarship fund.
Pac-12 Commissioner Larry Scott was the speaker at Sunday night's banquet at the Pacific Club in Newport Beach.
Manti Te'o of Notre Dame won last year.
December, 8, 2013
Dec 8
10:30
PM PT
The Pac-12 will feature a record nine bowl teams, though only one conference team is playing in a BCS bowl game.

Here's the slate.

Sat., Dec. 21 Gildan New Mexico Bowl : Albuquerque, N.M. (University Stadium)
WASHINGTON STATE (6-6) vs. Colorado State (7-6), 2 p.m. ET/11 a.m. PT, ESPN

Sat., Dec. 21 Royal Purple Las Vegas Bowl: Las Vegas, Nev. (Sam Boyd Stadium)
USC (9-4) vs. Fresno State (11-1), 3:30 p.m. ET/12:30 p.m. PT, ABC

Tues., Dec. 24 Sheraton Hawai'i Bowl: Honolulu, Hawaii (Aloha Stadium)
OREGON STATE (6-6) vs. Boise State (8-4), 8 p.m. ET/5 p.m. PT, ESPN

Fri., Dec. 27 Fight Hunger Bowl : San Francisco (AT&T Park)
WASHINGTON (8-4) vs. BYU (8-4), 9:30 p.m. ET/6:30 p.m. PT, ESPN

Mon., Dec. 30 Valero Alamo Bowl : San Antonio, Texas (Alamodome)
OREGON (10-2) vs. Texas (8-4), 6:45 p.m. ET/3:45 p.m. PT, ESPN

Mon., Dec. 30 National University Holiday Bowl: San Diego, Calif. (Qualcomm Stadium)
ARIZONA STATE (10-3) vs. Texas Tech (7-5), 10:15 p.m. ET/7:15 p.m. PT, ESPN

Tues., Dec. 31 AdvoCare V100 Bowl: Shreveport, La. (Independence Stadium)
ARIZONA (7-5) vs. Boston College (7-5), 12:30 p.m. ET/9:30 a.m. PT, ESPN

Tues., Dec. 31 Hyundai Sun Bowl: El Paso, Texas (Sun Bowl)
UCLA (9-3) vs. Virginia Tech (8-4), 2 p.m. ET/11 a.m. PT, CBS

Wed., Jan. 1 Rose Bowl Game presented by Vizio: Pasadena, Calif. (Rose Bowl)
STANFORD (11-2) vs. Michigan State (12-1), 5 p.m. ET/2 p.m. PT, ESPN

December, 8, 2013
Dec 8
10:15
PM PT
Dec. 31, 2:30 p.m. ET, El Paso, Texas (CBS)
VIRGINIA TECH HOKIES BREAKDOWN
Virginia Tech played the way most people expected this season: Its defense was outstanding; its offense was not. There is little doubt the Hokies fielded a championship-caliber defense throughout the course of 2013, but offensive shortcomings ended up derailing any hope for a return to the ACC title game.
[+] Enlarge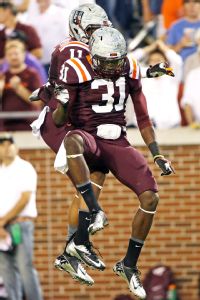 AP Photo/John BazemoreFreshman corners Brandon Facyson and Kendall Fuller (11) were keys to one of the nation's best defenses.
The same issues that plagued Virginia Tech last season ended up dooming the offense again. The Hokies could never develop a consistent running game, and nobody emerged as a go-to target among the receivers. The offensive line struggled for the majority of the season, as well. All of this put pressure on quarterback
Logan Thomas
to make plays.
When he made them, Virginia Tech won more often than not. The Hokies got off to a 6-1 start and climbed to No. 14 in the rankings after Thomas was particularly effective in their first three ACC games -- scoring six total touchdowns while throwing zero interceptions. But Virginia Tech proceeded to drop three of its next four games, including back-to-back downers against Duke and Boston College.
In those two losses, Thomas had eight turnovers. It is unfair to blame Thomas completely for both losses. There is plenty of blame to go around. The defense did not play particularly well against the Eagles, either, as
Andre Williams
ran for 166 yards and two scores.
Despite another overtime loss to Maryland at home, Virginia Tech held out hope of winning the Coastal going into the final Saturday of the regular season. But Duke would have none of that. So once again, the Hokies will not play for a championship, the first time they have failed to make it back to the ACC title game after missing the previous season.
The defense ended up ranking in the top 10 in the nation in total defense, scoring defense, rushing defense, pass efficiency defense and sacks. True freshman
Kendall Fuller
won ACC Defensive Rookie of the Year honors after ranking fifth nationally in interceptions (six) and leading the conference with 16 passes defended.
Fellow defensive back
Brandon Facyson
is a candidate to join Fuller on the freshman All-America team.
Derrick Hopkins
,
Jack Tyler
,
James Gayle
,
Kyle Fuller
and
Luther Maddy
were solid all year.
This puts into perspective how lopsided the performance was between the offense and defense: Of the 11 Virginia Tech players recognized on the All-ACC media teams, only two came from the offense. Both were honorable mention on offensive line.
-- Andrea Adelson

vs.

UCLA BRUINS BREAKDOWN
With a 2-0 mark against USC and their head coach locked up for six more years, the
UCLA Bruins
enter the bowl season brimming with confidence.
[+] Enlarge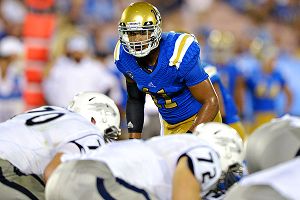 Kirby Lee/USA TODAY SportsAnthony Barr leads the Pac-12 with 20 tackles for loss.
Quarterback
Brett Hundley
led the Pac-12 in completion percentage (67.8) and has eight touchdowns to just one interception over his past five games. Offensive line issues -- particularly the fact that UCLA starts three true freshmen -- have taken their toll at times and forced Hundley into scramble mode perhaps sooner than offensive coordinator Noel Mazzone would like. But the Bruins, and Hundley, have still been able to adapt.
Stricken early in the season with the death of receiver Nick Pasquale, coach Jim Mora rallied his team to five straight wins to open the year, including an emotional win at Nebraska. UCLA lost back-to-back games at Stanford and Oregon but closed out the year by winning four of its last five.
Defensively, linebacker
Anthony Barr
continues to be one of the most dominant players in the country. He led the Pac-12 with 20 tackles for a loss and was tied for second with 10 sacks. Complementary players such as
Cassius Marsh
,
Eric Kendricks
and
Myles Jack
give UCLA one of the top front sevens in college football.
As depth issues impacted the running game, the Bruins got more creative in finding ways to score. Jack took over as a dual-threat option and added seven rushing touchdowns to his résumé. Marsh has a touchdown reception, and even defensive tackle
Eddie Vanderdoes
has rushed for a score. The Bruins head into the postseason playing a very creative yet still physical style of football.
-- Kevin Gemmell
December, 8, 2013
Dec 8
7:16
PM PT
It took UCLA until the beginning of December to land its first defensive line commit in the 2014 class, but the Bruins got a special one on Sunday, as ESPN 300 defensive tackle
Ainuu Taua
(Lompoc, Calif./Lompoc) made his commitment.
The 6-foot, 293-pound tackle is the nation's No. 216 prospect and No. 20 player in California. He held offers from a number of Pac-12 programs, but the Bruins were always going to be difficult to beat.
This past weekend, Taua took an official visit to UCLA -- his fourth visit, after trips to Washington State, Oklahoma and Mississippi -- and made his commitment. Taua is the third ESPN 300 prospect to commit to UCLA in this class, joining wide receiver
Austin Roberts
(Carmel, Ind./Carmel) and cornerback
Adarius Pickett
(El Cerrito, Calif./El Cerrito).
It's an intriguing pick up in two ways, as Taua has the ability to form a terrific team with 2013 defensive line signees
Eddie Vanderdoes
,
Kylie Fitts
and
Kenneth Clark
, adding to a dynamic group up front, but he is also part of a good group of big-man friends in Southern California, which includes USC commit
Viane Talamaivao
(Corona, Calif./Centennial), uncommitted ESPN 300 guard
Damien Mama
(Bellflower, Calif./St. John Bosco) and uncommitted guard
Kammy Delp
(Pomona, Calif./Diamond Ranch). Delp doesn't hold a USC offer and looks to be a fairly solid UCLA lean, but Mama is one of the bigger Trojans-Bruins battles left on the board. Talamaivao's commitment to USC gives Steve Sarkisian's program plenty of pull with Mama, but Taua heading to UCLA swings some momentum toward Westwood.
As a senior, Taua recorded seven sacks and 36 total tackles, almost matching his junior year output, when he posted seven sacks, 49 stops and an interception.
UCLA now has verbal commitments from 13 prospects in the 2014 class, including four four-star recruits.
2013 TEAM LEADERS
| TEAM | RUSH | PASS | TOTAL |
| --- | --- | --- | --- |
| Offense | 196.6 | 251.6 | 448.2 |
| TEAM | PF | PA | MARGIN |
| Scoring | 36.5 | 24.1 | 12.4 |