December, 19, 2014
Dec 19
1:44
PM PT
Associated Press
[+] Enlarge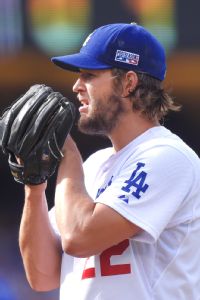 AP Photo/Mark J. TerrillA massive contract for ace Clayton Kershaw is one reason why the Dodgers owe $26,621,125 in luxury tax.
NEW YORK -- The Los Angeles Dodgers have ended the New York Yankees' 15-year streak as Major League Baseball's biggest spenders and owe more than $26.6 million in luxury tax.
The Dodgers finished with a record payroll of $257,283,410, according to final calculations made by Major League Baseball on Friday and obtained by The Associated Press. That is more than $20 million above the previous high, set by the Yankees last year.
For the first time since the current luxury tax began in 2003, the Yankees won't be paying the most. The luxury tax was put in place as a slowdown on spending by high-revenue teams, and teams pay based on the amount they are over the $189 million threshold.
The Dodgers owe $26,621,125 based on a $277.7 million payroll for purposes of the tax, which calculates payroll based on the average annual value of contracts for players on the 40-man roster and includes benefits. That raises the team's two-year total to $38 million.
December, 19, 2014
Dec 19
11:50
AM PT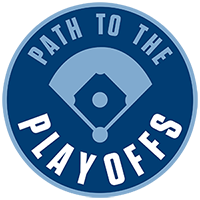 The National League West had the worst out-of-division record in the majors in 2014 -- its teams were 32 games under .500 -- but the Giants won the World Series. So it was certainly baseball's best worst division. Or something.
Attempting to match the Giants' postseason success, the Dodgers, Padres, Rockies and Diamondbacks all hired new general managers, and three of those clubs have had busy and exciting offseasons. What will it all mean for their postseason hopes? The Dodgers and Giants still rate as division favorites, but the Padres are certainly making things interesting.
A look at each NL West team's path to the playoffs ...

Los Angeles Dodgers
2014:
94-68, plus-101 run differential, lost in NLDS
2015 projection from FanGraphs:
88-74, plus-61
That plus-61 projection is the highest in the majors, although it does not factor in the
Jimmy Rollins
trade or any contribution from $10 million lottery ticket
Brett Anderson
.
Sure, there is some fear the Dodgers will have trouble replacing the offensive production of
Matt Kemp
and
Hanley Ramirez
, but the Dodgers' path to the playoffs still looks pretty clear:
•
Clayton Kershaw
does more Clayton Kershaw kinds of things.
•
Zack Greinke
goes 17-8 with a 2.71 ERA again.
•
Hyun-Jin Ryu
continue to be one of the more underrated starters in the game.
• Anderson and
Brandon McCarthy
show that the new Andrew Friedman-led front office
is
smart and has super-cool analysis and metrics that justify their signings.
•
Yasiel Puig
re-discovers the power stroke that he lost in the second half of 2014. Even then, let's remember that Puig had the fifth-best wOBA in the NL this past season. He still has MVP potential.
•
Joc Pederson
hits 20 home runs, steals 20 bases and anchors a much-improved outfield defense. (Steamer projects him to hit 19 home runs and steal 22 bases, although with a .230/.322/.388 line.)
• Bullpens are volatile. This year's pen will be much better.
• The team's clubhouse chemistry is improved without Kemp and Ramirez, which maybe can't be quantified but could mean something.
• Did we mention that the Rockies and Diamondbacks are in this division?

San Francisco Giants
2014:
88-74, plus-51 run differential, won World Series
2015 projection:
83-79, plus-17
Sneak into the wild-card game, ride
Madison Bumgarner
, take the World Series all while winning fewer than 90 games overall! Every general manager's perfect plan.
Congrats, Giants fans; a title is a title, no matter how you got there. But keep in mind that 88 wins may not get you into the playoffs in 2015.
How do the Giants stay the course or get better? Obviously, they have a gaping hole at third base and the suggestion that
Joe Panik
could move there from second is a little silly until you realize that it could actually happen, considering the
lack of good third-base options out there
.
Anyway, the path to the playoffs has to come through an improved starting rotation (the projection above doesn't include
Jake Peavy
, who reportedly
agreed to a two-year contract on Thursday
). To a large extent, the view of the Giants' pitching staff is still colored by the great 2010 rotation and a dominant run through the 2012 postseason. But FanGraphs ranked the Giants' 2014 rotation 28th in the majors, with 8.2 WAR. That's not as surprising as it looks once you consider the Giants were 10th in the NL in rotation ERA while playing in a pitcher's park.
Can they still count on
Matt Cain
and/or
Tim Lincecum
? Was Peavy's 2.17 ERA with the Giants the second half of last season a fluke or a product of returning to the National League? What will
Tim Hudson
have left in the tank during his age-39 season? Does
Yusmeiro Petit
move into the rotation full time? And does Bumgarner take his regular-season game to a new level?
The best prognosis for the Giants is that Bumgarner does raise his performance, Cain bounces back after elbow surgery, Hudson delivers another solid campaign, Peavy is a dependable No. 4 and Lincecum soaks up innings and isn't ... awful. And if he is, Petit is still around as valuable swingman. Yes, they could still sign
James Shields
, but it's probably wise if they pass on him and save their money for next year's crop of premium free-agent starters --
David Price
,
Johnny Cueto
,
Jordan Zimmermann
and
Doug Fister
-- when Lincecum's $18 million comes off the books.
Aside from that, the offense should once again be one of the best in the league -- if underrated, thanks to AT&T Park's run-supressing environment. Keep in mind that
Brandon Belt
,
Angel Pagan
and Panik averaged just 77 games in the majors in 2014. If each can play 130-140 games, the offense will benefit.
Plus ... the Giants were 9-10 against the Padres and Rockies. Beat them a few more times and they can win 90.

San Diego Padres
2014:
77-85, minus-42 run differential
2015 projection:
77-85, minus-36 runs
It's easy to forget the Padres won 77 games -- only 11 wins fewer than the Giants.
And they just picked up Matt Kemp,
Wil Myers
and
Justin Upton
without trading any of their key components from 2014. What's the best-case scenario for San Diego? Let's start here: Padres outfielders hit a combined .234/.307/.347 in 2014; only the Mariners and Reds had a worse wOBA from its outfield. Padres outfielders created about 188 runs, or about 63 runs per position. Now they have a completely new outfield (although it's possible Myers will play first base).
OK, Kemp created about 88 runs this past season in 599 plate appearances, a total that includes a poor first half and a great second half. He created about 136 runs in his near-MVP season in 2011. We're being optimistic here, but 136 is probably
too
optimistic considering everything -- the injuries, the arthritis in both of his hips, moving to Petco -- working against him. But let's say he produces 95 runs, that the second half of last season was the real Matt Kemp, and that he's going to have a little anger in his game in 2015.
Myers wasn't good in 2014, so let's ignore that. As a rookie in 2013, he created about 55 runs in 88 games, or 94 runs in 150 games. Maybe he was over his head that year; he had a very high .360 BABIP that he may not be able to replicate. And he's moving to Petco. But he has talent; maybe the BABIP goes down but the power and walk rate go up. Let's give him 95 runs created as well. This is very rough math here. But you can see the improvement. We're going from 63 runs from the outfield positions to 95.
And now Upton comes over from the Braves. New general manager A.J. Preller has made an unprecedented series of big moves. He's also apparently kept his top three prospects in doing so -- catcher
Austin Hedges
, outfielder
Hunter Renfroe
and pitcher Matt Wisler. Upton created -- I didn't do this on purpose -- 95 runs in 154 games in 2014.
So we've added about 95 runs to the outfield. That's about 10 wins of new offense. (The projections above include Kemp and new catcher
Derek Norris
, but not Myers and Upton until those deals are official.)
Now, defense could be an issue. You don't really want to play Kemp or Myers in center field. Kemp's overall projected WAR is just 1.8. Myers' is 2.4. It's possible these don't turn out to be big upgrades at all. But we'll see. The Padres have power now and they're going to be exciting. Plus,
Jedd Gyorko
could/should/will bounce back. The Padres could have four 25-homer guys. Their top guy hit 15 in 2014.
Add in full seasons from
Andrew Cashner
and
Odrisamer Despaigne
(who combined for about one full season between them) and the rotation looks a little deeper alongside
Tyson Ross
and
Ian Kennedy
. The Padres are going to give another shot to
Josh Johnson
. It didn't work out this past season; maybe it does in 2015. Even 20 starts would be a boost.
Brandon Morrow
is another lottery ticket. Bullpen? The bullpen had the best ERA in the National League.
And Preller may not be done. Maybe he finds an upgrade at shortstop or third base. The Padres have gone from sleeper -- as in, they've put us to sleep for years -- to playoff sleeper.

Colorado Rockies
2014:
66-96, minus-63 run differential
2015 projection:
78-84, minus-27
The Rockies have had four straight losing seasons, and they've topped out at just 74 wins in that span. In this era of parity, they have become perhaps the most discombobulated franchise in the majors. The Astros have had a worse record, but at least their rebuilding game plan was clear. Even the Phillies have finally admitted defeat and began a restructuring of their roster.
The Rockies? What are they doing? What's the plan? New general manager Jeff Bridich replaced longtime GM Dan O'Dowd in early October but has been quiet this offseason. Well, he signed
Daniel Descalso
to a two-year contract. As always, the fate of the Rockies seems to revolve around the health of
Troy Tulowitzki
,
Carlos Gonzalez
and the starting rotation. Tulo and CarGo combined for just 161 games in 2014; Tulowitzki was great when he played but Gonzalez was awful. Only
Jorge De La Rosa
made more than 22 starts.
But ... Tulo and CarGo played 236 games in 2013 and both were great. And three starters made 30 starts, but the team was still terrible. So it's not really as simple as just keeping those two guys healthy and productive. It is a starting point.
Note that the Rockies aren't horrible in the projection. They're not expected to lose 100 games or anything. Some other ideas to help the Rockies get back to being competitive:
1.
They have to hit better on the road. Familiar story here.
Nolan Arenado
hit just two of his 18 home runs away from Coors Field.
Charlie Blackmon
hit .241 with a .269 OBP. CarGo hit .160. The Rockies hit .322 at home, .228 on the road. Arenado could be a key here. He now has two years in the majors and has shown excellent contact ability (although he hasn't drawn many walks). He needs to translate that into a higher average, more power and a few more walks.
2.
The young pitchers continue to emerge.
Jordan Lyles
(4.33 ERA in 22 starts) and
Tyler Matzek
(4.05 ERA in 19 starts) showed promise in 2014. Those are decent ERAs for guys who pitch primarily in Coors Field. Matzek actually had an ERA under 4.00 at home, so he has shown he can survive there.
3.
Eddie Butler
and Jonathan Gray make a second-half splash. Regarded as two of the top pitching prospects in the minors entering 2014, neither had an impact season, so they need to get back on track.
4.
Play
Corey Dickerson
more. He got just 478 PAs in 2014 as the Rockies used him as a platoon player. He hit .312/.364/.567 and wasn't awful versus lefties.
5.
Get 30-plus starters from De La Rosa, Lyles, Matzek and
Jhoulys Chacin
.
The projection above includes 595 PAs from Tulowitzki and 490 from Gonzalez, so it's fairly optimistic about their playing time. This may be the final go for the Tulo/CarGo era. There are also rumors about a potential trade to the Mets -- although ESPNNewYork's Adam Rubin said there's
less than 5 percent chance
of that happening.

Arizona Diamondbacks
2014:
64-98, minus-127 run differential
2015 projection:
75-87, minus-57
I'm actually surprised that Arizona's projection is 75 wins -- and that doesn't even include
Yasmany Tomas
. He's unlikely to go all
Jose Abreu
on us, but maybe he's a 25-homer guy who would go nicely along with sluggers
Paul Goldschmidt
and
Mark Trumbo
. Everybody says they can't find right-handed power these day, but the Diamondbacks have it.
The weakness appears to be the starting rotation, which Steamer projects as the 27th-best at just a combined 6.7 WAR. But it's a volatile rotation to project. Steamer doesn't factor
Rubby de la Rosa
,
Allen Webster
,
Robbie Ray
or
Archie Bradley
to pitch more than 30 innings. Maybe one or two will break through. Maybe
Patrick Corbin
returns in the second half. Maybe
Jeremy Hellickson
goes to the NL and has a 3.15 ERA instead of his projected 4.15 ERA. The Diamondbacks need some of those things to happen.
Then you go to the power guys. Goldschmidt was an MVP runner-up two years ago. Trumbo had kind of a lost season but could swat 35 homers; he hit 34 in Anaheim two years ago. And maybe Tomas is a beast.
The Diamondbacks also don't really have a catcher right now (sorry,
Tuffy Gosewisch
), so maybe they make a deal there. The middle infield combo of
Chris Owings
and
Aaron Hill
could certainly outperform their projected WAR total of 1.9.
For the most part, it's a young team. Young players can surprise. You never know.
December, 19, 2014
Dec 19
8:39
AM PT
ESPN.com news services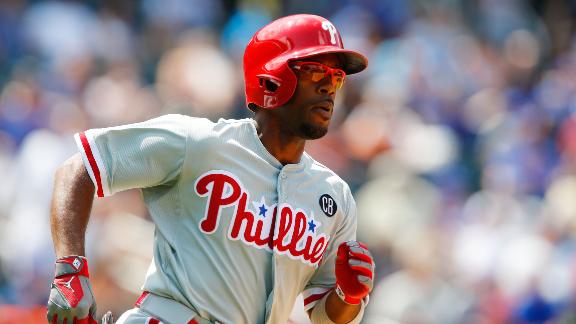 PHILADELPHIA -- The Phillies have finalized their trade of Jimmy Rollins, sending the All-Star shortstop and cash to the Los Angeles Dodgers for right-hander Zach Eflin and left-hander Tom Windle.
The deal was agreed to last week at the winter meetings and announced Friday, a day after the Dodgers completed a trade that sent slugging outfielder Matt Kemp to San Diego.
Rollins, who had a no-trade clause in his contract, said he would have approved a trade to just three teams, the Dodgers, New York Yankees and New York Mets. He said the Dodgers were No. 1 on his list.
"I've always loved the color blue, but most importantly they're built to win right this very moment," Rollins said. "I played against them, I have a sense of what they have going on in the clubhouse and seeing how they interact on the bench reminds me a lot of what we used to have in Philly."
Rollins said he bought an ad in Saturday's edition of the Philadelphia Inquirer which he called a "love letter" to Phillies fans to thank them for his 14 years in that city.
"They got to see me mature, become a husband, a father and they got to cheer me, they got to boo me and whatever else they wanted to in between," Rollins said. "They understand I was true to myself, I was true to my craft and I was a true Philly."
Rollins, a three-time All-Star, hit .243 last season with 11 homers, 55 RBIs and 28 steals. The 36-year-old had started 14 consecutive openers for the Phillies and helped Philadelphia win the World Series in 2008.
December, 18, 2014
Dec 18
5:40
PM PT
ESPN.com news services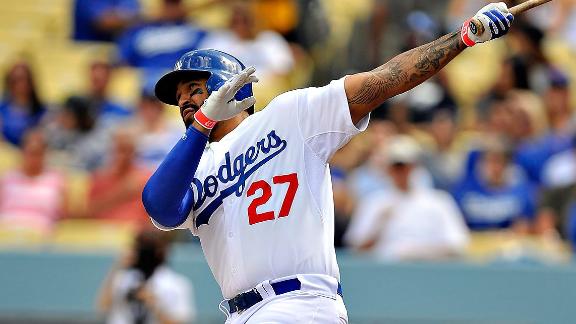 SAN DIEGO -- Slugger Matt Kemp has joined the Padres after San Diego and the Los Angeles Dodgers finalized a five-player trade Thursday night.
The teams agreed to the trade last week during the winter meetings in San Diego. It was the first of three big deals by new Padres general manager A.J. Preller, who also has added outfielder Wil Myers, the 2013 AL Rookie of the Year, from Tampa Bay and All-Star catcher Derek Norris from Oakland.
The Padres, desperate to pump up the worst offense in the majors, also get $32 million from the Dodgers to help offset the $107 million remaining on Kemp's contract. The Padres' obligation of $75 million to Kemp over five years becomes the biggest deal in club history.
Kemp twice made the All-Star team during his time in L.A., as well as winning two Gold Glove and two Silver Slugger awards. His 182 homers rank fourth in Los Angeles Dodgers history.
Kemp weighed in on the deal via social media, penning a "goodbye to the city and the fans who have been there since the beginning of my career."
San Diego also gets catcher Tim Federowicz. The Dodgers receive catcher Yasmani Grandal and right-handers Joe Wieland and Zach Eflin.
December, 18, 2014
Dec 18
11:13
AM PT
[+] Enlarge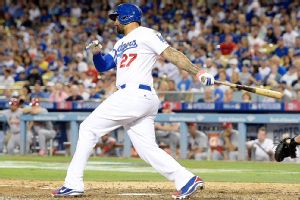 Richard Mackson/USA TODAY SportsMatt Kemp's physical reportedly revealed arthritis in both hips, putting his trade to the Padres in doubt.
LOS ANGELES -- The San Diego Padres were reviewing medical information before signing off on a trade for Dodgers outfielder Matt Kemp, a source said, with an agreed-upon Thursday deadline to complete the deal fast approaching.
Should San Diego pull out of the trade -- according to USA Today, Kemp's physical revealed arthritis in both hips -- two other trades and three other teams could be affected.
Teams typically have a 72-hour window to perform a physical examination of an acquired player, which the Padres satisfied since Kemp underwent his physical on Tuesday. According to a source, Thursday's deadline can be extended.
December, 17, 2014
Dec 17
11:00
AM PT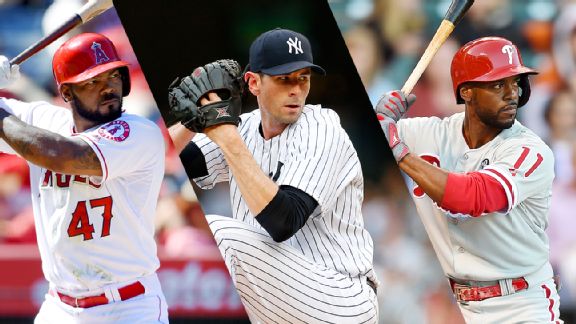 Matt Brown/Getty ImagesThe key to the Dodgers' makeover this offseason is the synergy between each of the moves.
LOS ANGELES --
Brandon McCarthy
pitches in a statistically extreme way, so it makes sense he pays close attention to some of his numbers. For example, he allowed 2.13 ground balls for every fly ball he gave up last season, which isn't terribly surprising considering his out pitch is a sinker. Only five major-league pitchers had a more lopsided grounder-to-fly ball ratio.
McCarthy mixes in some cutters and breaking pitches and is perfectly capable of coming up with a strikeout in a pinch, but what he generally is trying to do is force hitters to make off-center contact and beat ball after ball into the dirt or infield grass.
[+] Enlarge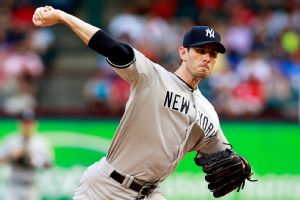 Tim Heitman/USA TODAY SportsAn extreme ground ball pitcher, Brandon McCarthy will have an improved defensive infield behind him.
McCarthy's chances of succeeding on the
Los Angeles Dodgers
-- with whom he just signed a four-year, $48 million deal -- would have been quite different had the team not been making a couple of concurrent moves while finalizing talks with McCarthy's agent. They agreed to send a couple of pitching prospects to the
Philadelphia Phillies
in exchange for aging, but still reliable shortstop
Jimmy Rollins
, and orchestrated a three-team trade that sent second baseman
Dee Gordon
to the
Miami Marlins
and landed
Howie Kendrick
in L.A.
The Dodgers' defense wasn't particularly good last season, particularly when it came to turning double plays and stopping balls hit up the middle.
Hanley Ramirez
, who is now a left fielder for the
Boston Red Sox
, might have been the worst defensive shortstop in baseball. Gordon, while quick and agile enough, had lapses in concentration and graded out poorly in advanced defensive metrics.
Both Rollins and Kendrick grade out as above-average defenders.
McCarthy is familiar with the way the Dodgers' front office works because he spent two seasons pitching for the Oakland A's and developed a relationship with Farhan Zaidi, who is now the Dodgers' general manager and was then one of Billy Beane's deputies.
"They're going to find successful combinations and make those the name of the game," McCarthy said. "That's all I ask for, people who are going to put me in a position to succeed."
One could argue the merits of the Dodgers' offseason moves so far. Without
Matt Kemp
and Ramirez, who finished first and fourth on the team in slugging percentage, it's reasonable to expect them to score fewer runs next season. For all the Dodgers' faults in 2014, they finished second to the
Colorado Rockies
in runs scored despite playing in one of the league's extreme pitchers' parks.
But what stands out about the extreme makeover president of baseball operations Andrew Friedman and his staff have orchestrated is the synergy between each of the moves. We can at least make out the traces of a master plan.
December, 16, 2014
Dec 16
12:33
PM PT
[+] Enlarge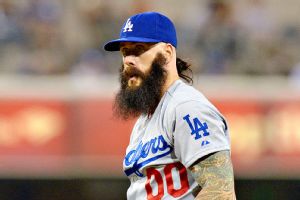 Jake Roth/USA TODAY SportsThe Dodgers will be on the hook for Brian Wilson's $9.5 million salary after designating him for assignment.
LOS ANGELES -- The Dodgers designated veteran reliever Brian Wilson for assignment Tuesday to clear room on the 40-man roster for newly signed starting pitcher Brandon McCarthy.
The Dodgers' new front office has shown little hesitancy to absorb bad contracts, as the team will be on the hook for Wilson's $9.5 million as well as the $10 million owed to Dan Haren for next season. Haren was traded to the Miami Marlins as part of a three-team, eight-player deal last week at the winter meetings. The Dodgers also have agreed to a trade that would send outfielder Matt Kemp to the San Diego Padres along with $32 million of the remaining $107 million on Kemp's contract. That deal is pending a physical, which Kemp was to undergo Tuesday.
December, 16, 2014
Dec 16
8:46
AM PT
Associated Press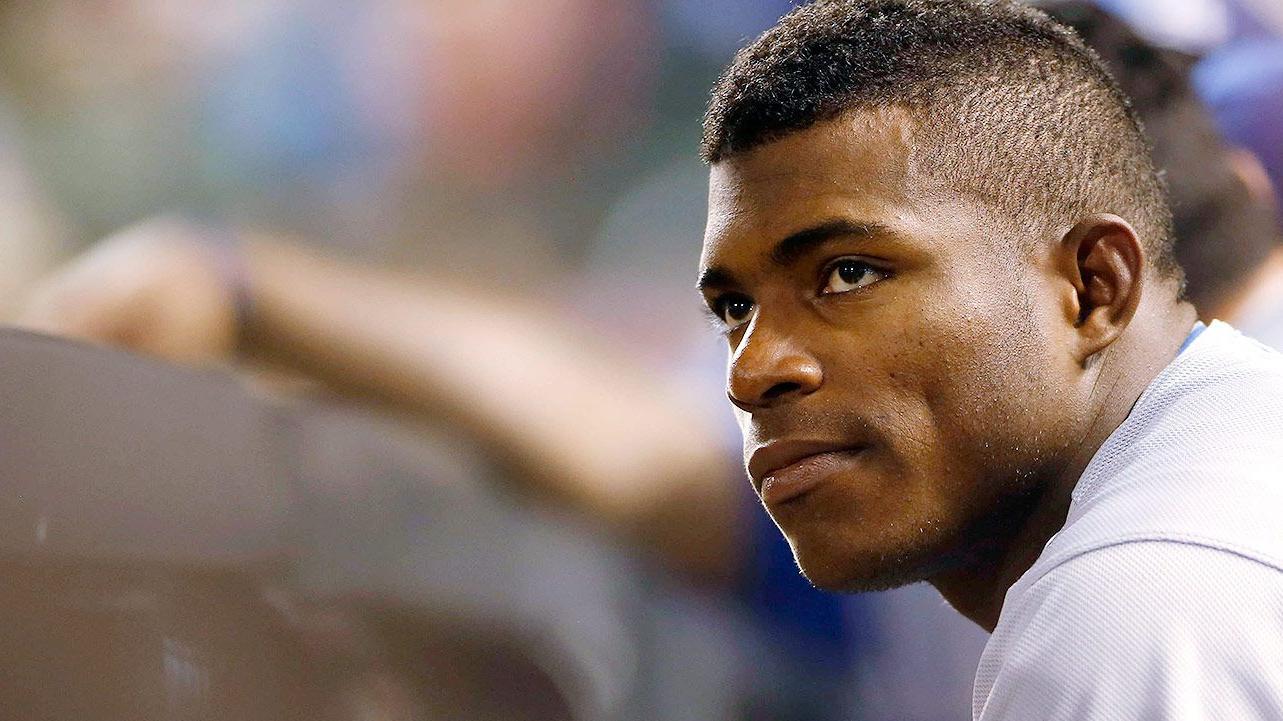 MIAMI -- A South Florida businessman pleaded guilty Tuesday to taking part in a conspiracy to smuggle Los Angeles Dodgers star Yasiel Puig out of Cuba in return for a sizable cut of the outfielder's multimillion-dollar salary.
Gilberto Suarez, 40, entered the plea Tuesday before U.S. District Judge Robert Scola, who set a March 6 sentencing date. The alien smuggling conspiracy charge carries a maximum of 10 years in prison, although Suarez is likely to get a more lenient sentence under his plea deal with prosecutors.
Investigators and court documents say Suarez was one of the Miami-based financiers of the 2012 smuggling venture in which Puig was taken by boat from Cuba to a fishing village near Cancun, Mexico, eventually crossing into the U.S. at Brownsville, Texas, on July 3 of that year. In return, the financiers were getting a percentage of the seven-year, $42 million contract Puig signed with the Dodgers.
Court documents show that Suarez got $2.5 million from Puig's contract. He agreed with prosecutors to forfeit to the government a house, a condominium and a Mercedes-Benz that are traceable to the money from Puig. Suarez also is forfeiting several guns.
The plea deal requires Suarez to give up any interest in another Cuban player's contract, shortstop Aledmys Diaz, a minor leaguer in the St. Louis Cardinals' system. The court documents do not provide any details on Diaz's defection or whether Suarez played a role in it.
December, 15, 2014
Dec 15
2:36
PM PT
ESPN.com news services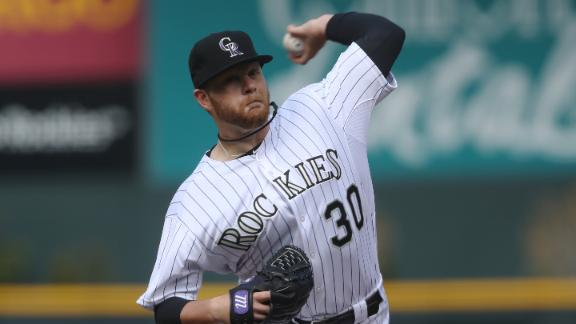 The Los Angeles Dodgers have agreed to a one-year, $10 million deal with left-hander Brett Anderson, with $4 million in possible incentives, sources told ESPN.com's Buster Olney.
Anderson went 1-3 with 2.91 ERA in his only season with the Colorado Rockies, who elected to decline his $12 million option.
Finger and back problems marred Anderson's 2014 in Colorado, limiting the 26-year-old to eight starts.
For his career, Anderson is 27-32 with a 3.73 ERA. He played his previous five years with the Oakland Athletics before he was dealt to the Rockies prior to the 2014 season.
December, 15, 2014
Dec 15
12:08
PM PT
December, 13, 2014
Dec 13
9:33
AM PT
Everybody loves a good heist movie. In a typical one, a likable protagonist and his lovable, ragtag band of ne'er-do-well miscreants will form an intricate, detailed plan and eventually get the better of the antagonist who owns the thing that the group intends to steal. The plan may be to rob a bank. Or sometimes a casino or a museum with a diamond the size of Mike Trout's WAR.
However, the current grand burglary I'm thinking of doesn't involve bags of money or famous jewels -- this mise-en-scène played out during the winter meetings at the San Diego Hilton this week. And the perpetrator is the Los Angeles Dodgers, who deviously retooled some of the weaknesses from their 94-win season using stuff from the other guy's wallet.
The 2014 Dodgers were a solid team, but far from a perfect one. The outfield defense was a mess, they got nothing from behind the plate, they had two starting pitchers who were both healthy and good, and too much of the bullpen consisted of incompetent "name" relievers that you'd want in 2010, not 2014. The team's core was still talented, so blowing up the team and starting from scratch made little sense. A retool was in order.
The front office in Dodgerland that attended the winter meetings this year was very different than the 2013 group. Andrew Friedman, the team's new president of baseball operations and still on the sunny side of 40, was lured from Tampa Bay, where he oversaw one of the most successful front-office operations in the past decade. To assist him in his dream team of thievery came other recruits for this operation, including general manager Farhan Zaidi from the Athletics; senior vice president Josh Byrnes, who was fired by the Padres last season; team farm director Gabe Kapler; and Jeff Pickler, special assistant in pro scouting and player development. I'll let them sort out who gets played by Brad Pitt and who gets George Clooney.
What's even better than making a big score? Making it while people think you were the one who was robbed.
December, 11, 2014
Dec 11
8:05
PM PT
By
Mark Simon
| ESPNLosAngeles.com
The primary purpose of the
Los Angeles Dodgers
trading
Matt Kemp
to the Padres was to both clear salary and clear an outfield logjam to free up space for promising rookie
Joc Pederson
. But the Dodgers did get one player back who will have an immediate impact in catcher Yasmani Grandal.
ESPN Insider Mike Petriello wrote a piece recently
extolling the virtues of Grandal
as a potential breakout candidate for 2015.
What does Grandal bring to his new team?
In spite of the numbers, he can hit
Grandal's offensive numbers look unimpressive on the surface (.225 with a .327 on-base percentage, .401 slugging percentage and 15 home runs in 128 games). But there are some bright spots to consider.
For one, he has hit well in the past. In his rookie season, 2012, he had a .297/.394/.469 slashline with eight home runs in 192 at-bats
For another, he closed 2014 very well – posting a .270/.373/.467 slashline with six home runs in his last 42 games (and 137 at-bats).
Lastly, Grandal does hit the ball hard at an above-average rate.
Inside Edge, which provides batted-ball data to teams and media, rates every batted ball as hard-hit, medium-hit or soft-hit.
Grandal registered hard-hit balls in 18 percent of his at-bats, 19 percent against right-handed pitching.
When he actually hit the ball, he hit it hard 25 percent of the time.
By comparison, Kemp's overall hard-hit rate last season was 16 percent. And his hard-hit rate when making contact was 22 percent. Grandal rated better in each area. And he's well ahead of his new backstop mate, A.J. Ellis, who had a 15 percent overall hard-hit rate last season.
Pitch-Framing: A coveted skill
One of the popular statistics in the sabermetric community (a group that would include the Dodgers new management team) relates to pitch framing: How well does a catcher do at making sure pitches in the strike zone are called strikes and how well does the catcher do at "stealing strikes" – taking pitches outside the strike zone and getting them called strikes.
Simply put: This is an area in which Grandal has excelled.
Grandal rated best in the majors at getting strikes called when he should. Umpires called 89 percent of the pitches he caught in the strike zone as strikes, six percentage points above the major-league average.
Grandal also got called strikes on 10 percent of pitches that the Pitch F/X tracking system deemed to be out of the strike zone. That ranked eighth-best among the 40 catchers who caught the most pitches last season.
There is a significant difference between Grandal and Ellis, as noted in the chart on the right.
Grandal's weakness: Doesn't deter baserunners
Though Grandal does excel at one aspect of catcher defense, he struggles in another.
Opposing baserunners were caught only six times in 55 stolen-base attempts (11 percent of the time) against Grandal last season. You could argue that some of that is due to the Padres pitchers and that's partly true. But consider that the Padres other catcher,
Rene Rivera
, threw out 33 percent of would be base-stealers last season.
Ellis has an edge here. Over the last two seasons, he's thrown out 31 percent of would-be basestealers.
It will be interesting to see how Don Mattingly handles his end-game catching choice. Will he go with the catcher better at framing pitches (and thus keeping runners off base) or the one who rates better at holding runners once they reach?
Stat to Remember: A winning player?
The Padres have finished under .500 in each of the past three seasons, but when Grandal played, they were a considerably better team.
The Padres went 99-80 when Grandal started. They were 130-177 when he did not.
December, 11, 2014
Dec 11
12:39
PM PT
SAN DIEGO -- One of the reasons the
Los Angeles Dodgers
hired this new group of well-educated, secretive men to overhaul their baseball operations department -- from its philosophies to the players it pays -- is because these guys don't care if they just traded your favorite player.
That may sound harsh, but it's a harsh job, with a lot of teams trying to do it better than you. Fighting to keep a major league roster from getting so recognizable it petrifies is what Andrew Friedman, Farhan Zaidi and Josh Byrnes do best. It's why they're here and Ned Colletti is not.
Zaidi learned the trade under Oakland A's general manager Billy Beane, who traumatizes his core fans every two or three years by trading their favorite players, then gets a new group of nobodies back into the playoff hunt.
Hate the Josh Donaldson and Brandon Moss moves? Get back to me in nine months.
When everyone thought he wouldn't do it, Friedman traded
David Price
, a great pitcher and an engaging personality, an enthusiastic Twitter user. Friedman often sent players packing just when Tampa Bay's fan base, what there is of it, had grown most attached to them.
So, if you're still feeling the loss of
Matt Kemp
, a polarizing figure but also an iconic player in this chapter of Dodgers history, get used to these feelings.
What the Dodgers did in a frenetic, all-night highjacking of the winter meetings, wired delicately between three interconnected trades and a signing, speaks to the direction of this franchise. It won't be the last time we see such purges.
The Dodgers hired a front office that values flexibility over stability, cost efficiency over luxury shopping and innovation over tradition. They're also talented enough to pull off multi-player, three-team deals that tend to be as sturdy as a house of cards and can come tumbling down when the phone rings.
"I don't think we ever walked in and said the team needed a major overhaul. It was just about getting to that balance of personality, prospect depth, restoring some positional weaknesses," Byrnes said. "They were just a couple changes that made sense to us, but certainly not reinvention."
If it's not reinvention, it's certainly reimagination. By trading away Kemp,
Dan Haren
,
Dee Gordon
and a couple of other pieces, and bringing in
Yasmani Grandal
,
Jimmy Rollins
,
Howie Kendrick
,
Brandon McCarthy
, a useful reliever in
Chris Hatcher
and a few prospects, the Dodgers changed what you'll see on the field next season.
They'll be less powerful, but far more nimble in the field. They have a chance to pitch even better, though expecting
Clayton Kershaw
to repeat what he just did seems a bit much.
Byrnes said the idea was to hold onto treasured prospects
Corey Seager
,
Julio Urias
and
Joc Pederson
, improve team chemistry, add to the prospect depth -- perhaps to use in future trades -- and maintain the core strengths of the roster.
Judge for yourself whether they've done all that. Kemp can make them look less smart by hitting like he did after mid-July last season. He can make them look like geniuses by hitting like he did the previous two years and playing the outfield like he has for a while now, not particularly well.
But what this really was about was restoring functionality, to the roster and to the atmosphere around the team. That last part is so nefarious as to invite ridicule. The players don't have to hold hands and engage in group therapy before every game. They also probably shouldn't curse loudly, throw equipment and demean a teammate when they're told to get ready to play another position, as Kemp did -- according to team sources -- when the Dodgers decided he could no longer play center field and moved him to left.
There was tension between Kemp and manager Don Mattingly and his coaches all season after that. When Kemp started hitting well, his mood improved, but the Dodgers' clubhouse surely will be a quieter, more integrated place with
Hanley Ramirez
in Boston and Kemp in San Diego.
Besides personalities, the mix the Dodgers tried just didn't work. They won 94 games, but the power display in the regular season largely dried up in the postseason. The Dodgers struck out 36 times in 155 at-bats against the
St. Louis Cardinals
. With run-scoring down in baseball, teams value contact. Grandal, Rollins and Kendrick are grinder types. They get on base and swing and miss in moderation.
The Dodgers have already spent most of the $74 million they save by moving Kemp -- on McCarthy, on Kendrick and on Rollins -- but they still might be willing to lay down one more good-sized contract to land a starting pitcher. If the
James Shields
bidding doesn't get out of hand, he's a good guess. They have more minor league depth to possibly land
Cole Hamels
.
What we've seen with this front office is that they'll maintain discipline. They let juicy targets such as
Jon Lester
and
Russell Martin
pass because they thought the market had gotten overheated.
It's all good business principles. It just may not be all that warm and fuzzy and it may not play well on a day when one of the team's most popular players just got shipped to a division rival.