March, 26, 2015
Mar 26
5:37
PM PT
Associated Press
GLENDALE, Ariz. -- Clayton Kershaw struck out eight in six innings, and Yasiel Puig and Jimmy Rollins homered to help the Los Angeles Dodgers defeat the Chicago White Sox 9-6 on Thursday.
Kershaw showed no ill effects from his previous outing against Oakland last Friday, when he was hit in the jaw by a line drive and chipped a tooth. He gave up four hits and a run, walking one and recording at least one strikeout in every inning he worked.
The reigning NL MVP and Cy Young Award winner also had a single and two sacrifice bunts. He scored on Rollins' two-run homer in the sixth against Daniel Webb.
Rollins also drove in a run with a groundout and hit an RBI double off White Sox starter Brad Penny.
March, 26, 2015
Mar 26
5:29
PM PT
GLENDALE, Ariz. -- The San Diego Padres' top three starting pitchers preferred to work with another catcher, but Yasmani Grandal said he is determined to establish a good rapport with Clayton Kershaw and Co.
The Los Angeles Dodgers traded Matt Kemp for Grandal in December because they like his bat and highly value his ability to frame pitches, but getting Dodgers starters comfortable pitching to Grandal might take some time. Grandal caught Kershaw for the second time this spring Thursday, and the results were good this time. Kershaw pitched six strong innings, allowing a run on four hits and striking out eight.
Afterward, Grandal said he is determined to improve his reputation for working with pitchers. A report on FoxSports.com this week quoted anonymous sources on the Padres saying that Tyson Ross, Andrew Cashner and Ian Kennedy all preferred to work with Rene Rivera and that the team wasn't satisfied with Grandal's apology for being suspended for using performance-enhancing drugs in 2012.
"I don't go online and read articles. I think that's the worst thing you could possibly do," Grandal said. "It seemed like they all threw to [Rivera] and I was fine with it. Like I've been saying, I'm just going to keep doing whatever it is I'm doing and making sure the guys I'm catching, I'm on the same page with. I think last year I did a pretty good job with those new guys that came up to the big leagues."
Grandal said he felt he had good rapport with less-experienced San Diego pitchers such as Eric Stults, Odrisamer Despaigne and Jesse Hahn.
Of course, none of those guys is Kershaw, who has won the major-league ERA title four seasons in a row. Dodgers manager Don Mattingly seems determined to dispel any notion that A.J. Ellis is Kershaw's personal catcher.
"I didn't shake off as much today, so I think it's just that learning process getting better," Kershaw said. "There are no scouting reports no or anything. He knows kind of how I operate and different pitches in different counts. Once we start looking at hitters and stuff, it's just game to game."
March, 26, 2015
Mar 26
5:06
PM PT
GLENDALE, Ariz. -- Veteran right-hander Chad Gaudin, competing to make the roster as a long reliever, has been shut down with discomfort in his right arm.
Gaudin was warming up to pitch in a minor-league game Thursday when he felt a tingling sensation in his arm, the same sensation that shut down his previous outing. Los Angeles Dodgers manager Don Mattingly said Gaudin will undergo an MRI. His chances of making the Opening Day roster appear now to be slim.
Gaudin failed a physical with the Philadelphia Phillies last spring due to a neck injury and did not pitch in 2014.
March, 26, 2015
Mar 26
5:18
PM PT
VIERA, Fla. -- The New York Mets are actively scouting left-handed relievers from the Colorado Rockies and Los Angeles Dodgers, according to ESPN.com's Mark Saxon.
A Mets official told ESPN during the winter meetings that the club liked Rockies reliever Rex Brothers, who is earning $1.4 million this season and is under control through the 2017 season. Colorado also has left-handed reliever Boone Logan, although he is exceedingly pricey. Logan, a former Yankee, is due to earn $5.5 million this season and $6.25 million in 2016.
The Dodgers are under little pressure to trade a left-handed reliever because Adam Liberatore and Paco Rodriguez have options remaining and can be sent to the minors without passing through waivers. Like Logan with Colorado, J.P. Howell is pricey with L.A. He is owed $4 million this season. There is a $6.25 million clause for 2016 that could become a player option if Howell reaches certain appearance thresholds.
A Mets official acknowledged the club is talking to multiple teams about acquiring left-handed relief help.
March, 26, 2015
Mar 26
11:32
AM PT
GLENDALE, Ariz. -- Tommy Lasorda may be 87 years old, but he still enjoys mixing it up with the players, who often give it right back.
The Hall of Fame former manager, who has been all over Camelback Ranch this spring, nearly got stranded in his golf cart on one of the side fields to interrupt batting practice Thursday morning. Then, he did get stranded on the field and briefly interrupted practice.
Juan Uribe helped load up Lasorda's cart with baseballs, then admonished Lasorda to give the balls away to autograph seekers.
[+] Enlarge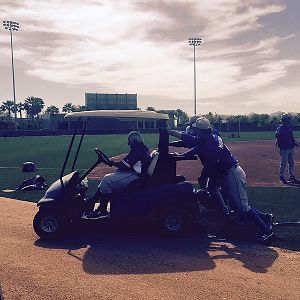 Mark Saxon/ESPN.comDon Mattingly, Tim Wallach and Howie Kendrick gave Tommy Lasorda an assist leaving the field Thursday.
"Don't take them home, Tommy!" Uribe yelled. "They're for the kids."
Yasiel Puig also visited Lasorda in his cart. Then, as Puig and Uribe walked away, Lasorda yelled, "Hey! Who's got my key?
A minute later, Uribe pulled it out of his back pocket and coach Davey Lopes said, "See that? Magic."
Then, the battery in Lasorda's golf cart died and manager Don Mattingly, coach Tim Wallach and infielder Howie Kendrick got in back and pushed it off the field. A grounds crew guy picked up Lasorda in a utility cart and drove him off to his morning autograph session, where a line of about 100 people waited for their meet-and-greet with Lasorda.
Lasorda has been around the practice fields all spring. Sometimes, he stands behind the batting cage and exchanges banter with the hitters and coaches throwing batting practice. A frequent target for his jokes is Jose Vizcaino, an infielder for Lasorda in the early 1990s who now coaches in the Dodgers' system. He also took time this spring to make a video in which he sings and dances to the DJ Snake and Lil Jon song, "Turn Down for What?" That is recommended viewing on YouTube.
Lasorda has been with the Dodgers since 1954, first as a pitcher and later as a coach and manager. He managed the Dodgers for 20 years, concluding in 1996. He is now a special adviser to the chairman.
March, 26, 2015
Mar 26
10:28
AM PT
GLENDALE, Ariz. -- Reliever Brandon League will leave camp to meet with team doctor Neal ElAttrache, Dodgers manager Don Mattingly said.
Dodgers trainer Stan Conte will travel with League to Las Vegas, where ElAttrache is attending a doctors' convention, and bring the readings from Wednesday's contrast MRI on League's right shoulder. The Dodgers aren't releasing a diagnosis at this point, but the fact League is leaving camp could mean it's a long-term injury.
"I don't want to go there, because I don't know that," Mattingly said. "It's obviously a little more than, 'Take a couple days off and you'll feel better type of a thing.' It wouldn't be fair for me to say this means something serious."
March, 25, 2015
Mar 25
4:30
PM PT
GLENDALE, Ariz. -- So far, the Los Angeles Dodgers' bullpen -- the team's biggest trouble spot for much of 2014 -- has been a generally depressing story line in spring training. Closer Kenley Jansen will begin the season on the 15-day disabled list and it looks like Brandon League will join him there.
J.P. Howell, perhaps the only bankable pitcher healthy, has a 7.94 ERA. Sergio Santos and Dustin McGowan, two of the new guys, didn't look particularly sharp Wednesday.
But one young pitcher, Yimi Garcia, has continued to build on a foundation he started on last September. The odds may have been stacked against Garcia when he got here since other pitchers have hard-to-maneuver contracts or are out of options, but he now looks like a good bet to make the Opening Day roster. That's what seven scoreless outings -- and a 5-to-1 strikeout-to-walk ratio -- will do for you.
Garcia, whose first name is pronounced like the English name Jimmy, isn't overpowering. He said he's happy if his fastball is in the 93-to-94 mph range, but he has been hard for Cactus League hitters to get a handle on. Garcia pitched well for the Dodgers in low-stress situations last September, pitching to a 1.80 ERA in eight games.
"Yimi just kind of keeps doing what he's been doing and, obviously, pretty impressive," Dodgers manager Don Mattingly said.
Asked if Garcia would get serious consideration to make the team, Mattingly pointed out that Garcia hasn't yet been cut to minor-league camp.
"He's still here," Mattingly said. "Obviously, if you're not on the other side, in the barracks over there, you still have a shot."
Garcia, 24, said his fastball, slider and changeup have been working well for him so far. He laughed when he was asked if he thinks he can make the team.
"In my mind, yes, but I don't have control," Garcia said.
March, 25, 2015
Mar 25
4:28
PM PT
GLENDALE, Ariz. -- Back in December, after a frenetic series of moves at the winter meetings, Los Angeles Dodgers president of baseball operations Andrew Friedman said he wasn't sure whether his team would have as much run-scoring ability as last year's team. He also wasn't sure it wouldn't.
The Dodgers were second in the National League in runs scored in 2014 -- first among teams that don't play home games in Coors Field.
[+] Enlarge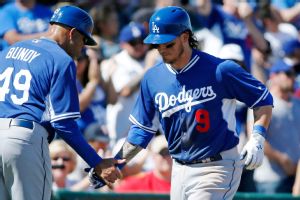 AP Photo/John LocherThe addition of Yasmani Grandal is one reason the Dodgers have more home runs than any other team during Spring Training.
"I think our team home-run total might be less, but I think we have a very deep lineup with real length to it one through eight with good balance, with switch hitters and right-left balance and guys coming off the bench that fit really well," Friedman said, "I think we're going to have a good offensive team."
So far, even Friedman's initial premise hasn't proven apt, though -- the usual caveat -- it's only spring training. The Dodgers lead the major leagues in home runs this spring and it's not even close. They muscled up for four home runs in a 9-5 win over the San Diego Padres Wednesday and have mashed 37 home runs this spring. The next closest team, the Chicago Cubs, have hit 30.
The presumption of declining power, of course, comes from the losses of Matt Kemp and Hanley Ramirez, who were, respectively, first and fourth on the Dodgers in slugging percentage last season.
But there is a chance the Dodgers can make up for the loss of Kemp and Ramirez, at least in part, with the addition of Joc Pederson and Yasmani Grandal to the lineup and more home runs from Yasiel Puig. Pederson slugged 33 home runs at Triple-A last season and the Dodgers think Grandal's power has yet to be fully tapped. He hit 15 last year for San Diego. The Dodgers got a total of seven home runs from their catchers last season. Only two teams got fewer.
Puig had an .863 OPS, but managed just 16 home runs last year, a big drop-off from the pace he set in 2014.
Dodgers manager Don Mattingly said he "feels pretty good," about how his lineup will shake out this season, with switch hitters Jimmy Rollins and Grandal added to the mix and a more contact-oriented approach. He's not sure the home runs will be as common, but he doesn't sound concerned.
"I just think it's more of a battling lineup, a little less all or nothing," Mattingly said. "Guys will be fighting, having grind-it-out at-bats."
March, 25, 2015
Mar 25
4:03
PM PT
Associated Press
GLENDALE, Ariz. -- Yasiel Puig hit his fourth home run this spring, sending the Los Angeles Dodgers to a 9-5 victory over the San Diego Padres on Wednesday.
Puig connected for a two-run shot in the first inning against Jason Lane. The drive sailed over the left field fence and off the wall of the Dodgers' complex at Camelback Ranch.
Puig, who also singled, hit the first of four Dodger homers. Joc Pederson and Justin Turner hit solo shots in the fourth and Scott Van Slyke added a solo shot in the sixth.
Lane, a converted outfielder, gave up the first three homers. The left-hander homered himself in the fifth inning.
Derek Norris had a two-run homer for the Padres.
March, 25, 2015
Mar 25
10:06
AM PT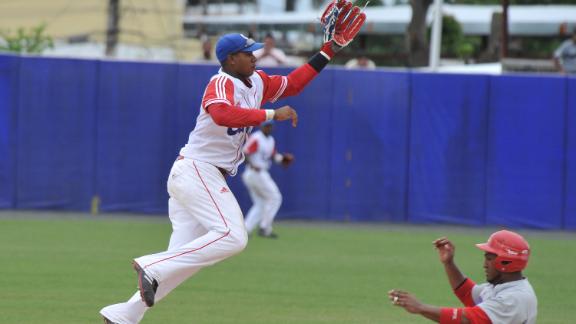 GLENDALE, Ariz. -- I playfully asked Los Angeles Dodgers manager Don Mattingly whether the acquisition of Cuban infielder Hector Olivera will give him a glut of infielders this season reminiscent of the outfield glut everyone called "dysfunctional" in 2014. Mattingly, smiling, went right to diversionary tactics.
"Chad Gaudin," Mattingly said, "is throwing on the back fields tomorrow."
Nice try.
The Dodgers certainly need Olivera, with three infielders possibly departing via free agency in November, but do they need him now? They have the infield covered with veteran, quality infielders. Their second baseman, Howie Kendrick, was one of their key offseason acquisitions, hit 33 doubles last season and is among the best-fielding second basemen in the game. Third baseman Juan Uribe, though 36, batted .311 last season and probably should have won a Gold Glove. Second and third base are the positions Olivera plays.
The Dodgers even have better-than-capable replacements for the inevitable injuries. Justin Turner was second among Dodgers position players with a 4.3 WAR last season despite playing in just 109 games. Alex Guerrero has warranted a roster spot with his strong hitting and OK fielding this spring while playing multiple positions. The Olivera news could be trouble for Guerrero, who spent part of Tuesday afternoon meeting with his agent at a hotel near the team training complex.
Oh, and by the way, according to reports, Olivera has a partially torn ligament in his throwing elbow. If that shows up on the MRI Olivera undergoes once he's cleared to take his final physical, shouldn't the Dodgers try to convince him to undergo Tommy John surgery now? Such injuries can sometimes heal on their own, but playing with it -- and making dozens of throws every single day -- can also cause the ligament to tear further, forcing surgery.
Position players can return from Tommy John surgery in eight to nine months, meaning Olivera would have time to play some winter ball before he even shows up to spring training in 2016. That could help ease his transition and set him up for a good start to his rookie year.
There's even a financial incentive to have Olivera get the surgery now. His contract contains a clause that would vest a seventh year at a $1 million salary if he has Tommy John surgery, turning a six-year, $62.5 million deal into a seven-year, $63.5 million deal. Of course, that could also make it tricky. Olivera and his agent, Greg Genske, might resist the suggestion he undergo surgery and dilute the average annual value of the deal. But it would be surprising if the topic wasn't, at some point, broached.
And there's no time like the present, especially in this case.
March, 25, 2015
Mar 25
9:59
AM PT
GLENDALE, Ariz. – Los Angeles Dodgers reliever Brandon League was scheduled to undergo a contrast MRI on his ailing right shoulder Wednesday and will, barring a miracle, begin the season on the disabled list.
The Dodgers already are without closer Kenley Jansen until early May after Jansen had foot surgery just before camp opened.
League, 32, is coming off a strong season, including a 2.57 ERA in 63 games, and likely would have pitched the eighth inning, at least while Jansen is out. He had resumed throwing bullpen sessions but felt discomfort in his shoulder 15 pitches into Tuesday's session, he said.
The Dodgers will await the results of the MRI before making any diagnosis.
"I think if it was serious I wouldn't be able to pick up a ball," League said. "It's not painful, it's just hindering. I know my body pretty well and I don't think this is anything serious."
League won't even play catch for a few more days because he's at risk to worsen the injury after the dye injection. That means his chances of breaking camp with the Dodgers are virtually nil. They have just 11 more exhibition games left before Opening Day, April 6.
"We haven't been able to get on top of this, so it's really just time to find out," Dodgers manager Don Mattingly said. "You guys can do the math."
The Dodgers stockpiled veteran relievers early in camp. League's injury means Dustin McGowan and Sergio Santos have excellent chances of making the team.
March, 25, 2015
Mar 25
9:26
AM PT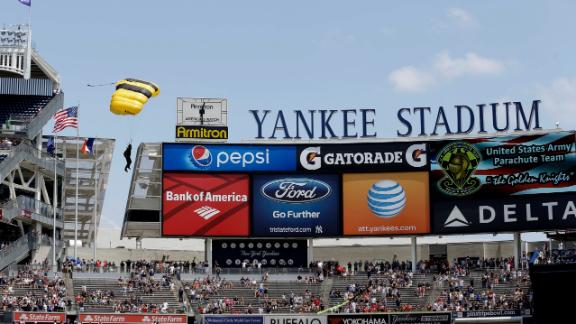 The average Major League Baseball team is worth $1.2 billion, up an astounding 48 percent from last year, according to new valuations published by Forbes magazine on Wednesday.
The driver of the growth, as with all major sports leagues, is the national TV deal, which the magazine notes will deliver an average of $52 million per team per year through the 2021 season.
The New York Yankees, who have held the top spot as the most valuable team in the league for all 18 years the magazine has published the list, are only the second U.S. sports team to top a $3 billion valuation, matching the $3.2 billion that Forbes said the Dallas Cowboys were worth last August.
The late George Steinbrenner bought the team for $10 million in 1973.
Only Real Madrid ($3.44 billion) is worth more than the Cowboys and the Yankees, who are partners on a hospitality business called Legends.
Three other teams have topped a $2 billion price tag -- the Los Angeles Dodgers ($2.4 billion), the Boston Red Sox ($2.1 billion) and the San Francisco Giants ($2 billion). The World Series champions had the greatest one-year jump, doubling their value. The Chicago Cubs round out the top five with a valuation of $1.8 billion, which is what Forbes said the team raised its valuation to when it sold small pieces to minority investors in the offseason.
March, 24, 2015
Mar 24
3:18
PM PT
Associated Press
ST. PETERSBURG, Fla. -- The Tampa Bay Rays will honor former longtime senior adviser Don Zimmer by retiring uniform No. 66 before their April 6 season opener against Baltimore.
Zimmer spent 11 years with the Rays, from 2004-14. It was his longest stint in his 66 years with 14 major league teams as a player, coach, manager or adviser.
Zimmer was 83 when he died on June 4, 2014. Three days later, the Rays and Seattle Mariners wore Zimmer's No. 23 Brooklyn Dodgers jersey in a pregame tribute at Tropicana Field. He began his career as an infielder with the Dodgers in 1954.
The Rays have retired only two other numbers. Wade Boggs' No. 12 was retired in 1999, and Jackie Robinson's No. 42 was retired by all teams in 1997.
March, 24, 2015
Mar 24
11:26
AM PT
ESPN.com news services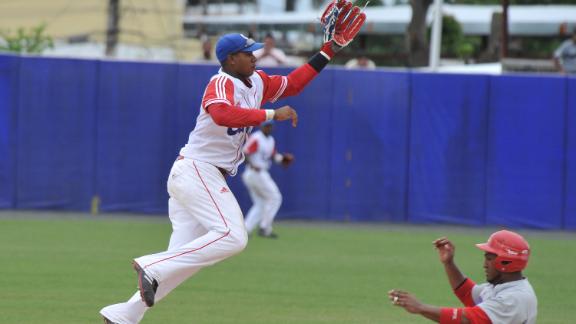 The Los Angeles Dodgers have signed Cuban infielder Hector Olivera to a six-year contract worth $62.5 million, agent Greg Genske said.
The agreement includes a $28 million signing bonus, Genske said Tuesday.
The deal also includes an option for a seventh year, worth $1 million, if Olivera needs Tommy John surgery, an industry source told MLB.com. Olivera has a small tear in the ulnar collateral ligament in his right (throwing) elbow, according to a recent MRI, the source told MLB.com. Yahoo! Sports also recently reported there was concern Olivera had damaged his UCL.
Olivera's camp denied any UCL injury following the Yahoo! Sports report.
Olivera, who turns 30 next month, drew interest from several other teams, including the Braves, Padres, Marlins and Yankees.
MLB.com was first to report Olivera's deal with Los Angeles.
Olivera will join a crowded Dodgers infield that already features second baseman Howie Kendrick and shortstop Jimmy Rollins. Olivera likely will have the best chance to play third base, where Juan Uribe is expected to start.
Los Angeles also has Cuban infielder Alex Guerrero, who has impressed this spring, and highly touted shortstop prospect Corey Seager.
Information from The Associated Press was used in this report.