November, 24, 2014
Nov 24
2:54
PM PT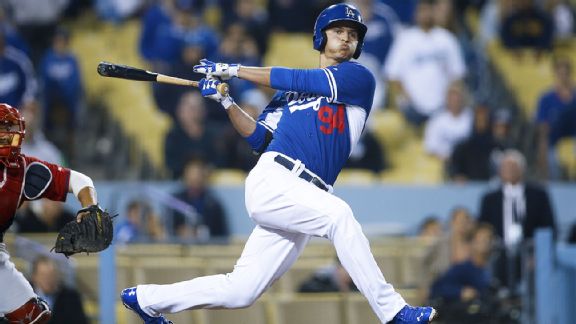 AP Photo/Danny MoloshokThe Dodgers are in need of a shortstop as they wait for Corey Seager to be ready for the majors.
LOS ANGELES -- The same day that
Hanley Ramirez
came to an agreement
to play for the
Boston Red Sox
for at least the next four years, the
Seattle Mariners
committed $100 million over seven years to their third baseman,
Kyle Seager
.
Just four months ago, here is what Seager had to say about the Dodgers' No. 1 position-player prospect, a shortstop who happens to be his younger brother Corey:
"He pretty much does everything that I'm doing, but just a little better. He's bigger, stronger, faster, he runs better. He's good. He's going to do a lot of really good things in this game."
That's the context for what the Dodgers are looking to do to replace Ramirez: Think short term. It's why the idea of locking up Ramirez -- and paying him something like $22 million when he's 33 and 34 -- became less and less appealing as Seager continued to dominate at Class A and, eventually, Double-A.
Many people think Seager will wind up playing third base, but that would have been even more problematic with Ramirez in the fold. Had he stayed with the Dodgers, Ramirez would have moved to third base, where some scouts think he plays even worse defense than he did at shortstop. He was, by many accounts, the worst shortstop in the league. A better idea, which the Red Sox seem intent on, is to move Ramirez to the outfield and give him plenty of at-bats at designated hitter, two avenues completely closed to the Dodgers.
So, who do the Dodgers now go with at shortstop?
Dee Gordon
was asking the same thing on Twitter Monday.
Sooo... Who wants to turn DP's with me?

— Dee Gordon (@FlashGJr) November 24, 2014
It's quite possible they'll live with the in-house options, giving
Erisbel Arruebarrena
(who will earn his $25 million by 2017 whether he's in the big leagues or minors) first crack at it.
Miguel Rojas
will be standing by if he flounders. The Dodgers' defense would improve significantly, but the offensive drop-off from Hanley to either of those guys would be vast.
The Dodgers don't view
Justin Turner
,
Alex Guerrero
or
Darwin Barney
as possibilities as everyday shortstops.
They're not high on any of the free-agent possibilities. General manager Farhan Zaidi worked recently with the Oakland A's,
Jed Lowrie
's last stop, and he's not said to be a big fan of what Lowrie brings to the table. His glove is nearly as suspect as Ramirez's at shortstop and his bat not nearly as lethal.
They could re-start trade talks for the
Chicago White Sox
's
Alexei Ramirez
, who is under contract through 2015 with an option for 2016 -- a perfect stopgap to see how Seager develops -- but at last check, those talks weren't exactly humming along. The White Sox, who have designs on competing next season, want a nice return for their All-Star shortstop and the Dodgers are trying to rebuild their farm system.
The most intriguing possibility -- short of trading for
Troy Tulowitzki
, which seems unlikely for reasons similar to the Alexei Ramirez hold-up -- would be to throw Seager into the fire. He won't turn 21 until next April 27, but he did bat .345 and slug .534 in 38 games for Double-A Chattanooga. Former Dodger infielder
Jerry Hairston Jr.
recently publically advocated making Seager the everyday shortstop in a segment for SportsNetLA.
That's both risky and, potentially, expensive. If Seager is as good as the Dodgers think he is, they might be tempted to wait until some time in June to promote him so they can avoid making him a "Super-Two" player, who would be eligible for salary arbitration after 2 ½ years instead of three. It would also accelerate his path to free agency. One workaround for this problem is to do something like Friedman did with another can't-miss prospect. He signed
Evan Longoria
to a nine-year, $44.5 million deal six days into his rookie season. The Rays later extended him through 2022 in a deal that pays him $100 million.
The Dodgers are going to feel the loss of Hanley in the short term, but having him around for the long haul could have proved even more painful in the end.
November, 24, 2014
Nov 24
2:10
PM PT
LOS ANGELES -- The Dodgers acquired pitcher Juan Nicasio from the Colorado Rockies for a player to be named or cash, the team announced Monday, continuing a trend of stockpiling young, inexpensive pitchers who could compete this spring to be the team's fifth starter or an extra bullpen arm.
Nicasio, 28, went 6-6 with a 5.38 ERA for the Rockies last season pitching in both relief and as a starter, but in his first three seasons in the big leagues he was exclusively a starter. Nicasio is 21-22 with a 5.03 ERA in 88 major league games.
Many people wondered what the Dodgers' new front office would do in its first offseason, and it certainly appears new team president Andrew Friedman and general manager Farhan Zaidi won't spend money the way outgoing GM Ned Colletti did in his last few seasons on the job.
Nicasio, who made $2.025 million last season, is eligible for arbitration. The Rockies had designated him for assignment.
Last week, the Dodgers acquired Mike Bolsinger from the Arizona Diamondbacks for cash. It appears Friedman and Zaidi are hoping that moving Nicasio and Bolsinger from Coors and Chase fields, two of the extreme hitters' parks in baseball, to spacious Dodger Stadium will change their fortunes.
November, 22, 2014
Nov 22
6:57
PM PT
LOS ANGELES – The
Los Angeles Dodgers
acquired right-hander
Mike Bolsinger
from the
Arizona Diamondbacks
for cash considerations on Saturday.
The acquisition is another incremental move from a new Dodgers front office that has shown little inclination to wade into the big-name free agent pool. In addition to acquiring Bolsinger, who was 1-6 with a 5.50 ERA for Arizona last season, they have already added fringe major-leaguers
Ryan Jackson
,
Kyle Jensen
and Adam Liberatore and reliever
Joel Peralta
, who will be 39 next season.
The Dodgers added Bolsinger to the 40-man roster and removed lefty
Jarret Martin
, who was designated for assignment.
Bolsinger, 26, was 8-3 with a 3.3 ERA for Triple-A Reno last season.
November, 21, 2014
Nov 21
1:04
PM PT
Los Angeles Dodgers:
Andrew Friedman just acquired his old Tampa Bay reliever,
Joel Peralta
, for hard-throwing righty Juan Dominguez. ... Peralta is coming off a 4.41 ERA as his hit rate increased. He's always been homer-prone as he's an extreme flyball pitcher. Considering he's 39, this looks like a minor upgrade for bullpen depth at best. ... The key to the deal may actually be the second reliever acquired, Triple-A lefty
Adam Liberatore
, who struck out 86 in 65 innings and allowed just one home run. ... We all saw what happened last October to the Dodgers lefty relievers. ... The Dodgers lost hard-throwing but injury-prone lefty
Onelki Garcia
on waivers to the White Sox. Garcia made just one appearance in the minors in 2014. ... Still don't see how
Andre Ethier
gets traded unless the Dodgers eat pretty much the entire contract. He's still owed at least $56 million with a possible $17.5 million vesting option in 2018. ... Catcher? Shortstop? Dodgers have an estimated $222.6 payroll right now according to Baseball-Reference and still have no sure thing at catcher and shortstop behind A.J. Ellis and
Justin Turner
/Mel Rojas/
Erisbel Arruebarrena
. ... Which explains why Ned Colletti was fired (err, moved to another position). ... But, hey, at least they have
Brian Wilson
and
Brandon League
around for a combined $17 million to provide top-grade relief work. ... Going after
Alexei Ramirez
makes a lot of sense, as you'd get him for two years at $10 million per. But he's not going to be cheap. ... I wonder if
Clayton Kershaw
has watched either of those postseason starts. ... Wouldn't shock me if
Alex Guerrero
ends up seeing more time at second in 2015 than
Dee Gordon
.
San Francisco Giants:
As each day passes, it seems
less
likely that
Pablo Sandoval
returns to the Giants, no? ... As good as he's been in October, I just don't see him as a $100 million player. But with the way money is flying around these days like leaves in a Kansas windstorm, I guess it will probably happen. ... The Giants are reportedly one of the teams in on Cuban outfielder Yasmany Tomas, having seen him four times,
according
to Yahoo's Jeff Passan. ... The Giants' website currently lists
Tim Lincecum
as a reliever, not a starter on its depth chart. Which may be his 2015 role. ... May have a little
Joe Panik
blog coming up later today. ... Things I miss in the offseason:
Brandon Crawford
's defense. ...
Justin Masterson
is a good buy-low candidate for a team like the Giants. He shouldn't cost much after a terrible season. He's always struggled against left-handers, but that wouldn't hurt him so much at AT&T Park. ... Not sure
Torii Hunter
would switch leagues but he'd be a nice platoon partner for
Gregor Blanco
in left field. ... How much money did
Madison Bumgarner
leave on the table with that contract he signed a few years ago? It's hard for young players to turn down that lifetime security but the teams are definitely benefiting from these long-term extensions.
San Diego Padres:
Surprisingly, the Padres are also one of the teams rumored to be hot after Tomas. Certainly makes sense for the Padres to look for some power. Jesse Sanchez of MLB.com reports the Braves and Padres are now the favorites to land Tomas. ... Do Padres fans even remember what a power hitter looks like? ... What will
Jedd Gyorko
do in 2015? No idea. Steamer projects him at .242/.303/.399, 1.9 WAR. ... If
Rene Rivera
can come close to hitting .252/.319/.432 again, he's a very valuable player given his terrific pitch-framing behind the plate. ...
Tyson Ross
allowed two runs or fewer in 19 of his 31 starts. Padres got him a couple years ago for
Andy Parrino
and
Andrew Werner
. Memo to Billy Beane: Ouch. ... Pablo Sandoval to the Padres? Outspending the Giants to steal him away would certainly be a coup. Or a big mistake in three years when Sandoval shows up to camp at 270 pounds. ... Fantasy sleeper for 2015:
Jesse Hahn
. In fact, the Ross-
Andrew Cashner
-
Ian Kennedy
-Hahn-
Odrisamer Despaigne
rotation is pretty decent. ... Rumors are out there that Ross and Cashner could be traded, but I think the Padres have to keep both and figure out how to improve the offense.
Colorado Rockies:
It's all about whether new GM Jeff Bridich will be shopping
Troy Tulowitzki
. ... Look for the Tulo rumors to heat up during the winter meetings, or once
Hanley Ramirez
signs somewhere. ... Tulo's contract isn't bad, but teams don't like to pay big salaries AND have to give up elite prospects for a player. I think it's going to be difficult to extract a massive return for him. ... The Rockies designated
Juan Nicasio
for assignment. A little surprising but he hasn't been that effective after suffering a broken neck late in his 2011 rookie season. ... Man, that rotation just looks awful. ... It's not all Coors Field, either. The Rockies had the worst road rotation ERA in the majors (4.97). ... I'd say the Rockies are further from contending than any other team right now. ... Will the Rockies ever learn to properly evaluate their players?
Charlie Blackmon
had a .269 OBP on the road. Even given the "Rockies hitter struggle when they go on the road because of the Coors Field" effect, that's unacceptable. He's really a fourth outfielder. ... Rockies may have most underrated fan base in the game: Finished fifth in the NL attendance for the second year in a row despite another terrible season. They actually drew more fans than the playoff seasons of 2007 and 2009, so kudos to the Rockies' marketing and ticketing departments.
Arizona Diamondbacks:
Just a couple years ago it seemed the Diamondbacks were loaded with young pitchers and pitching prospects. Now they're hoping
Jeremy Hellickson
can re-discover some of the luck he had his first couple of years in Tampa. ... Wouldn't bank on that happening. ... The good news: The Diamondbacks hired a guy to head their analytics department! ... The weird news: Dr. Ed Lewis is a 66-year-old former veterinarian, not that 66-year-old former veterinarians can't be good at baseball analysis (Lewis was also a stock market analyst). ... Shockingly, he's a longtime friend of Tony La Russa. Nick Piecoro of the Arizona Republic
has the story
of their longtime friendship. ... Hey, who knows. It's easy to poke fun at the the hire when other teams are hiring computer whiz kids and MIT grads for their analytics departments. It's really about asking the right kinds of questions, which presumably La Russa has the knowledge and experience to ask. ... Or he could be so grounded in what he believes that he
won't
ask the right question. ... All that said, I'm rooting for Dave Stewart to succeed as a GM. As a minority GM and ex-player, he's one of a kind now that Kenny Williams has moved out of that position for the White Sox.
November, 21, 2014
Nov 21
2:12
PM PT
[+] Enlarge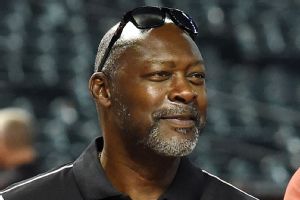 Norm Hall/Getty ImagesDave Stewart should know how to beat the Giants as a general manager. He did it as a pitcher, after all.
Dave Stewart pitched the Oakland Athletics past the San Francisco Giants in the 1989 World Series, and now he's trying to achieve a similar objective as general manager of the Arizona Diamondbacks. It's a daunting task given San Francisco's three titles in five years and the Giants' smooth-running machine led by GM Brian Sabean and a certain manager with a budding Hall of Fame résumé.
"You know the challenge with beating the Giants? It's Bruce Bochy," Stewart said. "He's the key to that team. We would need him to be kidnapped and taken away someplace for us to have an opportunity. It can be done. But when you have a guy like that leading a baseball team, it makes it difficult."
With all due respect to Bochy, the Giants' recent run of success has been a collaborative effort and a product of some rare continuity that precedes his eight years as manager. Sabean is about to enter his 19th season in the GM role, and he's surrounded by advisers and scouts who have his implicit faith and trust. Every situation the Giants encounter this offseason is one they've been through umpteen times.
November, 20, 2014
Nov 20
5:25
PM PT
LOS ANGELES -- The
Los Angeles Dodgers
lost left-handed pitcher
Onelki Garcia
through a waiver claim by the
Chicago White Sox
on Thursday.
Garcia, 25, was one of the Dodgers' top pitching prospects entering last season, but he didn't pitch at the major-league level as he recovered from elbow and knee surgeries the previous winter. The Cuban exile pitched one rocky minor-league rehab game for Class A Rancho Cucamonga in August and didn't pitch again the rest of the season.
Thursday is the deadline to set 40-man rosters to protect players from the Dec. 11 Rule 5 draft. The Dodgers put pitchers
Zach Lee
and
Chris Reed
, and outfielder
Scott Schebler
on the 40-man roster.
November, 20, 2014
Nov 20
10:46
PM PT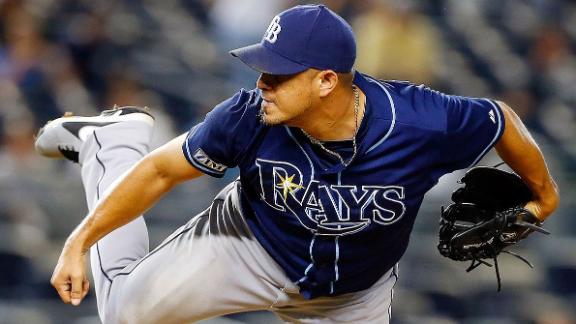 LOS ANGELES -- The Dodgers acquired veteran reliever Joel Peralta and minor league left-hander Adam Liberatore from the Tampa Bay Rays on Thursday night in exchange for young right-handers Jose Dominguez and Greg Harris.
The move was the first major league trade under new Dodgers president of baseball operations Andrew Friedman, who spent 10 years in the Rays' front office.
Peralta, 38, pitched 69 games for the Rays last season, going 3-4 with a 4.41 ERA. In 10 seasons with five teams starting with the Los Angeles Angels, Peralta has a 3.92 ERA and 1.18 WHIP.
The Rays recently picked up a $2.5 million option on Peralta for 2015.
"Joel's significance to the Rays transcended his on-field performance," Rays general manager Matt Silverman said in a statement. "He was a clubhouse leader who always sought ways to make the organization better."
Dominguez, 24, was among the hardest throwers in the Dodgers' organization. He pitched in 14 games over the past two seasons, with a 6.14 ERA.
Harris, 20, was 7-6 with a 4.45 ERA at Class A Great Lakes last season.
Liberatore, 27, was drafted in the 21st round by the Rays in 2010. He went 6-1 with a 1.66 ERA at Triple-A Durham.
The Dodgers invested heavily in their bullpen last winter, but it proved a disappointment in the regular season -- ranking 12th in the National League with a 3.80 ERA -- and a major liability in the playoffs.
The Rays also designated veteran catcher Jose Molina for assignment.
November, 18, 2014
Nov 18
4:19
PM PT
CHICAGO -- If teams are going to try and pry a core player away from the
Chicago White Sox
, it's going to come at a steep price.
As trade rumors begin to swirl regarding White Sox shortstop
Alexei Ramirez
, general manager Rick Hahn neither confirmed nor denied those inquiries Tuesday, but did not sound as if he was shopping his All-Star infielder.
A USA Today report via Twitter on Tuesday said that the
Los Angeles Dodgers
were actively pursuing Ramirez.
"We are certainly open minded on all of our players," Hahn said Tuesday, declining to talk about Ramirez specifically. "It's our obligation to listen. At the same time we have what feel are some very valuable commodities in the game right now and we're certainly not looking to move any of them without feeling very good that we are not only improving our competitiveness for 2015 but for '16 and beyond as well."
The Dodgers are in need of an everyday shortstop since they are not expected to re-sign free agent
Hanley Ramirez
, but if the White Sox move Alexei Ramirez, that would leave them in a similar shortstop bind. The White Sox do not have somebody waiting to take over at shortstop on an everyday basis, and their top prospect at the position,
Tim Anderson
, is two or three years away from arriving at the major league level.
The White Sox also have a team-friendly contract with their shortstop, who will make $10 million in 2015 and another $10 million in 2016 if a club option is activated. He made $9.5 million this past season.
November, 19, 2014
Nov 19
1:34
PM PT
LOS ANGELES -- Pitcher Dan Haren said Wednesday that he likely would walk away from baseball -- and leave $10 million in pretax income on the table -- if the Los Angeles Dodgers trade him to a team other than one of his former clubs, the Angels.
Haren's 2015 option with the Dodgers kicked in when he reached the 180-innings mark in September.
"My signing with the Dodgers last year and my decision to exercise my player option were based on my desire to play in Southern California near my family," Haren told ESPN in an email. "I had other opportunities, but at this point in my career, I have no interest in playing in a city away from my family."
Haren's name surfaced in trade discussions recently, according to a CBSSports.com report.
Haren made little secret of how difficult it was to be away from his family during the 2013 season, when he pitched for the Washington Nationals. A native of West Covina, California, and a product of Pepperdine, Haren and his family now live in Orange County.
Haren, 34, went 13-11 with a 4.02 ERA and, after a midseason slump, proved to be a reliable No. 4 starter as the Dodgers were sewing up their second straight NL West title, so it's unclear why the Dodgers would look to move him unless, contrary to what they're saying publicly, they simply want to dump salaries. The Dodgers have no obvious replacements who would come from the minor leagues and, if anything, it was assumed they were looking to add a starting pitcher in free agency.
November, 18, 2014
Nov 18
7:00
AM PT
LOS ANGELES -- Ten years ago, people would have wondered how someone like Farhan Zaidi could become a general manager of one of baseball's most storied franchises. It might be more relevant now to wonder how baseball could lure someone like Zaidi.
Born in Canada to Pakistani parents and raised in the Philippines, Zaidi admits he came into the game with more to learn about it than the average baseball man. The old model for a general manager was someone who played at the college level or in the low minor leagues and often spent years as a scout, traveling the country and breaking down players.
[+] Enlarge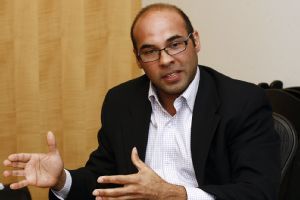 AP Photo/Damian DovarganesIt's hard for any baseball executive to match the level of analytical tools and intellect that Farhan Zaidi will bring to the Dodgers.
It's probably accurate to say that none can match the combination of analytical tools and intellect that Zaidi will wield as the
Los Angeles Dodgers
' GM.
He was one semester shy of completing his doctorate in economics at the University of California at Berkeley in 2005 when he answered a job listing at Baseball Prospectus to work for the
Oakland A's
. The A's had sorted through hundreds of résumé for the job, but words like, "Ph.D." and "Berkeley" have a way of standing out, particularly to a forward-thinking group, one that, a few years earlier -- via the Michael Lewis best-seller "Moneyball" -- helped launch the revolution that has reshaped almost every front office in baseball.
The conversation between Zaidi, general manager Billy Beane and assistant general manager David Forst went so well, the A's decided to hire Zaidi, as much because they enjoyed being around him as well as the way he wowed them with his innovative ideas. It didn't hurt that both Zaidi and Beane have a thing for the band Oasis.
"We have a small group that enjoys being around one another and, without writing it down, that was one prerequisite," Forst said. "Hanging out, it was obvious Farhan was going to be that guy."
It might have been easier for Forst than it was for Zaidi, who had to break the news to his parents, who had paid a lot of money to send him to MIT for his undergraduate studies. He also had to break the news to his doctoral adviser, behavioral economist Matthew Rabin, considered by some to be on the short list for the Nobel Prize in economics. He waited two days before calling his parents.
They knew he loved baseball, because he played first base in high school at an international school in the Philippines and was an avid baseball card collector. Before embarking on the Ph.D. program, he had worked for a fantasy sports company. Still, he imagined, they expected him to finish his studies and emerge as an academic economist or to begin a Wall Street career.
November, 17, 2014
Nov 17
8:13
PM PT
LOS ANGELES -- The
Los Angeles Dodgers
acquired minor-league utility player Kyle Jensen from the
Miami Marlins
for a player to be named or cash considerations, the team announced Monday night.
Jensen, 26, spent all of 2014 at Triple-A New Orleans, where he hit .260 with 27 home runs, 92 RBIs and 29 doubles. He was tied for fourth in the Pacific Coast League in home runs. He is a 6-foot-3, 250-pound right-handed hitter who has hit 128 minor-league home runs.
The trade is the first under the Dodgers new front office, led by president of baseball operations Andrew Friedman and general manager Farhan Zaidi. Jensen has played both corner outfield spots, first base and designated hitter. The Dodgers' 40-man roster now has 37 players on it.
November, 17, 2014
Nov 17
12:06
PM PT
LOS ANGELES -- In the words of team president Stan Kasten, the Dodgers have entered the second phase of the ownership group's plans when it bought the team.

The first phase involved restoring the credibility of the franchise after years of neglect under previous owner Frank McCourt and ramping up excitement for the launch of the team's TV channel. That phase was amazingly expensive. The Dodgers signed some of the biggest contracts in sports history and pulled the trigger on the priciest trade baseball had ever seen.

If you read between the lines, it certainly looks like this new phase involves some clean-up work. The only major moves the Dodgers have made this offseason so far are to the front office, bringing in perhaps the two smartest people in baseball when it comes to making efficient decisions on players and contracts. They hired Andrew Friedman, who never worked with a payroll as high as $80 million in Tampa Bay, to be president of baseball operations. They brought in Farhan Zaidi -- who also worked for a highly competitive team in a bad stadium, the Oakland A's, and has a Ph.D. in behavioral economics -- to be the general manager.

They have their work cut out for them, but Zaidi disputes the notion that they are being brought in simply to shed the team of bad contracts and lower the payroll.

"It sounds overly simplistic, but we're just going to try to make good baseball decisions," Zaidi said. "Sometimes, those good baseball decisions are going to increase our payroll, sometimes they're going to decrease our payroll and I think over time it will come down because that's what the accumulation of smart baseball moves will just do to the roster.

"I think it's just going to be a gradual evolution as we start thinking in that disciplined way. But I think there will be decisions we make, that we believe in, that are going to increase the payroll. It's not just going to be a straight line from where we are to where we are in the long run."


November, 13, 2014
Nov 13
2:06
PM PT
LOS ANGELES --
Gabe Kapler
seemed to have a pretty good thing going.
He lives in a beautiful Malibu canyon. Over a 12-season major-league career, he made more than $9 million, so the need to drive to an office every day probably wasn't a pressing one. He stayed in the game by doing studio work for Fox baseball broadcasts. On air, he touted advanced analytics, a taste he had picked up while playing under, and befriending, Andrew Friedman in Tampa Bay.
In his spare time, he ran a blog, kaplifestyle.com, where he offers tips on living the Southern California good life, topics ranging from fitness and nutrition to mixing a martini, James Bond style.
So why would he want to leave all that for a job that would force him to fly to all over the country and babysit young players while tackle the bureaucratic and personnel hassles of re-imagining the
Los Angeles Dodgers
' entire player development system? When Friedman, the Dodgers' president of baseball operations, reached out to Kapler, he wasn't quite sure what he'd hear.
"The only question for me was whether it was something he wanted to do," Friedman said. "Once he said it was, I will bet on him to have a significant impact in our organization."
Friedman, it's fair to say, gained an appreciation for Kapler's abilities while watching him bat .228 in his final two seasons in the majors.
"Gabe has a tremendous mind, a thirst for knowledge and he's a great leader of people," Friedman said. "His passionate enthusiasm is something that I think is going to resonate throughout our entire minor-league operations."
Kapler said the thrill of being part of a new kind of front office, one that features one Doctor of Economics, general manager Farhan Zaidi, a former financial trader, Friedman, and a total of five former or current GMs, was what lured him out of Malibu to take the farm director job for the Dodgers. They envision it as a baseball think tank.
"I've always looked for opportunities to be inspired when I come to work," Kapler said. "I certainly have that at Fox. Now, it seems I'm going to have that with a pretty special group of men and women with the Dodgers."
Kapler wasn't big on offering details of his vision for the Dodgers' minor-league system. He had only been on the job 48 hours, after all, and he said he wanted to be sensitive to the people who are already working under him. But it's fair to say the Dodgers will undertake studies and look to try new ways of preparing players that could win them an edge when those players, or at least some of them, reach the majors.
Kapler is the only front office member at the executive level who has actually experienced what major leaguers go through, but he downplayed that as his contribution to the group. After the Dodgers hired Zaidi to be GM, former Dodgers utility player
Ryan Theriot
tweeted that only former players should be allowed to be GMs, a notion Kapler clearly rejects.
"I actually think we bring a lot of similar pluses," Kapler said. "We're all devoted to developing better men in addition to better baseball players. I think we all have the philosophy of standing shoulder to shoulder with a similar mission while pushing each other and trying to extract the best possible answer to the tough question.
"I certainly don't think being a baseball player gave me a leg up as regards my ability to always ask the question, 'Why?'"