July, 30, 2014
Jul 30
12:09
AM PT
LOS ANGELES -- As the hours slip away until Thursday's 1 p.m. PT trade deadline, the
Los Angeles Dodgers
' needs and lack thereof seem to come more crisply into focus with each inning they play.
In his past four starts,
Josh Beckett
has looked a lot more like the declining mid-30s pitcher of early 2013 than the comeback player of the year candidate he resembled for most of the first half of this season. He couldn't make it out of the fifth inning Tuesday night, needing 105 pitches to get 13 outs. With
Dan Haren
struggling and Beckett's health in doubt as he pitches through a potentially serious hip condition, it's pretty clear now the Dodgers will land a starting pitcher -- or at least go down to the wire trying.
[+] Enlarge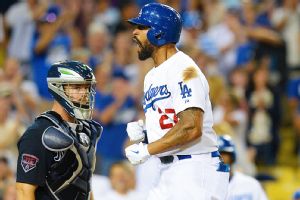 Jayne Kamin-Oncea/USA TODAY SportsMatt Kemp is batting .397 in his last 17 games and hit two home runs Tuesday to power the Dodgers over the Braves.
And, no matter what
Matt Kemp
's agent says, it's going to be almost impossible for the Dodgers to trade his client between now and Thursday. Yes, there's the massive contract that makes it a tough sell to other teams, but there's also this: What if Kemp is slowly getting back to being the player who dominated the National League three years ago?
Is it happening? Who knows? Is it possible? Why not?
It certainly looked like a different Kemp, a vintage Kemp, smacking two home runs in the Dodgers' 8-4 win over the
Atlanta Braves
on Tuesday. When Kemp is at his best, he has nearly effortless power to center and right fields. Both of Tuesday's home runs came to the opposite field. When Kemp hit his second home run, a high drive to center, he finished with his trademark high finish.
Maybe it's the comfort level of moving back to a position he knows -- right field. Maybe it's just distance from those two offseason surgeries and the confidence that comes with having a sound shoulder and ankle. Maybe it's something else entirely, but the Dodgers are getting massive production from their outfield these past four days, amid their longest winning streak of the season, so why would they willfully tamper with that as they get closer and closer to prime playoff positioning?
Kemp is batting .397 with a double, triple, two home runs and 13 RBIs in his past 17 games. He has remained dismissive of any questions about his future, saying after Tuesday's game, "I've talked about rumors. I'm not talking about any trade right now. I'm with the Dodgers."
The last time Kemp's agent, Dave Stewart, spoke on the topic, he told CBSSports.com, "Sometimes change is good. This might be the time to change."
July, 29, 2014
Jul 29
11:03
PM PT
Associated Press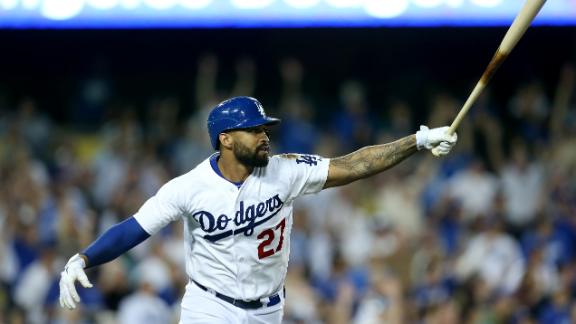 LOS ANGELES -- Matt Kemp hit a pair of two-run homers, Yasiel Puig had four hits with two runs scored and the first-place Los Angeles Dodgers beat the Atlanta Braves 8-4 Tuesday night for their fourth straight win.
The Dodgers trailed twice in their first meeting with the Braves since eliminating them in a National League division series last season.
Puig came up a home run short of hitting for the cycle, lifting his team-leading average to .317 despite getting hit on the head by the ball while sliding head-first in the seventh. He struck out in his final at-bat.
Los Angeles rallied from a two-run deficit to tie it 4-all on an RBI double by Adrian Gonzalez and a RBI single by Carl Crawford in the fifth.
That set the stage for outfielders Crawford and Kemp to put the Dodgers ahead in the seventh.
July, 29, 2014
Jul 29
10:58
PM PT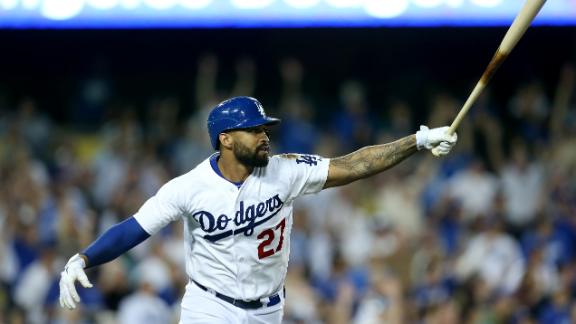 LOS ANGELES -- For a team with the best record in the National League, the
Los Angeles Dodgers
took their time putting together a four-game winning streak. On Game 107, they finally got it done.
The Dodgers beat the
Atlanta Braves
8-4 on Tuesday night, successfully riding the momentum from their weekend sweep to San Francisco. The Giants lost again, so the Dodgers now lead the NL West by three games, their biggest lead of the season.
How it happened:
Josh Beckett
struggled again, continuing to raise the question of whether the Dodgers need to acquire a starting pitcher before Thursday's trade deadline. Boston's ace,
Jon Lester
, was scratched from his Wednesday start amid a flurry of trade rumors, many of which included the Dodgers.
The Dodgers' offense, re-energized during the streak by the return of
Yasiel Puig
from a hand injury, rallied from a couple of deficits and put the game away late. Puig went 4-for-5, finishing a home run shy of the cycle, and
Matt Kemp
had a pair of two-run home runs.
It was a generally festive night at Dodger Stadium. In the second inning, the team announced that Hall of Fame broadcaster Vin Scully would return for his 66th season in 2015.
Hits:
It's beginning to feel as if it would be folly to trade Kemp at this point, perhaps his most productive stretch in about two years. Kemp lined a two-run home run to right field in the second inning and lifted a deep home run to center in the seventh. In his past 17 games, Kemp is batting .397 with a double, triple, two home runs and 13 RBIs. He's starting to do some of the things he used to do at the plate and, now that he's safely tucked in right field, isn't hurting the team defensively much.
Misses:
The Dodgers continue to say Beckett is healthy enough to pitch. He said after his previous start that he wouldn't use his ailing left hip as an excuse. It certainly seems to be an issue, however. From April 25 to June 26, Beckett had two outings that lasted five innings or less. Since June 26, about the time news broke that he was dealing with a torn labrum in the hip, each of his four outings has been five innings or less. He struck out at least six batters in 12 of 13 outings until June 26. Since then, he hasn't struck out more than five in any outing. It looks as if he's unable to execute his pitches as well as he did before the injury cropped up.
Stat of the game:
Kemp went 103 plate appearances and 26 games between home runs until the second inning. He went two plate appearances without one going into the eighth inning.
Up next:
The series continues Wednesday at 7:10 p.m.
Zack Greinke
(12-5, 2.74 ERA) goes for the Dodgers opposite Atlanta left-hander
Alex Wood
(7-8, 3.44).
July, 29, 2014
Jul 29
10:17
PM PT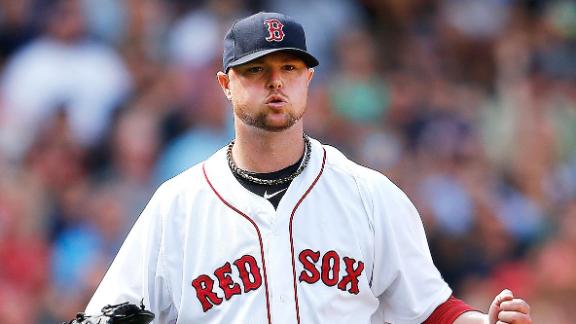 BOSTON -- Red Sox left-hander Jon Lester will not make his scheduled start Wednesday, but he has not been traded -- yet.
"No deal yet," a major league source with direct knowledge of Lester trade talks said Tuesday night. "He could still pitch Friday for the Red Sox against the Yankees."
Brandon Workman will be recalled from Triple-A to start in Lester's place Wednesday, manager John Farrell announced after Tuesday night's 4-2 loss to the Toronto Blue Jays.
"I think in light of all the uncertainty surrounding Jon Lester, it's probably in everyone's best interest that he not make that start, so Brandon will be recalled," Farrell said. "There will be a corresponding move roster-wise at some point tomorrow."
Lester left the clubhouse immediately after Tuesday's game, before it was opened to the media. Another source close to Lester said no one from the Red Sox had said a word to either the pitcher or his agent, Seth Levinson, regarding a trade Tuesday night.
Farrell had taken the highly unusual step of announcing before Tuesday's game that in the event Lester was traded, Workman would draw the start. Customarily, teams do not announce contingencies in the event of a trade, announcing roster moves only after a deal is consummated. That only fueled speculation that a deal was close.
July, 29, 2014
Jul 29
8:06
PM PT
LOS ANGELES -- The Dodgers announced Tuesday night that Hall of Fame broadcaster Vin Scully will return for his 66th season in 2015.
The team broke the news on the videoboard and in its TV broadcast during the second inning of its game against the Atlanta Braves. In the bit, broadcaster Alanna Rizzo said she had some breaking news and introduced pitcher Hyun-Jin Ryu, who made the announcement in Korean.
Then outfielder Yasiel Puig translated it into Spanish before going to infielder Justin Turner, who finally announced it in English.
On the screen, Dodgers players began wildly celebrating, and at the stadium, the large crowd on Vin Scully Talking Microphone Night roared its approval.
The Dodgers then showed Scully, 86, acknowledging the crowd from the broadcast booth and holding his hand over his heart.
Scully began broadcasting Dodgers games in 1950 and took over as the team's primary play-by-play man when Red Barber went to work for the New York Yankees in 1953. Scully accompanied the Dodgers to Los Angeles before the 1958 season. He was elected to the Hall of Fame in 1982.
"It is very difficult to say goodbye," Scully said in a statement. "God willing, I will be back next year. Over the years, I have been blessed to have so many friends, including those that sit in the stands and listen as well as those at home, who listen and watch. It is just too hard to say goodbye to all these friends. Naturally, there will come a time when I will have to say goodbye, but I've soul-searched, and this is not the time."
July, 29, 2014
Jul 29
7:14
PM PT
Associated Press
A major brawl in a Triple-A game instigated by rehabbing Los Angeles Dodgers infielder Erisbel Arruebarrena against the Arizona Diamondbacks' top minor league affiliate has resulted in the suspension of 11 players.
The benches cleared twice during Arruebarrena's at-bat for the Albuquerque Isotopes in the second inning Saturday night. The second time, Arruebarrena took exception to Reno Aces catcher Blake Lalli brushing past him after he struck out. Arruebarrena shoved Lalli and then threw his helmet at him, setting off a melee that lasted 21 minutes and resulted in 10 ejections, including Reno manager Phil Nevin, the former major league All-Star.
Arruebarrena was not among the five Isotopes suspended because he was on a rehabilitation assignment. Any discipline would come from the commissioner's office. But Arruebarrena has since been sent to Class A Rancho Cucamonga by the Dodgers.
Pitcher Kameron Loe, first baseman Mike Jacobs and outfielder Aaron Cunningham, all former major leaguers, were among six Aces suspended.
July, 29, 2014
Jul 29
6:07
PM PT
LOS ANGELES -- The
Boston Red Sox
have a contingency plan in place should
Jon Lester
be traded before his scheduled Wednesday night start. Red Sox manager
John Farrell told reporters
the team would call up
Brandon Workman
from Triple-A Pawtucket in such a scenario.
Could Lester, in fact, make his next start for the
Los Angeles Dodgers
, who have yet to announce a starter for Saturday's game? Rumors continue to swirl that the Dodgers are in discussions about Lester, but one scenario -- that they would trade top outfield prospect Joc Pederson in a deal for Lester -- was shot down by a Dodgers source Tuesday.
Boston has had minimal offensive production from its outfielders this season and has few minor-league options on the horizon.
"I'm not expecting anything huge," Dodgers manager Don Mattingly said about trade possibilities before Tuesday night's series opener against the
Atlanta Braves
. "We just want to keep our club going the way we want it to go."
Josh Beckett
's performance Tuesday night could impact the urgency general manager Ned Colletti approaches discussions for a starting pitcher. If Beckett returns to his April-through-June form and his bothersome left hip holds up, Colletti might feel more comfortable standing pat. The team is skipping
Dan Haren
's spot in the rotation -- thus Saturday's vacancy -- hoping the rest will allow him to pitch as well as he did early in the season.
Colletti has also said he's in search of help for the bullpen.
July, 29, 2014
Jul 29
6:48
AM PT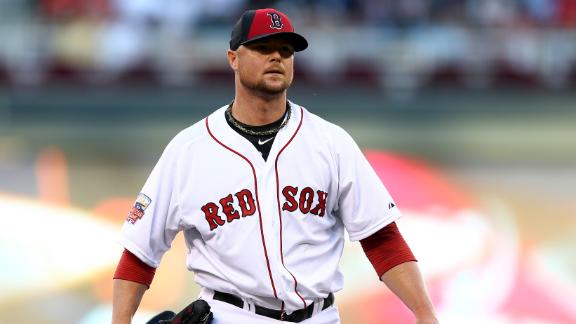 With every day, every Red Sox loss, every rumor, the odds increase that Jon Lester is going to be wearing a different uniform by this weekend. But which uniform? That's a question with more potential answers than you might think.
So after kicking around this topic with executives whose teams aren't involved in this particular derby, we'd include these clubs as potential candidates to match up with the Red Sox for Lester:

Los Angeles Dodgers: They're in on everybody. And they'd clearly love to add a starting pitcher this dominating. But a Matt Kemp-for-Lester deal isn't going to happen. And if the Dodgers balked at trading elite prospects like Joc Pederson and Corey Seager for David Price (whom they'd control through next year and might be able to sign long-term), would it really make sense for them to pay that price tag for a rent-an-ace? "They've been so consistent about not trading those guys," said one exec, "it's hard for me to believe they'd do that for Lester."

July, 29, 2014
Jul 29
12:23
AM PT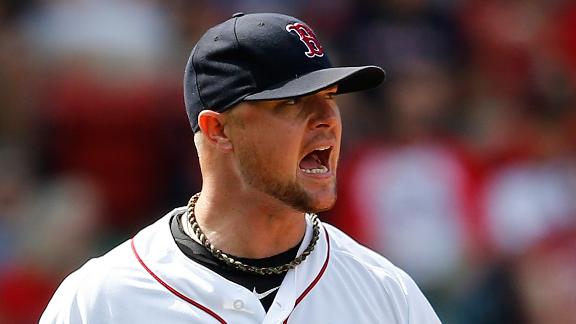 BOSTON -- Well,
Jon Lester
said it would be a "crazy few days," and as predicted, the Red Sox left-hander has now leaped to the front of the list of elite pitchers who may be traded by the July 31 deadline.
A major league source with knowledge of Boston's discussions said Monday night it is still "less than 50-50" that the Red Sox trade Lester, based on discussions to date. The same holds true, the source said, for lefty reliever
Andrew Miller
, although he expects that the offers for both pitchers will be sweetened as Thursday's trade deadline draws closer.
The Red Sox are now actively engaged in determining what kind of return they could get in a Lester deal. They have had discussions with the
Los Angeles Dodgers
, they have been in contact with the
St. Louis Cardinals
and
Seattle Mariners
, and there was a report that they fielded an inquiry from the
Baltimore Orioles
, though it's highly unlikely they'd move Lester within the division.
[+] Enlarge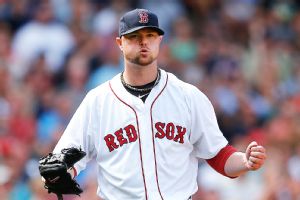 Jim Rogash/Getty ImagesJon Lester has moved to the head of the class in terms of elite pitchers available at the deadline.
There were mixed signals Monday on whether outfielder
Matt Kemp
could be part of a deal with the Dodgers. The Sox had interest in Kemp last winter but were deterred by his shoulder and ankle injuries. Kemp has gotten progressively healthier this season and has posted a .282/.348/.440/.788 slash line, with 21 doubles and eight home runs.
That's a far cry from his 2011 season when he was MVP runner-up, and he is owed $118 million over the next five seasons, but he is not yet 30 and could still be a force when fully healthy. Red Sox sources said over the weekend that the Sox would consider him, but there would have to be a lot of money coming back to Boston in a deal, and they would have to have an informed sense of how healthy he will remain going forward.
Talks with the Dodgers, according to sources, have not advanced to the point of swapping names. The Dodgers, who are coming off a sweep of the Giants, are telling at least some inquisitors they plan to keep Kemp, though one source insisted Monday his name remains in play.
The Dodgers so far have indicated they would not part with top prospects Joc Pederson and Corey Seager, but their resistance to doing so, measured against not having gone to the World Series since 1988, might lessen by Thursday's deadline. One source indicated the Dodgers could be in on Miller as well.
The unusual wrinkle in trade talks regarding both Lester and Miller is that the Red Sox have expressed an interest in re-signing both as free agents, even if they are traded. Neither Lester nor Miller has ruled that out, though it is a risky game for a club to play.
There was a report Monday night that the Red Sox would be willing to trade
John Lackey
. Teams have made inquiries, including the
Kansas City Royals
, according to one source, but with Lackey due to make the major league minimum next season, the Sox are more inclined to keep him. But it bears repeating every year: Things are very fluid at the deadline, and surprises often abound.

David Price
? The
Tampa Bay Rays
have won 10 of their past 11 games and are now two games under .500 after opening the season at 24-42; over the past six weeks they've had the best record in baseball, which has the Rays reassessing whether they want to move their ace. There are those within the game who say the Rays will move Price regardless, but it's far from being a sure thing.
Cole Hamels
? Reports surfaced Monday that the Phillies intend to make the 30-year-old left-hander available, which flies in the face of what a National League source said emphatically Sunday: that the Phillies have no intention of trading him.
That leaves Lester, who said on Friday he wouldn't be surprised if he was traded and has reached the point where he would be more surprised if he wasn't.
While Red Sox fans debate the merits of a Lester trade, the pitcher has succeeded in avoiding what, for him, would have been a far more divisive debate: whether a midseason offer from Boston was sufficient to sign him. That's why he insisted on tabling negotiations until after the season, even when the Red Sox made overtures to his agents around the All-Star break that they wanted to reopen talks.
Could the Red Sox have overridden his objections and made an offer so enticing Lester would have had no choice but to listen? Sure, but it is also reasonable to believe Lester's price has climbed significantly since spring training because of how well he has pitched, and only an above-market offer would have been a conversation starter.
Another factor that has some bearing on the Lester negotiations is the behind-the-scenes role played by the Major League Players Association, and what impact it may have on Lester's thinking. The union, while endorsing a player's autonomy in making his own decision, has always counseled its players to bear in mind the impact a signing might have on other players' market value.
July, 28, 2014
Jul 28
11:56
AM PT
[+] Enlarge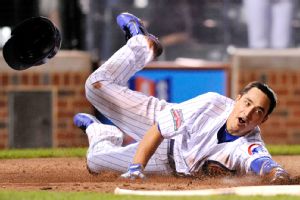 AP Photo/Paul BeatySecond baseman Darwin Barney was traded by the Cubs to the Dodgers.
CHICAGO -- The Cubs have traded second baseman Darwin Barney and cash considerations to the Los Angeles Dodgers for a player to be named later.
Barney, 28, was designated for assignment last Tuesday when Emilio Bonifacio was activated from the disabled list. Barney lost his starting job early this year as Bonifacio got off to a hot start.
Barney was a 2012 Gold Glove winner and is considered one of the best defensive second basemen in the game.
"He was going to land on his feet," Cubs manager Rick Renteria said Monday afternoon. "It's tough in the moment when change occurs but we've been in this game a long time, he's been around a while and done well. He's found a new club. Hopefully it goes well for him.
When Bonifacio went down with an oblique strain last month, Barney started playing more and was hitting .385 in July. But a two-day paternity leave opened the door for rookie Arismendy Alcantara, who was called up in Barney's place.
July, 28, 2014
Jul 28
8:36
AM PT
SAN FRANCISCO -- Suzie and Kyle Grant made an interesting pair as they walked into the ballpark for Saturday's Dodgers-Giants game here. Suzie wore a replica Giants jersey (No. 48, Pablo Sandoval) while Kyle wore a Dodgers jersey (No. 32, Sandy Koufax), and ... they were holding hands.
Seeing them together was nearly as surprising as it would be to see Republicans and Democrats shaking hands on a budget deal or a health care plan. But that's not all. Suzie and Kyle are married! They've been together five years, were married in 2012 and, amazingly, haven't started any divorce proceedings. I promise to love, honor and cherish you all the days of our lives ... unless you get a big "Beat L.A." tattoo over your heart.
Still, the Dodgers-Giants rivalry poses a challenge to marital harmony. As Kyle says, "The first year we were together, the Giants won the World Series, so that was a tough year."
"And the third year we were together," Suzie says, "we also won the World Series."
"Thanks," Kyle says.
"I'm just saying," Suzie replies. "Man up."
The two are lifelong fans of their teams, and Suzie says that when their relationship started, they couldn't talk about the Giants and Dodgers.
"It would lead to really heated arguments. Really heated arguments," she says. "But we talk about it almost daily now. He's all right. I almost like him now."
July, 27, 2014
Jul 27
10:30
PM PT
SAN FRANCISCO -- The National League West might still be decided based on what the respective general managers of the
San Francisco Giants
and
Los Angeles Dodgers
are able to pull off before Thursday's trade deadline.
And then again it might not.
[+] Enlarge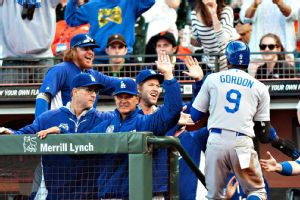 Ed Szczepanski/USA TODAY SportsThe Dodgers were feeling pretty good about themselves after a three-game sweep of the Giants that vaulted them back into first place.
The Giants have made the only two moves so far, with general manager Brian Sabean scooping up
Jake Peavy
from the
Boston Red Sox
for a couple of pitching prospects, and
Dan Uggla
from the
Atlanta Braves
' discard pile. Dodgers general manager Ned Colletti admitted Saturday that talks hadn't gotten far off the ground and said, "You know what? We may not do anything."
If you've followed Colletti's active track record at this time of year, you know that admission had to hurt.
But it probably hurt a little bit less after he watched his team dominate the Giants for two games and then eke by them Sunday night, 4-3, for a three-game sweep that put the Dodgers alone in first place in the NL West for the first time since July 13.
On Sunday, the Dodgers beat Peavy, which in itself is noteworthy since he was 14-2 in his career against them coming in. Peavy had arrived in the middle of the Dodgers' 5-0 Saturday win, a
Clayton Kershaw
two-hitter, and made his Giants debut on "Sunday Night Baseball" against
Hyun-Jin Ryu
, who has learned to mimic Kershaw's slider to the disgust of National League hitters of late.
Uggla, by the way, went 0-for-8 with four strikeouts and three errors at second base in the series.
Not that Peavy was bad, not by a long stretch. He gave the Giants a quality start despite one run scoring because of Uggla's error and another scoring because
Buster Posey
took his time throwing to first after a strikeout on a ball in the dirt, and speedster
Dee Gordon
alertly broke for home.
"That's tough when you give a good team extra outs, but at the same time that's what being a team is about and I've got to pick up the team and do a better job," Peavy said afterward. "Buster and I are going to need a little time to get used to one another."