October, 22, 2014
Oct 22
1:27
PM PT
ESPN.com news services
LOS ANGELES -- Dodgers pitcher Dan Haren underwent arthroscopic surgery on his left shoulder Wednesday.
The team said the 30-minute procedure on Haren's nonthrowing shoulder was to clean out bursitis and the AC joint.
He will begin his rehab in a week and is expected to be ready by spring training.
Haren tweeted about the procedure Wednesday and showed he was in good spirits by also making a light-hearted quip.
The 34-year-old right-hander had a 13-11 record with a 4.02 ERA this season. Haren had been named the Dodgers' starter for Game 4 of the NL Division Series against the Cardinals, but he didn't pitch when they elected to go with Clayton Kershaw. The Dodgers were eliminated in four games.
The Associated Press contributed to this report.
October, 22, 2014
Oct 22
9:21
AM PT
Associated Press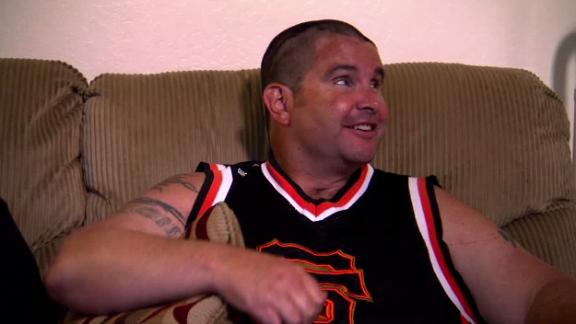 CAPITOLA, Calif. -- The San Francisco Giants fan who suffered a traumatic brain injury after being beaten by two Dodgers fans three years ago outside Dodger Stadium put up his hands and fingers, fist-bumped his mom and talked about his goals in a display of his progress during an interview aired Wednesday morning.
Bryan Stow, wearing a Giants tank top, spoke to ESPN from his parents' home in the Northern California city of Capitola, where he watched Game 1 of the World Series between the Giants and Kansas City Royals.
In an interview about nine months after the attack, Stow had trouble holding a simple conversation and appeared to struggle to raise his arms and hands or even smile.
But in the new interview, he made faces for the camera, joked about the Giants' margin of victory, gave a thumbs-up sign and showed the reporter a ball signed by Giants legend Will Clark. He used a walker but moved without assistance.
"I want to run. I want to walk, like a normal person," he told ESPN.
Stow, 45, said he is happy to be alive.
"Waking up every morning knowing I'm here. This place makes me feel good," he said.
Stow was attacked in a parking lot of Dodger Stadium on March 31, 2011. He won a $14 million lawsuit against the Dodgers this July, but his attorney sued the team again last month, claiming it is trying to recoup $3.4 million in insurance payments from Stow for his medical care.
Stow was in the courtroom for part of the trial, his wheelchair positioned front and center so jurors could see the scars on his head where his skull was temporarily removed during efforts to save his life.
Experts testified that the former paramedic will never work again and has suffered repeated strokes and seizures. They said he will require around-the-clock care.
October, 22, 2014
Oct 22
3:51
AM PT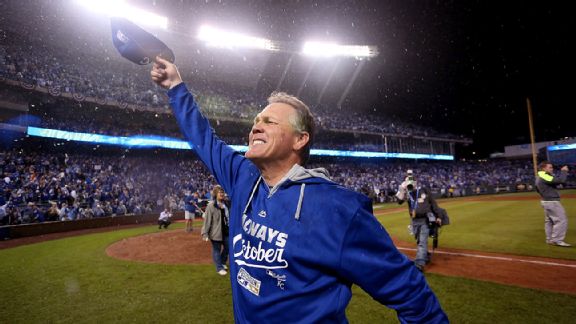 ED ZURGA/GETTY IMAGESThe 2014 Royals respect manager Ned Yost as much as the 1985 Royals respected Dick Howser.
I was lookin up when it was a cool night in October

Darryl Motley caught

a lazy fly off Andy Van Slyke's bat

Kansas City delirious as champs

we poured champagne on sweat-soaked heads

it burned our eyes

we didn't care

we screamed we sang we laughed

drunk with victory

--"A Career," from On Days Like This, poems by Dan Quisenberry
KANSAS CITY, Mo. -- Long time, 29 years. The airport, a hub for TWA, is still there, but TWA isn't. The Huffington Post, which wasn't around in 1985, just declared Kansas City "the coolest city in America," which might have seemed laughable back then. The ballpark is the same but different -- the beautiful grass hill in center field fell to the scourge of revenue-producing seats.
The home clubhouse has been rearranged, with the pitchers now on the side of the room closest to the field. Dan Quisenberry, the Royals' submarining closer, has passed away, a victim of brain cancer at age 45 in 1998. So has the skipper, Dick Howser, who died of the same thing less than two years after he won the World Series. Ewing Kauffman, the owner who brought the Royals to Kansas City, is also gone.
October, 20, 2014
Oct 20
11:00
AM PT
LOS ANGELES -- One of Andrew Friedman's main thrusts when he was introduced as the Dodgers new president of baseball operations Friday was continuity. Friedman said he wasn't planning to clean house and bring on all new people, but instead to collaborate with the baseball-ops people in place and supplement with his own selective hires.

We're still waiting on those hires -- including the general manager -- but it looks like he's making good on one promise already.

The Dodgers are offering 2015 contracts to their entire pro-scouting and player-development staffs, according to a source. It also looks like Rick Ragazzo, who was a top assistant of Ned Colletti's and the director of pro scouting under his regime, will be back though it's unclear in exactly what capacity.

Most scouts operate on one-year contracts that traditionally expire Oct. 31.
October, 17, 2014
Oct 17
1:56
PM PT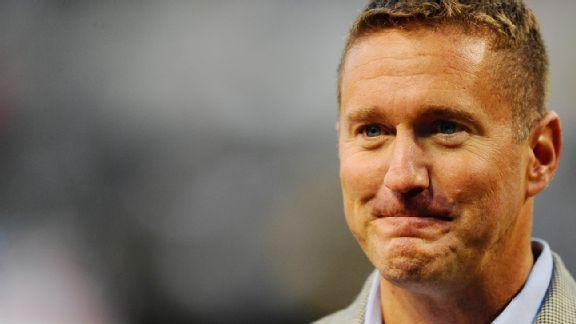 LOS ANGELES -- New Dodgers president of baseball operations Andrew Friedman has spoken to former Diamondbacks and Padres general manager Josh Byrnes about Los Angeles' vacant GM position, according to team sources.
Asked about those conversations after his introductory news conference at Dodger Stadium on Friday, Friedman was vague, saying he "talked to a lot of people about a lot of things."
Friedman said he isn't ready to announce who his GM will be or how the duties will be split, since Friedman essentially was the GM with the Tampa Bay Rays before the Dodgers created a new position for him, akin to Theo Epstein's role with the Chicago Cubs.
"It's still pretty recent, so as far as specifics, we don't know yet, but we're going to embrace the dynamic people that are already in place and bring people in from the outside and we're going to work together," Friedman said.
CBSSports.com reported that Byrnes is emerging as the frontrunner to take over for Ned Colletti, who was reassigned after the Dodgers bowed out to the St. Louis Cardinals in the first round of the playoffs. Colletti now is the senior adviser to team president and CEO Stan Kasten.
One of Friedman's first orders of business will be to hire a farm director to replace De Jon Watson, who left the team to join Dave Stewart's new front office in Arizona. It's also unclear whether Friedman will retain longtime Dodgers scouting director Logan White, who is well-respected within the industry.
October, 15, 2014
Oct 15
11:01
AM PT
It might take a little while for new
Los Angeles Dodgers
president of baseball operations Andrew Friedman to hire a general manager. For one thing, there's no rush. Free agency doesn't start until after the World Series ends and the real action tends to center around the winter meetings in early December. The Dodgers have plenty of front office people, including outgoing GM Ned Colletti, to hold down the position until Friedman gets his feet on the ground in L.A.
Friedman is also going to need a little time to pack up and move his family, which includes two young children. That doesn't sound easy.
So, while it may not be a front-burner issue, it's never too early to examine some of the candidates he figures to take a look at:
ALEX TAMIN, Dodgers

Tamin
Dodgers president and CEO Stan Kasten said he was proud of the strides the organization has made in the past few years bringing their research and analytics department up to the standards of the industry. The man who has been running that effort, Alex Tamin, is one of the sharpest minds in the game when it comes to arbitration hearings, contract negotiations, 40-man roster management, rules and operations. Before the Dodgers hired him to replace Kim Ng in 2011, Tamin was practicing law and had worked for many major league teams preparing arbitration cases. He has a law degree from UCLA and is well-liked inside the Dodgers front office and clubhouse. Tamin is a good choice if Friedman wants some continuity, but their lack of personal connection might hurt the in-house candidate.
BILLY EPPLER, New York Yankees
[+] Enlarge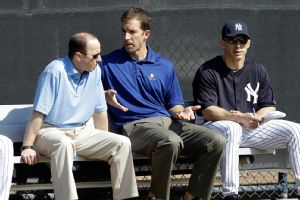 AP Photo/Charlie NeibergallYankees assistant GM Billy Eppler (center) has a background in analytics and is well-known within the industry.
He finished second to Jerry Dipoto when the Angels were hiring a GM in late 2011 and many people thought he was the frontrunner in San Diego before the Padres decided to go with A.J. Preller. Brian Cashman considers Eppler, 38, to be an integral part of his operation and promoted him when the Angels tried to hire him as their assistant GM.
"I look at Billy as being in a
Russell Wilson
situation, a guy that got picked later in the draft than he should have," Cashman told the New York Post. "Billy is going to be extremely good at this position."
Eppler has spent the past 15 years working his way up through the ranks of the
Colorado Rockies
(2000-2004) and Yankees. His background is mostly in analytics, but he also has experience on the scouting side and, unlike Preller, is well-known within the industry.
MIKE HAZEN, Boston Red Sox

Hazen
He and Eppler were the runners-up in San Diego. Hazen is one of the candidates who best blends on-field, scouting and analytics backgrounds. He spent five seasons as Boston's director of player development, one season as vice president of player development and amateur scouting and, since 2011, has acted as an assistant general manager to Ben Cherington. He's a Princeton grad and spent much of his career in player development, so he could help the Dodgers with one of their primary missions: continuing to improve the farm system.
DAVID FORST, Oakland A's
[+] Enlarge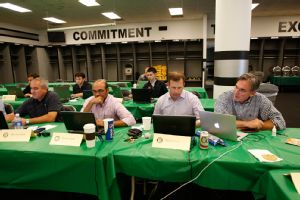 Michael Zagaris/Oakland Athletics/Getty ImagesDavid Forst (second from right) has spent the last 10 seasons working with A's GM Billy Beane and has strong relationships with many of the young-gun GMs in baseball.
One of Friedman's main attractions was the efficiency with which the Rays were able to assemble contending teams on shoestring budgets. The Dodgers are still willing to spend money, but they're less willing to waste money. So why not make it a dream team, merging talent from two teams that re-invent themselves every year and, somehow, push themselves into the playoff picture at a fraction of what other teams spend? Forst, a former Harvard shortstop who grew up in Encino, Calif., has spent the last 10 seasons working with A's general manager Billy Beane, the star of the book "Moneyball" and still a progressive thinker in the game. Forst has strong relationships with many of the young-gun GMs in baseball, including Cherington and the
Chicago White Sox
's Rick Hahn. He coordinates professional scouting and assists Beane in trades and contract negotiations.
DAN FEINSTEIN, Oakland A's

Feinstein
Another of Beane's assistants, Feinstein worked his way up from the A's video coordinator to a prominent position in the front office. He oversees the pro scouts and has been in charge of installing the A's cutting-edge computer systems, including hiring a programmer away from Tampa Bay. He worked closely with Friedman in Tampa Bay as director of baseball operations from 2005 to 2011. He was the Dodgers' coordinator of baseball operations under Paul DePodesta in 2005. Most intriguing, he has a degree from UC Davis in medieval European history. That could come in handy dealing with the L.A. media.
BRYAN MINNITI
,
Washington Nationals
This name has probably gained too much early traction, considering some in the industry think he was forced out in Washington. Mostly, the timing just seemed too coincidental. As the Dodgers were rumored to be ready to replace Colletti, he abruptly resigned as assistant general manager of the Nationals, where he had been hired five years ago (when Kasten was Washington's team president). According to Ken Rosenthal of Fox Sports, Friedman interviewed Minniti for a job in Tampa Bay five or six years ago, but didn't hire him. Minniti, 34, is among the youngest executives in baseball but already has 14 years of experience. He has been an assistant GM since he was 29. He handled contract negotiations and arbitration hearings, which would make him a good complement to Friedman if the latter decides to handle the high-profile trade and free-agent talks. It would also make Tamin redundant since those are his current duties on the Dodgers.
October, 14, 2014
Oct 14
5:59
PM PT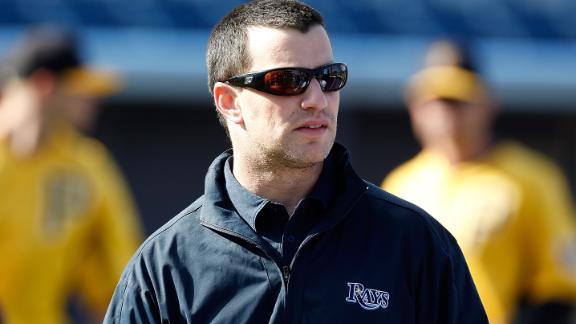 LOS ANGELES -- Two trade deadlines ago, the Los Angeles Dodgers got deep into discussions with the Los Angeles Angels to acquire second baseman Howie Kendrick.
The Angels were foundering and looking to deal expensive veterans for talent that could help replenish their bereft farm system. The Dodgers, living with aging Mark Ellis as their primary second baseman, felt in need of an upgrade. In the end, the Dodgers passed on the deal because they didn't want to part with pitching prospect Zach Lee and they were worried about tampering with a team on a historic run.
According to sources, that decision widened a rift in the team's front office. It lingered for nearly a year and a half. The push-pull, in general terms, was between general manager Ned Colletti and his small group of loyalists, primarily scouts and former scouts such as Rick Ragazzo and Vance Lovelace, and an analytics group that felt its input sometimes fell on deaf ears.
While the Dodgers were fortunate that Dee Gordon blossomed into the productive second baseman and leadoff hitter he became, he still had a WAR (2.4) that was dwarfed by Kendrick's (5.4) this past season. Lee, a former first-round pick who turned 23 in September, had a 5.38 ERA at Triple-A Albuquerque.
October, 14, 2014
Oct 14
10:54
AM PT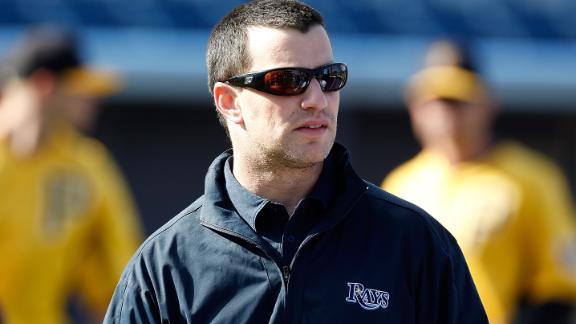 The Los Angeles Dodgers named former Tampa Bay Rays executive vice president of baseball operations Andrew Friedman as their new president of baseball operations Tuesday.
Ned Colletti, who has been the Dodgers' general manager since 2005, will remain with the club in a new role as senior adviser to the president and CEO of the Dodgers, Stan Kasten.
Friedman, who resigned from his role with the Rays on Tuesday, addressed his departure from the Rays in a statement released by the team.
"As I embark upon my next journey, I have only thanks and gratitude to the Rays organization and the Tampa Bay region for a wonderful 10 years together. I am truly grateful for the opportunity to have been part of something so special and for the passion and support of this exceptional fan base," he said.
"The Rays organization is loaded with talent from ownership to players and everyone between. We were able to create together an unbelievable culture that no doubt will continue, and I am absolutely confident that the successes we achieved will continue into the future."
Sources said that Friedman, in his role as president of baseball operations, will be able to hire a general manager with the Dodgers.
To replace Friedman, the Rays promoted team president Matt Silverman to president of baseball operations and senior vice president of business operations Brian Auld to team president.
Landing Friedman, 37, is a coup for the Dodgers. A handful of teams have tried unsuccessfully to poach the talented young executive with a Wall Street background who piloted the small-market, budget-conscious Rays to six consecutive winning seasons and four playoff appearances after taking over in 2008.
"Andrew Friedman is one of the youngest and brightest minds in the game today and we are very fortunate to have him join our organization," Kasten said in a statement. "The success he has had over the past nine years in molding the Tampa Bay Rays team has been incredible."
This season, however, the Rays finished fourth in the AL East (77-85) after trading away ace left-hander David Price
October, 10, 2014
Oct 10
12:13
PM PT
LOS ANGELES – Whether the Los Angeles Dodgers retain general manager Ned Colletti or fire him, the team is on a mission this offseason to find a way to get a younger roster while remaining competitive and to avoid signing any more bad long-term contracts. When you think about it, that's kind of the same thing.
The Dodgers figure to be in the market for a starting pitcher this winter, but they are unlikely to pursue anybody who would receive a qualifying offer from their current team and thus cost the Dodgers a draft pick, a source indicated. In other words, they'll be searching for No. 4 and 5 starters (think
Dan Haren
) rather than somebody who would slide in front of
Hyun-Jin Ryu
. The payroll figures to go down, perhaps below the $200 million mark.
And don't be surprised if the Dodgers simply let
Hanley Ramirez
go without submitting a qualifying offer, which this winter is $15.3 million. Of the Dodgers' eight regular position players to end the season, six were 30 or older. Catcher
A.J. Ellis
will turn 34 in April. First baseman
Adrian Gonzalez
will turn 33 in May. The Dodgers might have to live with the growing pains of young shortstop
Erisbel Arruebarrena
and, if they can unload any outfield contracts, the growing pains of
Joc Pederson
in the outfield.
The difficult task of slowing the aging process – on the roster, not in the human body – was a major topic of discussion in the team's first day of organizational meetings, said manager Don Mattingly.
"You see certain teams and, all of a sudden, you're old," Mattingly said. "In baseball, it's tough to say that because you see 32, 33 in baseball and all of a sudden, that's old again. It always has been besides one little 10-year or 12-year period when it didn't seem to matter. Just as an organization, I think it's something you pay attention to. It's what ownership and [president] Stan Kasten talked about from the beginning.
"You want to have guys coming all the time. You don't want to have to get into the free agency."
In other words, the Dodgers are terrified of becoming the
New York Yankees
or
Philadelphia Phillies
.
It's fair to say the Dodgers don't have "guys coming all the time." If they did, they wouldn't have had an incredibly expensive bullpen that essentially cost them the NL Division Series against the
St. Louis Cardinals
. There are, though, signs of progress in the farm system, the team believes, with Pederson knocking on the door, Corey Seager perhaps a factor next season and – in a longshot scenario –
Julio Urias
making his mark as a teenager next year. Outfield prospect
Scott Schebler
also is beginning to make his move in the organization and his name came up Thursday.
The fragile state of the Dodgers' rebuilding farm system was the reason the team held onto its prospects rather than trade for a pitcher at the deadline. Ironically, that's probably part of the reason Colletti is in such a vulnerable position.
October, 10, 2014
Oct 10
7:58
AM PT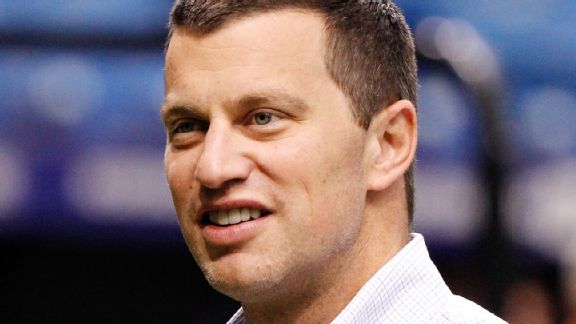 Kim Klement/USA TODAY SportsAndrew Friedman is the independent film producer who must decide if his artistic qualities can survive at a big-budget studio.
Editor's note: Buster originally wrote this Friday, Oct. 10. It has been updated to reflect the Dodgers' hiring of Friedman on Tuesday.
L.A. has seen Andrew Friedman's story before. In the movies.
Friedman, the longtime general manager of the
Tampa Bay Rays
, is the equivalent of the indie film producer who has done masterpieces, the talk of Sundance, of Cannes, work that hardened reviewers love.
October, 9, 2014
Oct 9
4:56
PM PT
[+] Enlarge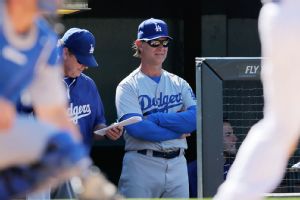 Doug Pensinger/Getty ImagesDodgers manager Don Mattingly said he expects to return in 2015 and that he would be surprised if GM Ned Colletti wasn't also retained.
LOS ANGELES -- Dodgers manager Don Mattingly, who signed a three-year contract extension last winter, said Thursday he expects to return in 2015 and that he would be surprised if general manager Ned Colletti wasn't retained, as well.
Dodgers president Stan Kasten had a meeting planned with Colletti on Thursday afternoon and said he wouldn't comment on any potential personnel changes until early next week. Unlike the previous two seasons, Colletti didn't speak to reporters after the first day of organizational meetings.
"I came to work today like every other meeting," Mattingly said. "Nobody's told me anything differently,"
Both the manager and GM are believed to be under intense scrutiny after the Dodgers entered the 2014 season with a major league-record $235 million payroll and bowed out in the NL Division Series. Some people within the organization seem to feel that Mattingly's position is more secure than Colletti's because of repeated breakdowns in the Dodgers' bullpen, which Colletti was unable to improve at the trade deadline. Kasten said he wanted to get through the meetings before commenting.
October, 8, 2014
Oct 8
8:21
PM PT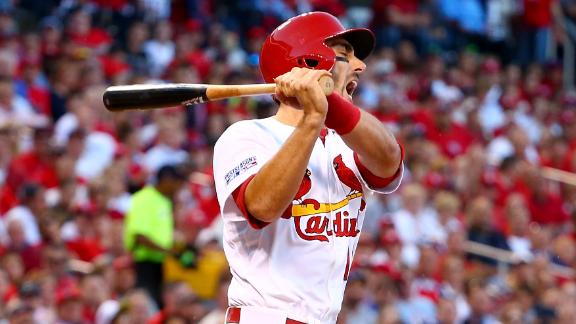 Four of the past eight World Series champions have come from the teams in this 2014 National League Championship Series, which might suggest that the San Francisco Giants and the St. Louis Cardinals have spectacular talent. Instead, they are more great organizations that teach the game properly, that every at-bat is a fistfight and every pitch is the biggest one of the game. Each had less talent than its opponent in the division series, but the Giants were more tough-minded and October-tested than the Washington Nationals, and the Cardinals were focused on winning while the Los Angeles Dodgers were thinking too much about tipping pitches and the strike zone. Now these two will meet in the playoffs for the fourth time. The Cardinals are the first team since the 1998-2001 New York Yankees to go to four straight league championship series. And the Giants will be going for the third time in five years. It should really be great.
Here are five questions.
Bumgarner
In what sort of shape is the Giants' rotation?