September, 16, 2014
Sep 16
4:52
PM PT
DENVER -- The Los Angeles Dodgers scratched shortstop Hanley Ramirez from their starting lineup Tuesday night in Colorado because of a strained right elbow.
Ramirez has missed 31 games this season with a variety of ailments, including calf, oblique and shoulder injuries. He was limited to 86 games last year by thumb, hamstring and shoulder injuries. The Dodgers replaced Ramirez at shortstop with Justin Turner, batting sixth.
Ramirez originally was listed in the Dodgers' starting lineup, but the lineup was revised after Ramirez met with Dodgers trainer Stan Conte during batting practice.
Ramirez is batting .278 with 13 home runs and 69 RBIs.
September, 16, 2014
Sep 16
2:59
PM PT
By
Scott Eden
| ESPN The Magazine
[+] Enlarge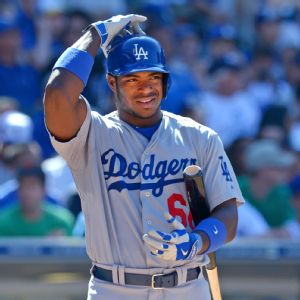 Jake Roth/USA TODAY SportsYasiel Puig has been interviewed on several occasions by federal authorities investigating alleged smuggling of Cuban ballplayers into the United States, sources tell ESPN.
Federal authorities have been systematically interviewing Cubans playing baseball professionally in the United States as part of their ongoing investigations into alleged smuggling rings, several people with knowledge of the matter told ESPN.
As the federal investigations play out, Gilberto Suarez on Friday pleaded not guilty to smuggling charges in a Miami courtroom. Suarez is the man who allegedly played a role in Yasiel Puig's dramatic journey in 2012 from Cuban obscurity to the Los Angeles Dodgers. It was one of the first public indications that federal authorities are in the midst of a widening investigation into the lucrative, clandestine rings that orchestrate the smuggling of baseball talent out of Cuba and onto the rosters of Major League Baseball teams.
September, 15, 2014
Sep 15
11:40
PM PT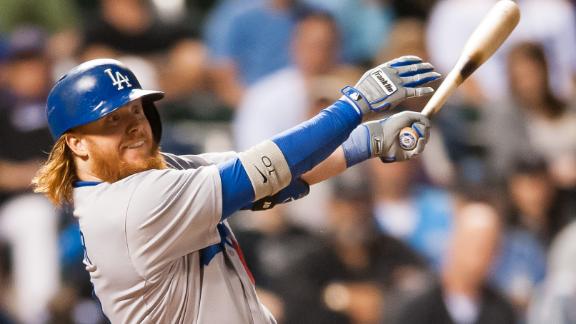 DENVER -- One way to look at the dust-up between
Matt Kemp
and
Yasiel Puig
in the Los Angeles Dodgers' dugout is as another example of what several people have called a "dysfunctional" clubhouse. That could well be true.
Another way to look at it is as a step forward for the team, with one prominent player demanding another prominent player take accountability for his actions. That also could be true.
Nobody in the Dodgers' clubhouse was offering much detail about the argument, and nobody at home would have even known about it if Root Sports' cameras hadn't caught the disagreement and put it on the air. For all we know, it could be the 497th most heated discussion among Dodgers this season. It didn't look particularly menacing, with Kemp just stalking Puig in the dugout and yelling in his direction, and then manager Don Mattingly breaking it up.
[+] Enlarge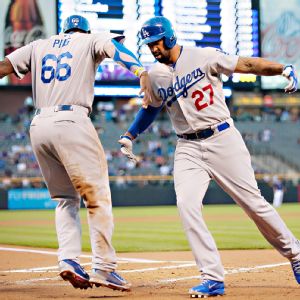 Dustin Bradford/Getty ImagesThings were hunky-dory between Yasiel Puig and Matt Kemp on the field Monday at Colorado, but it appeared to be quite a different story in the dugout.
What we do know is Puig probably should have gone to third on
Adrian Gonzalez
's hump-back liner to right field right before Kemp hit that inning. Had he done so, he would have been on third with nobody out, thereby offering an easy RBI chance for Kemp to pad the Dodgers' lead at a stadium where visiting teams can never have enough runs.
As it turned out, Puig scored anyway, on
Hanley Ramirez
's double, so the Dodgers could laugh it off afterward.
Even so, Mattingly did compare these Dodgers to the early 1970's
Oakland Athletics
, a team known as the Fightin' A's in part because they battled each other so famously. Exhibit A was
Reggie Jackson
and Billy North engaging in fisticuffs in 1974 at Tiger Stadium.
The point seems to be that nobody's going to care how many times Dodgers players had dinner with each other as long as they win the World Series.
During the past three games, they've looked as dangerous in the batter's box as they have all season.
On Saturday, they steamrolled the
San Francisco Giants
in historical fashion -- 17-0 -- after one of their worst losses of the year the night before. They played a fundamentally sound, tightly pitched game Sunday to take a key series from the Giants. Then they avoided the letdown at a half-full Coors Field by pounding out eight runs in the sixth inning to beat the
Colorado Rockies
on Monday.
Now they're getting close to punching their ticket to the playoffs and enjoying a four-game NL West lead with 12 left and a magic number to clinch a postseason berth at just five.
The Dodgers have averaged 6.7 runs per game over their past seven outings.
If what Kemp did in the dugout is an example of his taking a stronger leadership position on this team, it's a welcome sight. A more welcome sight, though, is the 13 home runs he has mashed in the past 44 games.
"Just consistently working, grinding at-bats out and letting everything take its course," Kemp said. "I struggled at the beginning of the season. But it's not the way you start -- it's the way you finish. I've always been a big believer in that. The season's still not over with, so we've got to just grind it out."
It's not always the best teams that do well in October, but it's almost always the hottest teams that go far.
Kemp's power has added another dimension to what has been steady production from Gonzalez and
Carl Crawford
, along with shocking levels of production from
Justin Turner
and signs Puig and Ramirez could join the party soon. In other words, this could be a lineup on the verge of truly clicking for the first time all year.
"Everybody's starting to come around," Kemp said. "This is a good time to get hot, hopefully going into the playoffs, and we've got to keep grinding it out and keep getting those good at-bats."
September, 15, 2014
Sep 15
10:43
PM PT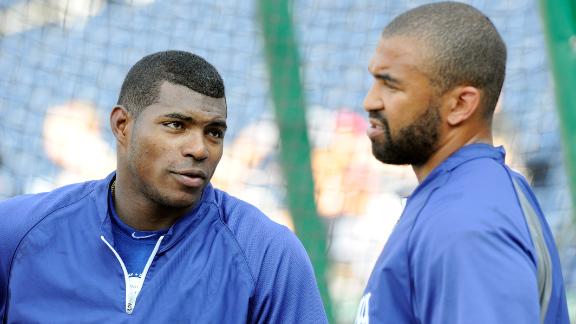 DENVER -- Los Angeles Dodgers outfielders Matt Kemp and Yasiel Puig got into a verbal altercation in the dugout during an 11-3 win over the Colorado Rockies on Monday night at Coors Field, a disagreement caught by the Rockies' TV cameras.
Kemp, who had struck out earlier in the sixth inning, was seen pursuing Puig the length of the dugout and yelling in his direction before manager Don Mattingly stepped between them and Kemp turned and walked up the tunnel toward the clubhouse.
Puig had walked during the inning, in which the Dodgers scored eight runs.
Kemp and Mattingly wouldn't reveal the topic of the disagreement, but it's possible Kemp was upset that Puig, one of the Dodgers' fastest runners, didn't take third base on Adrian Gonzalez's single to right field just before Kemp batted.
Mattingly made it sound as if it wasn't the first time tempers have flared among Dodgers teammates this season.
Several sources have described the clubhouse atmosphere as "dysfunctional."
But the team has functioned just fine on the field, with the Dodgers taking a four-game lead in the National League West into their final 12 games.
"Oh, just talking in the dugout, same old things," Mattingly said. "We're like the [Oakland] A's, the '72 A's."
September, 15, 2014
Sep 15
9:34
PM PT
Associated Press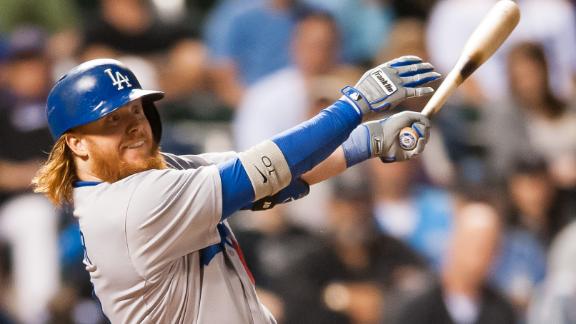 DENVER -- Pinch hitter Justin Turner ignited an eight-run sixth inning with a tiebreaking two-run double, and the surging Los Angeles Dodgers beat the Colorado Rockies 11-3 on Monday night.
It was the most runs the Dodgers have scored in an inning since Aug. 30, 2011, against San Diego.
Los Angeles showed no signs of a letdown after a big series win in San Francisco, where the Dodgers took two of three to extend their lead in the NL West.
Matt Kemp hit a two-run homer. and Adrian Gonzalez had three RBIs. Yasiel Puig showed more signs of getting back on track with two hits.
Jamey Wright (5-4) earned the win.
The Dodgers broke out in the sixth against Christian Bergman (2-4) and two relievers. They produced seven hits, including Turner's double to right that started the scoring spree.
September, 15, 2014
Sep 15
9:21
PM PT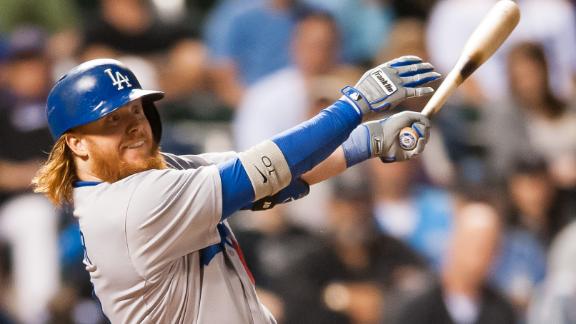 DENVER --
Los Angeles Dodgers
manager Don Mattingly mentioned before the game that he expected the NL West race to go down to the final series.
He might be right, but that would require the Dodgers to cool off some.
They beat the
Colorado Rockies
11-3 on Monday for their third straight win, and it got them another step closer to their goal. Any combination of five Dodgers wins and
Milwaukee Brewers
losses will get them to the postseason.
Any combination of 10 Dodgers wins and
San Francisco Giants
losses would give the Dodgers the NL West title.
How it happened:
The Dodgers were locked in a tense game until their biggest inning of the season, an eight-run sixth, put it away. Twelve batters came up in the inning, with RBI swats from
Dee Gordon
,
Adrian Gonzalez
,
Hanley Ramirez
,
Juan Uribe
and pinch hitter
Justin Turner
.
Roberto Hernandez
has been struggling lately, and Mattingly didn't give him much of a chance to clean up his own mess, as he pulled him with two outs and the bases loaded in the fourth inning.
Paco Rodriguez
, just activated from the disabled list, got a big out, and the Dodgers' bullpen restored some order to what had been a typical Coors Field game.
Hits:
Matt Kemp
is again becoming a force to be reckoned with. He homered for the second straight game and is among the top 10 in the National League in slugging percentage. He has been the Dodgers' steadiest power bat since the All-Star break and has bashed 13 home runs and driven in 41 runs in those 53 games. Root Sports, the Rockies TV station, caught Kemp yelling in the direction of
Yasiel Puig
during the Dodgers' long sixth inning, with Mattingly stepping in between them and Kemp eventually going into the tunnel. No one would say afterword what the issue the. Mattingly called it "family stuff" and implies it stays in house.
Misses:
It's not that Hernandez has been an awful acquisition. He gave the Dodgers two good starts after they got him from the
Philadelphia Phillies
in early August, and L.A. has won three of his seven starts. It's just that he has put a heavy burden on the bullpen in recent starts. Hernandez hasn't gotten as deep as the fifth inning since Aug. 26. The Rockies walked twice and had six hits by the time Mattingly came out to relieve Hernandez. He's looking like a dicey possibility for the playoff roster.
Stat of the game:
The Dodgers are one of three teams (the Brewers and
St. Louis Cardinals
are the others) with four players -- Adrian Gonzalez (37) , Kemp (36), Puig (35) and Ramirez (32) -- who have hit at least 30 doubles. Three of those four doubled in the game, and the one who didn't, Kemp, homered.
Up next:
The series continues here at 5:40 p.m. PT Tuesday, with
Dan Haren
(13-10, 3.99 ERA) going for the Dodgers and
Tyler Matzek
(5-10, 4.23) pitching for Colorado.
September, 15, 2014
Sep 15
5:17
PM PT
DENVER -- An MRI of Hyun-Jin Ryu's left shoulder showed no structural damage, the Los Angeles Dodgers announced Monday.
While the team has ruled him out to make his next scheduled start, on Wednesday versus the Colorado Rockies, he has not yet been ruled out for the start after that, against the second-place San Francisco Giants on Sept. 22 at Dodger Stadium.
"I guess I'm not ready to say that he won't [make that start]," Dodgers manager Don Mattingly said. "I really don't want to speculate. I just want to see how everything goes."
Ryu's MRI showed no changes from his previous MRI, conducted in May. He also received a cortisone injection and will not attempt to throw until he meets the Dodgers this weekend in Chicago for their next series to begin a "sub maximal" throwing program. He missed 20 games the last time he experienced shoulder inflammation in May.
In his latest bout with shoulder soreness, Ryu was pulled after one inning after the Giants batted around and scored four runs off him Friday night at AT&T Park.
Mattingly said the team was more conservative the previous time he experienced shoulder soreness because it was early in the season. Ryu (14-7, 3.38 ERA) is being replaced by rookie Carlos Frias on Wednesday at Coors Field.
September, 15, 2014
Sep 15
11:05
AM PT
Associated Press
LOS ANGELES -- The last six regular-season Los Angeles Dodgers games will be televised on an independent station that will allow all local fans of the team to watch after they have been shut out for most of the year.
Time Warner Cable said Monday that it has reached a deal with KDOC, which is carried by every cable, satellite and telco provider in Southern California and can be received over the air with an antenna.
The Dodgers lead the National League West by three games over San Francisco. They will host the Giants from Sept. 22-24 and the Rockies from Sept. 26-28, with those six games being shown on KDOC.
Time Warner Cable chief operating officer Dinni Jain says the company will continue to work on long-term agreements with other providers during the offseason to carry SportsNet LA, which televises Dodgers games.
Only customers of Time Warner Cable, its partner Bright House Networks, and a small operator called Champion Broadband have been able to watch the Dodgers this season. That leaves out subscribers of major providers such as DirecTV, Dish Network, Verizon and AT&T.
The contract to broadcast Dodgers games, which had long been with Fox Sports' Prime Ticket regional sports network, was bought by Time Warner Cable last year in a deal estimated to be worth $7 billion over the next two decades.
September, 15, 2014
Sep 15
6:00
AM PT
DENVER -- It's probably not going to be the most electric atmosphere when the Dodgers get to Coors Field for a three-game series with the last-place
Colorado Rockies
starting tonight, which is exactly what manager Don Mattingly fears with his team fighting hard to hold onto the NL West lead.
"Leaving here is the tough one," Mattingly said while seated in the AT&T Park dugout, where his team just played its second-to-last series with the second-place
San Francisco Giants
.
"It's just natural and it happens all year long. Any time you play a series with these guys and go on to the next one, it's always a little bit of a flat spot," Mattingly said. "You hope it's not that way, but it's what we continue to talk about all the time, play this one game today, that's all you worry about and tomorrow you get ready to play. Fight it."
The Dodgers are in the midst of their final road trip of the season, which begins with a roar -- in San Francisco -- and quiets down considerably, with consecutive series at the Rockies and last-place
Chicago Cubs
.
The Rockies are returning from a winless road trip, having been swept by the
New York Mets
and
St. Louis Cardinals
. That in itself is some consolation, considering the Rockies are four games over .500 at home and 35 games under .500 on the road. They have an .890 OPS at home, best in the majors, and a .633 OPS on the road, worst in the majors.
The idea, of course, is to out-score the Rockies at home. Their collective ERA at Coors Field is 5.12 and opponents are hitting .283 against them there. That's considerably easier with
Troy Tulowitzki
and
Carlos Gonzalez
out for the season and
Justin Morneau
, who is pursuing the NL batting title, day-to-day with a strained muscle in his side.
It's hard to predict the future, but the numbers would suggest this could be a high-scoring series, with the Dodgers sending
Roberto Hernandez
(8-11, 4.04 ERA),
Dan Haren
(13-10, 3.99) and
Carlos Frias
to the mound. Haren is coming off four strong starts, though his worst start of the season came at Coors Field on July 5. Hernandez is struggling badly, but throws a sinker, which can be an advantage at altitude. Frias, who is filling in for injured starter
Hyun-Jin Ryu
, also is a sinkerball pitcher, but he'll be paired against Colorado's best starter,
Jorge De La Rosa
(13-11, 4.28).
The Dodgers are 9-4 against the Rockies this season and they'd love to stay hot against them, because this scenario will play out again in another 10 days. The Dodgers' schedule ends with consecutive series against the Giants and Rockies, so it's all about avoiding the trap series.
September, 14, 2014
Sep 14
11:29
PM PT
By
ESPN Stats & Information
After allowing two earned runs over eight innings on Sunday,
Clayton Kershaw
's ERA took a big hit, jumping from 1.67 to 1.70.
This was the first time in five starts that he hadn't lowered that already paper-thin number. Here's some more perspective on yet another dominant performance.
Shrinking the Giants
With his fifth-straight win Kershaw improved to 19-3 on the season and 13-5 all-time against the Giants.
His career ERA against San Francisco rose to 1.44, dropping him to a tie for first with fellow Dodgers southpaw Sandy Koufax for a pitcher with at least 20 starts against any one opponent since ERA has been tracked (1912).
Kershaw's numbers against the Giants are boosted by an incredible 0.84 ERA at AT&T Park.
Inside the numbers
Kershaw's success on Sunday continued a trend for him in September -- keeping opposing teams hitless on ground balls. All 10 ground balls he induced out of the Giants turned into outs, bringing opponents' totals on grounders to 0-for-29 on the month.
A fad that seems to be building momentum is teams' first-pitch swinging frequency when facing the ace. Over the past two games, batters have swung at Kershaw's intial offering 55 percent of the time, compared to 41 percent for the season.
This has helped pierce the armour slightly, as they are 4-for-12 (.333) with this approach compared to 6-for-45 (.133) on all subsequent pitches.
Other standout Kershaw nuggets
Kershaw is now 67-5 in his career when his team scores at least four runs.
The 26-year-old held his opponent to three runs or fewer for the 24th time in 25 starts this season.
He did this for the 21st straight outing, a streak bested by only two pitchers in the past 15 years -- 22 by
Johan Santana
in 2004 and
Mat Latos
in 2010.
Kershaw is the fifth pitcher in the divisional era (since 1969) to win 19 of his first 25 starts in a season, and he's the first since Pedro Martinez in 1999.
September, 14, 2014
Sep 14
6:01
PM PT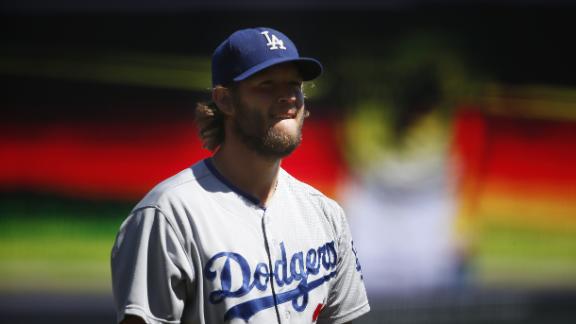 SAN FRANCISCO -- There will come a time, maybe five days from now, maybe three weeks from now, maybe seven months from now, when
Clayton Kershaw
will struggle. It happens to all of them, even to him. It's not hard to imagine; it's just hard to remember what it looks like.
Of all the things to marvel over in this season for the ages -- and the statistics alone speak to it so poetically -- it's the ridiculous consistency, the redundancy of his dominance, which has been so extraordinary to those who have been around it every day.
"I almost kind of feel bad for him,"
Los Angeles Dodgers
veteran pitcher
Dan Haren
said. "Everyone just expects him to win, everyone just expects him to go out there and throw eight or nine innings and give up zero or one run. That must be quite the burden to put on him, but obviously it doesn't seem to bother him."
[+] Enlarge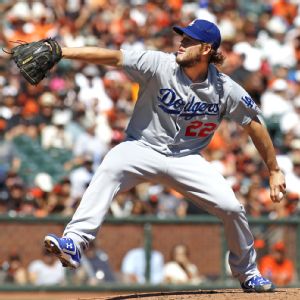 AP Photo/George Nikitin"We kind of call him 'The Big Train,' because he just keeps coming," Dodgers manager Don Mattingly said of the high caliber and reliability of his ace, Clayton Kershaw.
If it does, we might not know it until his autobiography comes out in the afterglow of his playing days. Kershaw remained on his maniacal mission to achieve greatness with his most meaningful start of 2014, another eight strong innings and another win, this one by a 4-2 score.
He's a ridiculous 19-3 with a ridiculous 1.70 ERA. His team is suddenly a viable World Series contender again. And those things are far, far from unrelated.
He had to fight hard for this one. He had to fight the
San Francisco Giants
, scrappy as ever. And for a minute or two, he even had to fight his own manager, who ambled out to the mound in the eighth inning fully intent on taking the pitcher out of the game after Kershaw had thrown his 105th pitch and gotten
Joe Panik
to ground harmlessly back to the mound on one pitch.
Between innings, Kershaw had told Dodgers manager Don Mattingly, "I can get Panik," which led the manager to believe he was too tired to face
Buster Posey
and
Hunter Pence
, right-handed batters with power. But Kershaw had changed his tune by the time Mattingly reached the mound.
"I just didn't communicate well what I was thinking," Kershaw said later.
"At that point, who am I to stop him? Just stay out of the way," Mattingly said.
So, Mattingly walked back to the dugout without signaling for
Brian Wilson
, and Kershaw did what he usually does in those situations. He reached deep, he paused and he attacked. He struck out Posey on three nasty sliders, the last of which bounced, and then got Pence to fly out. Just like that, with six throws he had pitched his seventh straight outing of eight innings or more.
Posey had ripped an RBI single off Kershaw in the third inning and lined hard to center in the sixth, but Kershaw said it's "never personal" when he's facing the Giants' best player. Mattingly sees it a bit differently.
"We kind of call him 'The Big Train,' because he just keeps coming," Mattingly said. "Even though Posey had hit a couple balls and squared him up, we knew he was going to still be on the attack. That doesn't always mean just throwing guys pitches to hit, it means he's going to go after him and he's trying to throw strikes or use his pitches. I think everything's personal with him."
The Giants did their usual thing, scrapping and clawing in their at-bats, so Kershaw didn't have his usual clinical efficiency.
His pitch count topped 100 during a stressful seventh inning, but he still had his feet under him firmly enough to strike out
Gregor Blanco
on a 95-mph fastball with his 102nd pitch.
Simple physical fitness is a part of Kershaw's game, as well. Asked how he felt at that part of the game, he said, "I felt fine. Normal."
The Dodgers certainly feel fine on Kershaw days. It's a feeling that tends to linger longer than one day. They were in a state of semicrisis after Friday night's 9-0 blowout here because pitcher
Hyun-Jin Ryu
had injured his shoulder.
Zack Greinke
and Kershaw allow the Dodgers to leave San Francisco feeling like they're in a commanding position to win the NL West now that they are three games up with 13 left.
"When he takes the mound, I think there's just a looseness in the clubhouse, just a feeling that we're going to win," Haren said.
The micro view of Kershaw's consistency is this: He has made 21 straight starts allowing three runs or fewer. The Dodgers always have a chance, and they almost always win. Only two other pitchers in the past 15 years have pulled that off. The macro view? He has a 0.29 edge over the
Chicago White Sox
's
Chris Sale
for the major league ERA title. If he wins it -- and it's hard to imagine him not -- he would become the first pitcher to win four straight MLB ERA titles ever.
Yes, the first ever. Cy Young didn't do it. Christy Mathewson didn't do it. The original "Big Train," Walter Johnson, didn't do it. Sandy Koufax didn't even do it, though he came awfully close. Koufax won five straight NL ERA titles, but was edged out by the Los Angeles Angels' Dean Chance in 1964.
Koufax's ERA that year was 1.74. Chance's was 1.65. The two leagues shared one Cy Young award back then, and Chance got it. They might as well do so now. Kershaw would be a lock to win it anyway.
Haren played with Cy Young winner
Brandon Webb
in Arizona the season Webb won his first nine starts, becoming the first pitcher to do that in 23 years.
"This is on another level," Haren said of Kershaw. "This has lasted all year. You see hot runs by pitchers, but it's been unbelievable watching him."
Haren provides an interesting perspective on the best pitcher in the game. Like Kershaw, he relies on pinpoint command. Unlike Kershaw, he has to rely on a fastball that rarely bumps up against 90 mph. Haren once threw nearly as hard as Kershaw, however, and he knows what a little extra oomph does for the rest of a pitcher's repertoire. The Dodgers' two hottest starting pitchers are at decidedly different moments in their careers.
"He throws hard enough that people have to cheat with his fastball. And once you do that, any of his off-speed pitches are lethal," Haren said.
Kershaw can pitch only every five days. The Dodgers, at least for now, have no plans to use him on short rest. Greinke can pitch only every five days. If anything, the Dodgers will look to get Greinke -- and his balky right elbow -- a little extra rest. Hyun-Jin Ryu will miss his next start and, after he gets an MRI on his sore left shoulder Monday, could miss a lot more than that.
Every series is pivotal now, so the Dodgers need Haren,
Roberto Hernandez
and
Carlos Frias
to at least give them bankable innings.
Haren has been a top-of-the-rotation starter. He knows the burden that comes with that, and he has embraced the opportunity to be someone the Dodgers rely on once again. He said he took it hard in July when it felt as if the Dodgers won every game Kershaw, Greinke or Ryu started and lost every game they didn't. Haren has pitched four consecutive strong outings.
Haren (13-10) pitches Tuesday in Colorado and again Sunday in Chicago. At some point in that start at Wrigley Field, Haren will likely pass the 180-inning barrier (he's only eight innings away) that will trigger a $10 million player option for next season. Should he trigger it, Haren said, there's no guarantee he'll pick it up.
Josh Beckett
already has hinted strongly that 2014 was his final season. Haren, 33, is a year younger but has worked more than 200 more innings than Beckett and said he, too, is considering retirement.
"There have been times the last few years when I've thought, 'Man, I don't know if I want to do this anymore,'" Haren said. "But I think that is a natural feeling for anybody getting up there in age and innings and stuff. I see a guy like
A.J. Burnett
, who says he's going to retire all the time. But then he'll go out and throw seven innings and strike out 14 guys and, you know, then you feel like, 'Man, should I really retire if I can do this?'
"You have to ride the wave of emotions throughout the course of the season, and I don't think it's right to make any decision in the season. Whether games are going good or bad, I think it's better to just wait."
It's usually about pitching for the Dodgers, and right now they have the best performer in the game operating at his maximum efficiency. They also have an aging pitcher who realizes there's a fine line between on-point proficiency and getting embarrassed. He has to walk it every five days. As long as those two story lines stay positive, the Dodgers should be in good shape.